POV Holder:
Sarah
Next POV
May 15th
POV Used
?
POV Ceremony
?
HOH Winner
Ashleigh
Next HOH
May 13th
Nominations:
Sarah & Godfrey
Have Nots
Canada voted for: Sarah & Brittnee (They will compete for the Secret Power)
POV Players
VETO PLAYERS PICKED: ASH, Sarah, Godfrey, Zach, Brittnee, Bruno
HOST is Pili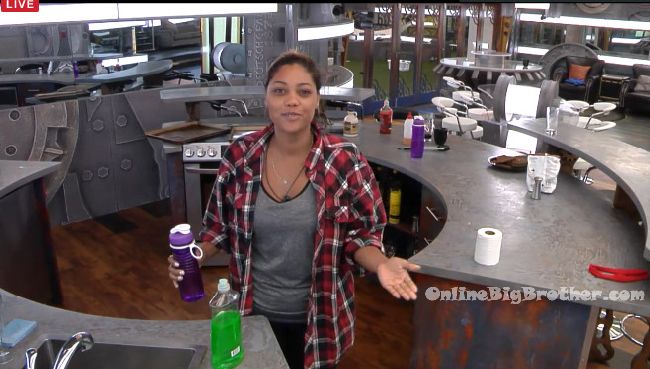 8:30am Big Brother wakes up the house guests. Brittnee gets up to make coffee. She then wishes her mother happy mothers day and heads back into the havenot room. She comments to Sarah that the tv already has the POV Ceremony Today message up. Britt says that Pili slept over with Ash last night. Sarah says that Zach didn't so he can talk with the guys and Pili doesn't feel so left out. Brittnee and Sarah head out to the hot tub room. Sarah says I am really interested to hear her speech. She's not thinking of jury votes is she?! Brittnee says nope. Zach joins them. Bruno joins them. Brittnee says I am glad I am in better spirits today. Thanks for lifting me up. Godfrey joins them. Sarah says when they got to see a family member they were at 5. So we're close.

9:30am – 10:10am Big Brother blocks the feeds. When the feeds return the house guests are inside getting ready (for the Veto Ceremony). Sarah gathers a few of Willows things that were left behind and puts them in the storage room. In the bathroom Britt & Sarah are getting ready. Meanwhile in the HOH bathroom – Ash is doing her make-up. Pili asks Ash if she is ready?(For the veto ceremony) Ash says yup. I don't really do a lot today though right? Pili says you stand up and say Brittnee I nominate you. I gave a reason but I don't think you really have to.
In the kitchen – Ash tells Bruno that Brittnee is going to try and get real close to Pili for her vote. Bruno says yeah. Ash says she already asked her to braid her hair. Bruno says she's going to be trying anything. I can see Britt and Sarah working on Pili like crazy! As soon as Kevin was voted out I saw Sarah working on Pili instantly. Like you can sleep with me. Ash says and Kevin is gone because of them. This girl wastes no time. Ash says I am just so happy that Pili's feelings for Kev were so intense that they could offer her gold and she would be like.. Bruno says yeah. We're they trying to pitch? Ash says I just want to get today over with. Bruno agrees. I am telling you man they're going to be all over her bud, till Wednesday! Ash says like a fly on sh*t! Ash says I think Pili is going to tell her the day of… that's going to be crazy. Tell her after the rehearsal please. Like last minute.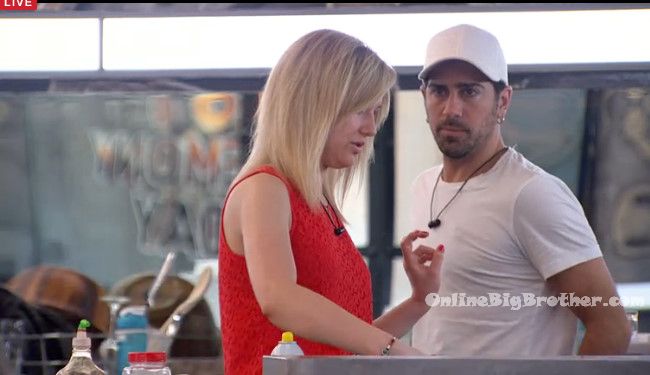 10:20am Meanwhile up in the bathroom –
Brittnee is asking Pili about her ex-boyfriends.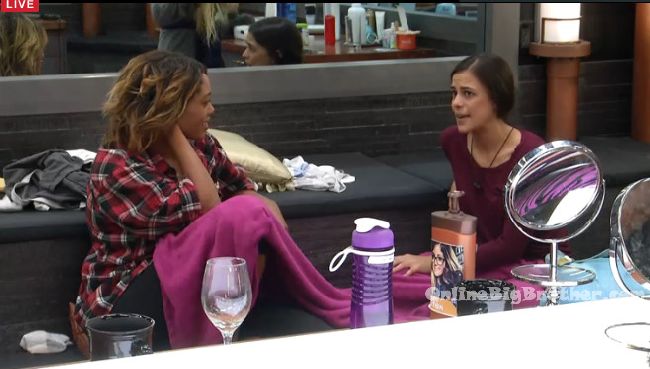 10:40am All the house guests are in the HOH for a lock down. Big Brother then blocks the feeds. The POV ceremony is likely happening now ..
11:45am Still blocked…
12:30pm Still blocked..
12:50pm Still nothing..
If you enjoyed this site's content please consider a donation or checking out our How to support OnlineBigBrother.com page. Any help is appreciated, this site is only here because of your support.
[polldaddy poll=8849979]