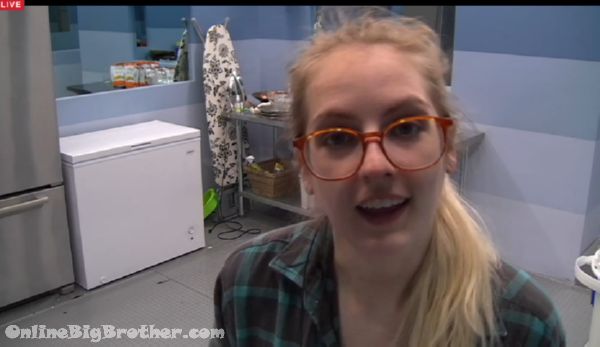 11:42pm Sarah talking to the camera
says she's Canada's hev nots she's just buttering Zach's toast because he asked her and she a "sweet heart"
Sarah – I didn't get my period for 50 days Canada and when it came I was an emotional wreck.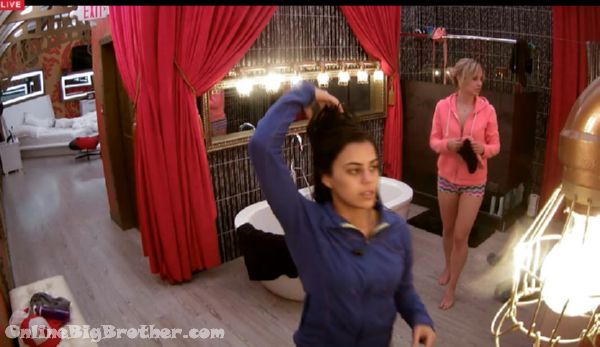 11:47pm HOH The Goblins
Thanking Canada for not voting them have nots. Pili is amazed at how much weight Godfrey has lost. Pili says there's only guys sleeping in the other room she wants to sleep in the HOH with Ashleigh. She hopes Zach doesn't mind.
11:51pm Hammock all the houseguests collected around the hammock.. chit chat.
Sarah is telling them she's been trying to get American citizenship so she can move to New Orleans . The lawyer told her it would cost 3 Grand and have a 60% chance of getting the visa.
Ashleigh thinks she'll watch her movie tomorrow.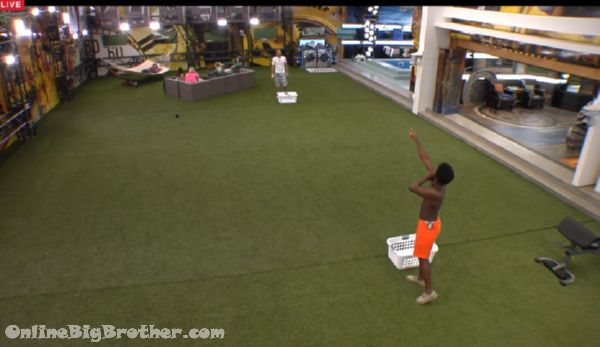 12:11am Serious game of God ball going on
12:21am everyone around the hammock associating houseguest with the movie stars that would best play them.
Sarah / Anne Hathaway
Sindy / Lucy Lu
Risha / Charlize Theron
Neaha / Sandra bullock
Jordan / Joseph gordon levitt
Johnny / "Johnny would have to play johnny"
Graig / Matt leblanc
Godfrey / Taio Cruz
Bruno / "Much younger Bruce Willis" or "Colin Ferrell"
Brittnee / Beyonce
etc etc..
12:31am The have nots got mattresses.
12:32am Bruno and Godfrey/ Brittnee Sarah
Bruno warns him that Sarah is trying to get back in with the girls. They agree to stick close to Zach and Sarah and make sure they keep them apart until after the nominations.
Feeds cut to Sarah and Brittnee in the Hot Tub. They're talking about Zach and Bruno working together.
Brittnee – She's not putting him up tomorrow… it's going to be me it'll solidify they have been working together.
Sarah notes that Ashleigh is setting herself up nicely for second place. Brittnee thinks Godfrey is the target.
Sarah – God and Bruno are together.. break them up and God is coming after you.. Pili gave her word and Ashleigh gave her work
Brittnee – that they'd keep me safe.
Sarah says if AShleigh wasn't influenced by Zach she would put Bruno up.
They agree Zach has the most Jury votes. Sarah says if Zach was up against Anyone else other than Brittnee she would vote for him to win. They question where Willow's true heart was. They wonder if she was closer to Zach/Bruno than they thought.
Sarah thinks there's distrust with Ashleigh and Pili.
Brittnee – if I left what would happen
Sarah – you're not leaving..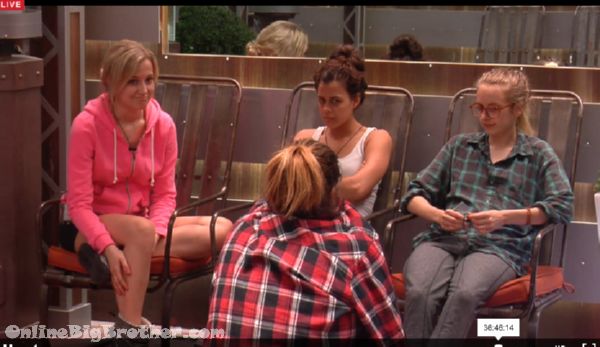 12:56AM Hot Tub
The goblins join them. Ashleigh says Godfrey is her target "It doesn't feel right to me to put Bruno up.. "
Sarah asks Pili if she's voting Godfrey out 100%. Pili says yes.
Sarah – ASh if it's a tie
Ash – that's what I want..
Sarah asks if Zach is voting out Godfrey . Asheligh says yes.
Brittnee – this will be my fifth time (On the block)
Pili hopes they get Alcohol tomorrow night
ASh – like a whole 26 each
The goblins head to bed..
Sarah – do you feel confident
Britt – I figured this was going to happen.. we'll see don't worry about me
12:59am
The Goblins tell Bruno and Godfrey they told Brittnee she's gong up but she's the pawn. In reality she's the target. They don't want her to be upset..
1:04am Ashleigh and Zach Bedroom Zach wants to get Sarah out but they'll have to see how things happen. The target next week will be either Godfrey or Sarah. Ashleigh mentions Godfrey tell her and Pili he;s coming after zach.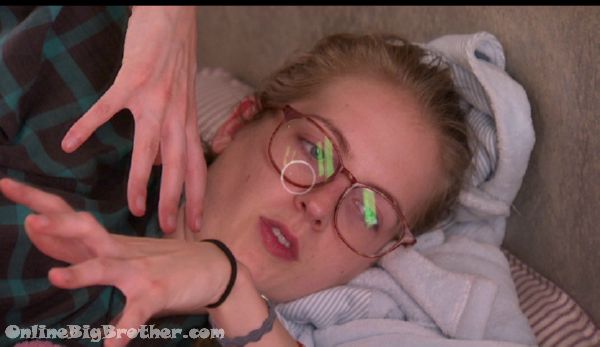 1:13am Have Nots
Sarah tells her that Godfrey tells Bruno everything.
Brittnee – Bruno is totally against me
They believe the entire house is after them. Sarah says the Gremlins last year head it easier than them. "At least people would work with them". they want to get closer to Pili and Ashleigh.
Sarah goes over what happened on Wednesday night and why she voted out Willow. Sarah says they were stuck in a spot where they ran the risk of none of their primary targets going (Willow/Pili) She thought God might flip to keep Willow.
Brittnee leaves for a minute. you can hear Ashleigh and Pilar running around laughing. (No feeds on them) When britt comes back she says the girls are either drunk or really hyper. Sarah mutters they're hyper from f***g them over.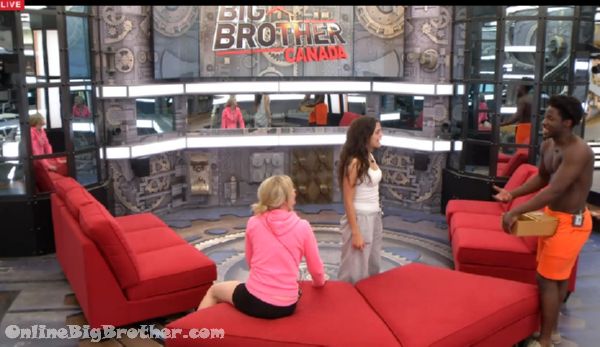 2:05am Everyone but Sarah/Brittnee
Godfrey sharing a story about when he lifted a pony up. Some random chit chats and giggles. Godfrey goes into teh have nots to talk to Brittnee and Sarah. They tell him he's not going to win in the final 2 with bruno.
3am The Goblins
If you enjoyed this site's content please consider a donation or checking out our How to support OnlineBigBrother.com page. Any help is appreciated, this site is only here because of your support.
[polldaddy poll=8849979]
Share it YO!
Tweet