POV Holder:
Sarah
Next POV
May 15th
POV Used
?
POV Ceremony
?
HOH Winner
Ashleigh
Next HOH
May 13th
Nominations:
Sarah & Godfrey
Have Nots
Canada voted for: Sarah & Brittnee (They will compete for the Secret Power)
POV Players
VETO PLAYERS PICKED: ASH, Sarah, Godfrey, Zach, Brittnee, Bruno
HOST is Pili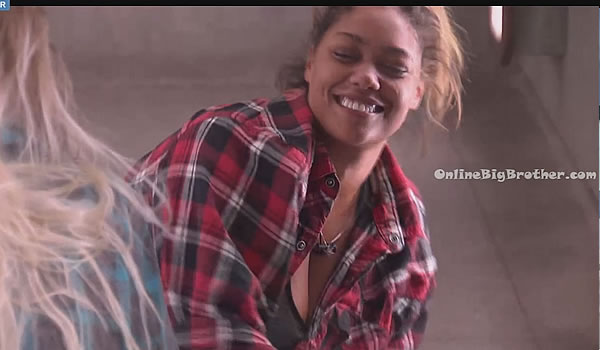 8:50pm Sarah and Brittnee
Sarah says they final get the backyard open and they're locked in the Have nots room.
Brittnee – "I just want to go into the hot tub so bad"
Sarah – crazy how a few hours in here makes you feel out of it.
Brittnee says her and Sarah are a team, "We have the same gameplay that's why we work together"
Bruno comes by with Batteries, "Sorry guys… You guys have water… there's some cookies outside the door I can bring them in "
Sarah thanks him.
Brittnee breaks down starts to (Fake) bawl, "They hate us"
Bruno – "They don't hate you keep your heads up"
Bruno leaves. the Girls thank him for getting them food and water.
Bruno – See you in a bit
Sarah – hopefully
After Bruno leaves Brittnee and Sarah laugh, Brittnee smiles takes a bow.
Brittnee gets called into the Diary room
(They must know they will be competing for a power.. Brittnee is fake crying)
The rest of the house is speculating how long Sarah and Brittnee have to be in the have nots room. Sarah mentions that the lights and smoke alarm had gone off in the have nots room. (This must have been why the feed were down for 3 hours)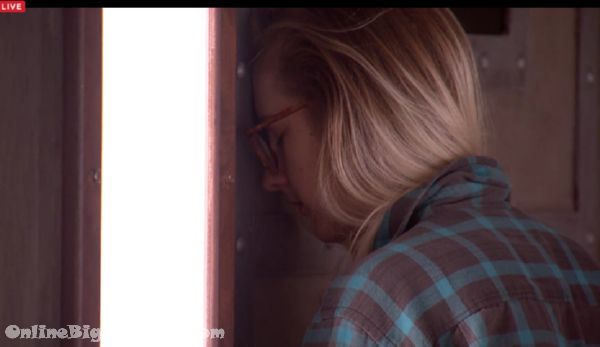 9:08pm Sarah acting sad says she hope they aren't locked in all week
Ashleigh tries to make her feel better says Canada voted her a havenots because they held the power last week. Ashleigh makes it sounds thra Sarah has been in power and the viewers wanted a power shift.
Ash says she could have been voted but she won HOH so maybe it was void.
Pili and Ashleigh talk about a secret Veto, Ash doesn't think there is one it's too late in the season. They tell Sarah they've been looking around the house.
Ashleigh – "It's way too late in the season for that.. secret vetoes"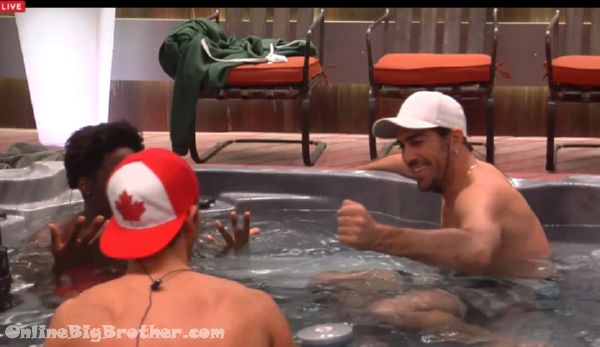 9:06pm Hot Tub Zach, Godfrey and Bruno
Talking about how Canada put Sarah/Brittnee on Slop and solitary confinement. Godfrey saw Brittnee in the bathroom she looked pissed.
Bruno asks if Ashleigh is decided to put up Brittnee.
Zach – ya
Bruno says the one thing they can count on is the girls coming after the guys they have to stick together.
Godfrey – even if we don't win HOH we have the numbers
They are aware Ashleigh and Pili will win the endurance competitions.
Zach – We'll never beat them in one
Bruo – it's so clear they will take each other.. so clear
Zach – not even a question
Godfrey and Bruno say ash/peels both said they will not vote each other out.
Bruno brings up Sarah coming up to him saying she's not proud at how she's been acting from now on she'll start talking in the open.
Bruno – she's always going in different rooms pulling people aside.. that is what she's saying..
Godfrey – I don't know what she had against you bro
Godfrey – her mission will be to keep B off the block her second mission will be to get me out yo.
They talk like Brittnee is a super threat in the game they need to get her out this week. Bruno points out Brittnee's won 2 HOH. Godfrey says Brittnee is the best pawn in the business.
They agree Sarah has to go next week. God thinks if Sarah wins the next HOH he can convince her to not put Bruno up but he can't keep Zach off the block.
Godfrey points out Sarah is so close to ASh/Peels. Bruno mentions once Kevin left Sarah was all over Pili playing with her hair and sleeping in the same bed.
Zach – this is when the boys can just win out..
Godfrey – the 3 most unlikely allies yo.. Bro
Zach gets up to check the door to make sure no girls are listening in
Godfrey – you can never be too careful bro yo
Bruno – Bobby would have loved this man to bro out man
Godfrey brings up the argument in the storage room Wednesday night. Says it was the most heated conversation he's seen this season.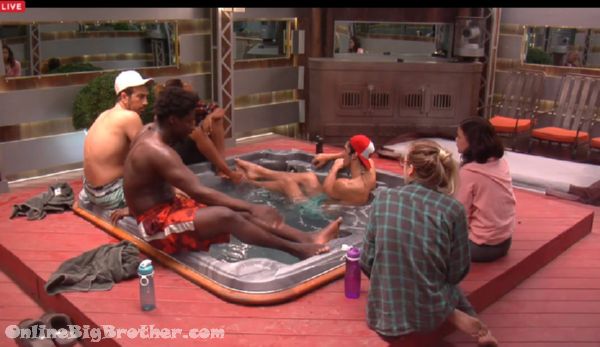 10:00pm Hot Tub They're in outdoor lockdown.. chit chat
[polldaddy poll=8849979]