POV Holder:
Kevin
Next POV
May 1st
POV Used
?
POV Ceremony
May 3rd
HOH Winner
Kevin
Next HOH
May 6th
Nominations:
Bobby and Brittnee
Have Nots
Zach, Bobby, Willow (Season slop pass)
POV Players
Kevin, Bobby, Ashleigh, Brittnee, Sarah, Pili
(there's tons of game talk and scrambling going on.. )
7:30pm Bobby and Bruno watching Willow run. They tell her she's the best looking girl in the house
Camera pans around at the memory wall.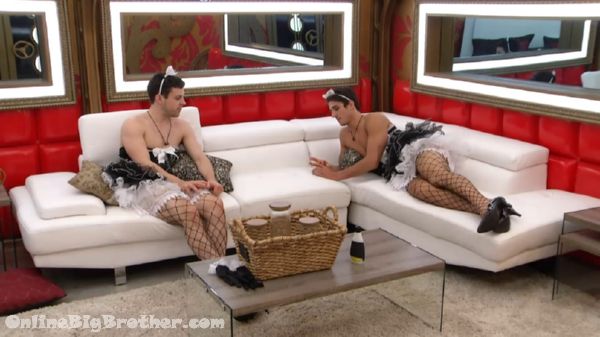 8:00pm HOH Kevin and Zach (this video is a good one to watch for Diaper strategy)
Kevin says the conversations he's had with Bobb. Bruno makes him feel they are coming after them. Kevin cannot beleive if Bobby/Buno win HOH they won't come after the Diaper alliance.
Zach brings up the conversation in the storage room where Bruno told him that Sarah is trying to turn the guys on each other.
Zach brings up that Sarah and Brittnee have nobody that is why they are trying to turn the guys on each other.
Zach isn't sure if Bruno is BSing him or if he's being like 'let's stick together
Zach says Bruno thinks Willow's heart is with Sarah.
Kevin – Godfrey is by himself.. he's a idiot .. I'm really tempted to leave the Noms the same
They agree Sarah will only team up with Godfrey is he wins power.
Zach – I know Sarah will attack us
Kevin she will?
Kevin – If I take a shot at Bobby Bruno.. I dunno
Zach – you thinking of taking a shot and pulling Sarah and Britnee in
Kevin – thinking that
Zach – that's not going far.. cause we're a four
Zach – if we open fire this week we put us four on a island
Zach says if Bobby and Bruno got power last week and picked off Sarah and Brittnee even if POV is played they control the numbers.

Kevin I wanted to let you know I'm leaning toward keeping the nominations the same… It's a little bit selfish for Pili and Myself.
Kevin wants him to know he's 100% diapers
Kevin – Brun really sells me the world
Zach – same..
Kevin says if Bobby/bruno leave they have to pull in Sarah hard, adds that he's got a good relationship with Sarah but not Brittnee. "It's faded these last couple weeks"
Zach – I got a decent relationship with Sarah.. errr B
kevin – with B
Zach – ya
(Zach slipped up there)
Kevin says if he decided to put up Bruno they need to pull in Willow and make sure she's ready to make a big move.
Kevin – Who's the pair in this house that no one is willing to touch.. We're going to break them up
Kevin tells him with Bobby leaving Zach's edge in physical comps goes way up.
Kevin doesn't think Bobby will use his veto power points out that there is a HUGE divide between Sarah and Bobby that's a reason for them to take out Bruno.
Kevin says they need 4 to win this week. They have three with the diapers so they need Willow.
Zach – let's get ASh on Bobby tonight
Kevin – see where's he's thinkin
Zach – She if she can dig something out.. Bobby has never lied to Saheligh he's so loyal.. he's a puppy dog.. it's almost made me laugh how loyal he stayed… and Bruno to that's the crazy thing
Zach says he laughs at Bobby/Bruno how loyal they are to the chop shop.
Zach – they want Sarah out I know that
Ashleigh and Pili join them.
Zach says they need to pull Bobby to the side and dig into his head. See if there is any inkling of them veering from the Brittnee/Sarah plan. Suggest they bait him says "What are we doing with Kevin/Pili"
Zach says Bobby and Bruno are super loyal but they have to make sure.
Zach points out that Bruno did tell him he was thinking of convincing Kevin to put up Sarah.
Ashleigh says Bobby seems to be really keen on Sarah to.
Zach and Ashleigh both say Bobby/Bruno are not coming after them next week.
Ashleigh says she's really dug into Bobby and she honestly feels they are not coming after them.
Kevin claims when he started this week his target was Godfrey but now after the last 24 hours he's been thinking Bruno and Bobby (He's told the camera before the HOH comp that he wanted Bobby out)
Kevin says if he makes the play to get Bobby out it's them next week not Zach/Ashleigh
Ashleigh – I smell like hot tub I need to go in the shower.
Kevin says if Bobby/Bruno get Sarah out next week they are "really good" Adds that Zach is right.
Kevin – when Bruno socializes with me he repeats his loyalty to me.. I don't speak that language.. give me something talk about strategy down the road. .
Zach – if both there games are that bad.. that's an advantage to us.

8:55pm Sarah, Ashleigh and Pilar
Talking about hoping Bobby's Veto is over.
Ashleigh – I'm like 80% sure this thing exists"
Sarah – It's impossible to tell"
Sarah explaining what happened with the Jordan vote.
She points out she doesn't trust Bruno or Bobby but she really highlights she distrusts Bobby, "I never trust someone that throws HOH's.. he says shit like I only talk game on Tuesdays"
Sarah tells them she trusts Zach and Kevin a lot but she feels that Zach doesn't trust her anymore because of the vote.
Kevin comes in. They talk about Jordan being in the jury for 10 days now. Pilar mentions how there's no stress in the Jury house. Asks Kevin to put her up so she can go to Jury. laughs right after says she loves it in the house.
9:08pm Ashleigh and Zach
Ashleigh says if she was Kevin she would "totally" get rid of Bruno, "Godfrey is coming after us not Kevin/Pili right Now"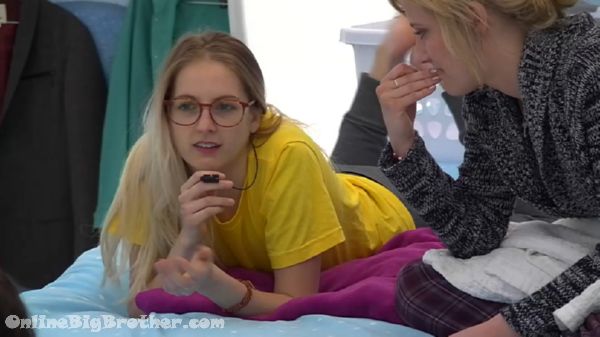 9:12pm Sarah and Pilar
Sarah says Bruno is a black belt in Taekwondo
Pili is surprised "Interesting I did not know that"
Pili tells her theres no easy ways out anymore all the HOH's will be big moves.
Sarah says Godfrey going home is a safe move and it's a big move points out that Godfrey is all over the place.
pilar – he's an easy target.
Sarah points out how he changes his targets asks Pili "What are you thinking"
Sarah asks her who she would feel more devastated if they left with Kevin or AShleigh .. "Game wise"
Sarah tells her Bobby is close to AShleigh says he loves Ashleigh.
Pilar says Kevin is her best friend in the game she doesn't know where she would be without him.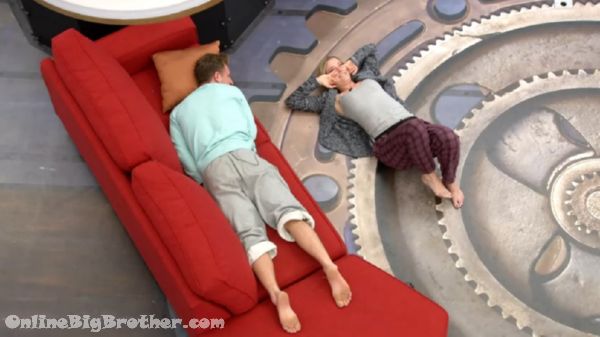 9:15pm Ashleigh and Bobby living room
Bobby makes it sound like he's targeting Sarah next week and he's still loyal to the chop.
Bobby – Gods gotta go he's a crazy comp threat
Bobby brings up not knowing where Willow's head is at says he see here talking to Sarah all the time.
Bobby – Originally I want to keep God but he really sketches me out now
Bobby says Willow is tight with Brittnee she'll want Godfrey gone, "I really don't see B talk to Sarah at all"
Kevin rolls by
Ashleigh – Kevin I've seen your weiner 4 times today.. I haven't seen Zach's weiner today
Bobby – ohh poor you .. Ashleigh had a bad day
9:35pm AShleigh and Kevin Bedroom
Whatever Bruno wants Bobby wants. Brings up that Bobby said if Kevin/Pili
Kevin – thanks for doing that Ash
I like having those conservation with bobby makes me feel like I have a grasp on things
tell him Bobby has never lied to her.. "Except for that whole Jordan thing" explains the entire house lied about that.
Ashleigh says next week she's thinking about making a strike against Bobby/Bruno. recommends Kevin have a conversation with Bobby.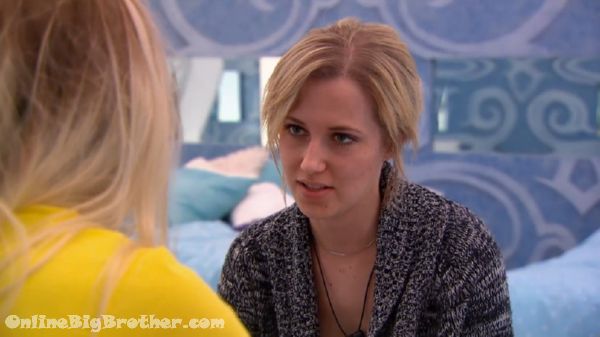 9:43pm AShleigh and Sarah
Sarah pointing out that she asks PIlar who is she closer to kevin or AShleigh and she basically said Kevin.
Ashleigh says next week or the week after that she'll be gunning for Bobby and Bruno
Sarah plays down how close she is to Willow. Says the extent of her game conversations with Willow is "Who don't you trust"… "Godfrey"
AShleigh hints that Bobby and Bruno going up is fine with her. Zach is going to talk to Ashleigh get her to double check with Peels.

9:53pm Zach and Bruno
Bruno freaking out because he heard Godfrey say he's not going on the block.

ALLIANCES IN THE HOUSE
There are always a lot of Alliance but we've tried to make sense of it all.. Read our alliance help guide
If you are outside Canada and want to watch the FREE Big Brother Canada Live feeds sign up for a VPN service here https://www.hidemyass.com/vpn/r16399/. It's safe to use, easy to set up, and cheap. Need to know more check out this post explaining how to set it up.
[polldaddy poll=8834825]