POV Holder:
?
Next POV
?
POV Used
?
POV Ceremony
?
HOH Winner
Ashleigh
Next HOH
May 7th
Nominations:
?
Have Nots
Canada gets to vote
POV Players
?
(There's been a absolute tidal wave of game talk.. all the videos are here some of the text is missing.)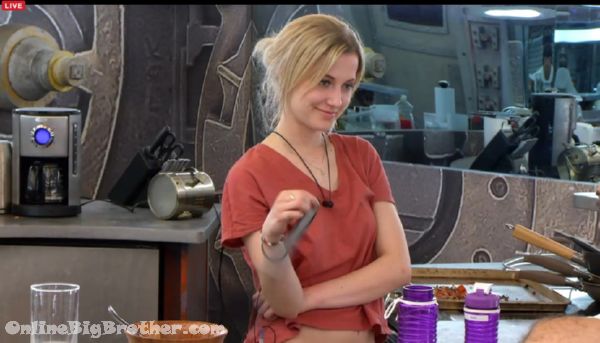 8:00pm Zach, Bruno and Ashleigh
Before Ashleigh join them Zach is explaining to BRuno next week if Peepee wins HOH him and Ash control who goes home. "Even if she does throw you up me and ASh vote"
They agree the HOH they just had was very hard.
Ash is dreading her conversation with Sarah. Zach says he's looking forward to the BS she'll tell him. They guess she'll say something like she's a weak player compared to Bruno and Godfrey. Zach mentions how Sarah has been playing everyone in the house, "You've been manipulating people's brains this whole game"
Ashleigh goes over her speech to Sarah how she's going to say she'll be keeping true to the people she's been working with since the beginning. Zach suggests Ashleigh say less and let Sarah do the talking.
Zach says it's pretty clear Sarah and B are after them last night they put up 3 of their people.
Zach – after this week 2 sends home..
(ASheligh finds a spider puts it in a wine glass)
8:50pm
Been pretty quiet.. Godfrey working out.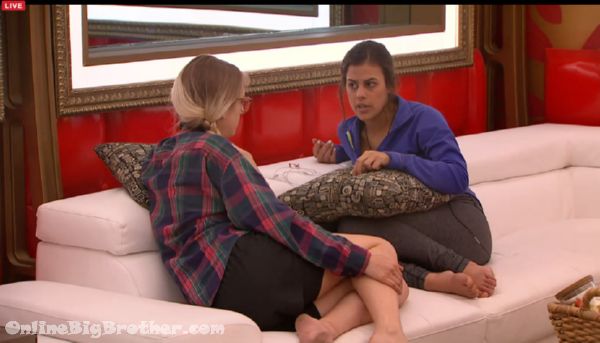 8:53pm Peepee and Sarah HOH
Pee – Cray Cray cray such a hard game
Sarah – I miss everyone already
Pee – me too
Sarah says it sucks in the house especially after Willow and Kevin are gone
Pee says she lost her friend
Sarah has a feeling she'll be seeing the jury soon
Pee – don't say that
Pee says there final 7 now you send people home that are threats, "It's not about numbers it's about players.. who is going to be loyal who can you trust"
pee tells her she doesn't know for a fact what is going to happen.. "We need to stop playing such an emotional game"
Sarah says it will be a smart move for her to stay, "I have never been after you and AShleigh"
Sarah is going to talk to Ash she doesn't want to be in the middle.
Sarah says the guys will eventually have to put people up and the guys will win. Sarah claims she cannot win a comp to save her life.
Sarah adds at this point in the game it's who is a physical threat.
Sarah mentions Bruno was psised at her becuase she was trying to get B to put Bruno up not PEEPEE.
Pee thinks regardless of who goes up she'll be the pawn next week.
Sarah – Bruno will put up Zach
Pee – why did Bruno save him
Sarah – you really think Bruno is going to bring Zach to the end… he was telling me today he's putting up Zach and AShleigh up
Pee – really
Sarah says Bruno is wanting to take AShleigh he doesn't want to take Zach.
Sarah says Brittnee and her are together but so Are bruno and Godfrey and they are the bigger threats.
peepee says Brittnee wanted them out because she put three of them on the block.
Sarah says Godfrey goes along with whatever Bruno says. Adds that Bruno has been targeting them all.
Sarah says Willow told her everything about the couples meetings and told her everything that was said in the couple's meetings.
Sarah explains why she voted to keep Pili, adds that she's glad it worked out the way it did. Mentions that Brittnee and Willow never trusted each other.
Zach and Bruno walk in..
After they leave.. Sarah goes back to campaigning to Pili, Sarah highlights that she had a secret relationship with Kevin where they told each other things.
Sarah goes on and on that Bruno wanted all four of the Diapers gone.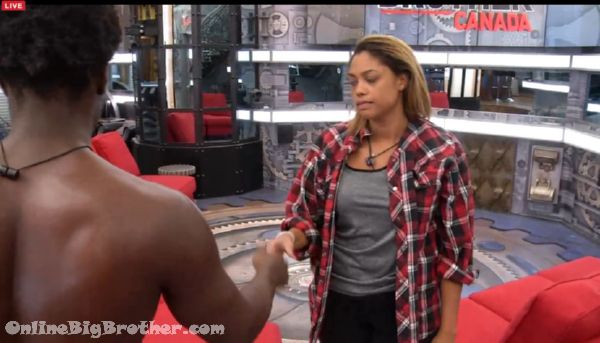 9:13pm Godfrey and Brittnee
Godfrey says "they've" been telling him Sarah is the target, Brittnee will be the pawn.
Brittnee leaves.. Bruno joins Godfrey.
Talking about Zach being "for real" about a guys final 3. Bruno says Sarah is the target this week but don't tell Zach Bruno told him. Godfrey says he already knew.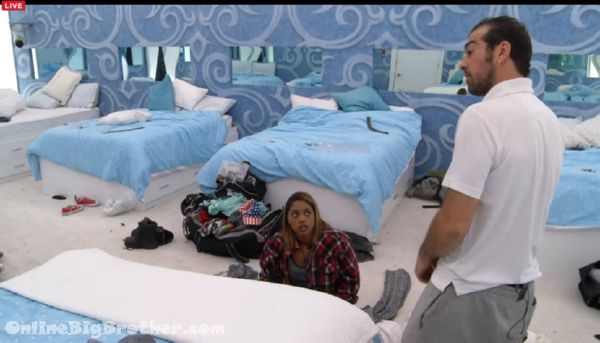 9:16pm Bruno and Brittnee Bedroom
Bruno and Brittnee
Bruno telling her they need to stay tight.
Brittnee – you're close to Zach
Bruino – I'm not that's the thing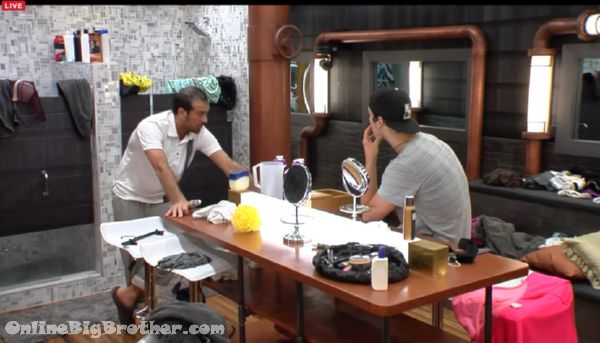 9:20pm Bruno and Zach
Talking about how hard Sarah is working on Pili. "She has to go home I'm telling you bro"
Bruno – she's working her a$$ off
Zach – the best thing once Sarah's gone Pili wants Brittnee gone.
Zach wants to make it that Godfrey feels unsafe with Ashleigh
Bruino says they need godfrey he's legit.
Zach – we'll keep broing it up
9:23pm Bruno goes down to Godfrey tells him Zach is good with the boys YO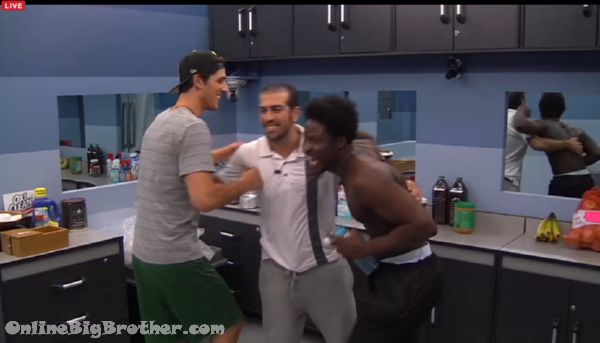 9:24pm Storage room bros
Broing it up.. lots of High Fives.. fist bumps and hugs
Godfrey – I'm thinking for the benefit.
Bruino – She's the poison
Zach – she's not going to get Peels.. even if she does doesn't matter.. Ash has Peels
Zach ASh will take peels in a second
Zach – We're winning Comps we're rolling heads.. Sarah's going home this week it's a done deal
Zach – three boys left rolling heads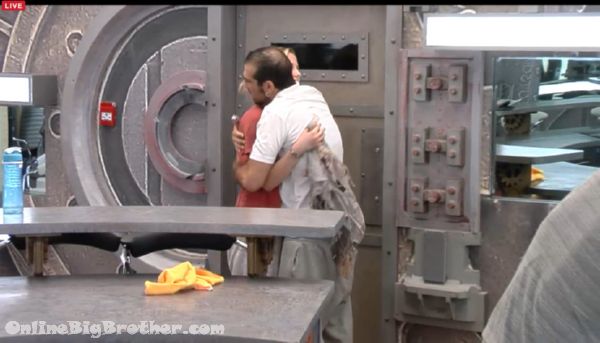 9:30pm Zach and Bruno warn Ashleigh that Sarah has been up in her HOH for a hour working Pili.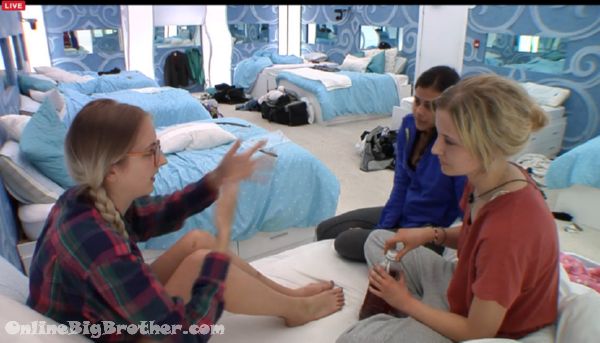 9:31pm Pili and Ash Bedroom
Pili says that Kevin knew about the chop shop early on . Pili adds Kevin was also part of a blue cobras alliance.
Ashleigh joins them.. starts talking about the alliances in the game with Zach, Kevin and Jordan.
Sarah tells Ashleigh – "I will never go after you but I'll still go after Zach.. there's a very small chance I will win HOH compared to Bruno and Godfrey".
Zach breaks up the conversation..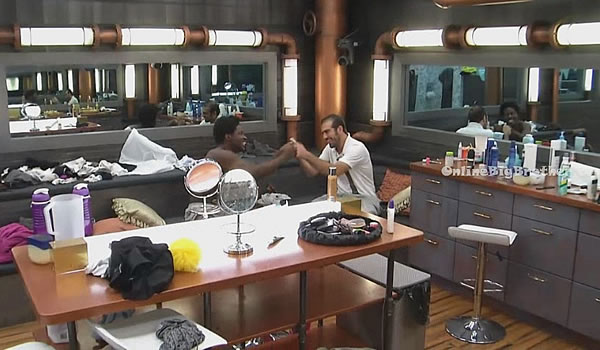 9:42pm Bruno and Godfrey Bathroom
Broing out..
Godfrey – you always put in work yo
Bruno – it's us..
Bruno tells him if he wins HOH he's putting Zach up but if Zach wins they are all bros
Godfrey says he's playing the same game planning on doing the same.
Godfrey "When it's all said and done bro I trust you"
Godfrey says when he was up with JP he thought he was going home for sure Bruno saved his life. "It was one of the biggest shocks of my life"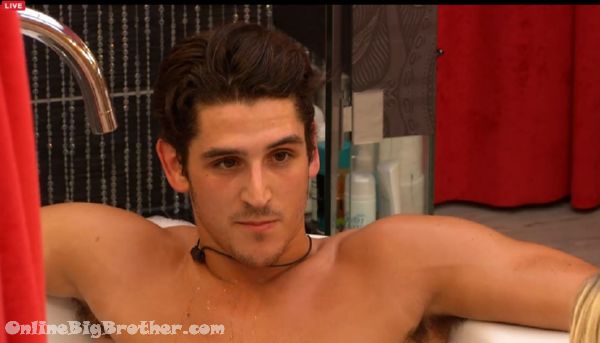 9:58pm HOH Bathroom Ash and Zach
Ash brings up the purple Cobras says she never knew about that. Zach lets her know the purple cobras were not a serious alliance. ASh adds that she told Sarah she's going up with Godfrey.
Zach stresses that Sarah has to go this week "She's poison in this game"
Ashleigh says Godfrey and Sarah are going up if Brittnee wins the veto Bruno is going up. If Sarah/Godfrey win the Veto Brittnee is going up. Zach wants Brittnee up instead of Godfrey. Ashleigh refuses she's putting up Godfrey he's too dangerous. Zach asks if Sarah is getting into Pilis head. Ashleigh – No she'll do what we say"
Zach says Sarah was working Peels for a hour trying to tell her Kevin wasn't with her
Asheligh – ya
Zach stresses Sarah will say anything to stay
Zach doesn't trust Sarah talking to Peels right now
Ashleigh doesn't think it matters she's not changing her mind.
Zach is very pissed at Sarah says her tactics in this game "She always says she's not a threat.. she put three of us on the block last night.. freaking ridiculous"
Asheligh – she said that i'm not a threat
Zach – Peels is going to be in a final 2 with Sarah this week
ASh – no she's not
Zach – Sarah is throwing Kev into the dirt right now..
Ashleigh wants the nominations to be the same. Zach says him and Bruno will be fighting in the veto for that.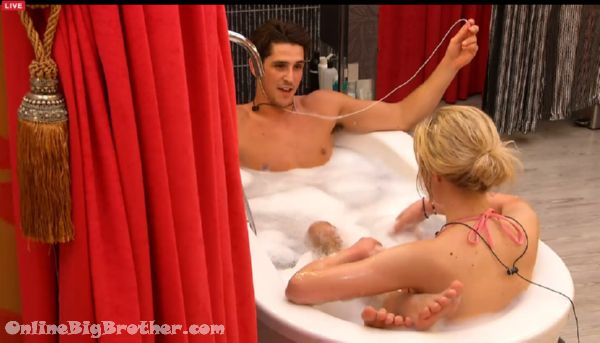 10:08pm Pili and Sarah
Sarah telling her that Bruno plays the game in a slimy slimy way. Pili says he never talks game to her.
20 minutes in Sarah is saying That Bruno and Brittnee are really close but so is she and Brittnee

If you are outside Canada and want to watch the FREE Big Brother Canada Live feeds sign up for a VPN service here https://www.hidemyass.com/vpn/r16399/. It's safe to use, easy to set up, and cheap. Need to know more check out this post explaining how to set it up.
[polldaddy poll=8849979]