POV Holder:
?
Next POV
?
POV Used
?
POV Ceremony
?
HOH Winner
Ashleigh
Next HOH
May 13th
Nominations:
?
Have Nots
Canada gets to vote
POV Players
?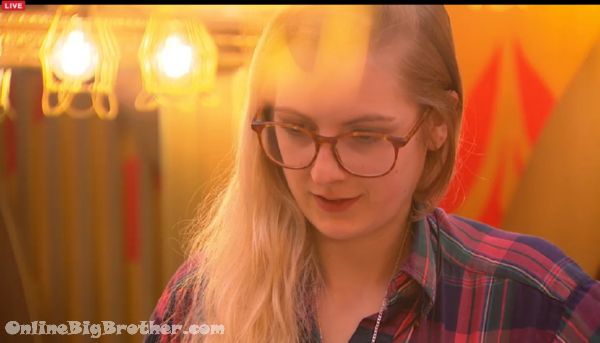 10:28pm HOH Zach, Ashleigh and Sarah
Sarah comes up says she wasn't throwing Zach under the bus when she was talking to pili and Ash. ASks Zach if he trusts Bruno.
Zach – AS far as I can throw him
Sarah says she's going after Godfrey and Bruno
Sarah says Bruno is telling her he's puttin Zach and AShleigh up
Zach – yup
Brittnee rolls in ..
Sarah stresses that Godfrey and bruno are gunning after Zach, 'God is convinced Bruno is taking him to Final 2.. we would laugh that God is Victoria.. Bruno is a black belt he's got children"
Sarah – I'm honest.. sure I might have withheld stuff.. Bruno will say whatever the f***
Zach – ya
Sarah stresses that God and Bruno are strong at comps and she's not
Zach – ya
Sarah says he used the veto on zach to keep him here as a shield
Zach says he knows bruno is a logical player
Sarah says bruno is an emotional player
Sarah wants Bruno and Godfrey up
Zach – yup
Sarah says Bruno is pretending to have a broken thumb.
Zach tells her bruno won't use the veto on God
Sarah – he will.. look that's another shield… another week you guys will go after god instead of him
Zach – yup
Sarah – I love you guys
Zach tells Sarah she's not the target this week, Sarah leaving doesn't benefit them.
Zach – I'm going to dig into the Bruno god thing.. ever since last night it's a new game for me
Sarah – I don't mind if Bruno knows I'm coming after him.
Sarah leaves..
AShleigh – yo uthink Bruno said that
Zach – he literally used the veto to save me in this game.
Zach – you saw how Bruo is he loves his people he's working with
Asheligh says the reason Bruno used the veto was so that Zach can be his meat shield.
Zach – Bruno right now is not going to use the veto on God.. I know that..
Zach – actions speak louder than words.. Bruno just saved me B and Sarah just came after us
Ashleigh says Bruno keeps telling her that over and over.. "I trust Bruno a bit more than Sarah"
Zach says next week if he wins HOH it's going to be Brittnee and God on the block they'll send God home.. then it's me you peels vs Bruno and B and we know they aren't working together they're loan ducks..
Zach – she wants you to take out a big target this week she's been doing it all the game.
Zach – the bottom line is you me and peels stay strong
Ash – Bruno is going after peels
Zach points out he's going after other targets first and it's better she goes than the two of them right?
Zach – she's (Sarah) keeps downplaying her and B are weak.. they've one 2 HOH's and they are very good player together this whole game.
AShleigh – like I said it doesn't matter
Pili comes in
Zach tells her not to think Kevin was holding things from her kevin never really knew about eh "Chop Shop"
Zach – Don't believe Sarah..
Zach explains when Sindy told them in the HOH about the Chop Shop kevin was surprised
Pili – why am I freaking believing all this
Zach – I don't want you to feel kev was holding things from you he wasn't
Pili – I'm sorry Kev.
Zach adds that the purple cobras was not a real thing like a 1 week thing, "kevin was always loyal to you 100%"
Zach warns her that Sarah is very convincing.. Reminds her that last night they put three of them up, "bruno's nominations would be B and Sarah he was raving about it before the comp"
Zach says B wanted Willow to stay last night. she was telling everyone that.
Pili mentions that Apparently Willow was telling Sarah everything about the couples meetings.
Zach – Sarah is the best persuader in this game.
Pili says she believed everything Sarah was saying to her 'I freakin suck.. I can't believe it"
Pili doesn't trust Bruno.
Zach – we'll watch him
Pili says next time she has a conversation with Sarah she'll come up and talk to Zach and Ash to make sure it was true
Zach presses that the three of them are together till the end and Sarah is doing whatever it takes to split them up.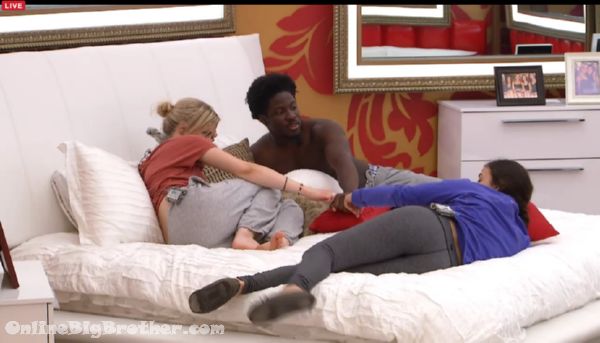 11:07pm HOH Godfrey, Pili and Ash
Ashleigh tells him he's going up as the pawn Sarah it the target if Pov is played brittnee goes home.
Godfrey – Brittnee is the best pawn in the business yo
Ashleigh says she can't put Brittnee up because last night she didn't put her up. Godfrey says he was campaigning hard to get Willow nominated.
Godfrey trusts ASh and peels but is unsure about Zach
Ashleigh – I promise you he wants those girls out after last night he wants those girls out.
Ashleigh warns that Sarah is a master manipulator "I promise you are not going home this week"
they count the vote, 4 people voting all they need is two votes and Ashleigh will be the tiebreaker.
Godfrey – Ash I trust you yo
Godfrey- I trust you Pili I won't even question that
Godfrey highlights the three of them have few jury votes compared to Zach and Sarah
Sarah tells him about the purple cobras. Godfrey laughs "Am i the only one that didn't have an alliance"
Godfrey – I will not flip on you guys 100% I am not with Sarah and britt.. I don't trust them I wouldn't doubt there throwing my name out there"
Godfrey points out that Brittnee never had a chance to think last night Sarah was all over it 'I thought is Sarah HOH or is it Britt"
Godfrey – She is way more dangerous than me
Godfrey says he's in with the goblins to win it they call themselves the "GARBLINS" he gives them a little fist bump
Godfrey leaves..
Pili is upset with herself for believing Sarah that Kevin was keeping things from her.
Ash – Sarah is just really good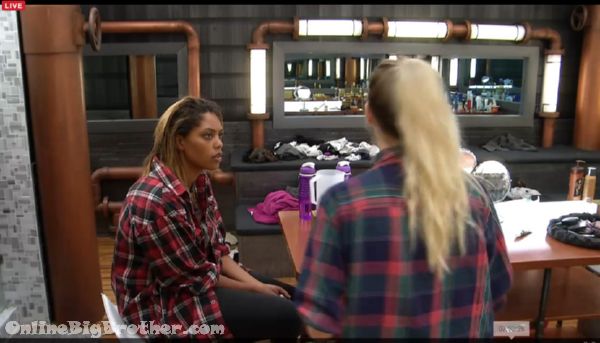 11:28pm Sarah and Brittnee
Sarah – I think I did a good job.. either way I think they really want God out
Brittnee – they're telling Bruno they want you out
Sarah says she just spilled everything to Pili and Ashleigh.
Sarah – Pili's on board"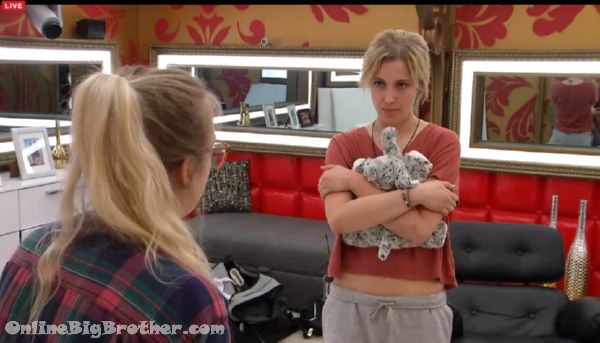 11:37pm Sarah and Ashleigh
Sarah says Bruno is going to use the veto. Sarah adds that Bruno told Brittnee that Zach/AShleigh wanted Sarah out.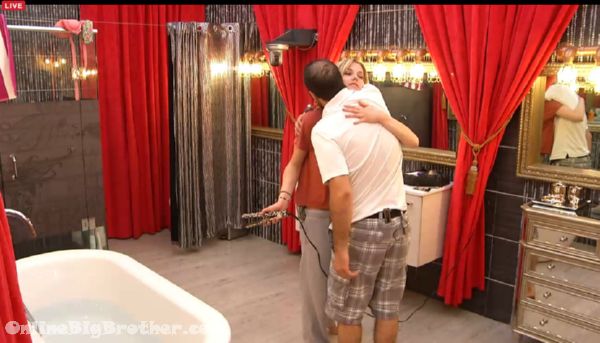 11:40pm HOh Bruno and Ashleigh
Ashleigh tells him the POV has to be won
Bruno – I'm fighting for it
Ash says she's told Godfrey and Sarah they are going up. Ash knows Sarah is really good at talking "It's terrifying"
Bruno – she's going to tell you whatever you want to hear
ASh – my mind isn't going to change it's made
Bruno stresses how good Sarah is "I just learn to ignore it"
Ash – it's because she's so goofy .. do I want to sit next to her at the end NO
Bruno says words are cheap but he'll show her next week he's got her covered.
Pili joins them. Ashleigh points out that Sarah was trying to throw Kevin under the bus today it shows how dangerous she is.
Asheligh tells them whatever you tell Sarah you have to downplay it because she'll up-play it later.

11:42pm Godfrey, Sarah and Brittnee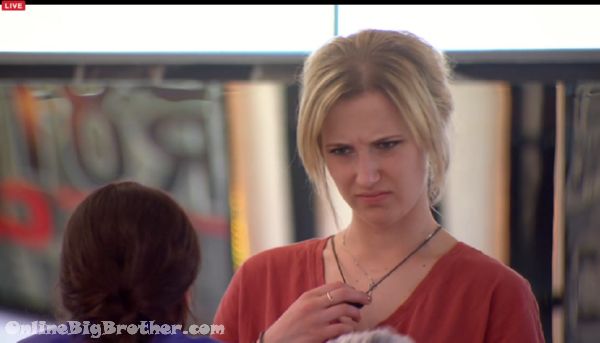 11:55pm Pili and Ashleigh
Pili – I don't like the way bruno is playing the game at all
Ashleigh – You can take Bruno out next week if you win.. Zach is going to go after Godfrey.
Ashleigh – Sarah needs to go this week.. Bruno did something for us he saved one of our members.. Godfrey also saved one of our members.. Bruno saved Zach Godfrey saved you
AShleigh is sick of hearing Bruno say that Zach would have been out the door if it wasn't for him using the veto.
Pili – I don't trust him
Ashleigh tells her Kevin is going to be happy to see Sarah because he knows B and Sarah got him out.
Pili is really worried Bruno is going to win the game she wants to get him out next week.
Pili – I can't have a smile on my face with him around
Ashleigh says they get Sarah out this week then bruno and Brittnee last
Zach joins them.
12:21am HOH Zach and Ashleigh Debrief
Zach trusts Bruno for now but they have to keep him on watch. Zach says Godfrey is also someone they need to keep an eye out for. Brittnee and Sarah took a shot at them last night. If they get rid of Sarah Brittnee is alone. Zach adds he can "really" pull Bruno in and Bruno is super loyal like he was with Bobby.
Ashleigh wants to see Bruno go before Brittnee. Zach – ya sure.. Ideally it would be Sarah then Godfrey
ASh – Ya.. after Sarah's gone at that point I don't really care.. I know Peels doesn't trust Bruno because she knows Bruno will take us over her any day
Zach is going to continue to build trust with Bruno because he's good at winning comps
Ashleigh goes on about how annoying Bruno is always reminding them he saved them last night.
Ashleigh – I want the girls separated ultimately that is what I want done in my HOH.. I want B gone more than god
1:25am Zach and Ashleigh
AShleigh points out how hard Bruno was fighting for the HOH, "Kinda makes you think" adds he kept saying he wanted to see his family "I got a family to bud" ASks Zach if he heard her say that to him. Zach doesn't think Bruno would put them up this week if he won the HOH.
2:00am
Zach and Ashleigh are still up listening to her music.
Ashleigh – Oh the spider died by the way in case you cared
2:13am
Talking about favorite movies, Ashleigh likes Greece.
Zach says that is one of the best movies of all time. Zach says his favorite movie is "friday night lights"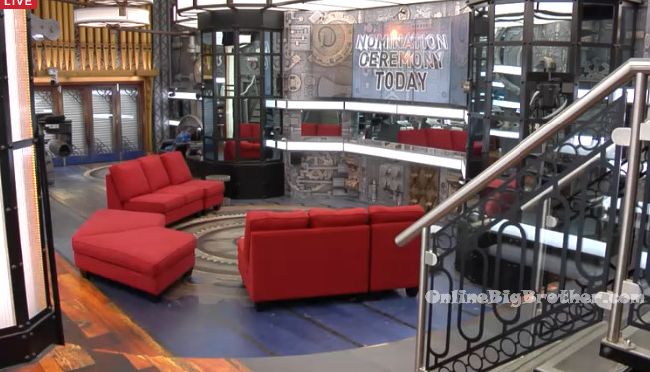 8am – 8:45am Big Brother starts waking up the house guests and then blocks the feeds. When the feeds return the house guests are in the HOH or heading there for a lock down. On the living room TV screen it shows that the Nomination Ceremony is Today. Brittnee comments now that its Ashleigh's bathroom its nice and clean. The other girls agree. Ashleigh and Brittnee start getting ready in the HOH bathroom. Big Brother blocks the feeds.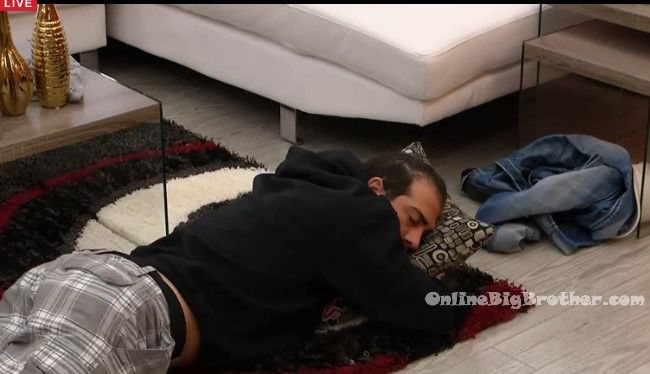 8:45am – 11:05am The feeds have been blocked
11:50am Still blocked
If you enjoyed this site's content please consider a donation or checking out our How to support OnlineBigBrother.com page. Any help is appreciated, this site is only here because of your support.
[polldaddy poll=8849979]