POV Holder:
Allison
Next POV
?
POV Used
Yes
POV Ceremony
March 24
HOH Winner:
Racehlle
Next HOH:
March 27
Original Nominations:
Allison & Heather
Current Nominations:
IKA & Heather
Last Evicted Houseguest
Paul, Kyle, Anick
Have Nots
Adel, Sabrina, Heather, Arlie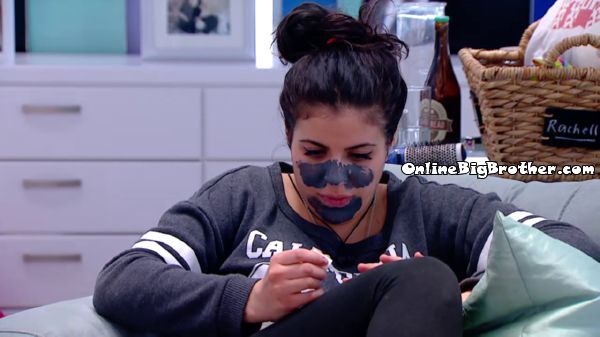 8:35pm Rachelle and Sabrina HOH
Sabrina feels that Andrew and Allison are in love.
Rachelle – "Maybe he's just like that thought.. with his affections.. they don't' do anything when they make out do they"
Sabrina – Apparently no
Rachelle says SAbrina's face looks skinnier, "it looks flatter"
Sabrina – "It doesn't"
Rachelle – "I feel like Sarah is never going to go home.. like who would put her up.. not that I want her gone"
Sabrina says she cannot put Sarah up it would have to be Rachelle or Andrew.
She adds she'll vote Sarah out when the time is right.
Sabrina – "Right now we have to think Allison, Adel Heather."
Sabrina says Sarah, Neda, KEnny and Jon will put up Allison.
Rachelle is worried that there's pictures of her naked on the internet. Racehlle says the internet is full of Big Brother Nudes. She mentions the pictures of Emmett's "dong": Hanging out that came out last year. (Go to our tumblr site)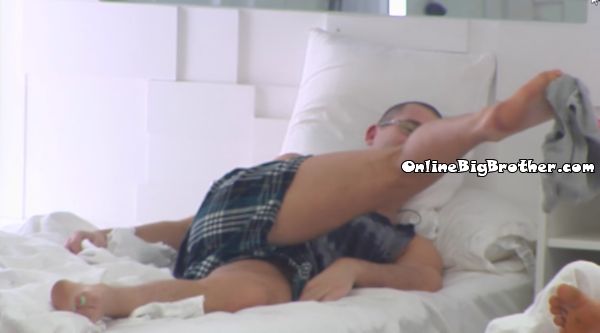 9:13PM Bedroom Arlie, Jon, Sarah, Neda and Arlie
joking around..
Arlie says he's seen one girl's chest in the house and he won't say who it was. Jon says it was Rachelle she showed everyone. Arlie – "Nope"
Arlie tries to flick his underwear onto Sarah.
Allison and Sabrina cruise in and Arlie sings – "Sabrina … Sabrina.. I love you so much.. Sabrina.. Sabrina come give me a touch"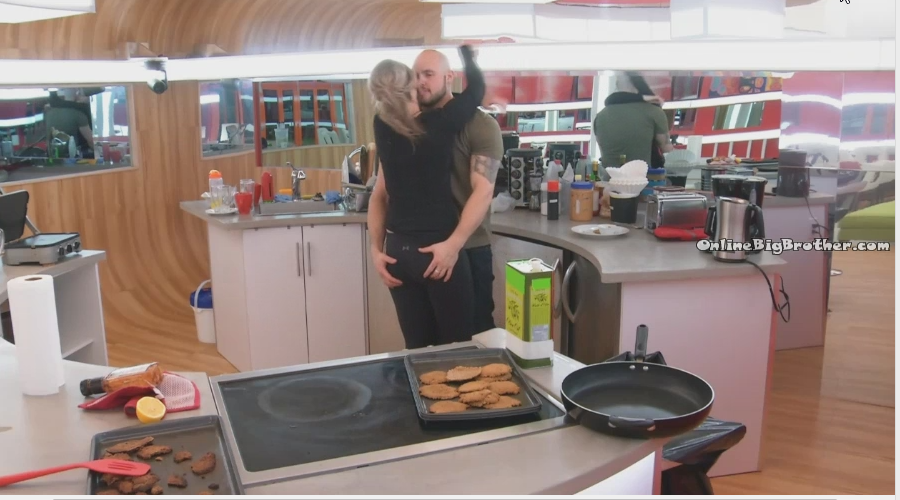 9:20pm Showmancing
Who expected Allison to hook up with Andrew?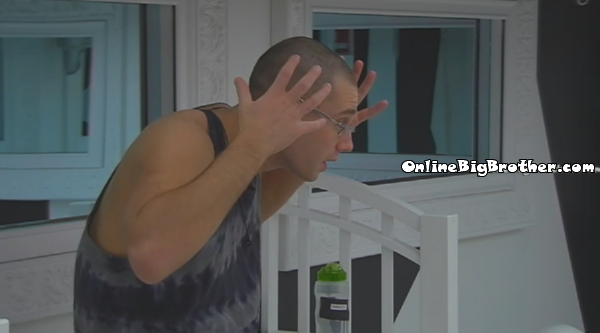 9:28pm Arlie and Adel Have Nots
Adel tells him he really wants HOH, He's got a epic plan. He doesn't want to say anything yet but will the night he wins HOH. (His plan is to put Kenny and Sarah up. Kenny is the target. If POV is played Andrew is the replacement.. there more to it but thats the meat of it)
Adel says Arlie is the one dude in the house that he knew from day one was not going to *** him in this game
Arlie says he's not going to f*** Adel and he's not going to do anything to hurt Adel's game, "I'm not going to f*** lie to your face then F*** you".
Adel says Jon is getting very nervous, "IKA kinda f*** his sh!t up in a way"
Arlie – "Really bad.. there's rumblings now"
Arlie- " You guys are my one and two I'm really trying to get us three as far as I can with other residual people on the end like Heather and Neda"
Arlie thinks it all comes down who wins the HOH's the sides are so eve, one of their five has to win the HOH. (Adel, Arlie, Heather, Neda and Jon)
Adel asks if the house is "Shunning" him still.
Arlie doesn't think so, people noticed Adel laughing with IKA in the backyard but she's going home.
Arlie – 'I just don't want to lose Big Jon this week because there's been talk.. the whole IKA thing"
Arlie says IKA has said stuff that really started people to question him. Arlie isn't wasting time worrying about it because it all comes down to the HOH. If they win HOH no worries if they don't win HOH they're all in danger. Explains it's their side vs Kenny and Andrew's side.
[polldaddy poll=7916437]
[polldaddy poll=7912780]