POV Holder:
Jon
Next POV
April 12th
POV Used
Yes
POV Ceremony
April 14th
HOH Winner:
Jon
Next HOH:
April 17th
Original Nominations:
Sabrina & Rachelle
Current Nominations:
ADEL & Arlie
Have Nots
Neda, Arlie, Rachelle and Heather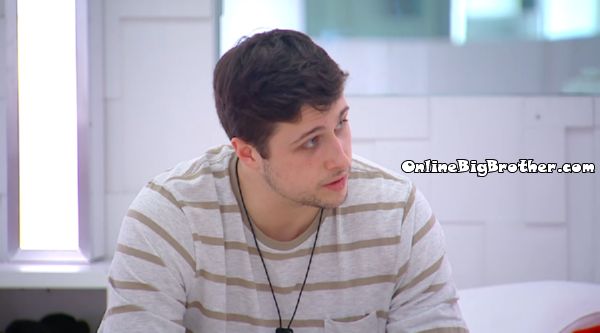 7:55pm Bedroom Jon, Adel and Arlie
Jon tells them once Arlie goes he's going to be the target
Arlie is saying that Neda is really playing down her physical abilities. He asks them if they think she's physically strong in competitions. Adel doesn't think so. Jon doesn't know says it wouldn't surprise me if she was.
Arlie tells them Neda is making it to the finals in every single scenario he can think of, "How is she going to lose.. who is going to want her out of this game"
Arlie says every fan knows you cannot win the first half of the game and make it to the end. You have to make connections during the first half.
Jon doesn't think there is a big girls alliance that will challenge him. Arlie doesn't think there's a formal girls alliance he thinks it's just going to happen both sides of girls are going to take out the guys.
Arlie points out to him that there's only one more week that trust is involved after that it only matters who wins the competitions.
Arlie says Allison and the gremlins will put up Adel and Jon. He doesn't think Heather and NEda will this coming week but after that there is a good chance.
Adel – "We're f***d"
Arlie says he really thought they were good until final 5. When Arlie had the "Target" talk with Jon it was real talk.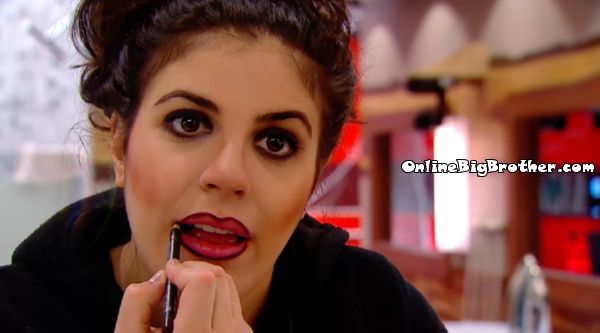 8:05pm Gremlins doing their Goth Makeup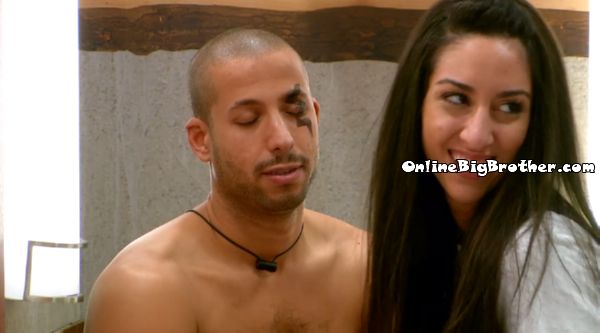 8:16pm Adel gets a lighting bolt drawn on his face by Neda
8:28pm Gremlins getting ready for the hot tub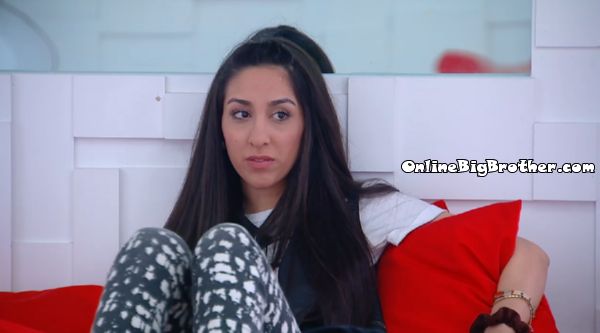 8:30pm Bedroom NEda, Arlie and Jon
Neda and Arlie agree it's possible the gremlins are going to make the final 2.
Arlie – "Jon F** his game completely by doing this to me"
Neda says that Arlie would have taken Jon out first chance he had. Arlie says he would never had taken Jon out 5th
Neda doesn't believe Arlie she thinks he's only saying that to make Jon feel stupid for doing what he did. If Arlie had the chance he would have taken Jon out 6th or 7th. Arlie tells her there is no way he would have done it this early in the game.
Arlie – "I think Jon is f*** now.. I'm not saying that to make him feel bad I literally think he's f***d . I think he f*** mine, his and Deli's game by doing this.. that's just the way I see the game going "
Neda – 'Cool'
Arlie adds that it's just his opinion but Jon is F***d now, but he's made his big bold move now he has to win his way to the end.
Jon – "It's going to be a rough road.. if it f**s my game it F*** my game"
Arlie – "If you make it you'll have one epic streak if you can pull it off" Arlie points out Jon will need to win 6 straight competitions. He can't wait to see it because as a fan "that would be cool" Arlie says he doesn't think Jon will be able to do it.
Arlie – "I Can't believe you thought I would take him out 7th.. I would be begging everyone to target me.. "
8:30pm Two production leaks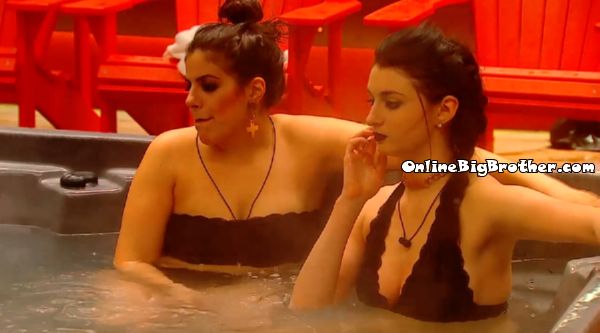 8:34pm Hot tub the gremlins
Gremlins joke about the other players in the game hounding them all day. Sabrina – "I wish they would go back to not liking us"
Rachelle – "That won't last for long.. them liking us"
Sabrina – "You don't think so"
Rachelle "Who knows"
Sabrina – "Ohh cause we're going to put them up"
Gremlins start studying
9:15pm Feeds have been on hush hush for awhile
[polldaddy poll=7968822]
[polldaddy poll=7964297]
Share it YO!!
Tweet