| | | | |
| --- | --- | --- | --- |
| POV: | ? | Next POV: | Aug 4th |
| POV Used | ? | POV Ceremony | Aug 6th |
| HOH: | Angela | Next HOH: | Aug 9nd |
| Noms: | | Have Nots | |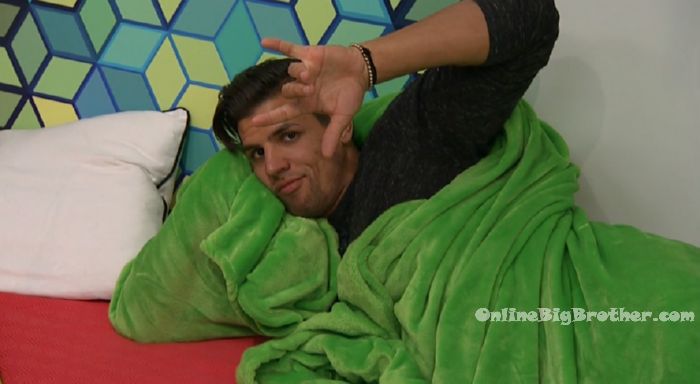 7:55pm Lounge room. Fes, Tyler and Rockstar. Rockstar – f**k, this f**king sucks! This sucks! Rockstar – who will she put up? Tyler – No clue! She was the one I was worried about. Fes – we'll see what she wants to do. Rockstar – well I think its pretty clear that she is working with Brett and Sam.. and Kaycee. Tyler – well I thought they were working with Rachel. Rockstar – Brett is a super salesman. Tyler – Brett didn't talk me into sh*t, Rachel talked me out of it. Rockstar – four times that I have voted wrong. Tyler – at least you've never voted to evict the HOH. Rockstar – she'e never been on the block. Tyler – Rachel was spreading line about me to Bayleigh. She wanted her and I to go after Bayleigh because she knew that Bayleigh has the power. I told Bayleigh right before that I was voting her (Rachel) out. Fes – how does she know Bayleigh has a power? Tyler – because Bayleigh told her apparently. Rachel is an idiot, she talked herself right into it. I know Rachel is that one vote last week too. Either she did it to pin it on me or she did it as a sympathy and then tried to pin it on me. Rockstar leaves. Tyler – what the f**k you voted Rachel to stay? Fes – yeah. Tyler – I should have gotten you to vote with me. Now we just need to see who she is going to put up. Rockstar comes back. They talk about the tie breaker question. Rockstar – I don't do math.. I'm math-t@rded. So Brett stays again! Fes – for the second time. Rockstar – this sucks!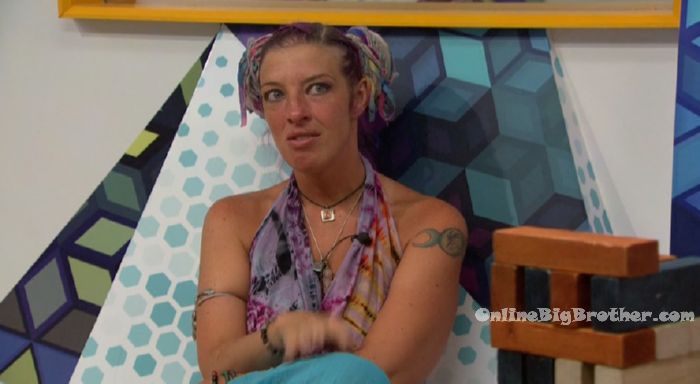 Storage room. JC and Scottie. JC – its either you, Me or Fes on the block this week. Scottie – I wanted Rachel to stay. Everyone told me they were voting Brett out. I didn't want to be the one person to do it. JC – if there is a girls alliance the only three that will go on the block are either of us. Who else? Scottie – there is me, you, Fes, Tyler and Brett. JC – on I forgot about Tyler. Brett won't go on the block. I don't want to go on the block with you and I don't want you to go on the block with Fes. Scottie – you took last week off and it all went to sh*t! JC leaves. Scottie to the camera – I have no idea what is going on! I just want to tell you that if I end up winning big brother, I am the worst player ever. I have no idea what is going on .. and I love it.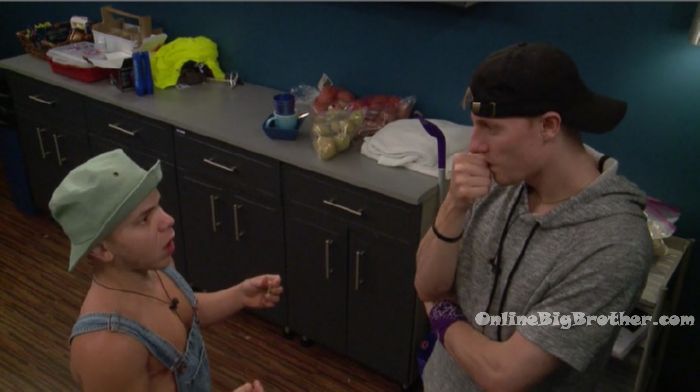 8:08pm Havenot room. Brett and Fes. Fes – does Bayleigh have a power? Brett I have no idea. She didn't tell me. Fes – I am closer to Bay than Rachel and she didn't tell me. Brett – When she volunteered to go up is when she probably told her about it. Fes – Rachel was PISSED!!! Why did you think Rachel was the head of the all girls alliance. Brett – because she named it. She told me she named it the man-eaters. Fes – why would she tell you? Brett – she was just trying to work everyone. Plus it was out enough so she wanted to cover her a$$. JC joins them. Brett leaves. JC tells Fes that he is working keeping him and Fes off the block. Last week I let you do all the work and look what happened because I didn't put my hands on this.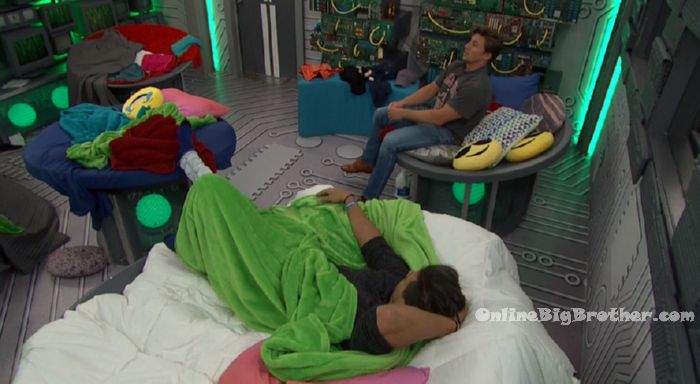 8:18pm 8:40pm Big Brother switches the live feeds to the BB re-runs.
Lounge room. Bay and Sam are talking. Sam – that happened before I was HOH? Bay – yes. Sam – with Rockstar? Bay nods. So that is done and over with now. Remember when you told people about your power …I can't say yes or no but just like you I didn't want anyone to know that I had a power because I wanted it to be a secret. Sam – but you do? And he (Brett) just blasted you? Bay – yes and that's why I was so hurt. I don't know why Brett attacked me because I wasn't attacking him. Sam – did you choose Identity Theft? Bay – MMMmhhh. Sam – so what are you replacing noms? Bay – Yup, I get to replace both noms. So its like I get the HOH but I don't get to choose the replacement nominee. Sam – so when does your expire? So this week and next week your power is irrelevant. Unless you can override what the hacker does. Bay agrees. Sam – are you sure? Bay – yes, because mine has to be done before noms. Sam – so you can just go in and nominate before the HOH nominates. Bay – yes. This new thing (Hacker) is a pain in the butt. I feel like I just got screwed in my butt! Sam laughs. Sam – I am so going up on the block.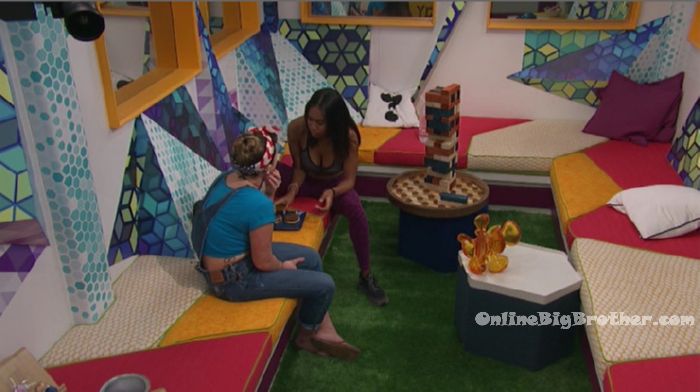 8:50pm Bathroom. Bay, Angela, Rockstar and Kaycee. Angela tells Bay that Rachel made a final two deal with her and Kaycee on the same day. Bay – WOW! She was running around literally lying about people.
Angela & Tyler celebrate her HOH win! #BB20 @bigbspoilers pic.twitter.com/LmdBnyfCq3

— Dawg (@DawgsBigBrother) August 3, 2018
FLASHBACK and watch everything you missed: Live Feed 7 day FREE Trial!

9pm Tyler and Angela. Angela – I am thinking Fes and Rockstar. Bayleigh has the power to change nominations but now with this hacker thing it doesn't even matter. So I kind of think that she isn't going to use it unless its on herself. Tyler – so she can't use it after the veto ceremony can she? Angela – nope. Tyler – so you can do a back door? Angela – I'm thinking put up Fes and Rockstar .. then we go through the whole hacker thing and then backdoor Scottie. Tyler – I am thinking if worse comes to worse backdooring Bay. Angela – I think put up Fes and Rockstar. Bay won't use her power and Fes will get pissed that she doesn't use it on him. So they kind of turn against each other. Tyler – if Fes wins the veto, you just put another one of them up. Angela – and Rockstar isn't going to win the veto. Tyler – I plan on winning the hacker.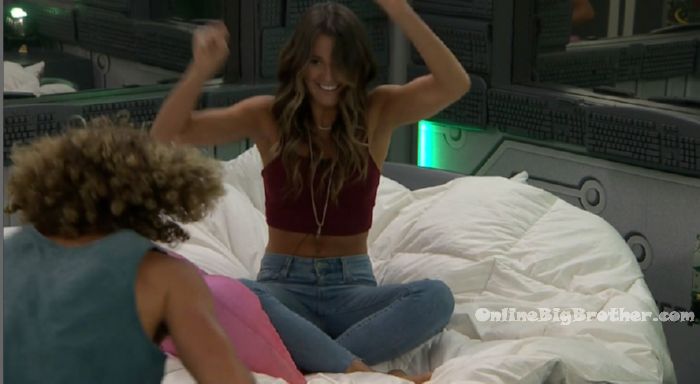 Tyler – I am all for whatever you want to do. If one of them win the hacker, I will probably go up. Angela – with this hacker app.. it gets less blood on my hands. I can say that I am putting up two people that I think can fight. That's what I will tell Fes .. I will be like I don't want you to go home this week. I know that you can win and if you can't I am going to do my best to make sure you don't go home. Tyler – if he wins the hacker too he can take himself off. Angela – I feel that Scottie is always going to be around. Rockstar is just obnoxious. Haleigh is just a follower. Tyler – Scottie is definitely with the other side. He voted with them. Tyler –
Angela – do you think I should put up Scottie and Rockstar?Tyler – just right off the bat. I think Rockstar and Fes would be good. Then plan to backdoor whoever you want to. If one of them win the hacker they would put up Brett.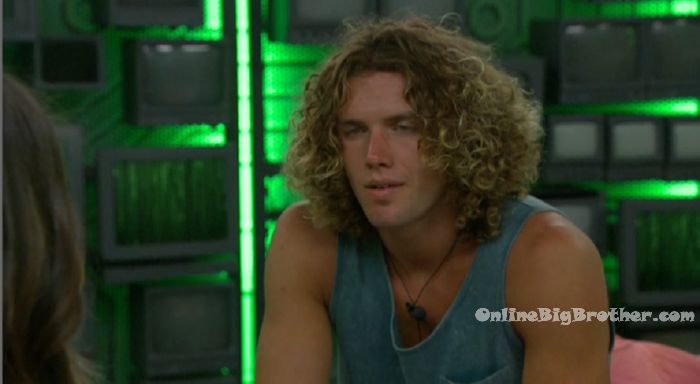 9:09pm Bay and Kaycee getting close..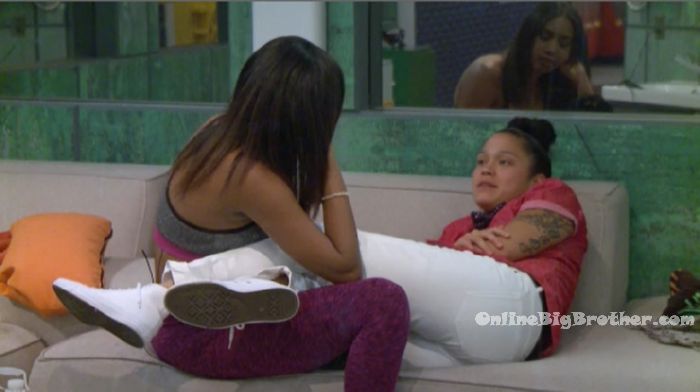 9:16pm Brett and Angela. Brett comes in and hugs Angela. Brett – about f**king time! How was my speech. Angela – it was perfect! Angela – what a f**king relief! Brett – so first and foremost I totally want to marry you. Our kids are going to get your memory. I do need to tell you about Bayleigh's power app. Angela – I already know. Brett – I was thinking of forcing her to use it. Angela – I just think there are too many ways for her to pull herself down. Brett talks about how Bay told him that she told Fes about her power and then two seconds later Fes was telling Brett he had no idea about the power. Angela tells Brett her goodbye message to Rachel – Rachel, let me go over a few bullet points with you. First off you talked yourself onto the block then threw all our names under the bus, then you tried to turn Tyler against me, then you lied to my face, your stories don't make sense and you're about as irrelevant as you were week two. She is going to cry for months!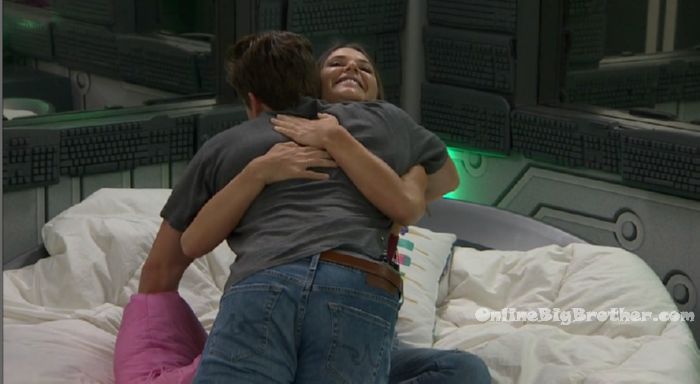 If you've enjoyed our live feed updates so far this season, please consider donating.
Any amount is greatly appreciated! Your donations go directly to paying the fees required to run this site.
Rank the houseguests!
Easiest way to Rank the house guests use link below