POV Holder:
Next POV
Aug 24th
POV Used
POV Ceremony
Aug 26th
HOH Winner:
Elissa
Next HOH:
Aug 29th
Original Nominations:
Current Nominations:
Last Evicted Houseguest
David, Nick, Jeremy, Kaitlin, Howard, Candice, Jessie. Helen
Have Nots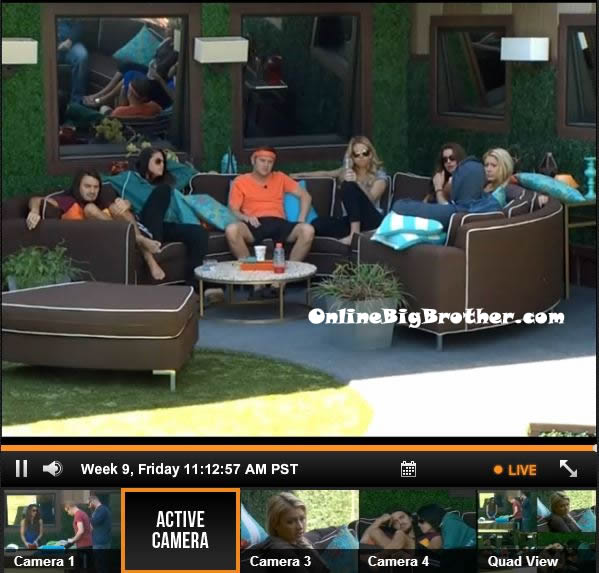 11:20am – 11:30am During the backyard lockdown – Amanda comments that they said we won't be out here for too long. Amanda asks Ginamarie what would you do if it was Candice that came back into the house. Gina says she hugged me. Amanda asks what?! Gina says yeah we hugged and she said happy birthday and when she fell off I said goodbye. Aayrn says I expected Jessie to be sweeter but she was worse than Candice.
Big Brother 15 Live Feeds: FREE 2 DAY TRIAL!
11:40am Big Brother cuts the feeds to the we'll be right back screen. When the live feeds return – The outdoor lock down is over and the house guests are inside the kitchen. The find that Big Brother gave them all their own slop bowls and they traded out the large table for the smaller table. Andy says and they cleaned the counter. YAY! Most of the house guest say that they aren't going to use the slop bowls. They talk about putting them in their bags. Andy and Judd head out to the backyard. Judd talk about how coming back in here he just wanted to start with a new slate. He says that he was voted out by a unanimous vote so I couldn't be mad at just one person. Spencer joins them. Andy wonders if they will even have a have/havenot competition.
11:50am In the bedroom – Amanda complains what if I don't even get picked to play in the veto. McCrae says its okay they it will make me play even harder.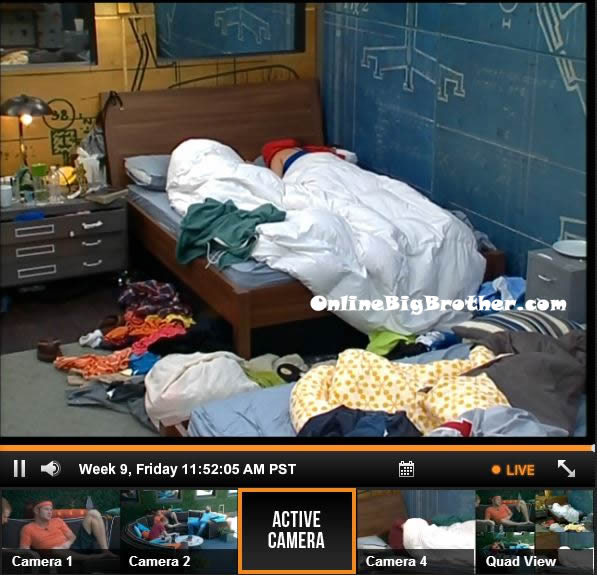 11:50am – 12:10pm Up in the HOH room – Elissa talks to Ginamarie about wanting to start with a clean slate with her. Gina agrees. Elissa asks who is the running the house. Gina says Amanda and McCrae. Elissa ask and who is doing all their dirty work? Gina says Aaryn. Gina says she has tried to talk to Aayrn and to convince her to work with Elissa and Helen. Gina talks about how it was Amanda that got Elissa's down comforter taken away in the havenot room. She complained about it like 6 times to the diary room. Gina tells Elissa that she and Andy tried to go to Aaryn because we didn't know if we were making the right decision. I wanted to work with Helen because she is a great person. Elissa says the only thing that I didn't like was how Candice was treated but I don't really blame you. I know you are a great person. I blame Aaryn for that. Gina says yeah I was defending Aaryn. Elissa says and Aaryn is putting it all on you. Elissa says if we don't get Aaryn out she is going to keep winning competitions and win this thing. Gina brings up how week two Helen told me I might need to separate from Aaryn. Elissa says that every day Aaryn says something racist or inappropriate, EVERYDAY! Elissa says you are sticking your neck out for Aaryn and she is spitting on you. I don't want to nominate you, I am not going to nominate you. Gina says thank you. Elissa says she is not an asset to you. If you got picked to play in veto and won it what would you do? Gina says I would not use it if that's what you wanted. Elissa says I want you to try for it. Gina says I am due for one! Gina asks do you think that we could get Aaryn to work with us? Elissa says no I have tried numerous times and it just won't work. She has something against me and it's just weird. Gina says I know, I asked her why would you get rid of someone (Helen) that was not coming after you?! Elissa says do you see how Aaryn is more dangerous than Amanda. Amanda can't win anything, we can beat her all day every day. Do you think you earned your right to be here? Gina says yeah! Elissa says I do too. So you need to detach yourself from the negative energy. Do you not see that Aaryn and Amanda are working together. Gina says she didn't know they were. Elissa says we need to get out Aaryn this week and Amanda next week.
Big Brother 15 Live Feeds: FREE 2 DAY TRIAL!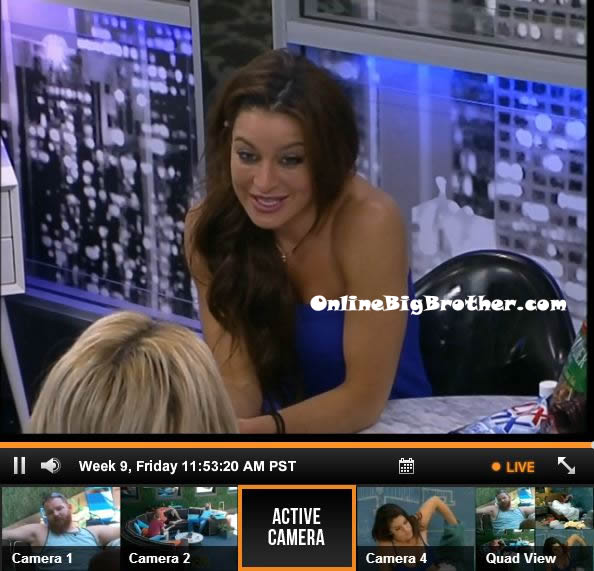 12:10pm – 12:30pm Gina says I like you and I always have. I know you don't like Aaryn because of the way she tread Candice. Elissa says it goes beyond that it about respect for different races and cultures. We live in a day and age where that is not acceptable and I don't condone it. Elissa tells Gina if you get picked to play in the veto I just want to make sure you don't use it if you win it. I just don't want you to be in a difficult situation so it would almost be better if you didn't try to hard for it. Gina says I understand what you are saying and I agree with it. Elissa says I have another person in mind if it does get used and its not you. Gina says got ya, I respect that. Elissa says if Aaryn is starting to win it, then I would want you to try to win it and not use it. Gina says okay. Elissa says its just disgusting the way Aaryn treats people. She disregards the type of world we live in. Gina says Aaryn does live in a different world, she live with lambs and shit. I live in New York and see Blacks, Mexicans, and Asians on a daily basis. I could see someone in a monkey suit and not even take a second look. Elissa says I just want to make sure you don't use the veto if you get it. Gina says yeah no problem and anything you need just let me know. Andy tries to come in and Elissa tells him no we're talking. He says okay no problem and leaves. Elissa says its not anything personal against Aaryn, I just don't know what she is thinking. Gina says I know.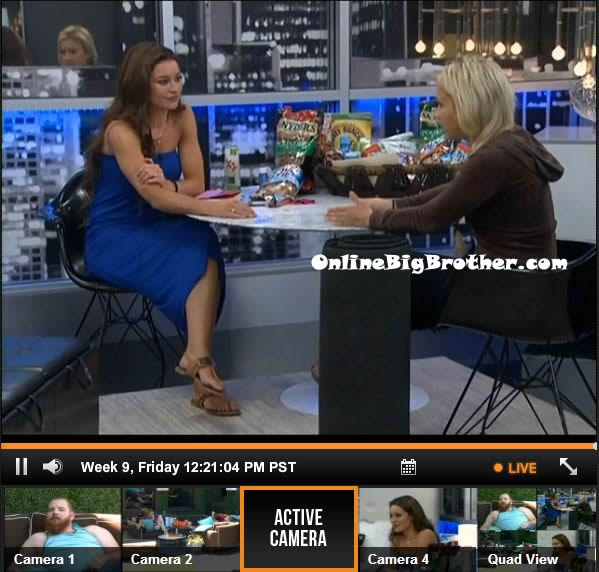 12:30pm – 12:45pm Up in the HOH room – Aaryn is talking to Elissa. Aaryn says that she had to make moves that the whole house was on board with because otherwise she would be a target the next week. Aayrn says I don't know the game as well as you do. Big Brother cuts the feeds. When then come back – Elissa says I have tried to work with you but you have done things that go against the people I am with. Everything you has told me is a bold faced lie. I was trying to put everything behind us and to work with you and Ginamarie. I have never done anything against you and you have targeted Helen and me. You need to accept responsibility. Aaryn says I know that Helen told me that you wanted me out before. Elissa says I don't know why other people put words in my mouth. I am a strong person that has a voice of my own and I don't need people to talk for me. If you don't hear it from me then don't believe it. Aaryn says that she would want to work with Elissa and vote however she wants. Elissa says for you to do that you would need to promise that I am safe for the next 3 weeks. Aaryn says if you don't put me up and don't put me up as the replacement then I will make any deal or any promise that you can dream up. I would keep you safe for as long as I possibly could. This is a dream of mine and it would change my life. Elissa says I have worked for everything I have and deserve to be here just as much as anyone. Aaryn says even $50,000 would change my life. I know I have made mistakes but I will do whatever it takes to stay here. Elissa says the only way that could work is if you take yourself off the block and then maybe next week we could work together. This week I wont believe a word you say but maybe next week if you stay we could work together. Aaryn says if you don't put me up or nominate me as the replacement then I will vote with you and not nominate you if I am HOH. Elissa asks what if a bigger target was up against you. Aaryn asks would you have the votes to keep me? Elissa says I don't know. Aayrn says even if Amanda or McCrae were up there I still think I would go home over them. Elissa asks so if you did go up and you stayed are you saying you would be coming after me? Aaryn says no, if I stay this week I am not coming after you. Elissa says I have credibility because I have never nominated you or tried to get you out whereas you have tried to come after me. Elissa says I don't know you aren't even my biggest target..well I don't know what I'm saying. Aaryn says if I stay you have my loyalty and I have no problem moving forward with you. If you can't take that deal now then maybe later we can reconvene to talk about it. Thanks for talking with you. Elissa says thanks for coming up. Aaryn leaves.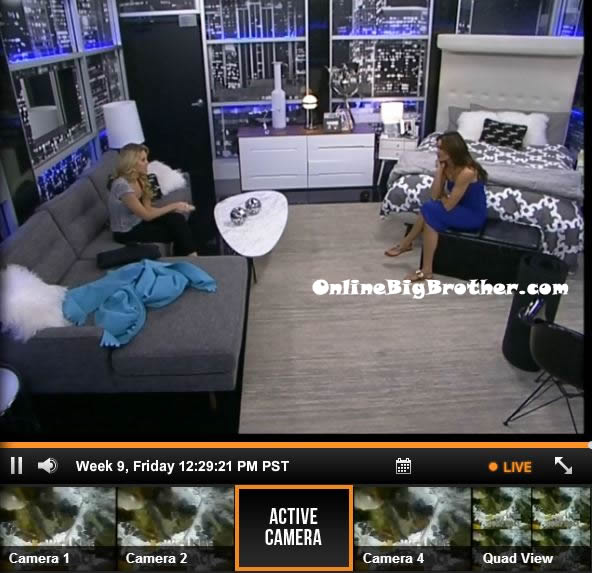 12:50pm – 12:55pm Andy comes up to the HOH and asks if Elissa is still thinking the same thing as last night. Elissa says yeah. Andy says okay good! I want you to know I tried to switch the votes last minute with Gina but the votes just weren't there. Andy says that he will fight hard for the veto. Elissa says good because if I see anyone not fighting for it, they will be going up. Andy tells Elissa that he will have her back and keep her safe next week if she doesn't put him up. Elissa agrees to that deal. She tells him that she doesn't even trust to tell Andy everything because he is with Amanda/McCrae. You need to break away from them. Andy says I know, I know. Elissa says just tell them (Amanda and McCrae) that they are not the targets. Andy says he will and has been telling them that. Elissa says they think you are a joke, they think we all are. Andy says I know, I am not an idiot.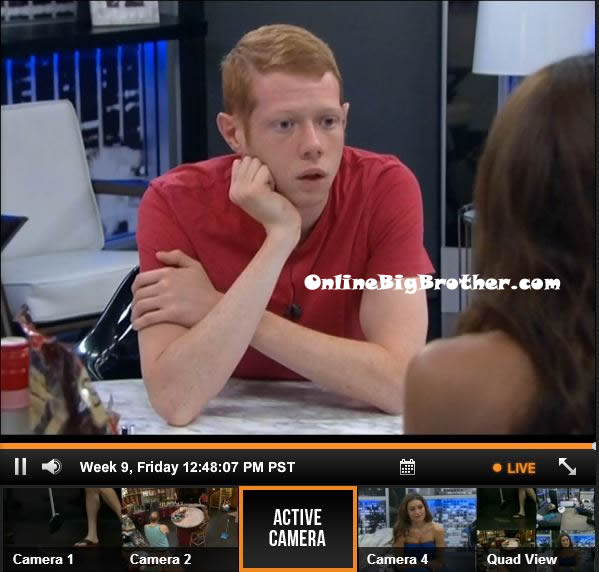 1pm – 1:05pm Andy notices the nomination screen is up on the living room tv. In the lounge room – Judd talks to Spencer about how Judd knows that Amanda and McCrae wouldn't vote for him in the end. Judd says that he took the heat for the Grasshopper alliance and says that he didn't throw Spencer or Ginamarie under the bus. Spencer says that he really appreciates that. Andy joins them and tells them that he talked to Elissa and we are all okay. Judd asks so it will be McCrae and Aaryn being nominated? Andy says yeah.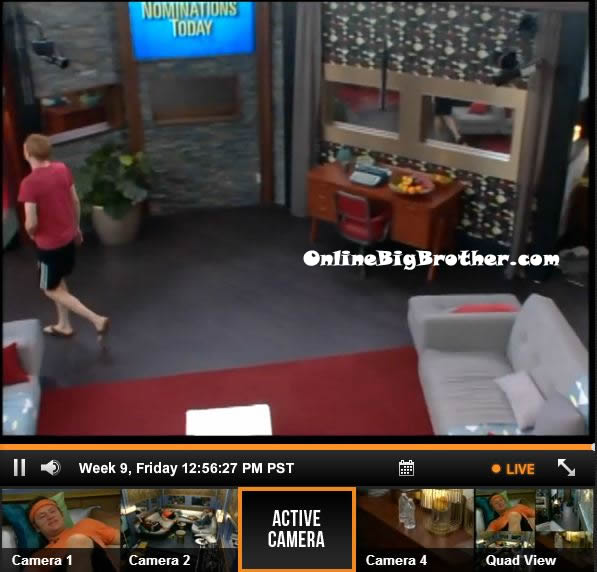 1:10pm In the rainbow room – Gina tells Aaryn I tried my a$$ off to try and win. There was just no way I would have to be 6 feet and over to try and catch those things. Aaryn is upset because she knows Judd wont work with her because she was the one to nominate and get him evicted. Gina says he said he has no hard feelings, that it's a clean slate. Aayn asks Gina if she has the votes to stay. Gina says you only have two votes. Gina says that McCrae and Amanda don't win sh*t, you should have put their a$$es up on the block. Aaryn curls up on the bed with her blanket and they stop talking.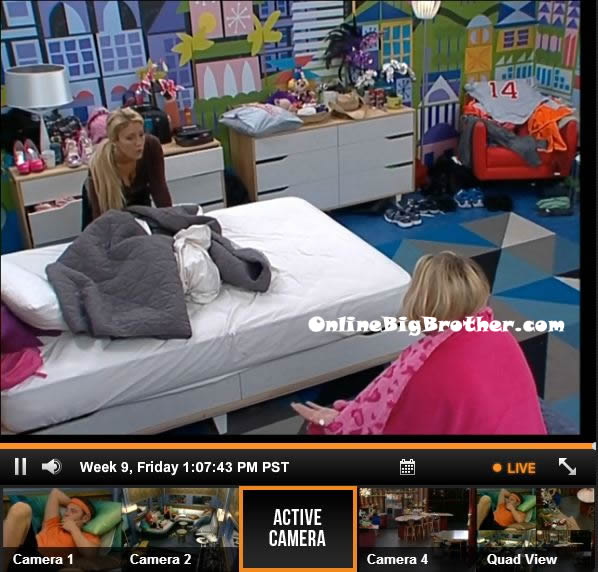 Use the Big Brother Live Feeds to FLASHBACK to SEE what they can't show you on TV: