POV Holder:
Andrew
Next POV
April 20th
POV Used
Yes
POV Ceremony
April 15th
HOH Winner:
JILLIAN
Next HOH:
April 18th
Original Nominations:
Andrew and Peter
Current Nominations:
Peter & Talla
Last Evicted Houseguest
ALEC & TOPAZ
Have Nots
Talla & Andrew (Servants for haves)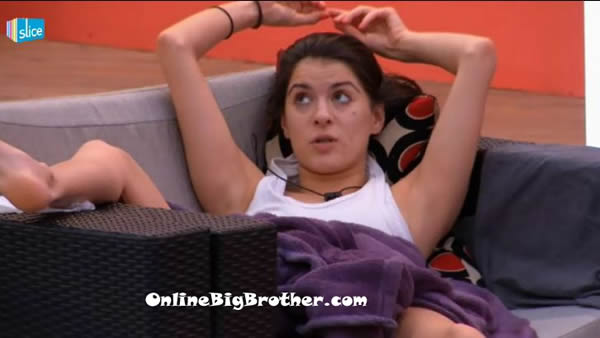 9am Big Brother wakes up the house guests. Andrew and Talla are out in the backyard talking. Andrew says that no matter how well you know the HOH's you know the questions aren't going to be just that. Talla agrees. Talla says that she needs to pack her bag and then tomorrow's Thursday. She wonders if she is going to be asked a question. Talla says Peter, Peter who? What?! Andrew says that he never got asked any questions. Andrew says that we are making assumptions that there is a favourite house guest vote. Andrew says and people assume that Gary is the favourite, but the normal view is looking at how annoying Gary is. Just like we are assuming there is a wrap party here and there. Andrew says he doesn't care about a wrap party, I care about the wrap party at home.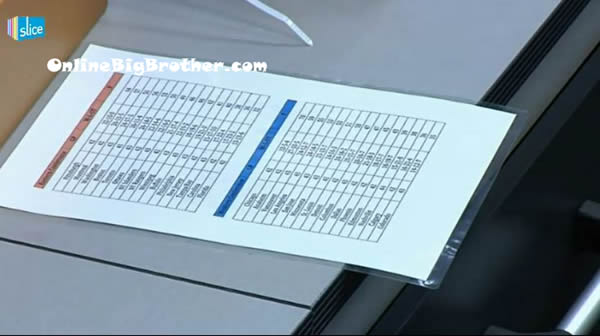 Peter joins them. Andrew tells him to go look in the diary room at his luxury. Talla said you and I made it really far we should be proud of ourselves. Andrew starts talking about his HOH and POV wins. Talla says that she came close to winning a few times. Andrew says here comes Peter, I wonder how he liked his luxury. (The luxury for the day is the Hockey standings.) Andrew says Jillian isn't going to love that one. Peter comes back out and asks how he loves his luxury.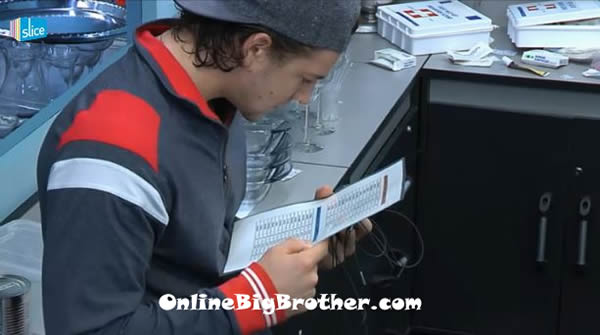 9:30am Emmett wakes up and is told to change is batteries. He goes down and finds the hockey standings in the storage room. He then comes out and starts talking about it. Andrew says hey, we aren't allowed to enjoy it. Jillian and Andrew head up to the HOH room. Andrew asks Jillian talked to Emmett. Andrew asks if Emmett talked about trying to get Talla to throw the HOH. He says that he doesn't think it will work but he can try. I can't say that to her, I will just have to beat her fair and square. Andrew says that Talla said she talked to Emmett and he said Peter thinks he is staying. Andrew asks if Emmett is telling Peter is safe. Jillian says she doesn't know but that she'll ask him. Andrew talks about winning the HOH tomorrow ..then we get rid of Talla and its us in the final 3. Andrew comments how about I win the first part of the 3 part HOH, you win the second part and then we got to the final two together.
9:50am In the kitchen: Andrew, Peter and Emmett are talking about fantasy leagues. Talla comes out and goes up to say hi to Jillian. Andrew tells Emmett that he needs to make Talla work today as his servant. Andrew says that Talla hasn't come through on any of her bets. Emmett says that he will. Andrew starts talking to Peter about how he really thought that cheer yesterday wasn't a task. Peter agrees he thought it was too.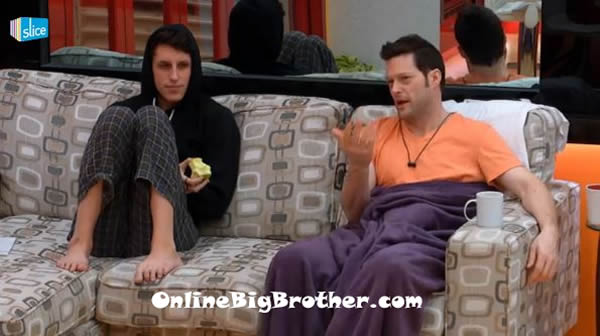 10:05am Up in the HOH room. Jillian asks Emmett if its a good idea to tell Talla to throw the HOH. Emmett says maybe not. Jillian says you may just loose trust in her.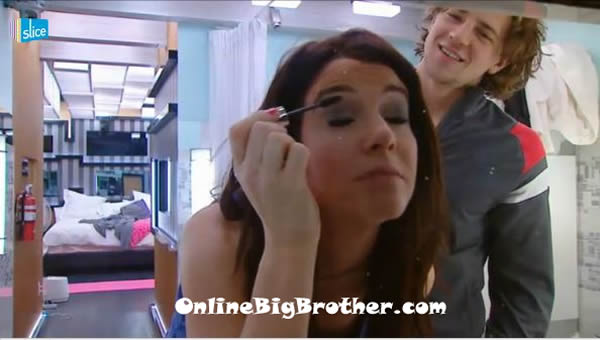 10:05am Peter talks to Andrew about wanting his vote. He says I don't want to campaign against Talla. Peter says I would think it would be to your benefit to have me on your side, who certainly isn't not good in challenges but not useless either. Because I think it would be a great story to have the back ground buddies take on the love birds. I don't want to do anything against Talla, but it gives you something to think about. Andrew says that it gives me something to think about but I have obviously been with her.

10:20am Peter, Emmett, Andrew and Jillian head out to the hot tub. They talk about who the favourite house guest will be if there is one. Andrew says that if there is one it would probably be for $10,000 which would be half of the second place prize like the US version. They all place their bets. Andrew says that he thinks he will win it. Peter thinks Gary. Jillian says Talla and Emmett says Peter.

10:30am Big Brother switches the live feeds to the hush hush screen.
11:20am – 11:50pm The live feeds come back. No idea why the live feeds were down for almost an hour. Peter is having a shower. Talla, Andrew and Jillian are in the kitchen. They are talking about doing their goodbye messages. Talla says don't remind me! Andrew starts talking about golf.
11:55am They comment on how Big Brother didn't know that Talla had lost a bet with Emmett and thought that he was trying to force her to still be her servant. Emmett is making a grilled chicken sandwich. Talla says that she could have made that for him .. well maybe not to the same extent.. Emmett walks over and sits on Talla and asks her if she knew the last time when she made him a sandwich if she knew it was bad or if she actually thought it was going to be good. She says she thought it was going to be good.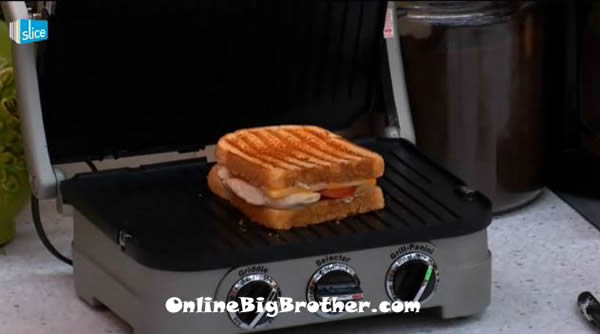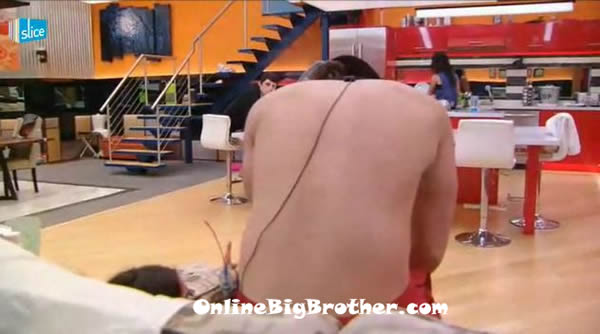 12:10pm – 12:40pm Big Brother switches the live feeds to the hush hush screen. When the live feeds come back: Talla and Peter are playing puck ball. Jillian is eating her lunch. Jillian tells Talla that practice makes perfect. Emmett says he was always taught perfect practice makes perfect ..because if you practice the wrong technique you will never be good at it. Jillian tells Emmett I used to think I was too innocent for you, now I think you are too innocent for me. Emmett and Jillian nap on the kitchen couch. Peter and Talla finish their game. Peter wins.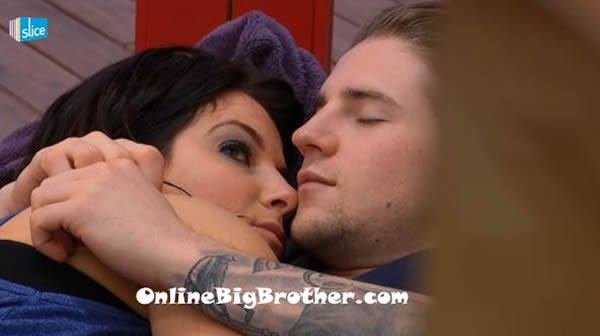 1:15pm – 1:55pm Andrew and Talla are out in the hot tub room. Andrew starts talking about how when they thought Tom was coming back it such a dumb twist. Good for the viewers but bad for us who are trying to vote people out and get to the end. Talla agrees. Talla talks about how Peter took the last Pepsi, even though she isn't allowed to drink it on slop. Andrews says please big brother if we don't get evicted can we get some Pepsi for the queen. Andrew says that he said he really wanted the full experience of slop but now wishes he wasn't on it. Andrew and Talla bicker back and forth. Talla asks for 5 minutes of silence. Andrew asks for silence for the rest of the day. Emmett and Peter join them. They talk about random things like not being able to sell milk from the cow, sports and phones. Andrew says when we walk out we could walk out to being hit in the face with rocks or melons. Emmett says hopefully the second one.

2pm – 2:30pm Peter, Emmett and Jillian are in the kitchen. Jillian is making banana chocolate chip muffins. Andrew joins them and comments on how nice it is outside. Peter says that Talla is face down in the hot tub, I don't know if that is a bad thing or not. Andrew says no, that's how she swims. Andrew and Peter discuss movies.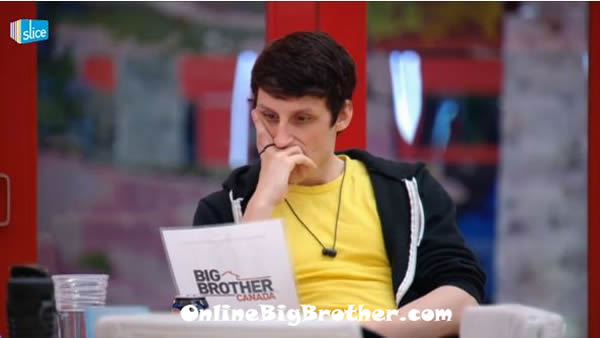 Please consider donating. Simon and I work 24/7 all season long to bring you all the live feed updates and spoilers. ANY amount is greatly appreciated, your donations go directly to paying the server and bandwidth fees needed to run this site. Donation Link
OnlineBigBrother.com
Stay connected and interact with other Big Brother Fans on our Facebook page.
And Follow: @BigBspoilers and @Dawgsbigbrother on Twitter for the most up to date spoilers.
[polldaddy poll=7031963]