POV Holder:
Andrew
Next POV
April 6th
POV Used
No
POV Ceremony
April 1st
HOH Winner:
ANDREW
Next HOH:
April 4th
Original Nominations:
Gary & Topaz
Current Nominations:
Gary & Topaz
Last Evicted Houseguest
Aj
Have Nots
Gary, Peter, Topaz, Emmett (used Slop Pass)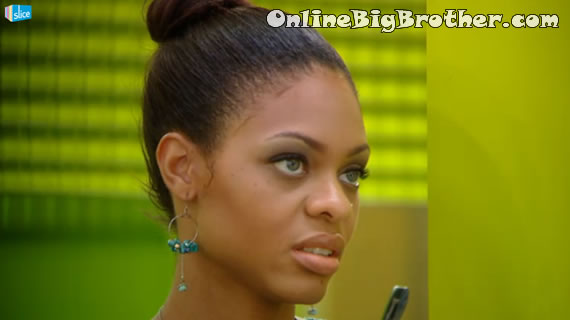 11:45pm Bedroom Topaz and Gary Jillian was with them but leaves.
Hard to hear them but I'm thinking
Gary says that Alec and Emmett don't talk, "They are like bros but two types of cliques of bro"
Gary: "Emmett trusts me though… Whatever I do I'm going to work it and help us both out even if I leave"
They talk like a twist is a real possibility and are planning strategy around the possibility of a twist. Either there could be a twist that brings one of them back or changes the nominations.
Gary: "You are not going back to him.. No NO.. I won't let you..we don't need him no more.. "
Topaz says that Alec has been spending more time with Andrew since he won HOH than he did the entire rest of the game.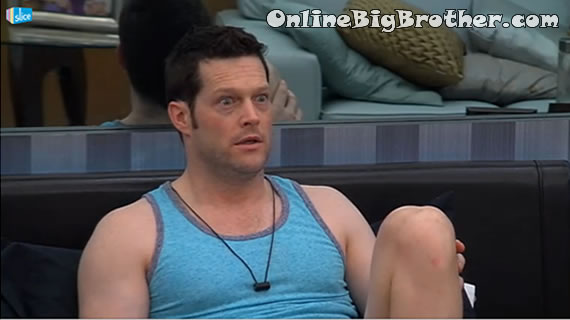 12:02AM HOH Peter, Andrew and Alec
Andrew says that him and Emmett live very close (5 minutes). Andrew says they'll hang out for a bit but there's a age gap. Ememtt has his friends and Andrew jokes that he likes to hang out in the dark and watch P*****graphy. Peter at one point says if Gary is left in the house he will side with Ememtt more than them.
Andrew saying that he wants Gary to go. Alec: "I would like to know where Emmett stands.. I want to throw out the scenario if I have to put her up on the block" Alec is saying he might have to put Jillian and Emmett on the block if he wins the HOH. Andrew understands that sooner or later they'll all have to go. Alec says he would want Emmett to stay because they have been with him for longer. Andrew also points out he hasn't thought that far ahead. Alec turns to Peter and says he doesn't think telling Talla she might be a pawn is a good idea right now because what if she wins the HOH.
Peter mentions if there was a twist that saves Gary it would be ludicrous. Alec says he would vote Topaz or Talla over GAry if a twist saves him now.
Peter thinks that Suzette would have been evicted week one if she didn't pick up the phone.
Andrew thinks the vote will be 5-0 and worst case it's 3-2. Peter: "If it's 3-2 the 2 are really stupid" Alec mentions that Gary thinks he's staying and was trying to get him and Topaz back together. Andrew is flabbergasted by how Gary has been acting, "He actually thinks he has everyone wrapped around their fingers"
Andrew mentions that Gary has been on the block 3 times maybe he's not phased by it. Peter: "He is one of the most self deluded people I have ever met" Alec brings up that Gary is tossing everyone under the bus. Alec: "He told me if I used the POV to save it so you (Andrew) would put Emmett up" Peter: "He told me not to use it as to keep our alliance secret.. I was like OK buddy"
Andrew explains he put Gary and Topaz up because Topaz put him up last week and Gary voted to evict him. He can understand why Talla voted for AJ because they were close but Gary wanted him out.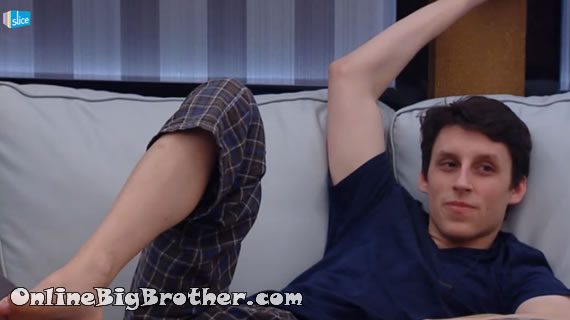 Andrew keeps rambling on about things and starts talking about rambling too much. Andrew mentions that Emmett always cuts him off when they are talking. Alec laughs about Emmett because his favorite movie is Robin Hood prince of thieves and mary shelley Frankenstein. Alec: "You always think when talking to him that he's thinking about what he'll say to you next" Peter says his friend back home is a lot like Emmett, a hockey guy.
Andrew mentions how he likes Jillian a lot but sometimes she gets a little bit loud. Andrew: "That a$$ you could bounce a quarter off it and it'll hit the moon"
Emmett joins them after getting a spray tan. Alec: "You look less like Triple-H" Peter: "Actually the wrestlers are usually very tanned" Alec: "Still doesn't look like triple-H" (They had a wrestling conversation earlier. They also talked about UFC and Alec said he thought GSP was boring.. I dislike him even more)
Andrew: "Just when you thought he couldn't look more like a douche bag"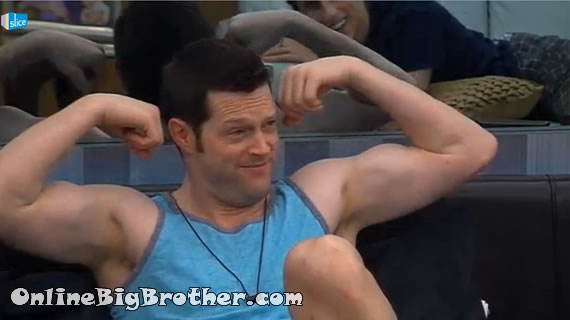 (Videos uploading)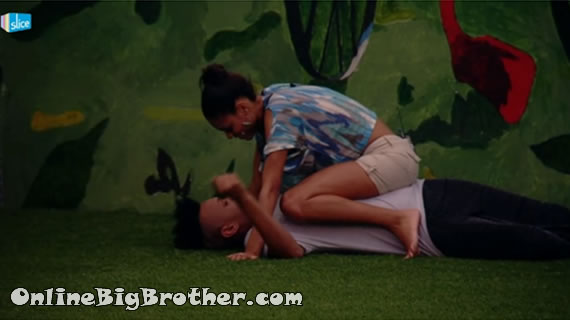 12:42AM Backyard Gary and Topaz
Wrestling around because Gary won't tell her something about Alec (They are joking around with each other) .. Peter yells out at that there is a rumor Topaz and Gary are secretly married.
(Videos uploading)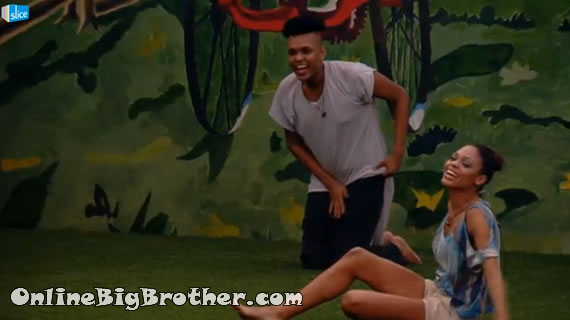 They tease Gary about getting a b*ner.. He "PAts it down"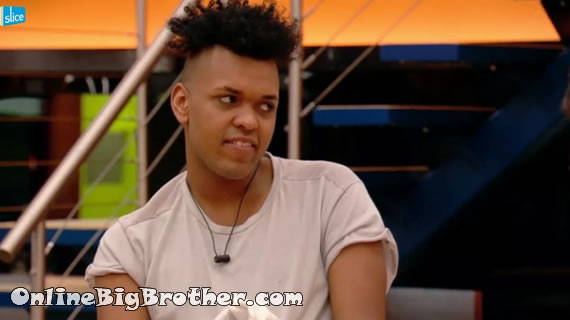 1:27am Gary and Andrew
Andrew tells him he looks much younger now that he's shaved his face. Gary replies that the "Boys" like him to be hairy like a man. Gary: "I had to shave it cause.. it's time for Zoe to shine"
Andrew: "So how long is zoe going to be here"
Gary: "Probably just for the night.. It'll take all day to become her"
Andrew: "Nice"
Gary: "You'll get to see her.. give her a hug"
Andrew: "I will.. nice long hug"
Gary: "A long one"
Andrew: "We'll see how long.. how long it it"
Gary: "What does that mean"
Andrew: "Nothing"
Andrew: "You got some cuts on your legs what are those from"
Gary: "Rug burn"
(can't wait to see what Zoe is.. )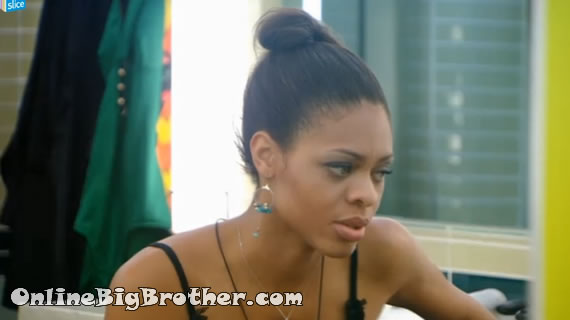 1:50AM Bathroom Gary and topaz talking about their 4 goals in the game. 1) don't be first one out 2) Make it to jury 3) make it to final 4 4) win it.
Topaz is glad she won a HOH, "I won that HOH fair and square just never got any benefits"
Topaz saying she wasn't expecting "Fame" but would like to have had some opportunities open up.. Lists off commercials, Walking dead, vampire diaries, nikita, deception.. etc..
Topaz: "You only live once I don't care.. whatever, very open minded" Gary thinks they should both go on amazing race. Gary says Topaz is a beautiful fun women good things are going to come out of this for her. Gary isn't looking for a little bit of fame he's looking for BIG FAME.
Topaz gets up to go check her tampon.. "Oh my god you have no idea how much stress being on your period is.. you are always so worried about leaking"
Topaz goes on to explain how heavy her period is "I gush with blood you would think someone gutt me" Gary is screaming "Oh my GOD"
Topaz adds that sometimes placenta comes out and you see chunks of stuff… Feeds cut..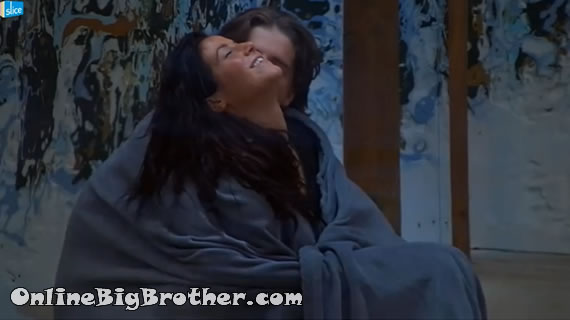 1:53AM Emmett and Jillian Hot tub room
Emmett says Talla will not take him to the final 2, he isn't sure what Andrew will do. Emmett says they may want to get rid of Andrew and Alec but keep Talla around. Jillian says that Talla has a slot of fire in her and she's good at endurance Jillian isn't sure. Emmett proposes Peter as a possible final 4 scenario.
(Really hard to hear them.. _)
Emmett tells her if it's Jillian, Emmett and Peter in the final 3 Emmett will take her to the end. Jillian asks him why because he would beat Peter in the final 2. Emmett says he would like to still have a relationship with Jillian outside the house.
(Sounds like they want to take Talla or Peter to final 4 it give them the best chance to win. )
Stay connected and interact with other Big Brother Fans on our Facebook page.
And Follow: @BigBspoilers and @Dawgsbigbrother on Twitter for the most up to date spoilers.
[polldaddy poll=7007427]