| | | | |
| --- | --- | --- | --- |
| POV: | Kaycee | Next POV: | Sept 1 |
| POV Used | NO | POV Ceremony | Sept 3 |
| HOH: | Tyler | Next HOH: | Sept 6 |
| Noms: | Haleigh & Scottie | Have Nots | jc, sam, scottie |
Big Brother Spoilers Kaycee did not use the Power of Veto. Haleigh and Scottie remain on the block.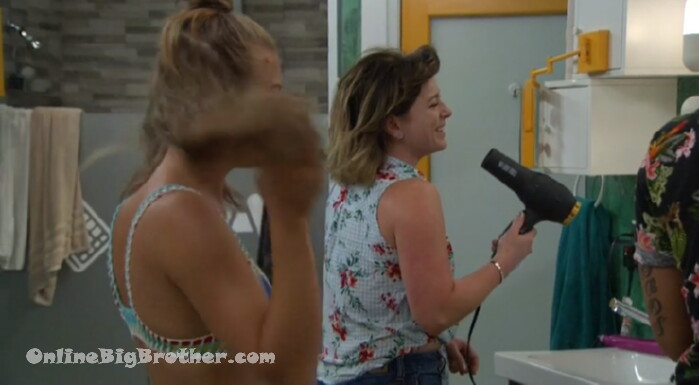 10:48am Haleigh, KAycee, Brett and Sam
Just getting ready for the Power of Veto Ceremony. Sam is giddy…
Sam – the good news is I still can't fit into my jeans.. Meanwhile Malibu Barbie is on the block.. They laugh..
11:57am Feeds back..
Sounds like Haleigh messed up on her speech.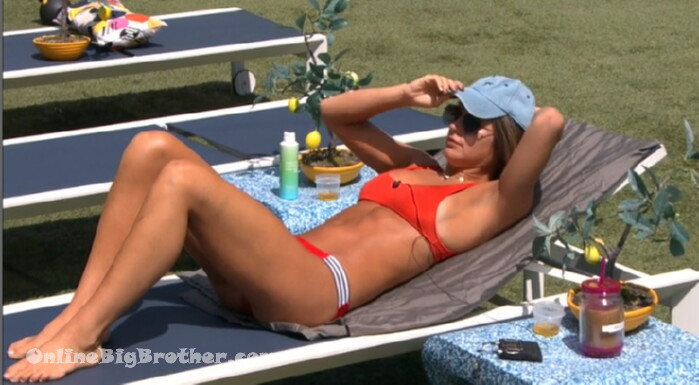 suntanning….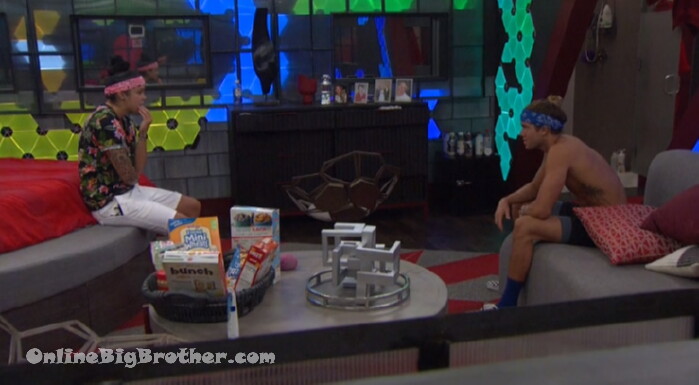 12:26pm Kaycee and Tyler
Kaycee brings up that the reason why HAlegih was acting "the way she was" last night
K – She eended up telling me. She was in the bed and crying
K – Scottie told her that you told him whispered in his ear and told him that he's good and just the pawn..
T – I never said that, I made it sound like that.
K – he told her before nominations and after the veto ..
T – I didn't whisper in his year..
K – HE said it should be a unanimous vote.. did you say that
T – no
K – That's what he told her.. so she's freaking out..
K – The thing is why is Scottie saying that to her..
T – I told her the worst thing you can do is go to Scottie and tell him you are safe.
K – I was telling her that ..
Tyler says he's been trying to reassure Haleigh that she's fine.
Kaycee says she told Haleigh to not tell Scottie anything, Keep her mouth shut and she will be good on Thursday
K – I told her you cannot say anything.. it's the same thing as last week.. don't say anything..
T – It's a little different this week cause Scottie's not a d1ck .. we don't want to rub it in his face. (like they did with FES)
K – do you think he really thinks he's not the target.. I thought he was smarter than that
T – I did a really good job of making him feel comfortable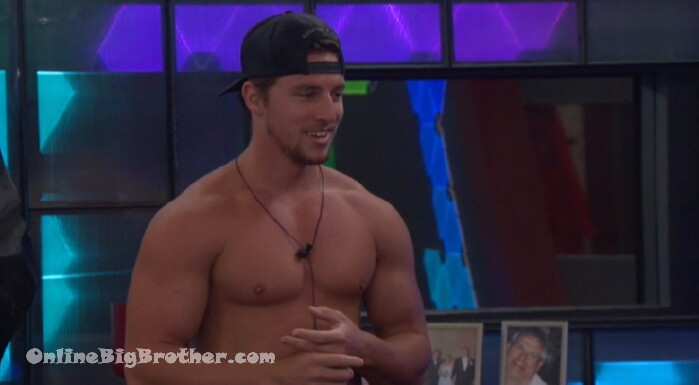 Brett comes in.. (Haleigh and SCottie had "Epic" Speeches. Haleigh slipped up but still got the point across. They say that Brett's speeches have been one upped saying that his speech when he gave it weeks ago didn't impact the vote everyone knew what he said anyways. I earlier made a mistake saying that it was Brett that gave a speech. She was referring to his older speeches. )
Brett – can we reflect on the fact that Haleigh straight up admitted she knew all That. everything I said in the speech about Bayleigh she knew..
Brett – I said ohh so you knew about the power.. she's like NOOOO
Brett – she said do you think your speech changes everything? everyone knew all that stuff..
Brett – that's why I go ohh? so you knew about Bayeligh's power app?
Brett goes on about calling Haleigh out for her conflicting stories, knowing about Bay's power, Rachel was a pawn and SCottie calling out Sam 2 weeks ago in his speech.
Brett goes over a time when Haleigh was saying she was staring at Sam the entire time waiting to see her reaction becuase SAm thought SCottie was going to call her out. then 15 minutes after telling them this she was saying "IO was so nervous the entire time I had no idea what Scottie was going to say.. I was shaking I thought he was going to throw me under the bus"
They all laugh..
K – it's so fake
T – She forgets..
They laugh…
They laugh at haleigh's lies
Brett – she has got to go
T – She'll go dude.. she'll go\
Brett – that just pissed me off
T – she does sketchy sh1t..
K – all the time
Brett – lies..
K – she's very fake.. you can see right through it..
BRett – Scottie told me he confirmed in the jury house she had 5 different final 2
T – Haleigh
B – Haleigh
K – WHATTTTT
Brett – final 2 with Bayleigh , Fes, Rockstar, and a final 2 with Scottie and pretty positive had a final 2 with Kaitlyn
T – for sure dude
Tyler- it's easy to get her to say sh1t if you act like you are joking about it
Brett – I would literally sit there and say nothing and she would say.. Me, Bay, Rockstar and Fes we have this alliance
Brett – and straight up saying you're not in it
T – that was their pitch when I had the veto.. all these people are together we reel in Sam.. you can be the sixth person you can get sixth place if you want
K – they though they had a big ole group with, Same, Rocks, Haleigh , Fes, Scottie..
B – she thinks she's playing a flawless game.. (Haleigh)
K – I've always had that fake vibe from her from the very beginning .. I tried to be nice to her.. she's cool and I gave her the benefit of the doubt.. she's young.. she's just whatever.. the baby of the house but when she does sh1t like that it's so annoying
Tyler- she's immature in a that way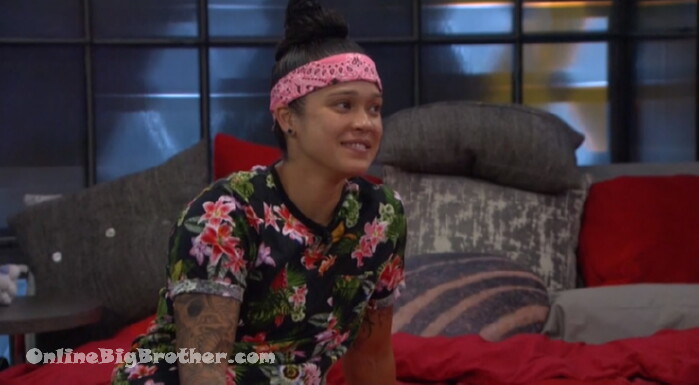 Brett – there's moments where .. You're 21..
they all agree she's doing better than they would at 21.. much better.
Kaycee – you can't trust her
Tyler- never.. I knew that all along.. when we were trying to get her to flip on Steve.. she wasn't having it..
Tyler tells Brett that Scottie thinks "he's save as f*"
Brett – really
Kaycee – it's a good week fellas.. a smooth sailing week..
Kaycee asks if HAyelgih and Sam are teh next two to go up
Brett – yeah.. and Haleigh's got to go
Brett told them that Rocks is fuming about his goodbye message.
They bring up Haleigh catching them "red handed" after she walked in on them celebrating Angela's first HOH win.
Brett brings up how it's obvious Haleigh CRAWLS up KAycee/Angela a$$
KAycee says it's annoying.. she gets it but it's like "F*"
Tyler – she hangs out up here for hours at a time
Kaycee – who is she supposed to hang out with she's by herself we got rid of their entire side
Brett – it's just so fake..
Brett – I wouldn't want to see her mopping around.
Kaycee – she's still a human being..
They talk about how Fes, Swaggy and Rockstar made the house very uncomfortable.
Brett mentions the tension between Swaggy and Winston was unbearable
Tyler agrees.
They talk about how the other side would always corner people in the bathroom, FES, Swaggy, Haleigh and Rockstar.
Brett – all they do is threaten people
K – yeah it's ridiculous
Brett- it's fine by me look at where we are at..
Kaycee – America loves Level six we've been a very successful alliance.. from the very beginning
b – and we've been against all odds every time
T – every time..
B – nothing has been ohh this will be easy..
B – Battle back.. cool ..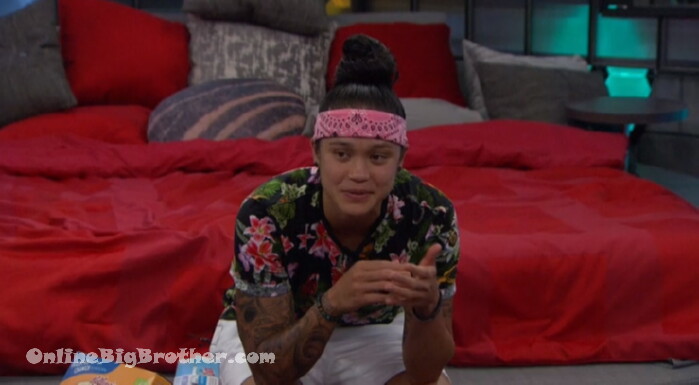 Kaycee – we've been so strong and so loyal since the very beginning.. everything we said inbetween us is just between us it never got out of our F*ing circle..
Brett – other than Rachel
T – if only we had Winston..
Brett – guess who's leaving because of that.. Justice is served..
B – I feel so bad Winston didn't make it can't wait to party with him.. Hope he feels the same..
1:20pm Haleigh telling Tyler what SCottie told her yesterday.
Brett going over with Angela Haleigh getting caught in multiple lies. Angela tells him Haleigh is gone next week but doesn't know it she thinks she's good with them all now.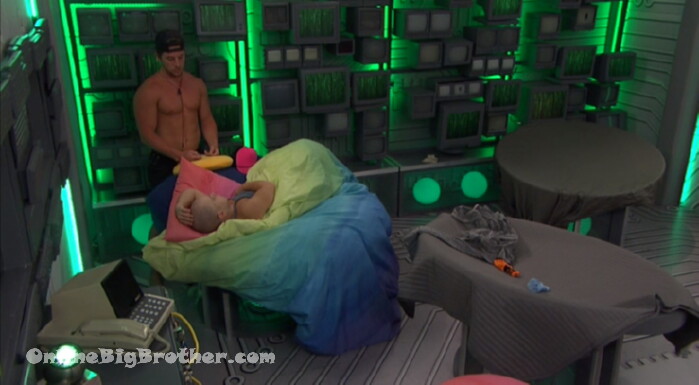 2:00pm JC and BRett
B – we're going to need to play it based on who wins what.. I don't want to put a shoe in my mouth
Brett says Angela must leave the HOH's bed at 6am..
JC – yeah..
Brett – I laid in bed for a whole and I was up..
JC – I went to the bathroom around 4 something and she wasn't there..
Brett – I think Kaycee and Angela are together. I think Tyler and Angela are working towards that way..
JC – she also has HAleigh
Brett – kinda but I thin kit's all fake..
JC – what if Haleigh wins HOH
Brett – she would put up SAm.. I don't think she would put you up.. She's stupid she won't put up people she's put up before..
JC – she would put me up ..
Brett – if you put one of them up and say it's a pawn it will not work.. If you put Haleigh up with Angela Sam is going to vote Haleigh out.. You know what I mean.
B – You know what Sam is going to do in every scenario that's the only way it would work.. take a full shot and put them next together.. Sam would keep Kaycee over Angela.. otherwise she will vote Haleigh out.
B – I want Haleigh to go but isn't a strong competitor and is pretty much alone..
Brett – talk to Sam, Reel her in. I think she would work with me an you.. that's three..
JC – it's too risky..
Brett says there's not scenario where he gets chosen. (final 5)
B – Haleigh is going to put up Sam and probably you
They go over how they could get away with Angela/Kaycee on the block.. Discussing all the permutations..
Brett – you know for a fact that Tyler and KAycee would vote to keep Angela you only need two votes. then it goes to the HOH..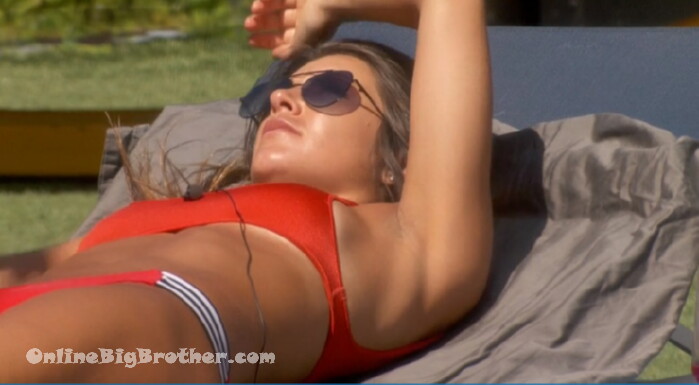 2:46pm feeds are alright…
2:32pm Scottie rocks out in the HOH.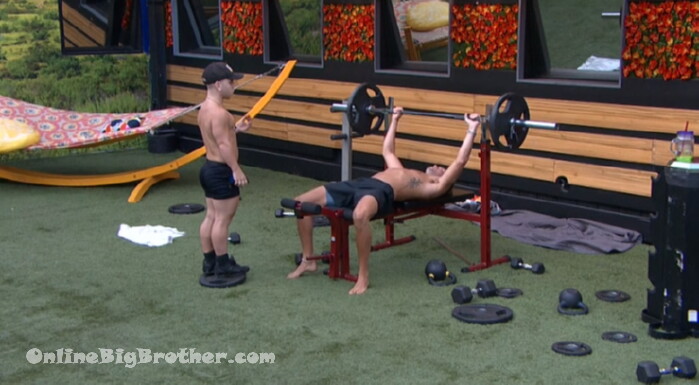 5:38pm JC and Tyler
JC – I was in the DR.. You know what they asked me about right..
They were asking him about Tyler and Angela showmance.
Tyler- I don't know how many times I have to tell you.. I don't know how many times I have to tell them..
JC – she slept up there last night..
T – no she didn't, I swear on everything she did not
JC – I went to the bathroom at 4:51am and she wasn't there..
T – she was..
JC – OKAY Tyler..
JC – they know it really pisses me off that is why they are asking.
T – I'm sorry.. I don't want you to be pissed off
JC – We're taking out Scottie that's out of the question that's fine..
JC says Haleigh can't be trusted.. Says that Haleigh must think she's okay with Kaycee and Angela.
JC stresses if Haleigh does start working with the girls they have big group.
Tyler- they're not
JC – Angela is smart.. she's the smartest of the girls.. she's WAY smart.. she knows when to stay quiet..
JC – If she grabs her or Kaycee.. she has a full team there.. two solid votes..
Tyler- I know that.. I always check in on that.. i am aware of that. All they do is talk sh1t about Haleigh. They always talk about how HAleigh is annoying for following them around.
T – it's only that HAleigh has nobody else..
6:17pm Tyler and Haleigh
H – did you tell him he's the pawn
T – nope..
Tyler tells he he never wanted to tell neither of them if they were the pawn or not, "I don't control the votes.. I can only control what I know"
Haleigh says after her Diary room she's gotten nervous about Thursday.
Tyler- I promise you.. I swear.. you'll see..
Haleigh – they freak me out in there.. it makes me think maybe that is why you don't want me to talk to him
T – because you are the target
H – Yeah..
Tyler swears and promises she's the PAwn and Scottie is being evicted.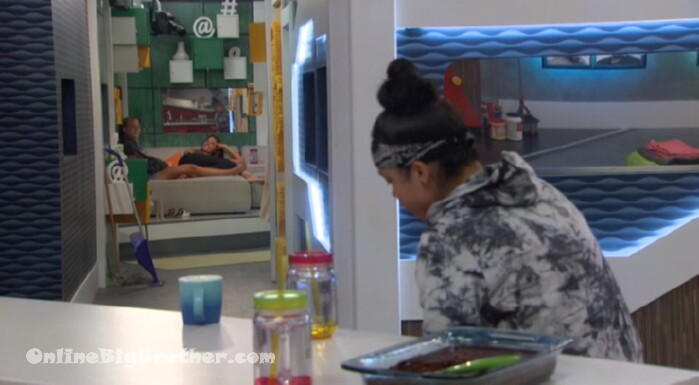 7:13pm Haleigh, Kaycee and Angela.. Joking around about what the houseguests all taught them.
Haleigh says Rockstar was "Stagnant" she "Didn't move at all" then had to do 700 jumping jacks for the Veto punishment..
7:35pm Chit chat.. hot tub time..
Sam has a bird in the backyard that she's friended. .. (I think this is what she was crafty earlier today.. either a bird feeder or some type of bird attraction)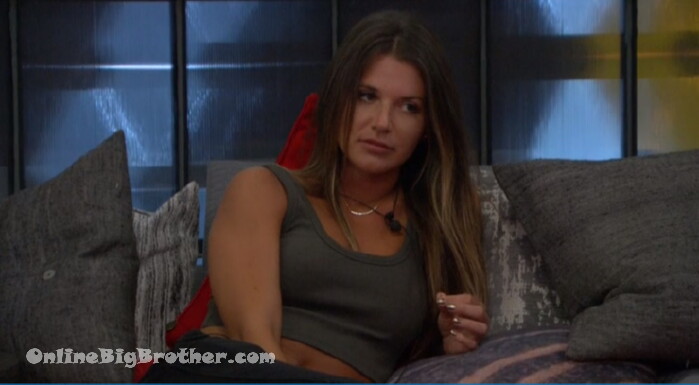 7:40pm Tyler and Angela 
Tyler says production knows about their feelings for each other. Angela says she went to bed around 3 .. Kaycee got called into the Diary room at three .. When Kaycee was in the Diary room she crawled back into bed downstairs.
Angela- how do they know (production)
Tyler – There's cameras everywhere..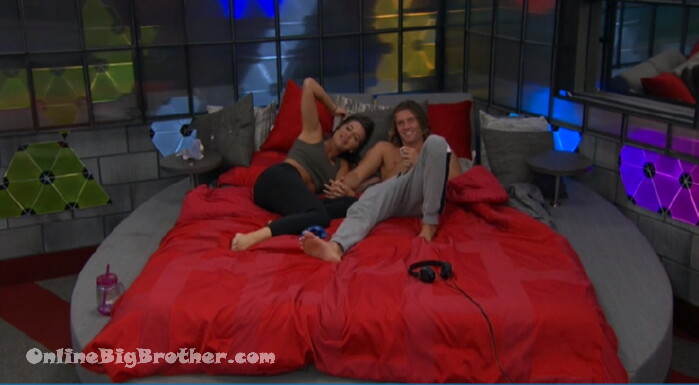 Tyler- might be another level six blindside.. it's been awhile since there's been one..
Tyler says he's overdone it with Scottie making him feel safe..
Tyler says if Haleigh spills to Scottie that she's the pawn then they send her home.
Angela agrees..
Angela – she's really annoying me today
Tyler – I know she's annoying me so much
Handmance..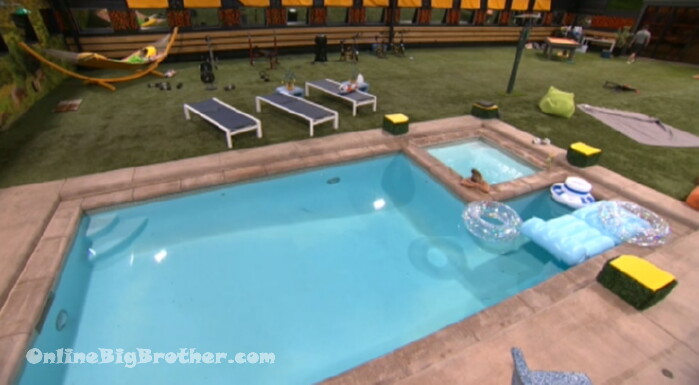 A easy way to support the site if you are an amazon shopper is to make your purchases through our link. You pay the exact same thing but we get a small % commission. It doesn't cost you anything and helps us out.
Amazon Canada
Amazon USA