| | | | |
| --- | --- | --- | --- |
| POV: | Kaycee | Next POV: | Sept 1 |
| POV Used | ? | POV Ceremony | Sept 3 |
| HOH: | Tyler | Next HOH: | Sept 6 |
| Noms: | Haleigh & Scottie | Have Nots | JC, Sam, Scottie |
A real easy way to support the site if you are an amazon shopper is to make your purchases through our link. You pay the exact same thing but we get a small % commission. It doesn't cost you anything and helps us out.
Amazon Canada
Amazon USA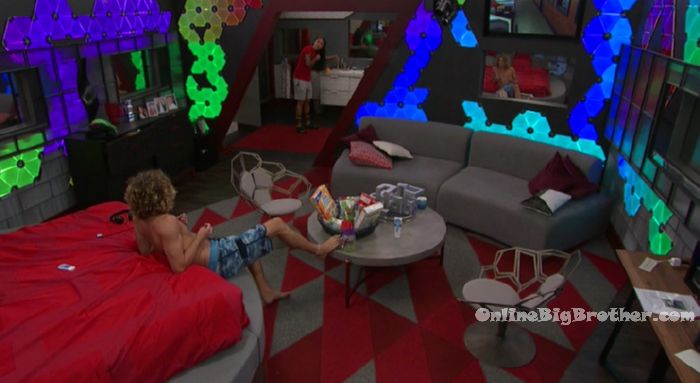 6:25pm HOH room. Kaycee and Tyler. Kaycee – you know where I'm at. Tyler – I know. I never doubt it. Kaycee – You know you're my number one. They don't know about us. Tyler – nobody does. They dont' have any clue. And Angela has no clue either. That sucks but. Kaycee – how are you guys? Tyler – we're good. Kaycee – how's the showmance? Tyler – shut the f**k up! Kaycee – did you tell her that you love her yet? Tyler – yeah, I proposed. Kaycee – you guys are good though. Tyler – yeah, just worried about people thinking we're in a showmance. Kaycee – people notice you guys together and they're going to assume. Tyler – Haleigh asked if we were in a showmance. I was like no, we're you in a showmance with Fes? No. Okay. Kaycee – that's funny. You guys do hang out and the house is getting smaller. Hopefully it doesn't cause anything.. Tyler – no I don't think it will. Everyone is trying to set themselves up for the future, especially with me. Kaycee – you've got it all coming from different angles. Tyler – I keep all this bottled up till I talk to you. I don't tell Angela everything like I tell you. We talk about a whole lot of random stuff .. not much about game.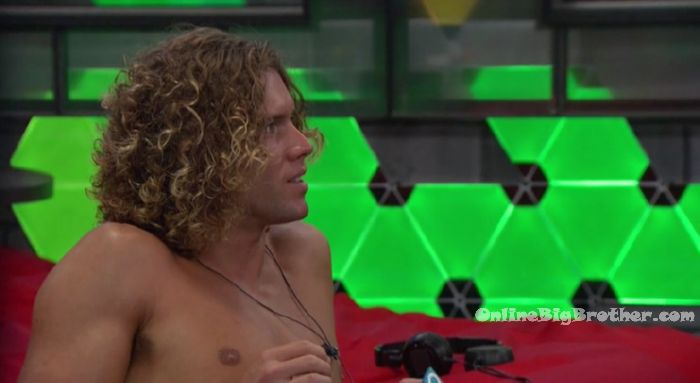 FLASHBACK and watch everything you missed: Live Feed 7 day FREE Trial!
Kaycee – so Scottie goes this week. Then next week if Haleigh wins hopefully she won't put me up. Tyler – she is saying she won't put me up. Kaycee – I know she feels really bad. Worst case she puts up Sam and one of us. (No, worst case she puts up two of you) Tyler – we talked about how the people in the middle are waiting for us to take each other out. Tyler – people keep throwing things at me to see how I will react. Kaycee – we need to practice the days because its going to come down to him and us. What he doesn't realize is him practicing with us is helping us. Tyler – I've got them down now because of him. Like completely. It is going to come down to who knows it and then speed and I think I know it faster than him. Kaycee – he would probably pick Angela (for final 2). Tyler – yeah because he thinks the whole jury hates her.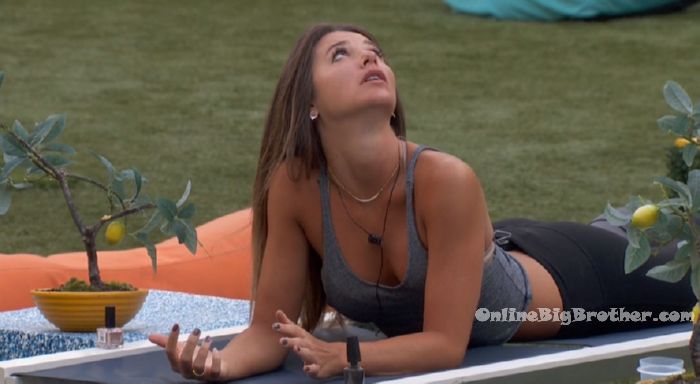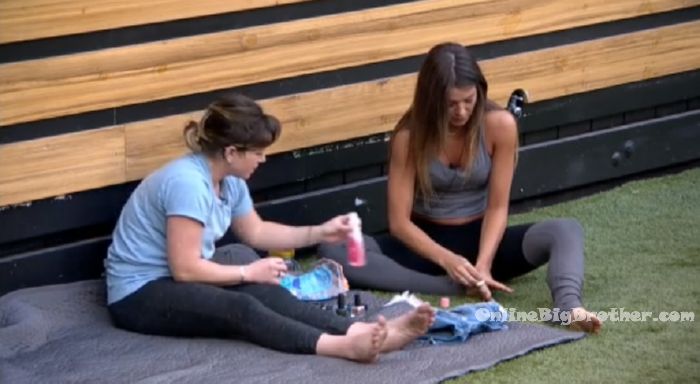 6:45pm – 7:05pm Angela and Sam painting their nails in the backyard. Kaycee joins them and tells them about how "Asian" cook rice using their finger to determine how much water to use.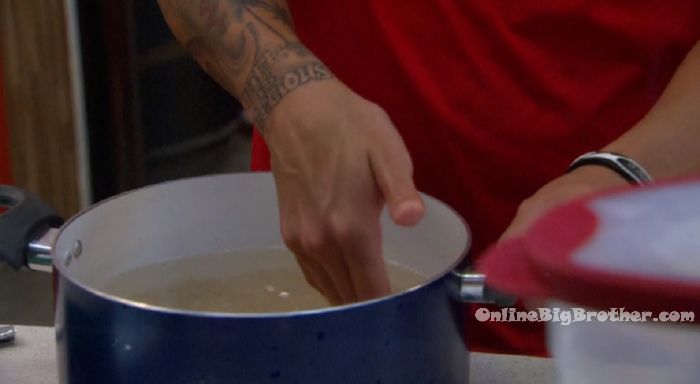 :7:10pm – 7:20pm Tyler tells Haleigh – just don't freak out. Haleigh – are you sure. Tyler – remember all those things I said.. its not beneficial for me if you go. Haleigh – I don't want you to think that because you think that's what I want to hear. Tyler – I don't. I put you up and I think that. Haleigh – would you tell me if I was the target? Tyler – yes. Haliegh – no you wouldn't. Tyler – did I tell you you're the target? Haleigh – its what you tell a dog before you put it down. You give it hamburgers and give it the best week of its life and then you put it down. Tyler – just don't freak out. Haleigh – its hard when I see him getting in so good with everyone. People have more fun with Scottie. Tyler – people were like that with him before he left. The worst thing you could do is you going to Scottie and say you're safe. Haleigh – I would never.. why would I tell Scottie that. I didn't even tell Fes that. Tyler – good. Haleigh – the only person I am coming for .. and not even actively .. but Sam is the only person I want out.
Haleigh – I don't have Kaycee and Angela explicitly saying I'm good like they did last week. Tyler – I think because Fessie was a di*k. Tyler – I think you're scared of me. Haleigh – if I stay this week I won't be scared. I just want to make sure its over.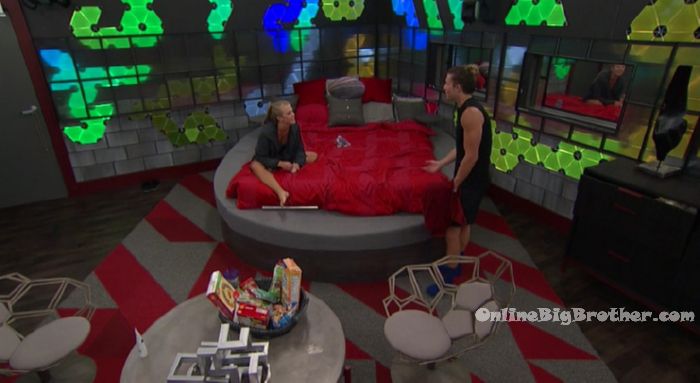 8:25pm Tyler comes out of the diary room and says Hey everyone! Gather in the living room. Tyler is carrying a slop bucket and card to read. Eat those gold fish! Everyone gathers in the living room. Tyler reads the BB card – This week the havenots are the first 3 house guests that dropped first during the last HOH competition. This means JC, Sam and Scottie are the havenots for the week. Sam – Okay. Tyler – I am kind of pissed I really wanted to be tied with the most with you for 3. I am sorry guys! JC – its okay, its not the end of the world. The first three that dropped are the weakest .. why are you making them weaker!? Haleigh comments on how Scottie has done it for a month. JC and Kaycee laugh. JC – I don't know why I am laughing, I've done it for 3 weeks.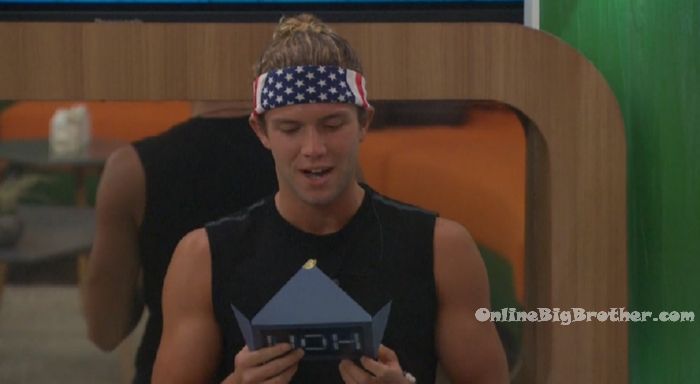 9pm Tyler is going around with his HOH snap chat glasses.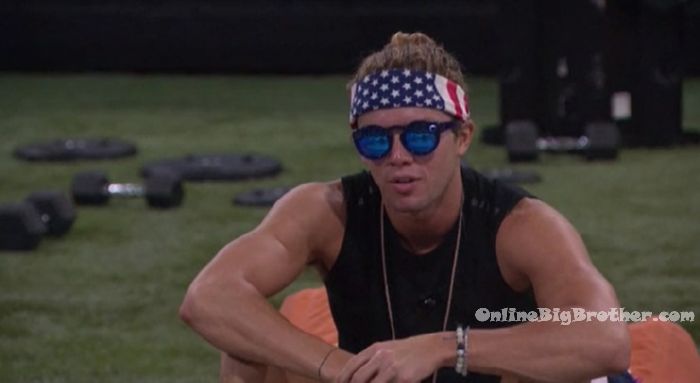 9:48pm – 10:10pm Kaycee, Angela and Tyler. Kaycee asks what she should say in her speech. Angela – just say out of respect for Tyler's I choose to keep the noms the same. Tyler leaves. Kacyee – we have to keep winning. Worst case is if Haleigh wins HOH. Angela – she (Haleigh) keeps saying that she isn't going to keep coming after Tyler or I which I think is bullsh*t. Kaycee – she told me the same thing because she feels bad about the whole thing with me or whatever. She said I promise I won't put you up. Okay so worst case is if she wins… she puts you up .. at least its just one of us. So its perfect. Its good. Its looking good. Angela – I just don't know who the other person would be because if she said that she isn't going to come after me, you or Tyler. And if she does then you're a liar. She is guaranteed to go next. Kaycee – oh for sure. We're looking good. Angela – I hate getting too comfortable though. Always when I'm HOH. Hacker. Jury buy back. Fes being a D*IK! F**K! They talk about how Fes made himself look like a damn fool.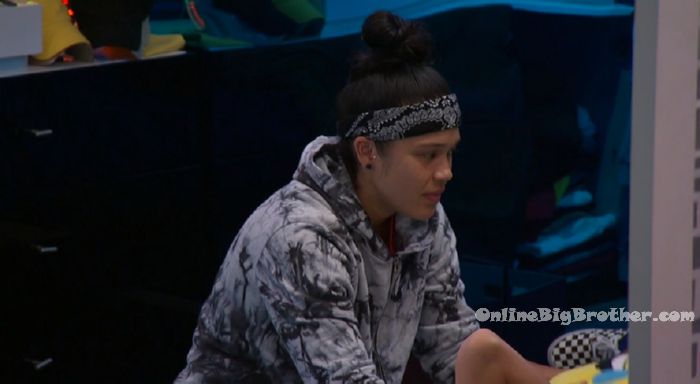 10:50pm Hot tub. Brett, Scottie, Haleigh and Angela. Angela got a sun burn today so she is using a freezer owl to soothe the burn.
10:55pm – 11:07am Angela joins Tyler in the HOH room. Angela whats to know what his twitter questions were. Tyler – I'm not allowed to talk about it. Do you have any better names? Angela – I feel like it should have been Tygela. Tangela is like… they could have just split it in half. I can't wait for the house guests to find out. Tyler – like they don't already know. They don't though. Angela – I feel like they're dumb enough not to know. Tyler – they just don't. It probably drives them nuts. Angele – I don't think they can be sure until they catch us in the act. Tyler – its been close. Angela – there have been a lot of close calls. Tyler – I can't wait for them to find out about our game. JC breaks up their love fest. Angela jumps out of bed and runs to the couch. Angela asks him if he is going to take the big saucer. JC – no that's Scotties but only until Thursday. They laugh. Tyler – are you going to tell him that? JC – no.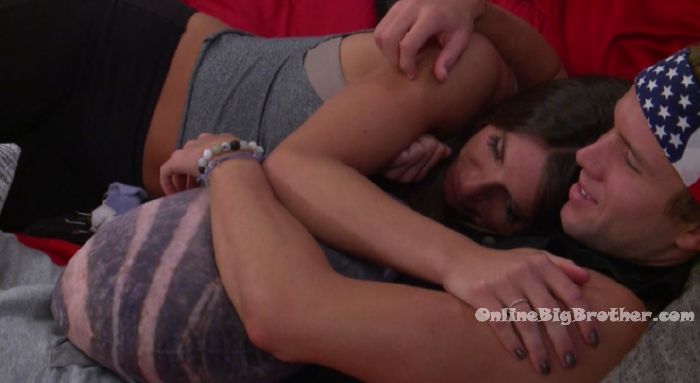 11:10pm – 11:20pm Hammock. Haleigh and Tyler. Haleigh – I am so f**king mad at Fes. He did this to himself. Scottie – when he came out he looked like I was going to hate him. He apologized and said he was sorry. I said its all good. Haleigh – you were the only f**king person we had. All three of us were all we had. And now one of us is leaving. Scottie – coming back in here thinking you (Fes and Haleigh) were both still here.. I wanted all of them to think that I wanted revenge but its not want I really wanted. Haleigh – well now we have no moves to make. Scottie – we (whoever stays) just need to win HOH next week. I don't think they are thinking about jury votes. Haleigh – they're not. They don't care. Scottie – With you or me in the jury .. we literally pick who wins. Haleigh tells Scottie what Fes said in his eviction speech. It was bad. Then when that door bell rang I wanted it to be you or Fes obviously but more you after that speech.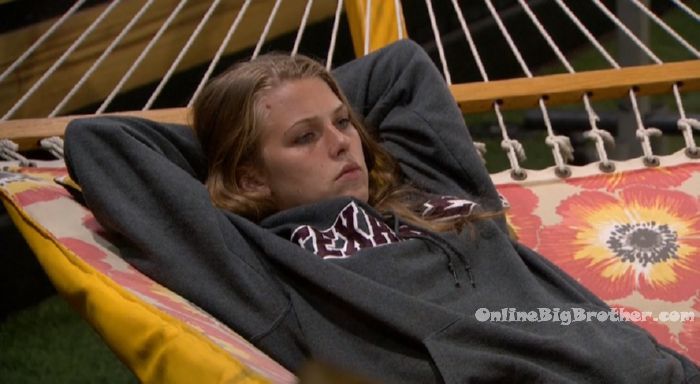 11:33pm – 11:45pm The house guests get wine and beer. Angela is feeling good. Tyler – it hits her quick.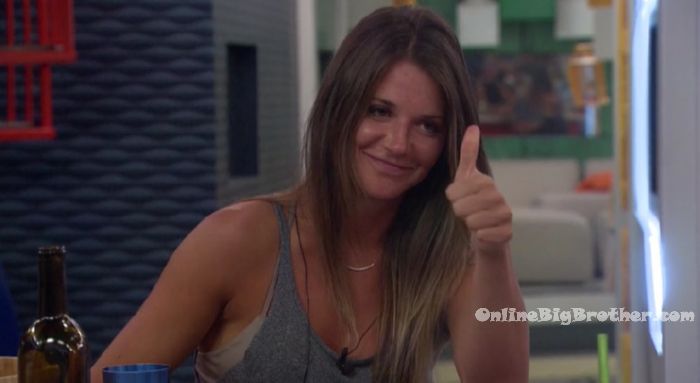 12am – 12:30am Haleigh is sitting by herself in bed drinking her cup of wine and crying. (She thinks she is the target and that everyone is lying to her.) Haleigh – I don't want to be here any more. Scottie joins her but doesn't realize she was crying as she keeps her head under the covers. Scottie are you going for super safe or humor? Haleigh – whats the point.. you've been told that you're the pawn so I am obviously the target. Scottie – I have been TOLD that. Tell them that I have another life growing inside me and if it comes out at any time it will also be a player in this game. Tell them I'm a horrible player. Tell them I'm Freddie Kruger .. blame me for famine .. that's always a hot topic. Drought .. that's a hot topic here in California. Tell them I am actually a couples therapist and that I've been lying to them this whole time. Get them to hate me.. I have a lot of bad qualities. Tell them I beat up clowns at childrens birthday parties. Then they'll evict me. Tell them that I cause global warming. Tell them that I drowned fish and throw birds off cliffs. Haleigh laughs. Scottie – Tell them I bury worms alive. Tell them I hit a school bus full of children with my bicycle.. with no remorse.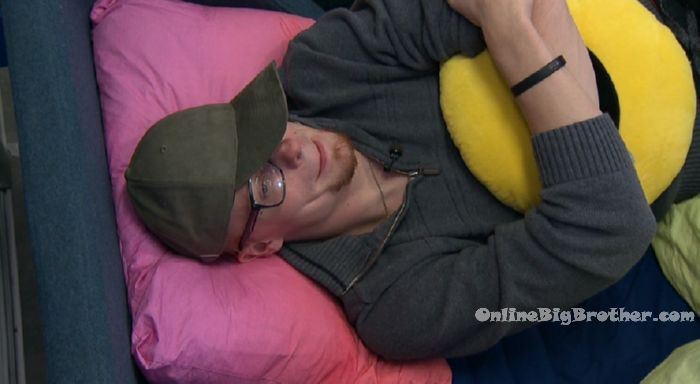 Kaycee comes into the bedroom and tells Scottie she wants her bed. Scottie leaves. Kaycee hugs and tells her everything will be okay. Heleigh – he was telling me about everything that happened in jury and then said it doesn't really matter you're going home this week. I was like what? He said I don't know if its true but whenever Tyler nominated me he said you're the pawn but after the veto he said that Tyler told him not to stress out and that he's the pawn and I'm going unanimously. Kaycee – he told you that? You have to stay calm. You're not going, I promise you. Haleigh – it just made me sad. Kaycee – he doesn't really know what's going on. Trust me. Haleigh – it just made me sad. Kaycee – I am telling you, you're good. Haliegh – thank your checking on me.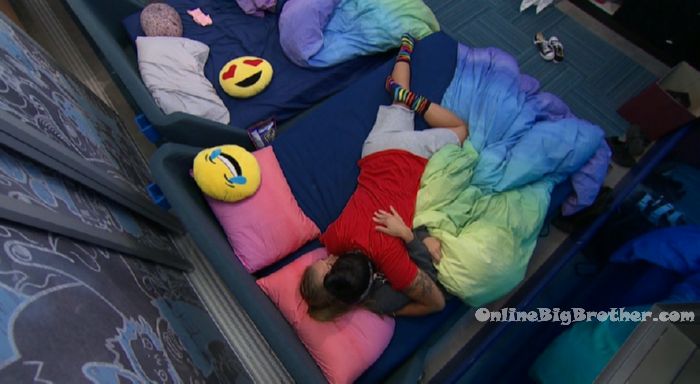 12:50am – 1:10am HOH room. Brett, JC and Tyler. JC – a bitter jury almost never happens. Bitter jury's really never, never happen. Angela joins them. Brett talks about his bizarre conversation with Sam earlier today. Brett – She was making problems out of pixie dust. I don't know what the f**k you're talking about?! I just woke up! I don't know where that came from .. like literally blindsided. Tyler – its from them. (production) She will go in there fine and come out freaking out. Brett – its just like Kaitlyn. Tyler – And they don't even do that. Brett – no, they think their smarter than everyone and think that based on the questions they're being asked that they can piece together other things that are going on. Its literally identical to Kaitlyn.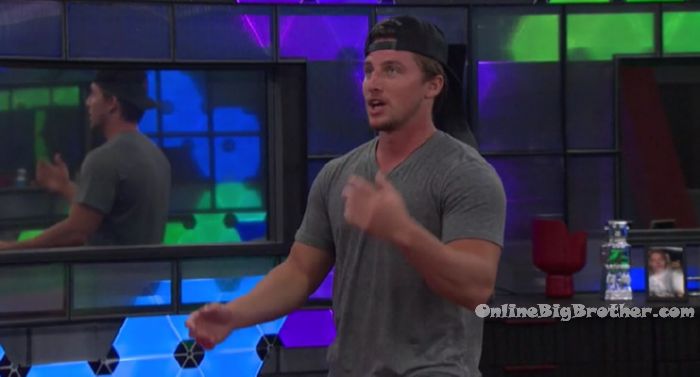 1am – 1:20am HOH room. Tyler, JC, Brett and Angela. More of the would you rather game. Angela refuses to answer JC's questions and it annoys him.
What the live feeders with they could do…@bigbspoilers #BB20 pic.twitter.com/JWKZeiVjcE

— Dawg (@DawgsBigBrother) September 3, 2018
1:50am – 2:05am HOH room. Tyler and Angela… Angela – remember when we used to share a bed for a week? Tyler – yeah. I remember waking up like this and thinking this is amazing. Angela – awww… Angela and Tyler see Brett and JC together heading to the bathroom. Angela – they're like a team. Are we f**king up our alliance?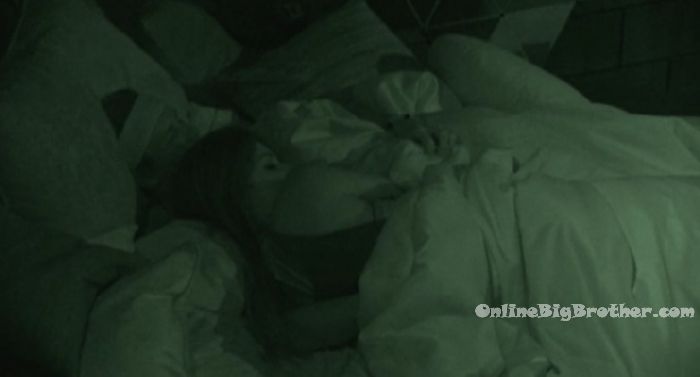 2:05am Brett and JC. JC – if they're (Tyler & Angela) in a showmance then I have to start working. Brett – dude they are. JC – that's what production is f**king doing the havenot sh*t. Brett – that's not what they're doing. JC – they are! They have them get drunk and then we have them in this situation right now. You need to go up there and pretend that you forgot something or something. Brett – its not going to change anything. Every time I would go to bed at 4am she wouldn't be there (in bed she would be with Tyler). JC – production put the havenot thingy.. big brother changes the feed.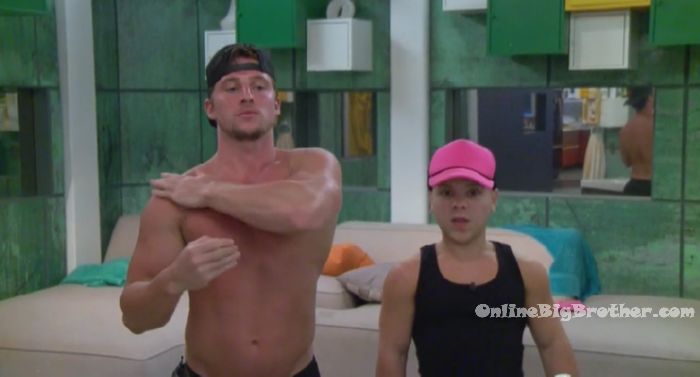 3am – 4am Mostly just them almost falling asleep and some 7th grade I like you, I have a crush on you stuff. At 4am Angela heads out of the HOH room and to bed.
Without your support this website wouldn't be possible. Please consider making a donation. Any amount is greatly appreciated. All donations go directly to paying the considerable costs associated with running this site.
Rank the houseguests!
Easiest way to Rank the house guests use link below