Quick Big Brother Spoilers
Head of Household: Daniel
Nominees: Michael Taylor & Terrance
POV Players: Daniel, Michael, Terrance, Indy, Ameerah and Turner. Kyle is hosting
POV Winner: Michael
Veto Ceremony: Veto used. Taylor nominated
Evicted:
Havenots: Joe, Michael, Monte and Kyle
Michael used the Power of Veto on himself. Daniel nominated Taylor in his place.
Lock your ranks in before midnight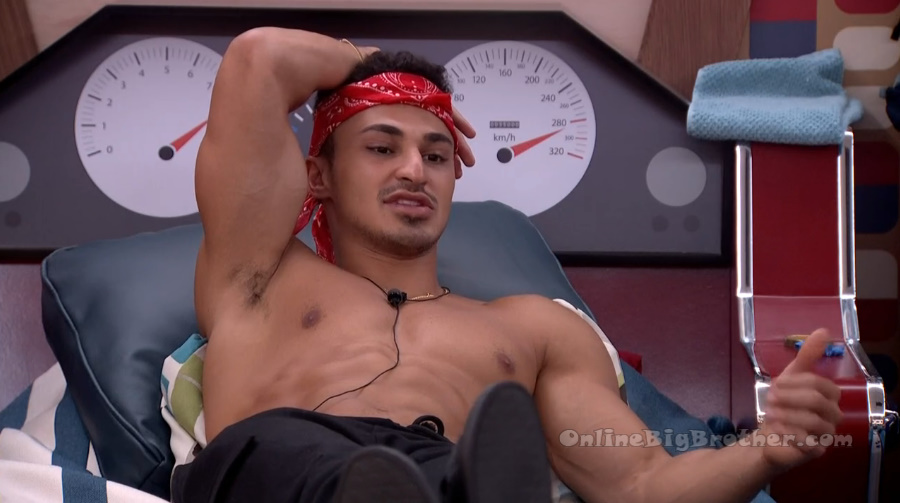 7:15pm Bedroom. Pooch, Joe and Ameerah.
Joe – out of us three if HOH is going up, who wants it? Ameerah – I would put up Brittany and a pawn. Joe – no, no.. I'm saying. Ameerah – no, I know what you're saying. I'm just saying that's who I would do. Joe is my pawn. Joe – hell, hell no! Pooch – Joe is the veto nominee pawn. Ameerah – but you would kill the veto. Joe – That's one thing if you come for me, you better come for the neck because I will kill the veto competition! If anyone pawned me or put me on the block and I am still here .. If you think they're scary.. I am so much scarier than they are. Pooch – how do you feel about someone being a pawn? Joe – I respect it. Here is the thing, I don't have an alliance or anything to back me up. If you pawn me, I'm here now and I am going to be f**ked low key and that is my problem. Pooch – I don't mind being used as a pawn until I think about .. people are like well he's up on the block ..and that's why pawns go home. If pawns are used correctly it throws people off because they don't know what to think. Ameerah – I know. Pooch – its risky. Ameerah – Its very risky. Pooch – if it works, it is next level. Joe – pawns are way later in the game. Ameerah – it would have to be later in the game and I would have to know where I stand.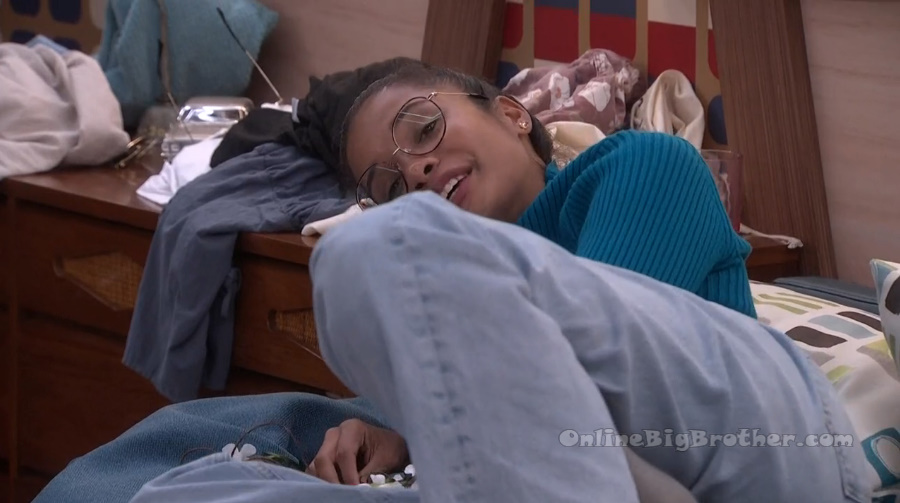 7:20pm – 7:50pm
The house guests are playing pumper pool and sitting around the dining table eating.
8:06pm Bedroom. Jasmine and Ameerah.
Jasmine – Then she might be like damn I really am f**ked. Ameerah – Well she is f**ked already.. she is f**ked! I just want her to go home.. Big Brother switches the feeds away and then back. Ameerah – who would I rather have here right now.. Taylor? Or Brittany? Honestly Taylor! I would vote Brittany out over Taylor. Jasmine – yeah. Ameerah – because what is she doing?! Its one thing.. to go to other people to get intel but you don't go to them and talk sh*t about us! Jasmine – does she not get it!? Ameerah – she was trying to get in good with Pooch in the bathroom. She was in there laughing with him and stuff. Jasmine – girl get out of my face.. I mean not you but her. Ameerah – yeah so I definitely can't be confronting them together. Now they're going to start saying they going to put up Indy but that was all her idea. Can you imagine if I told Indy that sh*t!? Ameerah – mocking how Brittany talked to them about how they have to trust each other. And we all put our hand in there. She's cracking under pressure… so I hope she gets some sleep and some help!
We need to figure out a way to get her out without blowing up our alliance. So we have to suck her d**k for little bit longer.
We need to figure out some new targets. I'm going to ask her target is, I want her to name people because I want blood on her hands. I need her to name people. Jasmine – I could go ask her because she doesn't know that I know this. They head out to talk to Brittany. Jasmine – perfect timing. Ameerah – who do you want out next week? Who do you want to target? Brittany – I thought we were going to do ah Pooch and ah.. Ameerah – I don't think so. Brittany – how come? What changed? Jasmine – there are just mixed reviews within the alliance. Brittany – ok, honestly I don't care. Anybody. Jasmine – what if you won HOH? Brittany – honestly I have been so focus on this (backstage) that I haven't thought about that. Jasmine – don't worry about that. Brittany – I am open. Ameerah – so there's no girls like Indy or.. Brittany – no, I've changed. I feel like we're all on board now. You don't have any feelings? Ameerah – I don't want to do Terrance, Pooch or Turner.. we have to make sure we're sticking together and we're getting intel from other places. Brittany – other than you guys no one has ever approached me to talk. That's why I have to win whatever this competition is..
8:30pm – 8:56pm Brittany – we want to keep this alliance a secret. If its secret that means you're telling other people what they want to hear. Indy – but never tell anyone about us. Never ever ever. Ameerah – I just want everyone to keep my name out of your mouth. Jasmine – mine too! Ameerah – I don't want nobody bringing up my name to nobody. Jasmine – because if I found out.. Ameerah – its a f**king problem! Jasmine – everyone knows I want to play an honest up front game. If I find out.. no .. you don't want sweet country Jasmine! That is all I am going to say! I am a very loyal person. If I find out its not like that, not only is that hurtful, it just takes it to another level. Brittany – they might try to break us up. Jasmine – but they don't even know we're in an alliance. That doesn't even make sense.
Ameerah – there is a rumor going around that I am trying to get rid of Pooch. So I have only told you guys this so like! And it wasn't even that I wanted to get rid of POOch, I was just offering up people that we could nominate. I know who I talked to about this and it was only you two plus our alliance. I dont want to flip out .. we just need to make sure we're aligned and on the same page.. like don't try to join other alliances. This is it. This is our group. And if we have Michael too .. then we are solid. Brittany – we have Michael. Ameerah – so Michael knows then? We should just bring him in. Brittany – just bring him in. Ameerah – do y'all want to go with me and we'll ask him (ask Pooch who told him Ameerah wanted him out)? Jasmine – what if he tells a name? Brittany – this is what I am so afraid of that they're trying to concoct this stuff to get us all like this.. Ameerah – if he says that he doesn't want to say.. Brittany – this is sketch sh*t… lets just put a pin in it but seriously consider him for next week if we get the chance. Its like he is trying to take a hand grenade and throw it into our alliance. Alright its done.. don't say anything to Pooch .. lets just drop it. And if I win I am not putting him up because that would just look crazy. Done. Brittany – done.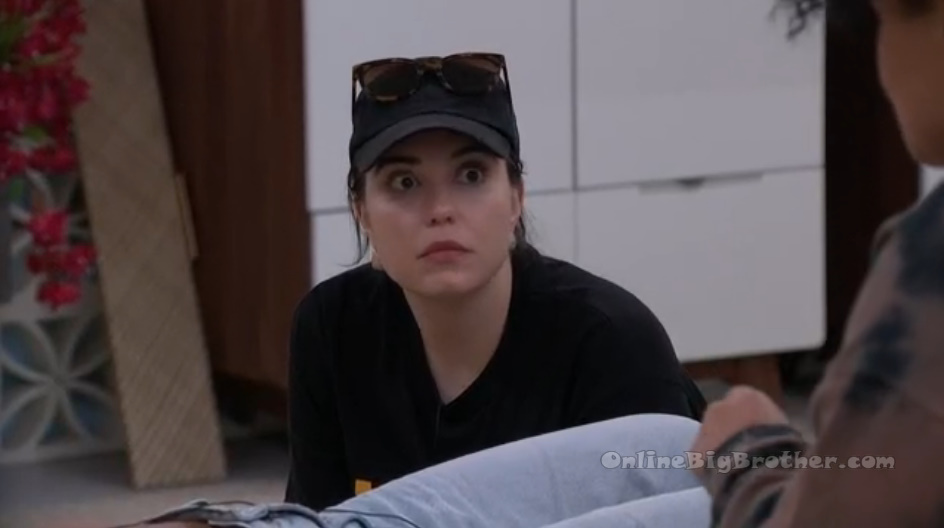 9pm Bathroom. Paloma and Brittany.
Paloma – I am getting concerned we're in a dream. I am thinking we're in Inception.. All I am saying is we are putting a chair by the pool and trying to wake our a$$es up. I think Dick Heart has processed my body. A thousand year old philosopher. His moto is what I know is that I know nothing .. and that is what this game is about. I shouldn't have watched Inception in Mexico.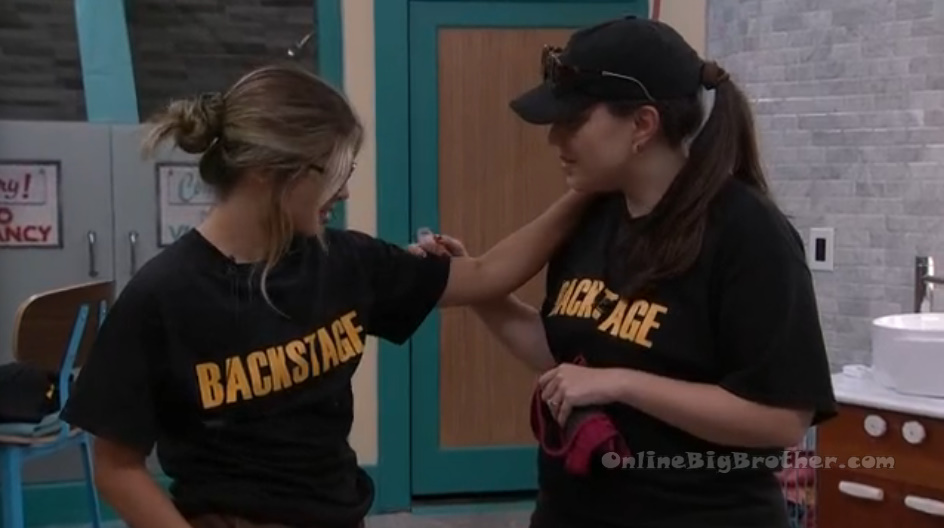 9pm – 11pm The house guests are still sitting around chatting and laughing. Pooch gives Joe a massage. The house guests are telling each other about their first impressions of each other when they moved in. Lots of compliments and laughing.
10:36pm – 10:50pm Bedroom. Alyssa and Jasmine.
Alyssa – I think we should get Brittany out .. but I really like her. Jasmine – you think we should? Alyssa – if it came down to it I would be like sure. Jasmine – if there was one that we had to in our alliance she would be first for me because my top people in there would be you and Ameerah. I could not see myself in here without you and Ameerah. Who do you think would be final five? Alyssa – I hope us two, Monte, Paloma because she is in with everyone. Jasmine – oh my god she's playing the best game. She is random as sh*t but she is smart! She is very smart, she went to Berkley. Alyssa – Kyle I could see (getting far). Jasmine – I love him. Alyssa – I think Ameerah will make it far too. I think she is smart. Jasmine – if Taylor goes home .. then a guy needs to go next week. This is going to get harder and harder. Alyssa – Daniel always makes comments I never see you. Jasmine – well now you know what he is thinking so you can make those efforts. Alyssa – or get him out.. he's a strong competitor. I don't even talk to Monte but I don't get the vibe that he is coming for me. Jasmine – I want to know who he would be gunning for if he won HOH. Alyssa – probably Brittany. Jasmine – who would you do if you won.. Would you put her up (Brittany) and then try and win the veto? Alyssa – I would probably put up Terrance and Turner. Jasmine – why, you don't like Turner? Alyssa – I would have to put up to strong guys.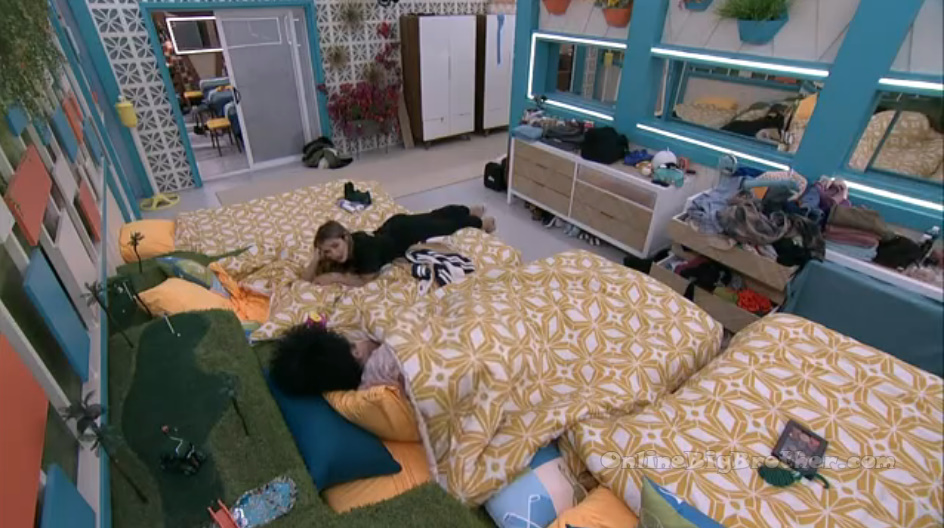 11:10pm First Impressions continue..

11:30pm Bathroom. Jasmine and Indy.
Jasmine – she just told me that Michael was with us, that he really likes us. Indy – I know. Jasmine – yeah he is so sweet. Indy – I know he is with us. He gets along more with us for sure. You know what is good is he can be with the guys and hear this stuff and then.. Jasmine – Bring it back to us.. and he is in the havenot room.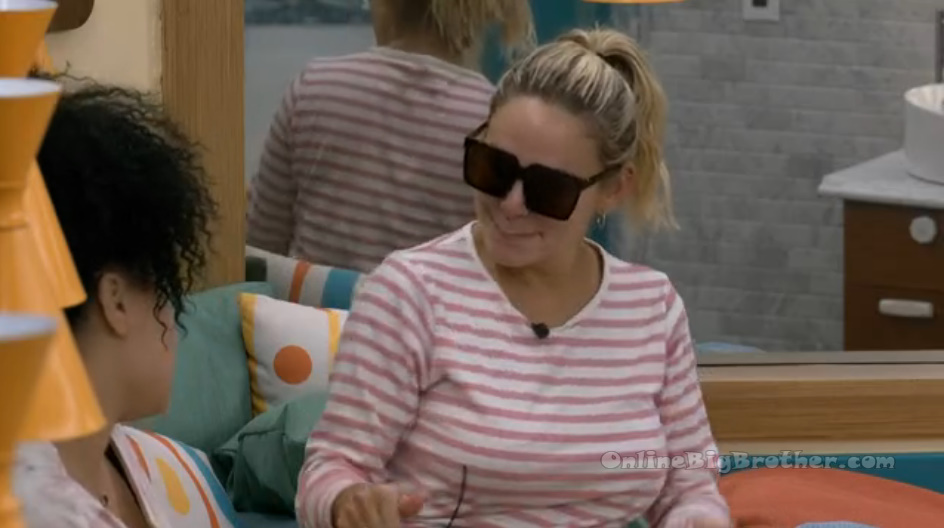 12am Kitchen – Michael and Taylor
Michael – you've been nothing but good with me. Taylor – It was said in front of everyone that you're hurting people and need to apologize for things and as of yet everyone is saying the same thing you're saying. Michael – so what are you thinking for votes? Taylor – I know there's you and Turner. I told everyone that keeping Terrance is the better game move like I told them before the replacement nominee was going up so I am like oh sh*t! Michael – well if keeping Terrance is good for their game you just have to show them that keeping you is better. Taylor – I don't want to bank on the backstage situation. I can't put my game to chance like that. Taylor – I just need 3 more. Michael – today is Monday.. Taylor – so much can happen in the next few days. Michael – don't frea kout or look like you're giving up. Just be positive and nice ..that will at least keep you having conversations. Let me know if you need anything and pull me aside id you want to talk.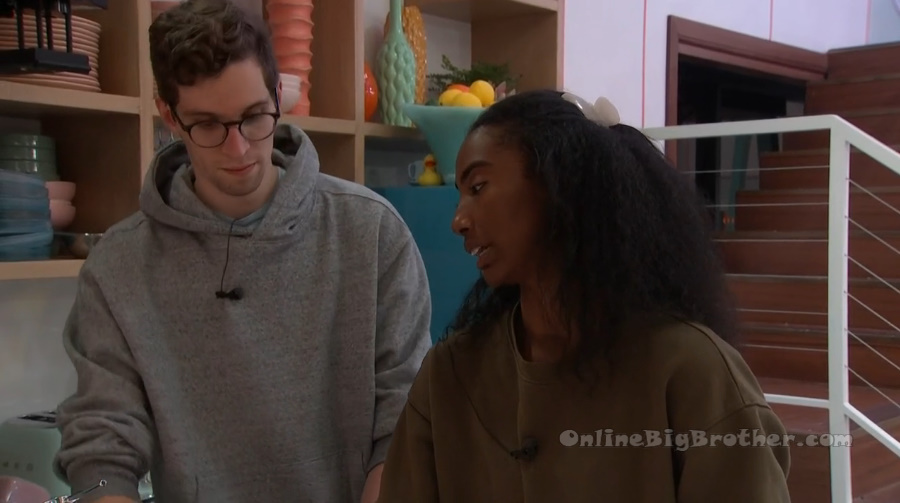 12:10am – 12:20am Bathroom. Nicole and Taylor.
Taylor – I passed Monte in the bathroom… quick game talk for the first time. I was like I feel good about the guys and girls that were on stage with us. Later on a day or two later Paloma said I think the guys are upstairs plotting about the girls. And I was like no don't worry about that. Ran into Monte later and said hey, Paloma thinks all the guys are plotting against the guys .. have a conversation with her. And what I meant was have a conversation with her and put her mind at ease because we both know that isn't happening. Nicole – those weren't your exact words? Taylor – no, not that last part. Monte took it as which doesn't really make sense to me because why would I tell someone to go have a conversation.. So he went to Paloma and assumed all the girls are targeting the guys upstairs. Paloma got heated and was in a room full of people.. riled them all up. So Paloma thinks I am running my mouth with her name in it. Nicole – that sucks. They talk about talking more outside.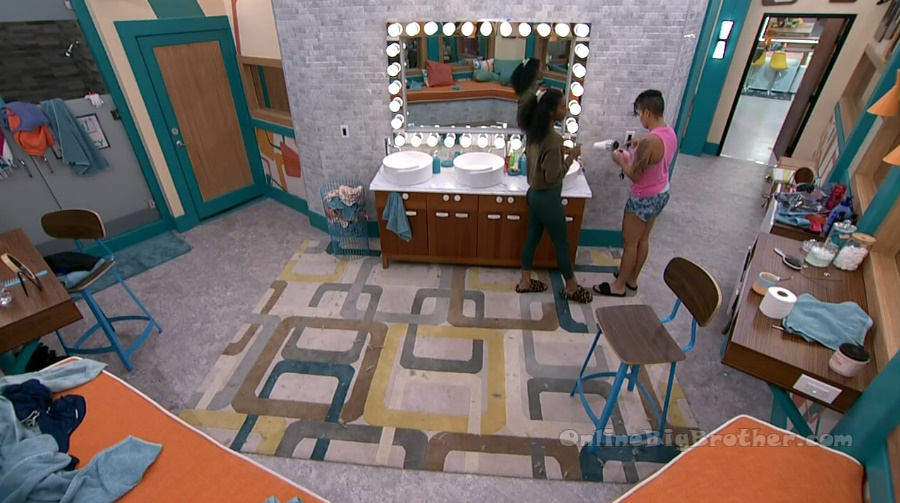 12:25am – 12:35amTaylor talks to Joe. He tells her about the moment they were all being vulnerable at the table and she said she would stab them in the front and back. There's a time and the place and that wasn't really the time. Taylor – I can see that. Joe – I think you've had more.. we've all had miss communications with everyone but I think you've had more. You're righting your wrongs and that's respected. It is a joke but Taylor it also shows that you're a savage player. Me personally you've never said anything to upset me… and if you did I would tell you. Joe – everyone is extremely unset that this is going on. It kills me because both you and Terrance are so amazing.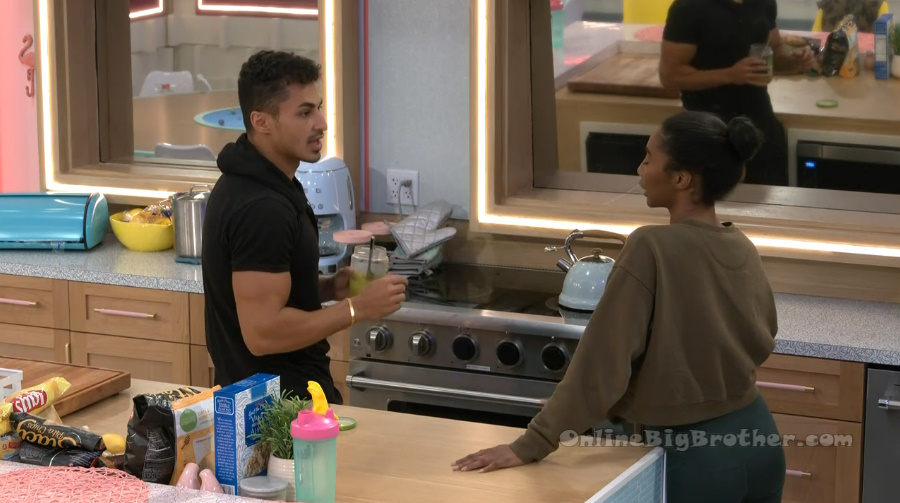 1:22am Storage room. Taylor and Pooch
Taylor says that she wanted to give each person the opportunity to talk to her and find out if there was anything she did to them. Taylor – every this is an opportunity to learn. It was a gift that Daniel said what he said to out loud to me.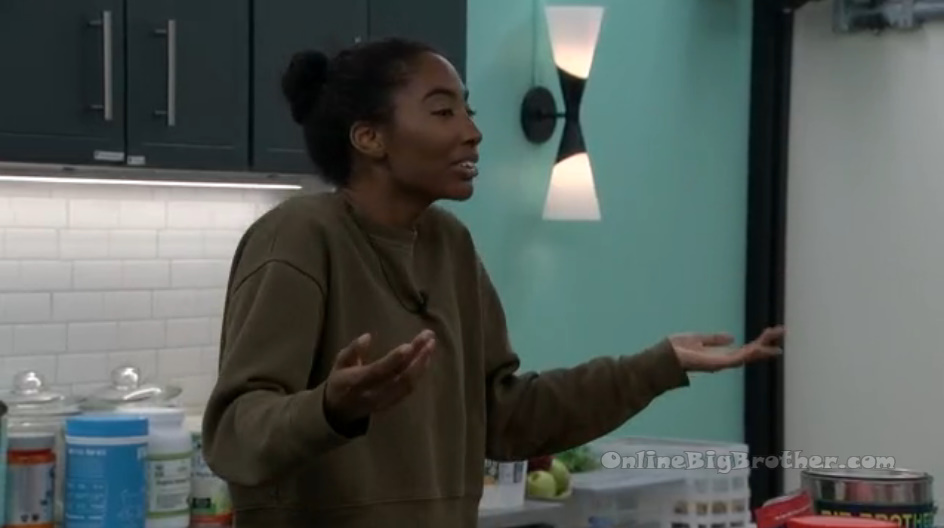 2am Some the of the house guests are still up chatting in the kitchen.

Girl's Girls (Paloma, Jasmine, Alyssa, Ameerah, Indy, Brittany)
Motley Crew (POOCH, Turner, Daniel)
The Oasis (POOCH, Turner, Daniel, Kyle, Monte, Joe)
MAMBA (Paloma, ALyssa, Ameerah, Monte, Kyle, Michael)
Burner (Turner, Brittany)
TOOCH (Turner and Pooch)
PSL (Paloma, ALyssa)
Rouge Rats (Nicole, Daniel)
Smurfs (Jasmine, Paloma, Kyle, Monte)