Quick Big Brother Spoilers
Head of Household:  Michael
Nominees: Terrance, Monte & Joseph Kyle and Daniel
POV Players: Terrance, Monte, Joe, Brittany, Michael Jasmine and Turner; (Taylor is hosting)
POV Winner: Michael & Brittany
Veto Ceremony: Veto was used Kyle and Daniel nominated
Havenots:  None so far
Lock your ranks in before midnight
Festie Besties:
Turner & Jasmine
Joe & Monte & Terrance
Daniel & Kyle
Brittany & Michael
Alyssa & Indy & Taylor
On the campaign Trail… Daniel has accepted he's going home tomorrow. He's fully figured out the leftovers and is starting to warn the rest of the house. We'll see if anything happens.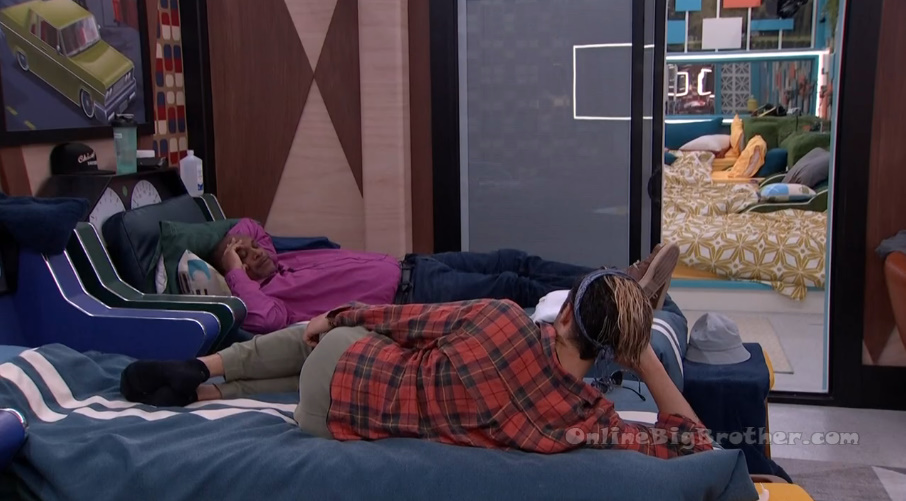 7:10pm Bedroom – Daniel and Terrance.
Daniel – I still love this game.. I just don't know if I love this season.. until you win it. If I saw you and Jasmine at the end I would freak! Terrance – Sh*t I don't know.. sitting next to her.. her jury management is going to be crazy! Daniel – still even if you got second $75,000 .. forget about it! Terrance – whoever I sit next to, I would have a good argument. I will make an argument. Daniel – you got to! What if its you and Turner? Terrance – oh I'll get him. Daniel – by then you would have wins under your belt anyway. (Sure, sure) Terrance – starting tomorrow. I am not f**king playing. Daniel – I'll tell you what .. I'm going to be sequestered and then when I go home I want to read on twitter that the new Head of Household is Terrance. I would throw my phone, then pick it up and then call Nicole. Face time her and everyone .. talk sh*t with Pooch. Terrance – I hope it is the wall tomorrow because even though how strong the are.. it takes finesse. Daniel – and determination .. and they're so comfortable here their muscles will work against them because they're comfortable but also.. Daniel – They're big and heavy. I think Alyssa would have a good shot because she's tinier.. Josph and Monte would fall. Turner might because he's so tiny. Terrance – he would be the only one, I would just have to out wait him.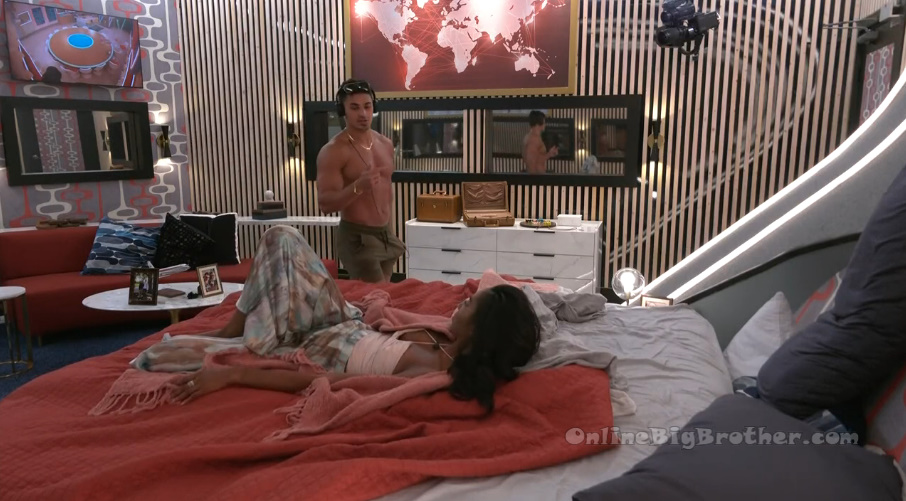 7:20pm HOH room – Joseph and Taylor.
Joseph – if she asks I'll just say that you were having a tough week because of Daniel and I was "consolidating" (lol he means consoling) you. Like it can be a rough week for everyone. Taylor – every conversation we have is just keep you head up. Joseph – its definitely hard, its not easy. She (Indy) doesn't like that I'm in here talking to you. We can blame it on our showmance. Taylor – exactly. That's the only reason why we did it. If she asks I'll say we talked about wanting to take things slow and stuff like that. Taylor – all flirt no game. Lets just focus on winning next week.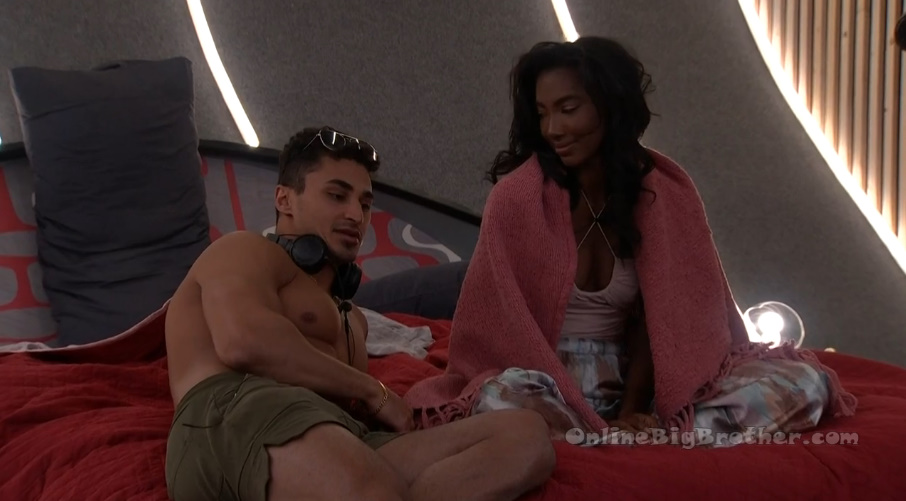 8:05pm Living room – Joseph and Jasmine
Joe – I just don't want to give him (Daniel) false hope .. he's a straight up dude. If I could save him and my game I would but I don't think there is anyway to do it. I would have loved to work with him but he kind of dug his hole. Jasmine – I thought you and Indy would have had a showmance. Joe – me and Indy? No, we flirt but that's our personalities. Like Indy is my home girl. You thought Indy and I had a showmance? Jasmine – honestly when I came in the house I thought you would be more attracted to Indy than anybody else. Joe – when I say my attraction comes from clicks and personality and bonds. Like coming in here and looking at Taylor .. I would be like that's a possible showmance. Jasmine – really?!! Joe – I do it based on who I click with. Jasmine – even if I was single I don't think any of these guys would be attracted to Alyssa and Indy and Taylor.. but I am just not that girl. Joe – and the thing is Taylor said the same thing. Jasmine – really?! Joe – you can't tell what someone's type is. Taylor said one time that she swears when they made this cast they tried to put her with Monte.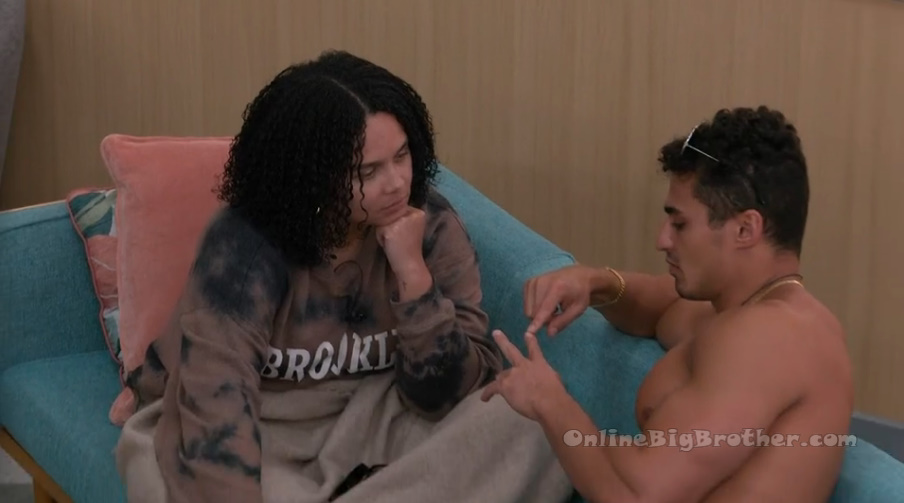 8:20pm Bedroom – Taylor, Indy, Alyssa.
Taylor – I get so excited with I see you guys. Alyssa – awww.. we're hanging out a lot more. Taylor – I love it. Alyssa – now he's worried because its a sensitive week but at the same time I am like I want to spend time with you. Like I don't think its a threat. Taylor – no. Alyssa – its like not like we're a unit now or a comp beast by any means .. we clearly both can't win anything but its been good and he's really sweet… and he read poetry to me that he found on a chocolate bar. He found another one that made me cry. It was so sweet. I've never dated anyone that would do that.. I usually date the meat head a$$holes. Like Pooch is my type (hahaha) unfortunately. I was like I can't do that anymore .. and Kyle and I are so compatible. Taylor – well obviously I am not getting rid of him this week. Alyssa – if the Festie Bestie ends I won't put you (Taylor) or you (Indy) on the block. Taylor – you guys are not touching the block if this is done. Alyssa – I am giving you my word and I won't break my word. Indy – we don't have girls against boys but I will have the girls back to the end. Alyssa and Taylor – same, same. The numbers are scary. If we can chop that and keep chopping that we will have a fighting shot because we talked about that .. we want 2 girls in the final two.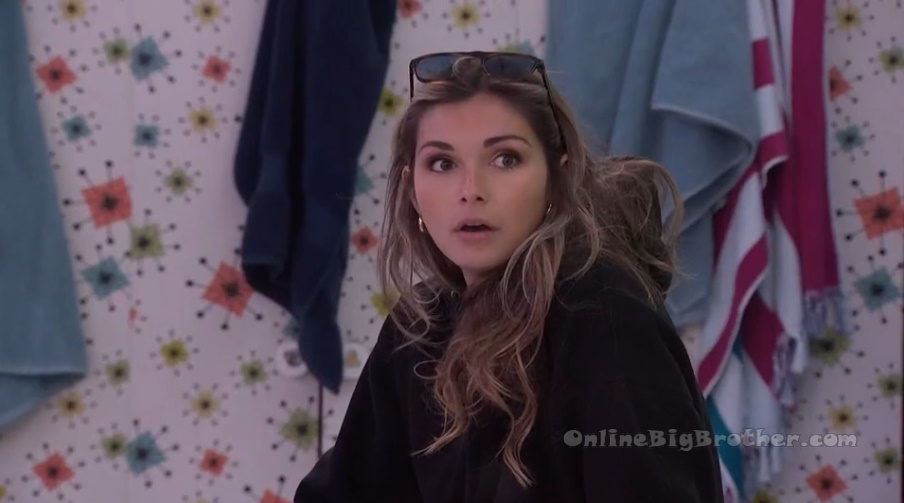 9pm Bedroom – Jasmine joins Indy, Alyssa and Taylor.
Indy – do you think tomorrow he (Daniel) is going to say stuff? Taylor – yeah! That boy wants to go out guns blazing! Jasmine – he said when he goes out he is throwing everyone's game under the bus. He told me specifically he would not talk about you (Taylor). Because he still feels really bad and you guys made amends and that he respects you as a woman and I was like GOOD! That's what I was about to tell you… DON'T do it! He did say a few people and Monte is one of them. Taylor – is he going to blow up at veto king? Jasmine – he didn't say his name. He told me 3 people.. Monte and one more person but he didn't tell me the last person because he wants it to be a surprise. I'm like f**K! Alyssa – who is the other person? Jasmine – Brittany. And so I think that it is going to be Michael (the third person). Should I warn her (Brittany) so she can get ready? Alyssa – its going to be so awkward after he leaves. Jasmine – If I tell Brittany she is going to be worried and stressed.. They agree not to tell Brittany since Daniel might not say anything after all. Alyssa – if you guys think its annoying if Kyle and I are hanging out and laughing.. just tell me. Taylor – this is a boring a$$, s*xless a$$ house .. you could change that. Jasmine – what it that makes things weird? Alyssa – we're not going to f**k unless we have the HOH room. Indy – well then you're going to have the HOH room on Saturday because I'm going to win this f**king HOH. Alyssa – we'll change the sheets. Jasmine – if I win it just please let me know so that I don't have to be in there when it happens. Alyssa – what?! Jasmine – just tell me so that I can get out.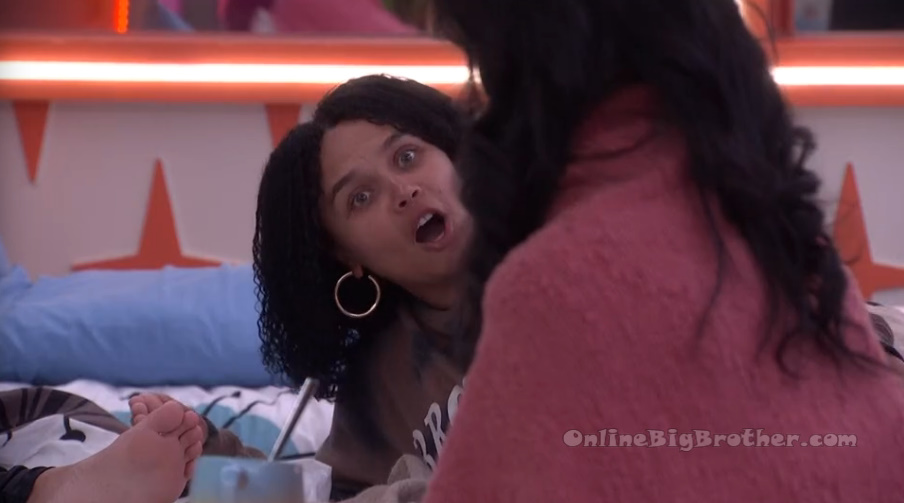 9:15pm Bedroom – Indy talking to the cameras.
Indy – I know guys. I really don't know what to do anymore. And now apparently Joseph has a showmance with Taylor. The showmance is starting. I don't know. She already got on my Festie Bestie… I don't know I kind of like her now better but she is already my Festie Bestie and now she is starting a showmance with my best friend here. And I don't know if that is going to put a target on his back. But I think she still has a target on her back. I just hope I win HOH tomorrow… just pray for me everyone. I need so many prayers. I want to win tomorrow. I can't wait for what Daniel is going to say tomorrow .. its going to be so much fun!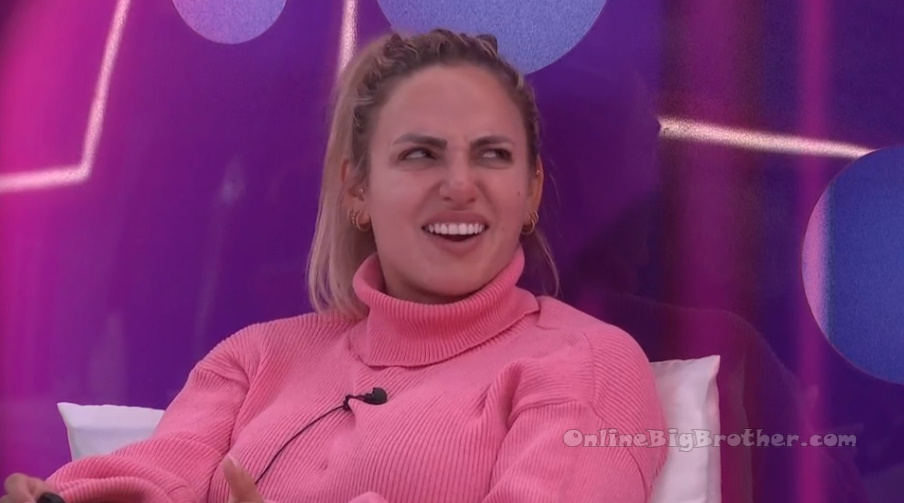 9:42pm HOH room – Brittany talking to the cameras.
Brittany – Lately I haven't been feeling like myself because no one but Michael knows and it felt really nice for twenty minutes to actually feel like myself. It felt really good and that is why I am in such a good mood right now because I felt like I didn't have to pretend. Its really hard pretending non-stop.. like really really really hard! If I could go back and start all over again .. I would never hide my profession.. never. I would have come in and talked about it since the beginning but now I feel like I'm in too deep that I don't know, its better just to wait. I hope everyone doesn't hate me at the end of this because I love these people and I want life long friends. And I hope that we all stay in touch and they can get to know the real me outside this house because I want them to know the real me inside and out.
9:50pm HOH room is heating up causing Big Brother to block the feeds..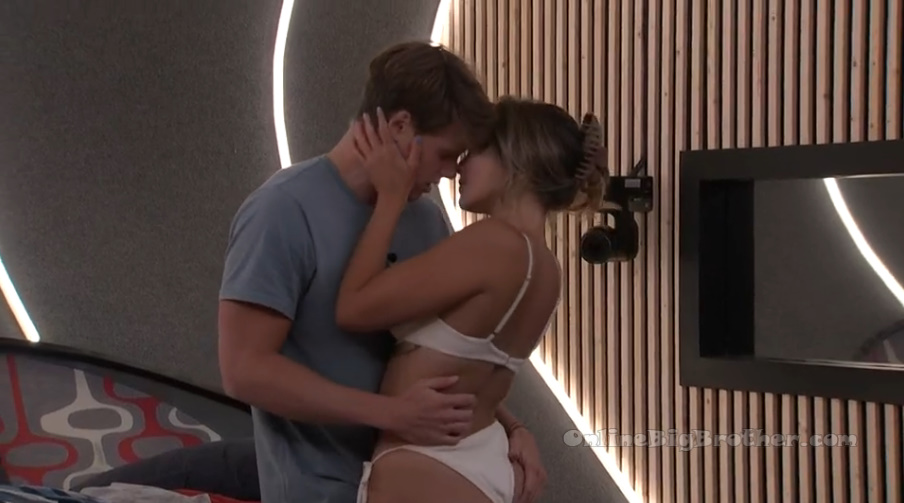 Kyle "Can I touch your bum?"
Alyssa "You don't need to ask permission"#BB24 @bigbspoilers pic.twitter.com/GB0adTapKX

— Dawg (@DawgsBigBrother) August 11, 2022

Feeds return to the HOH room. Kyle – you need to put on a robe so that I can't see you. Is it okay if I touch your bum? Alyssa – you never have to ask .. I give you permission. We have to own this room before we can do anything to this room. We can't do that to Michael. Go hang out with Michael. Kyle – okay I am going to go play with Michael. I am so excited to hang out with Michael.

Alyssa "We have to own this room before we can do anything to this room." #BB24 @bigbspoilers pic.twitter.com/N0HnxBxmKv

— Dawg (@DawgsBigBrother) August 11, 2022
10:22pm Kitchen – Michael, Monte and Kyle.
Big Brother – Kyle please put on your microphone. Monte & Michael – why was your microphone off Kyle?? Michael – I mean I usually take mine off when I take my shirt off. Monte – nice, Michael! Kyle – listen guys.. nothing.. yeah. Monte – nothing transpired huh? Disappointing. Kyle – lets just leave it at that .. I respect the room. I could be gone tomorrow so.. Monte – don't put that out there. Kyle – Indy is probably up there chastising .. she hates it. She does not love that we're a thing. Monte – she will learn to love it.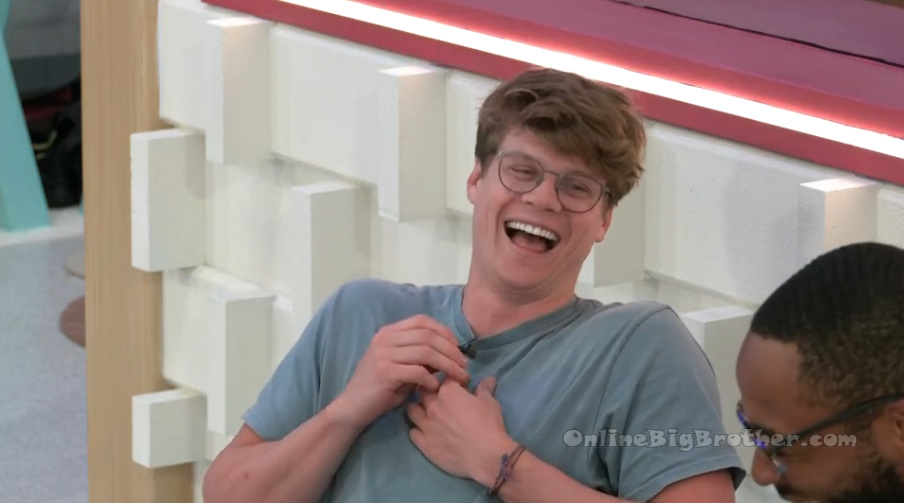 10:45pm HOH room – Alyssa and Turner.
Alyssa – I wouldn't put up Indy because she's my Festie Bestie. Turner – I like her.. I'm not really close to her but I wouldn't put her up either because I like her presence in the house. Alyssa – yeah like I wouldn't not vote her out if it came down to it. Turner – its seems like the house has a hierarchy of targets that none of us fall on and I like it. I am not trying to create war, I am just doing whatever one else wants. Is there anyone that you would be worried about? Alyssa – I think Monte would put us back up. Turner – I feel like my HOH was a little chaotic but I did what I needed to do. I feel like people think my head is a white wall and I am going to decide something last minute but I am just doing what everyone else wants. I would not put you up, Kyle or Jasmine up. I wouldn't put you or your two homies up. I just wouldn't want you to put up my homie Kyle. Alyssa – well I would never do that.
11:45pm Storage room – Jasmine and Michael.
Jasmine – He (Daniel) thinks you're working with Monte and that's the reason why you didn't. Michael – oh. Jasmine – I am nervous because tomorrow is the day and I don't want anything crazy to be in his speech and I know he is one of those that.. Michael – will go out with a bang. Jasmine – if he is going home. If he goes off with a bang and he isn't even doing sh*t.. then I can imagine.. I don't know if he would but I feel like he would. I don't know, maybe that was the best move (Getting out Daniel rather than Monte). Michael – he is the only person that I have heard is throwing my name round. Like tried to paint a target on me.
1:20am Daniel and Jasmine are in bed going to sleep.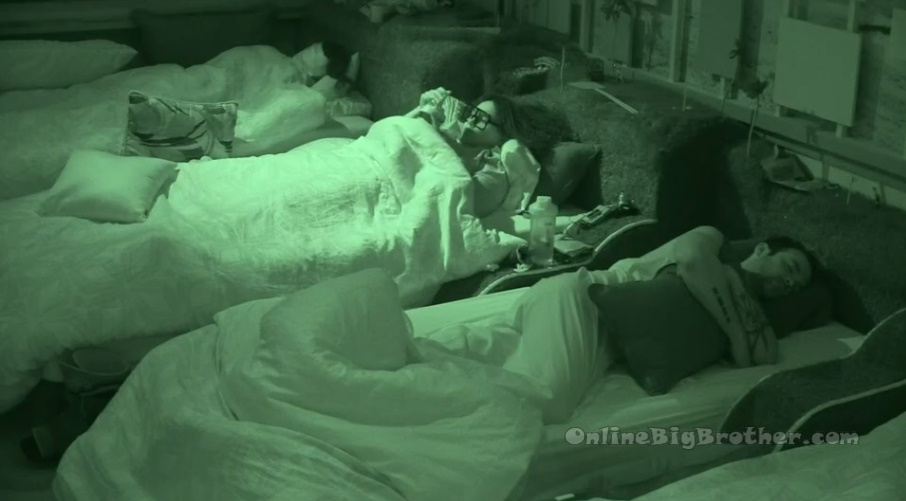 2am Michael is in bed listening to his HOH music.

2:20am All the house guests are in bed..