Quick Big Brother Spoilers
Head of Household:  Monte
Nominees: Brittany Taylor & Alyssa
POV Players: Monte, Brittany, Alyssa, Turner, Taylor
POV Winner: Brittany
Veto Ceremony: Brittany use the power of veto on herself. Taylor nominated
Lock your ranks in before midnight
The situation It's been very slow today. Monte and Taylor are spending a lot of time in the bed cuddling. Brittany and Alyssa have been chatting about getting Turner to vote to keep Alyssa so they can flip the vote. My gut is telling me Alyssa is still going.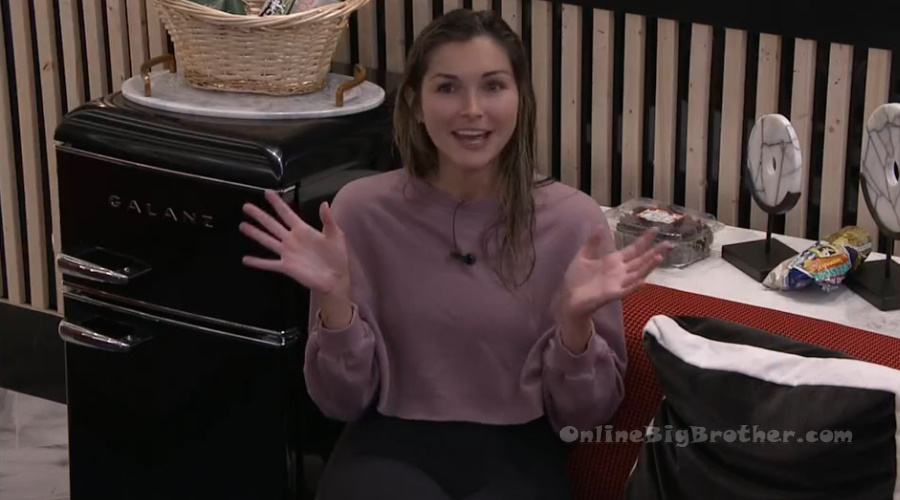 7:15pm HOH room – Alyssa and Monte
Alyssa – I checked in with Turner and Brittany earlier today and I just wanted to check in with you so that I can get it over with and enjoy my night and not have to stress about it. I feel good with Turner. He's the homie so I hope that he pulls through on that end and so I am feeling decent with him. Brittany same sh*t. She is undecided. She's like you know I am tight with Taylor and she has been my girl throughout the game and you know I love you but I have to think this through.. so I am pretty sure I know what that means .. which I know might put you in an awkward position so all I ask is that you think about it and make the best decision for your game and I love you no matter what.. I just wanted to make that very clear that there are no hard feelings but I hope you think about it and weigh your options .. and yadda yadda.. Monte – no, I appreciate it and I am going to do that because I think that is only fair to you and its only fair to Taylor and fair for myself for next week because that is when I am the most vulnerable. I am going to take all that into consideration and I appreciate you letting me know that its all love regardless because I've gotten to know you so much more this week than I have before and its been really enlightening to me and it makes me feel guilty for not doing it sooner because I really do appreciate you as a person and I wish the circumstances were a lot different because if they were I don't think we would even be having this type of discussion. Alyssa – I agree and I understand .. looking from the outside understand how I was portrayed to you and I get it. But this past week has been amazing ..and whatever happens happens but I am not going to be Michael or Terrance or anything like that. I don't even want to stress about this .. I just want to play spades and have fun with you guys and then you make the best decision for you. And if you have any questions between tonight and tomorrow just ask. Monte – I appreciate that.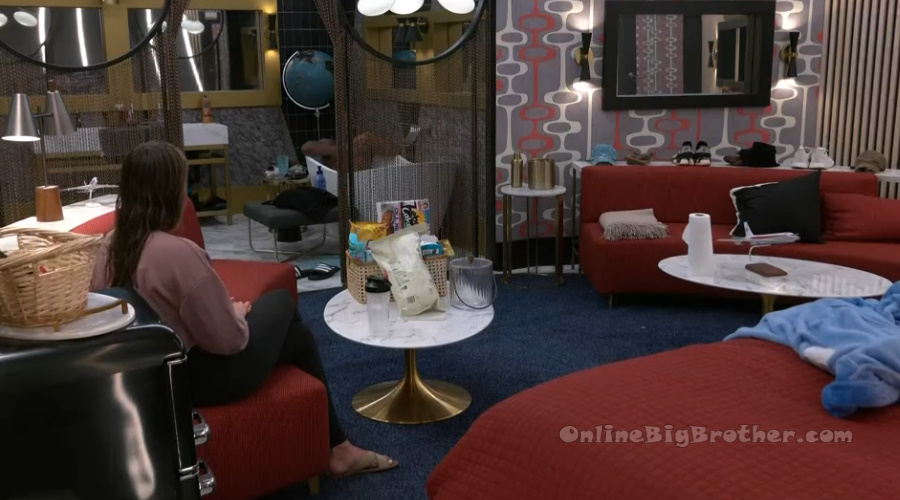 7:51pm Taylor, Brittany and Turner are still sleeping. Monte is getting ready after his bath/shower.

8:15pm Bedroom – Alyssa and Brittany.
Alyssa tells Brittany about the conversation she had above with Monte. Alyssa – I went and talked to Monte and I was just telling him the same thing. I feel pretty good with Turner and Brittany. And I was like just so you know if that puts you in an awkward position to break a tie it is all love. And he was like Thank you for saying that. I do kind of feel like I might be put in that position so you telling me that it is all love is really appreciative to me. I was like I want you to take time and make the best decision for you game and I respect it. And he was like I honestly feel guilty because over this past week I have gotten to know you a lot better and I wish that we weren't in the situation that we're in but just so you know any decision I make is going to be totally game related so he seemed like he does have that .. and Taylor just went up to talk to him so I hope that he tells her its all love whatever decision you make. I am hoping he reassures her and Turner. Brittany – they haven't said anything to me. That is really good. Why would he say that to you.. he is trying to cover his tracks jury-wise with you. Alyssa – so it seemed like he thought that he might be put in that situation (it might be a tie). And I was like no matter what you decide if it comes down to that I appreciate it. Brittany – it just feels so delicate like do I just (motions to zip her mouth) and just let it happen or do I help more? Maybe if I talk to Turner and ask oh my god does she (Alyssa) know she's going yet? Alyssa – and see what he says. Brittany – it would be nice sometime tonight to be with them when you're not that and just be like is this the final four? That is the most reassuring thing so far.. Turner is being straight up with you .. and then Monte feels like he is going to have to be in a tie breaker situation.
8:35pm Storage Room – Brittany and Turner.
Brittany – does she (Alyssa) know that she is going? Turner – I don't know .. I didn't tell her. I have been very very adamant about not telling her. Brittany – I have been telling her that I am very undecided but I feel like she knows that I have been working with Taylor since day 1. Turner – I feel like she feels like she has to convince Monte but Monte and Taylor are also close. Its not going to convince Monte. Brittany – how do you think I should handle it with her. Do you think I should just been straight up with her. Turner – I think her hope comes from.. I even told her like I said you only need one .. I don't think she thinks she is going to get you to vote for her anyway. Brittany – I kind of got that impression because when she came up to me she asked is this even worth having a conversation. And I was like I will have a conversation but.. Turner – we had really intense conversations where she told me if I don't vote for her I am losing her jury vote 1000%. Brittany – oh no, she will hate you. Like she will never talk to you again if you don't. Turner – yeah so.. Brittany – she said that it would be worse than Kyle if you didn't vote for her. Turner – so I am not going to anyway. My jury management is tanking! You and me have some awful jury management. Brittany laughs – we do! Turner – I also don't have Michael, I don't have Jasmine, I don't have Indy. Brittany – I feel like I don't have any of those. If you did want to throw her a sympathy .. then I am voting to keep Taylor .. so Monte has to break it. Turner – Oh I also don't like hearing …like we are playing big brother so the idea that you would throw that in my face. Like I have to do what is best for my game. And then threaten me with a jury vote for a vote. I don't like that! Brittany – yeah. I just feel bad. I really love Alyssa as a person. I want her to know .. all I need to do is just tell her I am sorry. Turner – I am just going to tell her .. just to make our last days okay .. I am telling her I am voting for her and in my goodbye message I will say you have to know I can't vote against the house in final four. Brittany – yeah, okay. So you're not going to give her a sympathy vote? Turner – well what do you think? I am open to it but if I am going .. I don't want to blindside people.. Like if you would be fine with that then I would be okay with it definitely. Brittany – I mean it is up to you .. I don't know. I feel like that is you and hers relationship. It makes more sense that I am voting against her. She understands it a bit more. Turner – yeah definitely. Turner – I will think about it tonight. Brittany – I just feel like I need to be honest with her because I feel like she would tell me. Why can't Monte just break the tie? Turner – that is a good question. I haven't thought about why or what. Maybe that would be better. Brittany – I mean it doesn't matter to me .. I am voting that way anyway. When she talks to me, it sounds like she has you 100%! So I think in her mind it is convincing Monte. Or me but I feel like she has just let up. Turner – she is way open emotional .. unlike Ameerah who was like you got me. Brittany – its like are you taking the heat from her or is Monte.
8:50pm – 10:32pm Chatting, eating and cards in the kitchen.

10:33pm
Kyle is that you?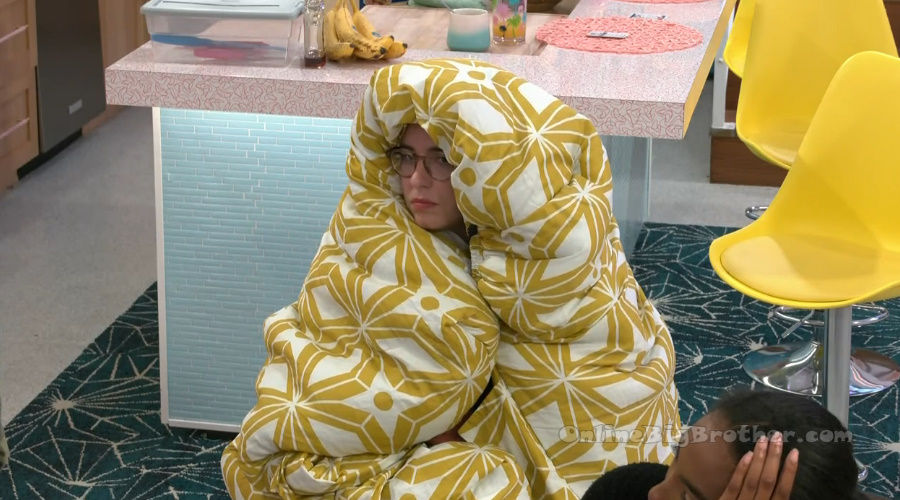 11:22pm – 11:57pmCards cards cards.. Monte – who in the hell shuffled this sh*t?!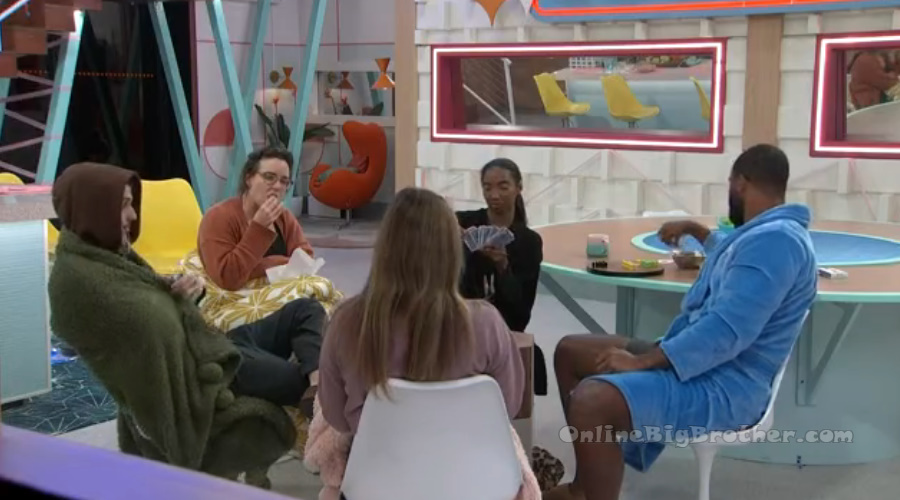 Without reader support this site and these spoilers wouldn't be possible.
Please consider a donation to keep the madness going.
Any amount is greatly appreciated!