POV Holder:
Peter
Next POV
April 13th
POV Used
?
POV Ceremony
April 8th
HOH Winner:
JILLIAN
Next HOH:
April 11th
Original Nominations:
ALEC & PETER
Current Nominations:
?
Last Evicted Houseguest
GARY
Have Nots
No havenots this week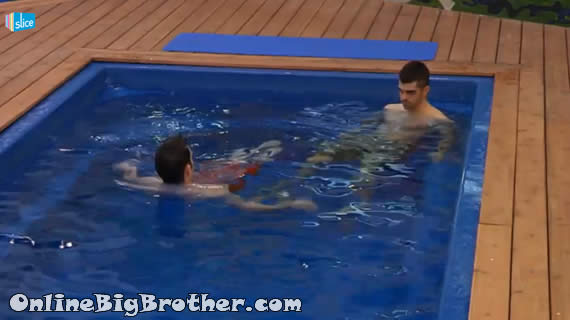 12:30pm Pool Alec and Andrew
Very hard to hear what Alec is saying but I believe what he's saying to Andrew about what went wrong with the original final four deal with Emmett and Jillian.
Alec says that Topaz is going up because Jillian is saying she is friends with Talla. Andrew says it's not about friends.. friends have no place in this game.
Alec: "It's all about trust"
Andrew :"trust is a word that doesn't exist in this house"
Alec: "Trust means Everything.. " Alec trusted Emmett but somewhere along the line Jillian got mixed up.
Andrew: "you do whatever it is you need to do all I can do is watch"
(Wish I could hear this conversation in full.. audio is really low. I've included the video maybe you have better ears than me)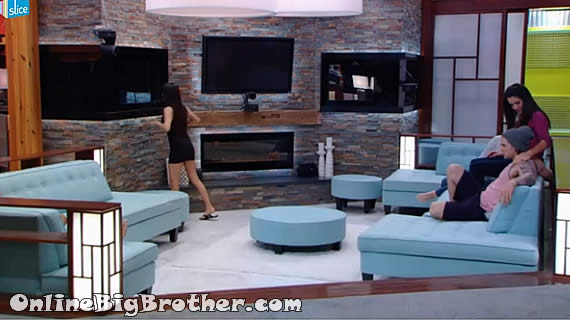 12:40AM
Big Brother: "ALL houseguests to the living room immediately all ALL houseguests to the living room"
Every gathers up in the Living room.. Talla and Jillian are very nervous pacing around. Emmett: "I Think we're going to be watching something on the TV"
Peter: "Yeah"
Emmett: "houseguests Canada has voted"
Jillian: "I hate it when people take forever to get here"
Toapz: "ANDREW ALEC!!!" (andrew and Alec were in the pool they are taking some time to make it to the living room)
Big Brother: "ALL houseguests to the living room immediately"
Peter: "I think Emmett is right it is going to be a video"
Topaz: "I'm going to sit closer":
Alec comes in asks them if there is something going on in the HOH. Topaz: "Not the HOH cause Emmett was just there"
Big Brother: "Houseguests please remain seated and await further word from Big Brother.. "
And of course the feeds go to hush hush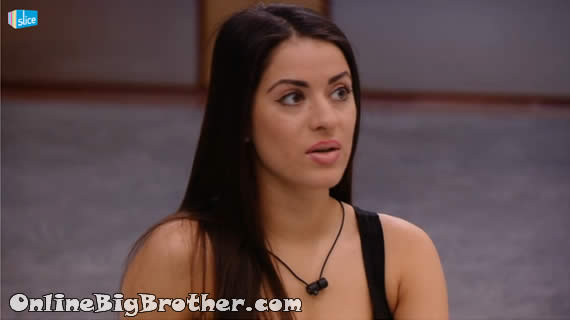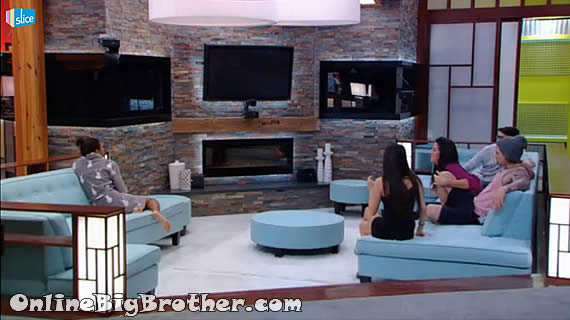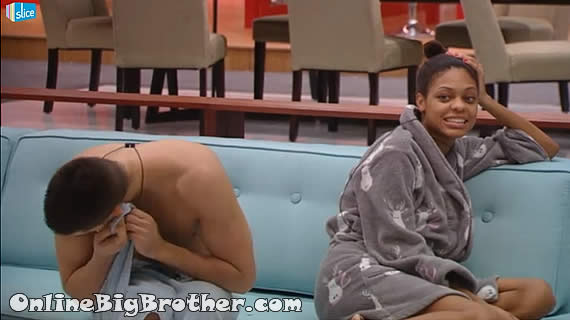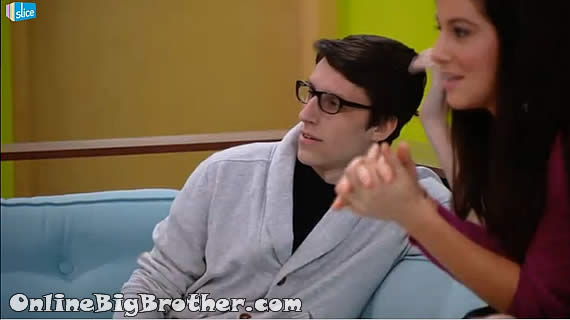 1:08PM Feeds on HUSH HUSH
**** The feeds being blocked was a Completed task… they will be receiving a food prize later tonight alcohol and food. Peter did the task. ****
1:38pm Kitchen Peter and Alec

(Video uploading)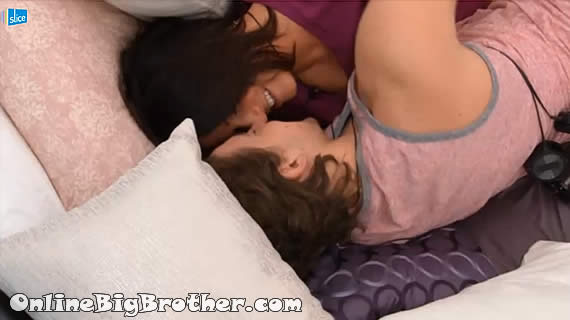 1:37pm HOH Emmett and Jillian
Jillian: "I'm mad at you.. you were rude to me"
Emmett: "What!"
Jillian: "In the diary room.."
Emmett: "you were rude to me you called me a buzz kill"
Emmett: "You told me Alec said he was coming after both of us.. you have to remember the details"
Jillian: 'Yes he said if we broke our alliance he's coming after us.. ya"
Emmett: "the positive side is it's possible to get Alec out of the Game right now.. he's a huge threat physically"
Emmett: "The negative side is Peter and Topaz would have a HUGE grudge against us.."
Jillian "Who do you think is the stronger player TOpaz or Alec"
Emmett: "Alec"
Jillian: "Maybe she's (Topaz) is a bigger threat to me.. Ohh I Don't know Emmett I don't know what to do"
Emmett thinks that there will be an endurance competition that doesn't benefit the girls.
Jillian: "This is really starting to stress me out.. we need to weigh the pros and cons and meet up later"
Emmett thinks they are going up on the block if Peter or Topaz win the HOH.
They are waffling around what to do about the eviction.
Emmett: "I was almost prepared for Tom to come so i'm a bit pissed off that he didn't.." Emmett thinks Tom coming back would benefit them.
Emmett: "you want to make out.. "
(Video Uploading.. It's long)

2:00AM Make out is over.. they go back to wondering if Alec and Peter can be trusted. Emmett: "I can't see why they want us in the final 4.. "
Emmett cannot understand why anyone will take them to the final 4 they cannot be beaten in physical or Mental
Emmett: "I think it's a safer week next week if we send Topaz home"
Jillian: "The boys (Alec and Peter) now know we are not going against Andrew.. They see that we are more aligned with Andrew"
2:11PM Talla in HOH telling Emmett she thinks Topaz may be a better person going home. Talla thinks Topaz is stronger in competition. Emmett just tells her they have until Thursday to decide..
2:25pm HOH Emmett and Jillian
Jillian: "Petes going to team up with us if Alec goes.. he has no other choice"
Emmett: "We could go with Topaz"
Emmett knows that the "Boys" (Alec and Peter) are using him as a shield to deflect all the bullsh!t..
Jillian: "Who should we evict.. Alec or Topaz.."
Emmett: "Hopefully it's a double and we can get rid of both of them this week"
Emmett: "She's the ultimate floater"
Jillian: 'you don;t trust her"
Emmett: "No she'll go wherever the power is.. she doesn't give a sh!t.."
Talla and the Monkey..