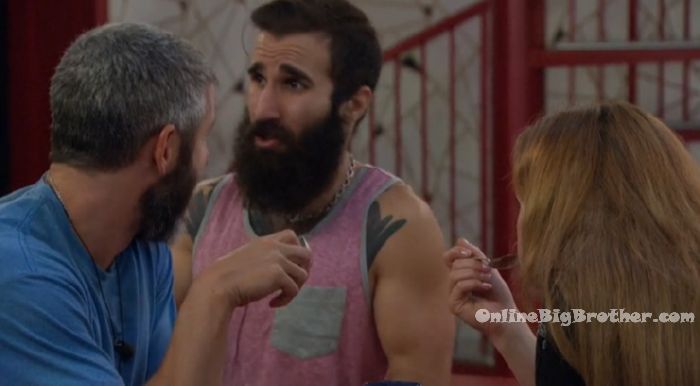 If you plan on buying anything from Amazon. Use this link Amazon home
Doesn't cost you anything and we get a small cut.

8:57pm Matt, Raven and Paul in the kitchen.
Paul – no one knows that we have worked together this entire f**king season. It is the funniest thing ever. Matt – since day 14? Raven – no, day 12. Matt – so literally since then. Its amazing how smooth things have gone. When you do what you say you're going to do. Matt – The funny thing is, I honestly think that people think Raven and I are running around chasing some butterflies. Paul – that's what you want. Matt – I know it is. Paul – they asked me about us (production) a few times. Gypsy Squad. They were like how long have you… Since like week 2 and they were like really? And I was like are you not watching?! Matt – what are you doing, you're not doing your job clearly.
9:20pm Kitchen. Alex, Kevin, Paul, Josh, Matt, Raven and Jason.
They're chatting about Cody,
9:50am Mark to Kevin – let me ask you something.. If I was to talk Jason and Alex into keeping me, would you? Kevin – if they would agree, yes. Everything they do, I do. Not meaning it that way. Kevin – there are two people that annoy mt out there. Matt and Raven.

See what they can't show you on TV Try the live feeds for FREE!


10:25pm Lounge room. Mark and Alex.
Mark – why do you want me out of this house? Alex – Its what the house wants. I like you on a personal level but on a game level it would just be bad for me to keep you in this house. Mark – what if it was you, Jason, Kevin and Paul. Alex – Kevin hasn't won anything. This is the same argument that Cody put me in. Mark – but Cody was bad for the house. Alex – he had the same exact plan but we had to win back, to back, to back HOH's which I'm not against… Mark – when Christmas asked me what are the options she dismissed Raven right away. Which just made me assume if one of them win they're going to go after you and Jason because they know how strong you are. That's why Christmas was having the back and forth with me. They know how strong of a couple you and Jason are. That's four people you and I don't have to worry about. Alex – that is true but right now its pretty easy to stay low key .. there are other people that people are looking at that I know about. And I would rather them take a shot at those people, rather than they take a shot at us. Mark – if you truly feel like that is best for your game. Mark – so you think if Matt and Raven win, they are going after Christmas and Josh? Alex – I think they're aiming for longevity. I don't think they're aiming to win. Mark – they were going pretty hard for the Question comp. If one of those four win, who do you think they're going after? Alex – I'm hoping they take out someone else. The safest bet for both of us is to just stay quiet. If we could save you we would but in this game we have to be ruthless. Mark – I respect that, as long as its not because you can't trust me. Alex – they're more annoying but they're better for our game. Jason joins them and says they're terribly annoying. Alex – I think this next one is going to be endurance. Jason – and we're going to crush it. Mark – if I go out Thursday and either one of you make it to the final 2, you two have my vote.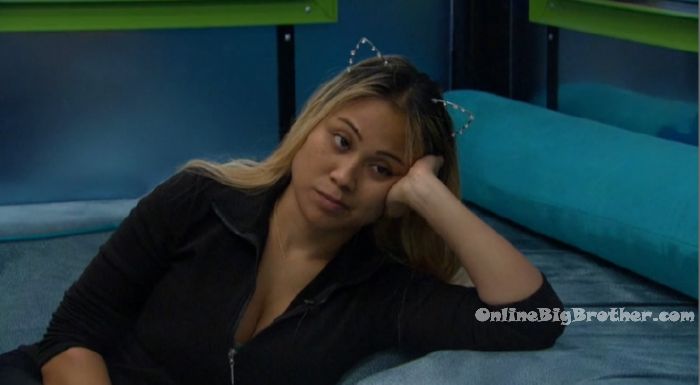 11:10am
Kevin – everyone thinks that if he (Matt) leaves she (Raven) is going to fall apart… (Kevin shakes his head no) exact opposite. He leaves .. boom, I guarantee she is sleeping with you. Paul – f**k no. I'll tell her I'm celibate. Kevin – No I guarantee she is going to say she is sleeping with you, guaranteed. Paul – NO! Kevin – Alex is like a sister so you can't cut her and Christmas is cool .. what are you going to do, throw it away for what a one night tug? I was going to tell Mark not to waste his time. But that's not my place. Paul – none of them know what they're doing. They gravitate towards power and have no loyalty. Kevin – the next 36 hours are going to be a motherf**ker.
11:15pm Alex tells Paul that Mark was campaigning to her. Paul – what did you say?Alex – that you're not good for our game. He thinks you're a flip flopper. Paul – that I'm a flip flopper?! Should I call him out?! Alex – NO! NO! NO! Ask Jason about it. Alex goes into the diary room. Paul tells Christmas – I'm going to go make Mark sh*t his pants because apparently he was talking about me. Christmas – movie time?! Paul – no, because Alex told me not to. Paul – apparently I'm the flip flopper out of all the people here. Paul heads into the lounge room where Mark, Jason and Josh are chatting. Mark leaves to go to the washroom. Paul asks Jason – he called me a flip flopper? In what context? Jason – he said that you're all over the place. Paul – that's what he thinks.

Matt and Raven @bigbspoilers #BB19 pic.twitter.com/2WJXV5bUOv

— Dawg (@DawgsBigBrother) August 23, 2017

Paul talks to Alex and Jason in the bedroom. Paul – why is he calling me a flip flopper of all people. Alex – he said he likes you. Jason – he said you just float around a lot. Alex – and talk to everyone. Josh complains about how Mark was campaigning to him and Christmas about wanting to get Alex out and not he is campaigning to her.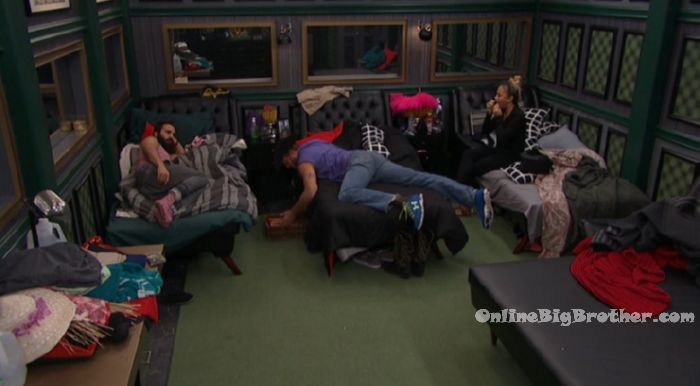 12:05am Matt and Raven are hungry for cereal..
12:45am Josh, Mark, Alex and Christmas make fun of Paul for always shaping his beard and looking in the mirror. Mark – Boys, Friendship, Pissed!



Mark – "Boys, Friendship, Pissed!" #BB19 @bigbspoilers pic.twitter.com/SHRrOd8Wp3

— Dawg (@DawgsBigBrother) August 23, 2017
Paul scares Christmas @bigbspoilers #BB19 pic.twitter.com/cPF0I9Zt76

— Dawg (@DawgsBigBrother) August 23, 2017
1:30am – 2:30am Josh, Jason, Alex, Paul, Kevin, Christmas stay up laughing and joking around in the bedroom.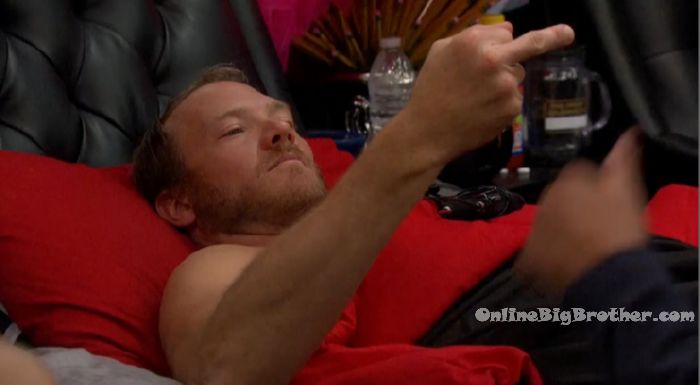 Show your support by making a donation.
Links to the ranking system
Rank your house guests here
For those of you that like Statistics here are some expanded reports.