8:05pm In the living room – After Julie's message about notifying the house guests that America will be nominating a 3rd house guest each week, the house guests discuss the new twist. Shelby says so basically we don't want to talk sh*t about the person with the biggest home town. Monte – we're all going to be up there at some point. That would suck to be America's vote. Jason – It could be strategic. Danielle – you never know, it could be they like x and y so how can we get them to stay. Monte – It makes HOH not so powerful now because I can't guarantee anyone's safety. Its too late now to start acting good .. America's already seen the last 4 or 5 days. You might as well stay in character.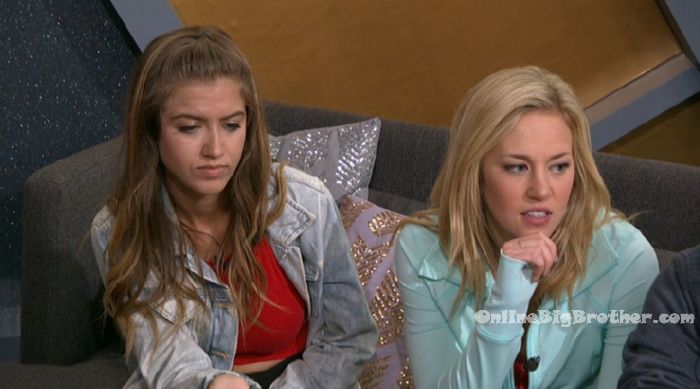 Backyard – Jason talks to Neeley about the twist. He says America could be nominating a pawn or a target. Like if the nominee is Justin then we'll be like okay well America doesn't like Jason and Danielle. If the nominee is Shane that's them saying f**k you Monte! We don't know how this is going to go. I see you America, y'all better be playing. Because I know y'all like to play. I told him don't be c*nty. Not that it would have mattered I could have not been nominated and then nominated by America.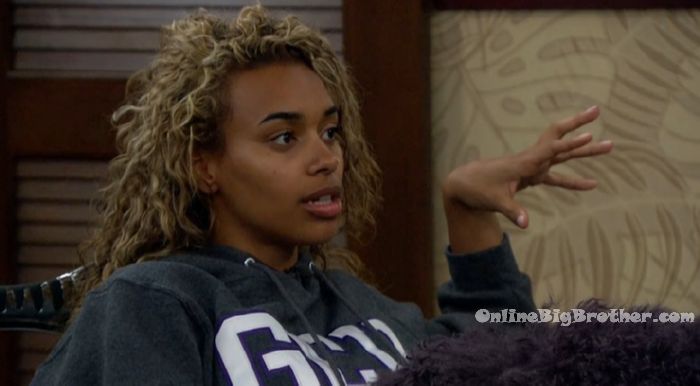 8:40pm HOH room – Danielle, Monte and Shane are talking. Monte – I like Jason but he's too big of a threat. Danielle – I love the kid and its going to be hard to be on the block against him. If it was anyone else I would say the vet needs to go. I'm not going to campaign against him. I'm just going to play are in the veto. Monte – he's my target this week. Even if you don't win the veto. I saw you talking to Whitney, Morgan and Neeley.. I feel like they would have your vote over Jason's. And you have mine and Shane's vote. No one saw you going up. Kryssie thought she was going up. I've got your back more than I have some others. Shane – I don't see going up by America as a bad thing. They could be throwing a curve ball. Danielle – when you see that I don't let the information leave this room .. it will build trust with you. Monte – I will be cheering for you to win the veto. Danielle – do you think people would respect your decision to vote Jason out? Monte – they might. The vibes I'm getting is that no one said anything about wanting you out. People have said they would get the vet out. I will keep you informed on where the house is swinging and if I think its going your way I will try to persuade people to vote the other way. Danielle – I respect your decision to put me on the block because you think I can win the veto. Monte – its almost like you're on my team. I will remember that you handled this with class. I'm going to be way more of a target after this than you. And I think Jason will get the boot. Danielle thanks him for making her feel better and then she leaves. Shane and Monte talk. Monte – I just laid it all out on the line for her. She's safe. We have the votes. Massive props for letting me put your girl up on the block and for being okay with it. Shane and Monte shake hands. Shane says I'm not okay with it but.. Monte – I think its been clear Jason's been the target all a long.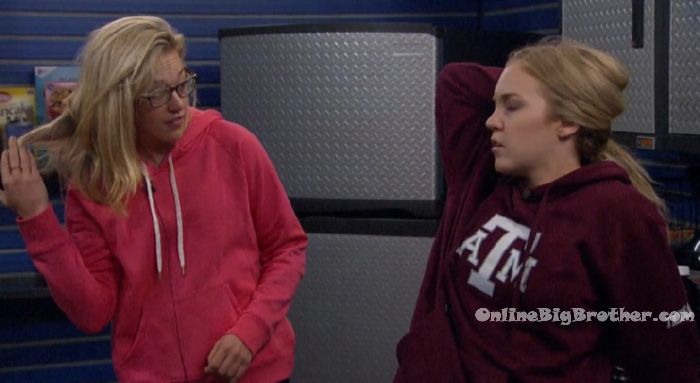 10:15pm – 10:25pm Storage room – Morgan and Alec (the sisters) are talking. Alex – I can't friggin work with you. I keep trying to get a hold of you and you don't. Morgan – what am I supposed to do. I can't make it obvious. Alex – I kept trying to get your attention. Get in game mode! Morgan – I don't want people to notice. Justin keeps bringing it up. Alex – stop taking off your makeup. You can't take off your makeup. I have been wearing a hat and glasses all day to try and disguise myself from you. Alex – I need you to take out your party persona like you do and go twerk on people. I feel like I can't even be myself because I'm worried of telling a story and you let it slip. Its sucking for me because I feel like I have to dumb down myself. It would be easier if you weren't here but I'm glad you are. Morgan – it will benefit us at some point. Alex – how? Morgan – I don't know.
10:45pm – 11pm HOH room – Morgan heads up to the HOH room to talk to Monte. Morgan says she can't sleep in that room any more with Cornbread snoring. Monte – you can stay up here as long as you want. I promise I'll stay 17 feet away. I had to sleep next to Cornbread one night and it was horrible. Morgan – Danielle really didn't see that coming. Monte – nope and Shane didn't tell her either. She is strong. Morgan – she's a strong competitor. Monte – I just can't get a read on Kryssie or Shelby. Shane worries me a little bit being so close to Danielle. The way he talks about her I could see him choosing me over Danielle at this point. We have a good team. Me, you, Whitney and Alex … along with Shane. That's a good core. Morgan _ I hope America wouldn't target us. Monte – I legit want to start something with you three. I don't think America would target y'all. Morgan – at least if one of us did go up, we would have the numbers. Monte – yeah and at least I would be the tie breaker. Morgan – who would you put up as the replacement if Jason or Danielle came off? Monte – maybe Kryssie. That would be such a roller coaster .. you're safe and then you're not. Monte – there have been rumors that Justin and Cornbread don't like each other. I can't get a read on Shelby. She comes off as rude. I can't get a read on Neeley either.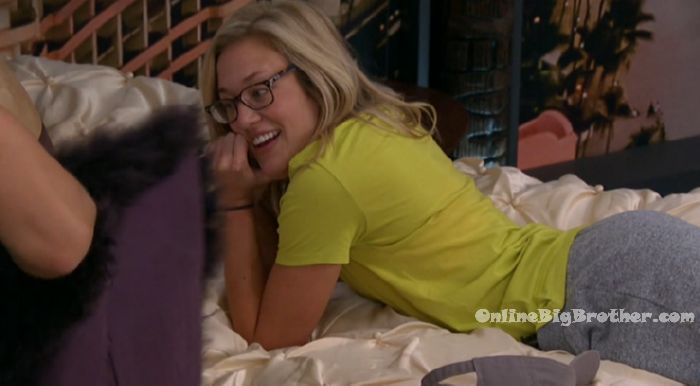 11:05pm – 11:55pm HOH room – Monte – Me doing you, Whitney and Alex right .. I would be out of this game before I backstab y'all. Like I would take myself out of this game before I would backstab y'all. There are more important things in life than money. I can still see Kryssie sad, I hate hurting people. Cornbread I am worried about. If he is on the block against me .. people will think I am the bigger target. Alex and Scott join them. Monte – I'm worried America will nominate Shane or I. I think we're okay though. Scott agrees. Monte – I think I did good damage control. The others agree. Scott if there are 2 nominees you only need 5 votes and you're the tie breaker. And if there are three nominees you still only need 5 votes. And we've got 6. Cornbread joins them. Monte – the only thing I don't like a about Jason is that he doesn't like Whitney. Who doesn't like Whitney!? Cornbread – Scott – after this week do you think Danielle would go after you? Monte – no, not after our conversation. Shane agreed to put his girl up … he's got her in shackles. Alex – do you think she would go after others in our group? Monte – that's what terrifies me. Once we cut the head off, there will be some stragglers. MY advice is be nice to them but don't let them in on any secrets.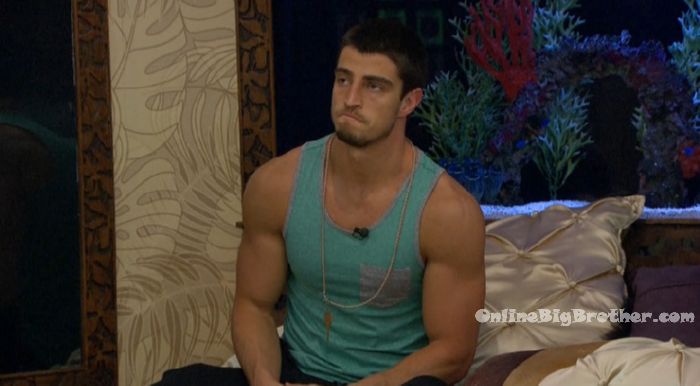 11:25pm – 11:55pm Bathroom – Danielle talks to Kryssie. Danielle – I just need to compete my a$$ off to get that veto. Kryssie – I'm so afraid, I can't lose either of you guys. Danielle – the only scenario to keep Jason and I safe is for me to win the veto. Or if he wins the veto but then I think I would go home. My best case scenario is I win the veto and take myself off and then campaign my a$$ off to keep him. Kryssie – but then if one of you come down, I am going up. Danielle – I don't think so.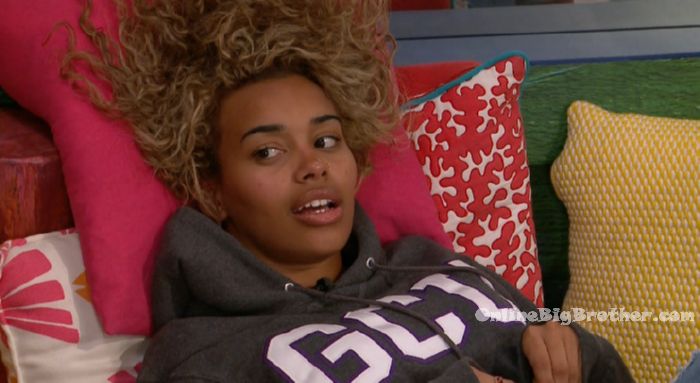 12am – 12:20am Backyard – Jason asks Justin – what's so threatening about me? Justin – because you've been on the show before. Jason – That don't mean sh*t! Justin – I know but probably not in his eyes. Jason – I think its a morality thing. I almost feel like its a religion thing. Every time I say something that is mildly … he runs! He f**king runs! HE A PU$$Y! He's afraid of everything! I would be ashamed if that was my child. Justin – I was afraid he was going to put me up. Jason – no he's afraid of you. He's going to make one of these girls put you up. He's aiming for you but he's going to do it through someone else. So the blame don't come to him. If you win a veto da da da da. Justin – I just hope I don't get nominated (by America) to be in the challenge tomorrow. Jason – if you do then save Danielle so they have to put someone else up. Jason – I like Danielle but I don't like that she stopped talking to me once we're nominated together. Justin – you're competing against each other. Jason – that shouldn't matter. Justin – yeah but people are like that. Jason – she's just there as a place holder. They probably planned this before he was even HOH. Who's a$$ do I have to eat?! I'm the keys to the castle, use me! You want to know a secret? I got voted in this house over another alumni. Justin – if you go I'm going to be the only entertainer in here. I can entertain the world but who is going to entertain me! Justin – I know right now Scott & Cornbread are up there (HOH) right now. Jason – I don't trust Shelby or Scott.