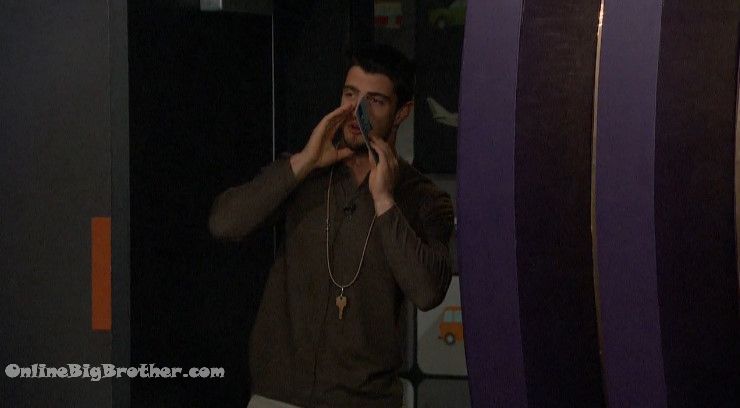 10:02am Monte calls everyone to pick Veto Players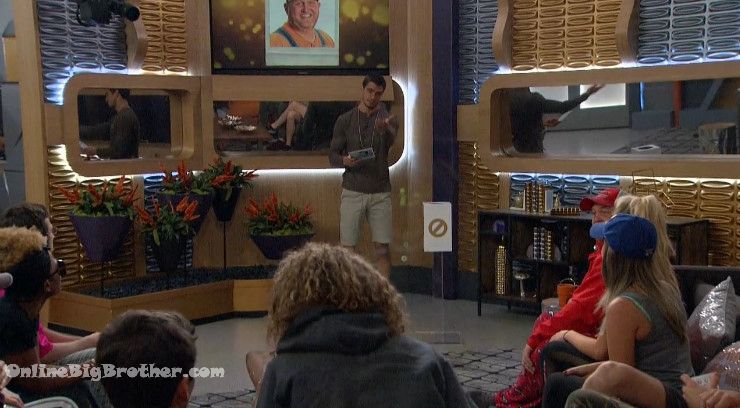 Cornbread is the third nominee..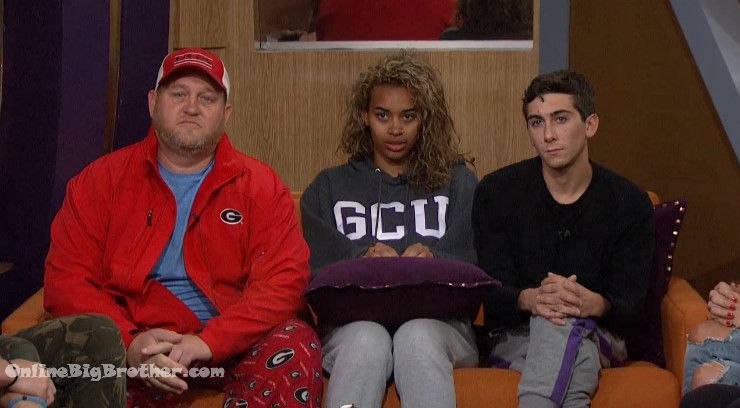 The Veto players are Monte, Corn, Whitney, Jason, Danielle and Alex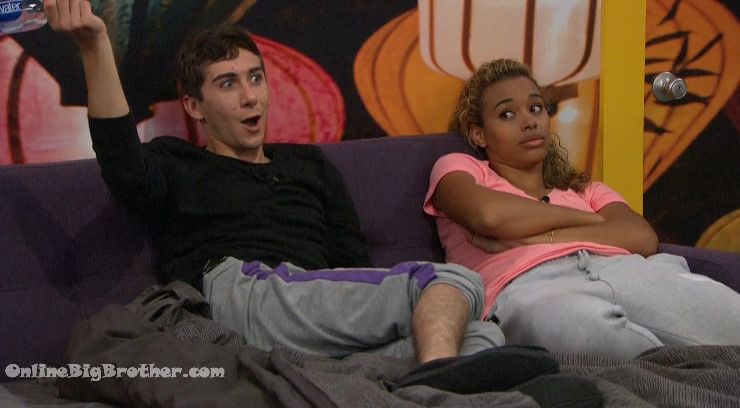 11:00am Monte, Danielle and Jason
Monte wishes them good luck with the veto
Talking about why America voted Cornbread.
Monte – I'm 98% sure I'll be on the block next week.
Monte- That's crazy that Cornbread got put up.
Jason- I'm not surprised. Half strategy and half personal
Jason says it felt like MOnte had Tunnel vision. He understands how putting him up doesn't piss off the newbies.
Jason – I'm trying to help you help me.. You can lead a horse to water but you can't teach him to drink
Monte – Let's be honest here we're both playing the game more than anyone else right now.. If you do stay a lot of these other people are going to start flaking out
Jason says he knows he has to win this veto.
Monte asks if the Danielle/Shane showmance is official
Jason – pretty much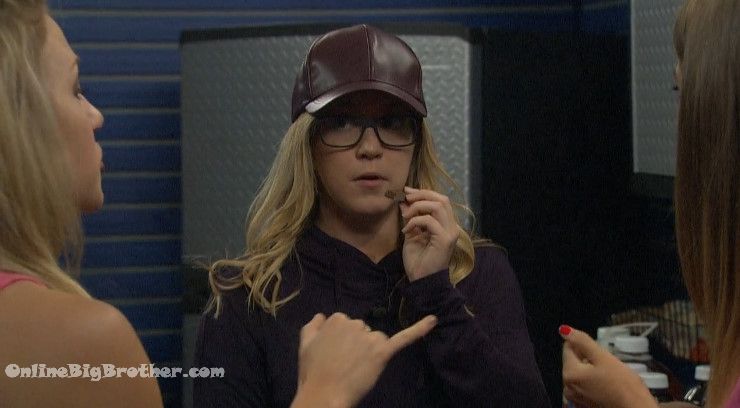 11:30am Storage room Shelbey Alex and MOrgan
Morgan says Jason made a good point think of the demographics.. They don't get the older southern man.
Alex says it's because America wants Jason to win the veto they think Cornbread would be week in the vetoes.
Alex says don't tell MOnte stuff, Shane's with the other group and Monte is with Shane.
SHelbey says they should try and keep jason around he'll work with them.
Morgan – Jason wanted to work with the boys
Alex – only because they won HOH he'll change next week
Alex says if she wins the veto she's taking Cornbread off the block "No one goes back up.. "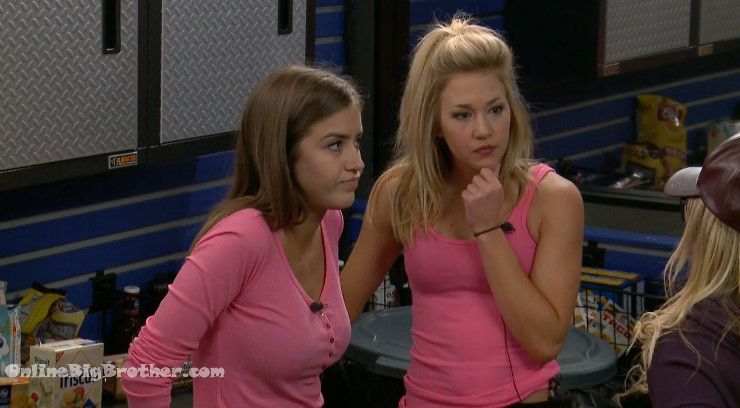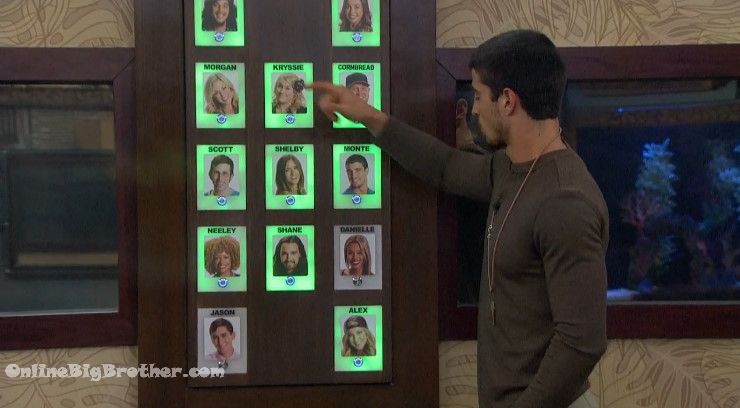 11:35am Monte and Shane HOH
Monte says him Cornbread and Scott are good. Says Whitney, MOrgan, Alex and Danielle can be a strong combo with them.
Monte is worried Danielle will target him, MOrgan or Whitney. Monte says he would rather have MOrgan and Whitney in the house over Alex at this stage of the game Morgan and Whitney talk to him more.
Scott comes up.. MOnte – there no alliances.. Officially yet..
Monte says Scott, Corn, Himself, Shane are good.
Morgan, Whitney and Alex won't mess with Shane.
Monte says a 7 person alliance is not a good idea.
He promised MOrgan, Whitney and Alex we would not backstab them at any point in the game.
Monte says Kryssie and Neeley are not strong players they won't be able to pick up enough steam to come after him.
MOnte says he likes Justin but he's a threat.
Danielle comes in.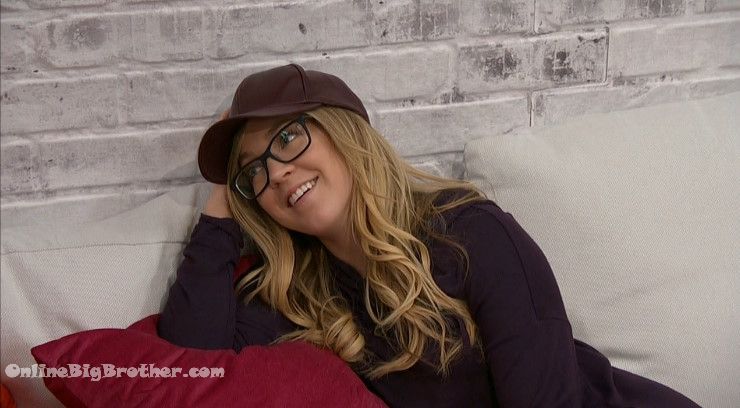 12:15pm Alex and Shelby White room
Wondering if Monte will throw it to Cornbread.
Alex says Cornbread and Whitney both don't seem slike competition threats.
Alex – I can't remember if Jason is that strong in competitions..
Shelbey says she basically watched season 17 until Jason left then she stopped. Can't remember if Jason one a competitions where everyone was trying..
Shelbey says the number 1 annoyances in the house is Danielle. She was happy when she was nominated.
Shelbey says the person in the best position is Shane. "Monte tells Shane everything"
Alex – Shane goes up to Monte's room 3 or 4 times a day
Shelbey says everyone knows
Alex – I don't trust him at all.. they think they are being so cleaver.. Scheming thinking they're so sneaky
Alex says she likes Monte but he thinks he's running the show right now.
Shelby brings up Monte saying "I'm the Alpha Male"
Shelby – I'M THE ALPHA MALE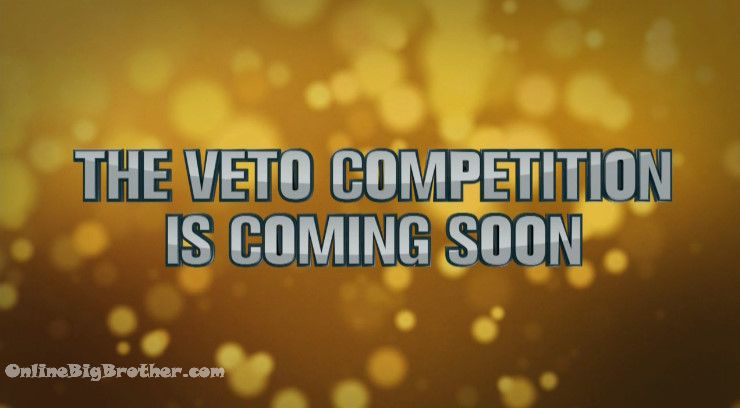 1:00pm Veto Ceremony about to start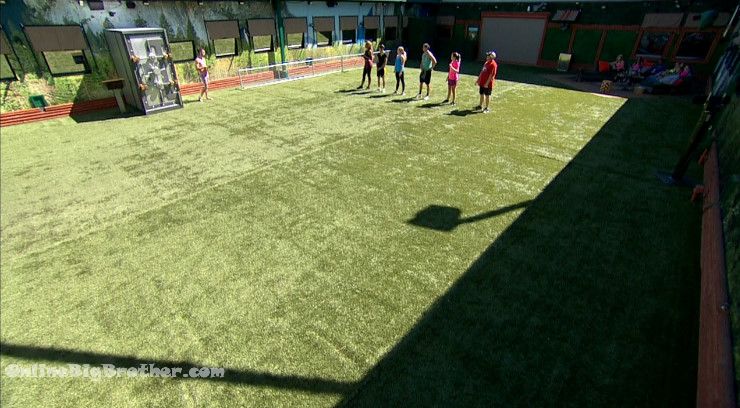 Veto Vault. They need to crack 4 digit code to get into the vault. The veto is inside the Vault.
Clues are throughout the house.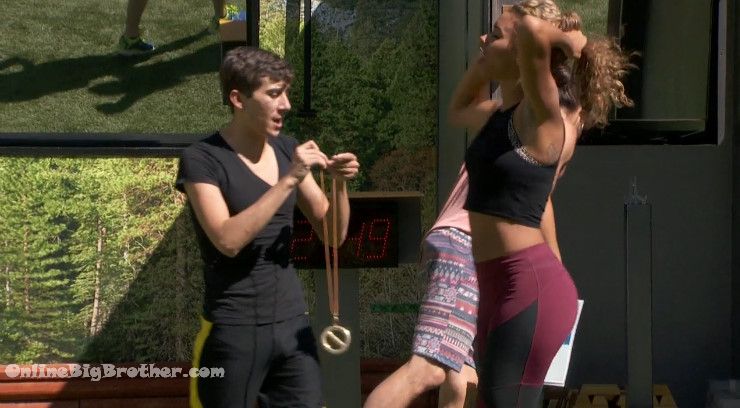 Jason wins the Veto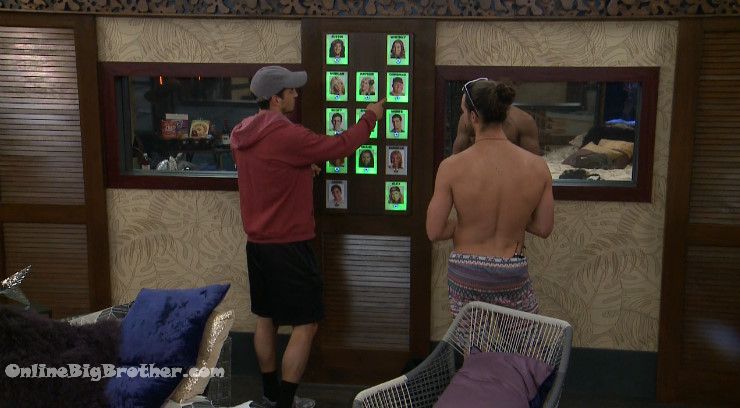 2:00pm HOH Monte and Shane
Shane "Backdoor Kryssie we're all good"
Monte – he (Jason) did say he's not coming after me first..
Monte says Jason wants to keep the big targets in the game so he's not the target.
Monte – Cornbread is freaking out
MOnte says it's Kryssie or maybe Shelby.
Monte – what about Neeley
Shane – no no no Kryssie.. the girls like Shelby..
Shane says he thought they all said they don't like Kryssie.
Monte – Neeley and Shelby will vote Cornbread.. Justin will vote Cornbread..
Monte says no body will vote Danielle the rest will vote out Kryssie.
Monte – Danielle may get Shelby's vote to get out..
Monte- the person I put up needs to go home
Shane – I thought we all agreed on Kryssie before even Jason.
Monte – we did.. I know we did…
Shane – she's been saying these past couple days she doesn't want to be here and she misses her boyfriend.. that was the plan stick to it
CBS All Access Live Feeds! Test them out 1 Week for FREE!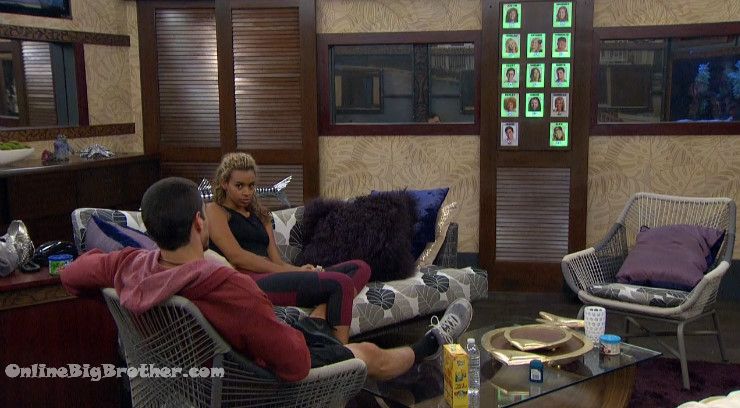 2:26pm Monte tells Danielle she's safe this week at most she'll have 1 vote.
Monte says she was the PAwn, because she's so close with Shane is why she went up because he knew she would be safe.
Danielle says she's connected with Shane.
Monte says Justin, Neeley and Jason will vote out Cornbread.
Monte says him and Shane have each others back.
Danielle tells him she wouldn't even put Monte up as a pawn because she can't guarantee his safety
Monte says Jason was going to go this week if he didn't win the veto and now "Somebody's heart will be broken.. either Kryssie or Shelby"
Monte calls Shelby and Kryssie floaters.
Danielle – if Jason wins HOH he's not coming after you he's after SHelby.. he doesn't like Shelby and he doesn't like Cornbread
Danielle – it's your best bet to put Kryssie up so Kryssie goes home..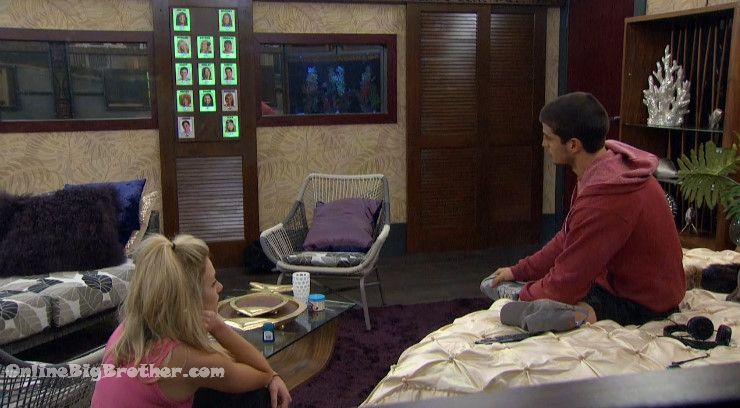 2:51pm HOH MOnte and Morgan
MOrgan saying Kryssie going up is the best bet.
Morgan says she's worried about Jason
Monte – we gotta get him and Justin outta the house.. They are goign to target y'all because they get along with the other girls not y'all
Morgan says Shelby will go with them
Monte – she's not going to last long..
MOrgan – Justin has me worried
MOnte – he won't be pissed if you put him up .. I'll vote him out..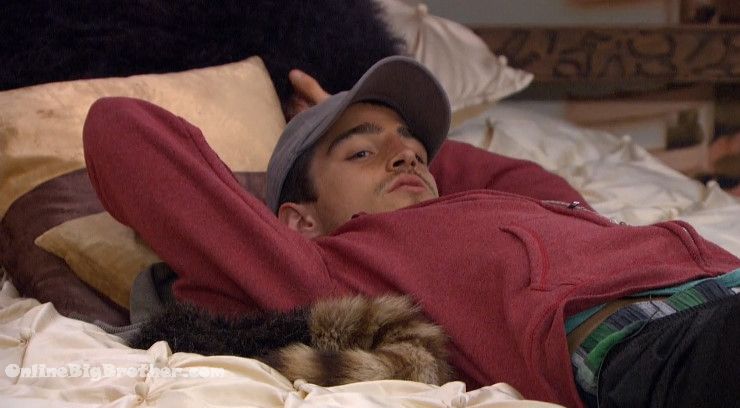 3:07pm HOH
Scott – no perfect.. really f***g shitty..
Scott – Kryssie or SHlbey
Monte – the consensus is Kryssie.. cause Jason doesn't like Shelby so if he wins she's going up
Scott says he's heard that Jason talked shit infront of Shelby
Scott – everyone is tired of Shelby's sh1t
Monte – and Kryssie.. and Cornbread is getting himself in some hot water
Monte to Scott – whoever I put up tonight is going home..
They agree Kryssie going up is the logical choice.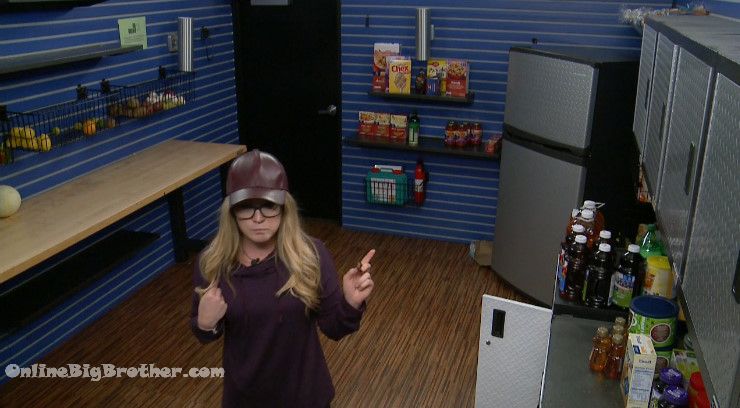 4:00pm Alex alone, "OK talk through my thoughts.. Shane is full of Shit Shane is full of shit.. Whitney is too trusting nobody here can be trusted except for my sister but she doesn't know how to strategize.. I'm 100% targeted next week "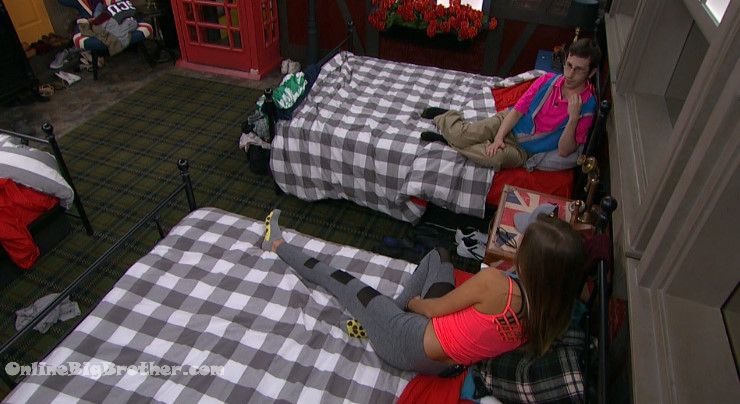 5:10PM Shelby and Scott London room
Shelby wants to talk to Justin again. Asks what Monte thinks of him. Scott says Justin is in no danger this week.
Scott – he's such a likable guy… everyone is enamoured with him.. Kryssie said it best he's not a person he's an experience
Scott – I don't think you are going on the block this week.. I really don't
Shelby feels that whoever goes up as the renom will be the person going home.
Scott agrees.
SCott tells her the people she should work with are the girls
Shelby says those are the people she enjoys talking to.
Shelby says she notices Scott has been in the HOH a decent amount
Scott – I really like you Shelby.. You're good for this week.. for you to do well in this game those 3 girls are umm.. consider working with long term.. (Alex, Whitney and Morgan)
Shelby says she has no idea what is going on with Neeley..
They agree Kryssie has to "Chill out"
Shelby mentions how Kryssie has been crying so much she'll end up being America's nominee.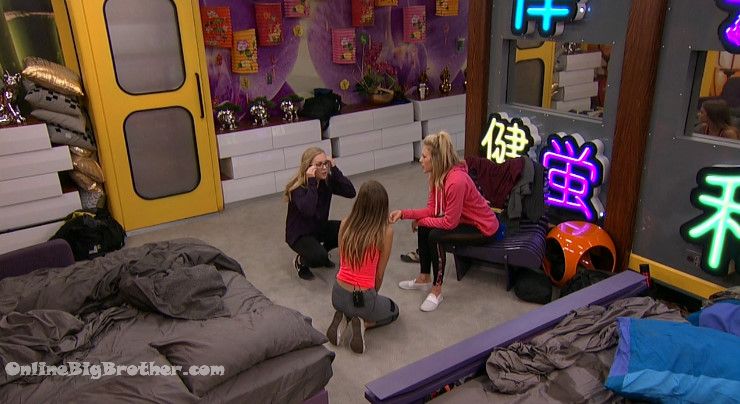 6:07pm Alex, Morgan, Whitney and Shelby Tokyo room
Shelby saying they need to get the noms in place and make sure it's none of them.
Morgan says Monte trusts her and would tell her if he's playing something else. Morgan told him Shelby is "with us" she won't vote against us.
Alex says MOnte told her Jason is straight up targeting them next week.
Shelby keeps stressing them they have to focus on not getting nominated.
Alex says something feels off to her.
Morgan – he's dead set on Kryssie..
MOrgan – He's starting to not trust Shane
Shelby – someone on Shane tonight..
Alex – someone needs to be on Shane to break up the game talk between Shane and Danielle.
MOrgan will work on Neeley. MOrgan wants to keep working MOnte to separate him from Shane.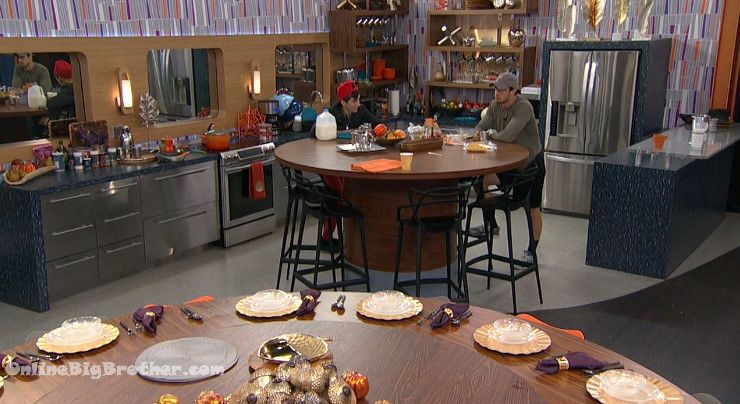 7:38pm Monte and Jason
Monte – it's way too early to have anything personal.. if anything you and me are both targets..
Jason says he took it with respect but Monte also gave it with respect.
Jason – Everything reshuffles..
Monte – it's going to get chaos with all these girls
Jason laughs 'The girls make it chaos"