POV Holder:
TOM
Next POV
March 16th
POV Used
YES
POV Ceremony
March 18th
HOH Winner:
TOM
Next HOH:
March 14th
Original Nominations:
Gary & Suzette
Current Nominations:
Suzette & Aj
Last Evicted Houseguest
Danielle
Have Nots
Alec, Topaz, Aneal, Jillian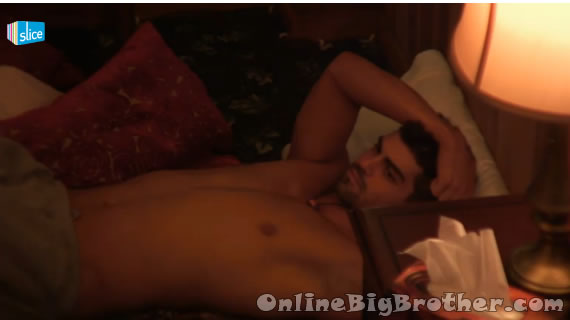 10:14am Havenots Room Emmett, Peter and Alec
They are talking about Liza's plan to put up Topaz as a pawn and how it's making Alec nervous. Alec doesn't think Liza will win the Head of Household but he's also not very happy with Topaz going up. Alec: "What if the POV is played and I go up"
Peter: "There is a lot of variables there.. Liza won't win the HOH if it's physical"
Emmet about Liza: "I'm sick of her dropping first then talking about it right after.. Bitch we are all in the fucking event we know who dropped first "
Alec: "I don't like how she talks to people"
Emmett: "She thinks she knows exactly what is going on in this game.. EXACTLY.. I would love love to Danielle her"
Peter: "She's not going to agree to go up as a pawn she's not that stupid"
Alec: "what is preventing us from putting her up?"
Peter: "Tom will freak:
Alec: "We're three tom is one.. Look Tom she's targeting the showmances"
Emmett: "She doesn't like the showmance"
Alec: "she's told me to my face she wants to break up the showmance"
Emmett mentions that he caught Tom slipping up about the 4 of them making it to the final. Emmett thinks Liza is included in Tom's final 4.
Emmett: "Aneal is a huge threat but she (Liza) is a bigger threat"
Alec agrees. Peter stays quiet.
Alec: "I'm worried she'll put up me and you (Emmett) "
AJ joins them.. Alec: "AJ you gotta bring it tomorrow"
Aj: "I got it I got it" (Poor AJ )
AJ is felling good about tomorrow he thinks he'll get Talla's vote he calls what they have smokemance, "She bums smokes off me she'll vote to keep me"
The bros tell him he's got the votes.
Alec and Aj leave
Emmett: "Hey pete we need to see what happens with this HOH and talk to Topaz but we need to try and get rid of Liza"
Peter: "As a backdoor.. or hope she doesn't win the Power of Veto"
Emmett: "I don't know maybe BAckdoor it depends who wins the HOH"
Peter: "What will we do about Tom"
Emmett: "I can talk to Tom.. I'm just worried telling Alec stuff because he tells Topaz shit"
Alec comes back
Emmett: "Alec don't tell Topaz about Liza"
Alec: "Topaz doesn't like Liza"
The Bros still trust Tom 100% and they think Liza is the one leading him astray. They do not want Liza to be in the Jury house she's too dangerous.
Jillian joins them for a bit and they chit chat.. when she leaves Emmett says that Liza leaving will help her game to. Emmett: "I'm not safe if Liza is around"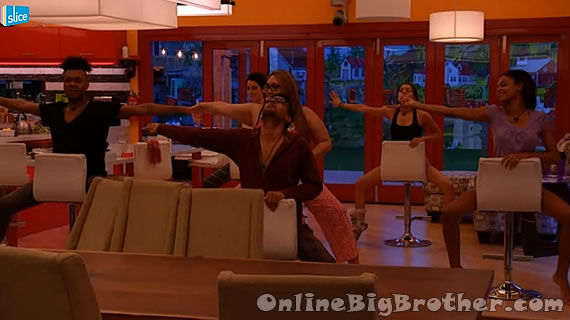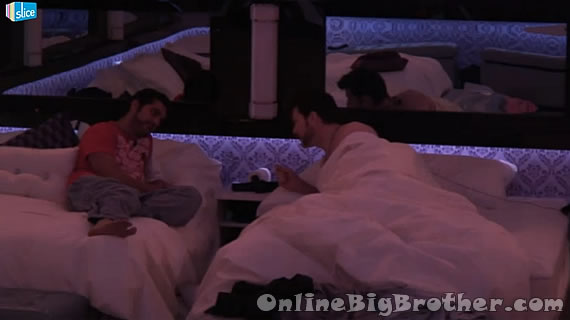 12:50AM Bedroom Andrew and Aj Andrew is saying that Emmett and Jillian need to go. Andrew: "I want to bash my head against the wall when they call her Jill bottom.. what the f*** are you talking about.. " AJ: "She's really cute on slop" Andrew: "Dude you need to get your head out of your dick.. you are not hooking up with any of these girls. AJ: "Calm down.. I'm not disagreeing with you" Andrew: "You are going to get some Tang when you get out don't worry.. It might be one or two" Aj: "You can't deny she is good looking" Andrew: "She is gorgeous.. but I'm not attracted to her for one second" AJ: "you're gay.. that is the test" Andrew: "I'm not.. I've gotten to know her.. She can't stop singing"
1:20AM Alec and Topaz couch Game talk Alec tells her he is in tight with Andrew. Alec tells her that he will never put up Andrew and Andrew will never put her or him up
Topaz wishes the nominations here Suzette and Aneal that way they can evict Aneal and bring Suzette in.
Alec: "I like how this game shapes up if Liza leaves.. I feel really safe"
Topaz: "Me to"
Alec says that the two people he will not accept deals from is Liza and Aneal
(Video uploading)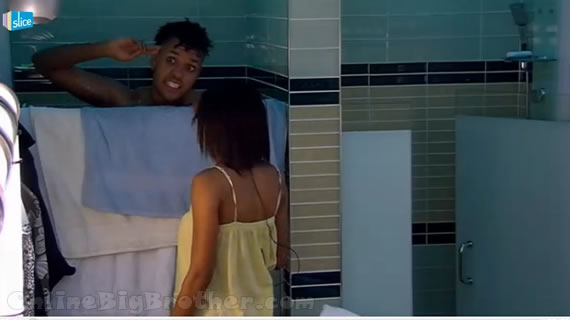 1:35pm Bathroom Gary, Topaz and Alec (Gary is in the shower) Gary and Topaz compare notes about Liza. Gary says he's going to "call the b1tch out" for all the bullsh1t she's been telling him. Alec says Gary is safe from Andrew, he's tight with Andrew and is sure he can keep Topaz and Gary safe. Alec: "She told me she was going to put up the showmances.." Gary tells them that Liza HATES topaz. Alec still thinks Liza will put up Alec and Emmett. Gary tells them that Liza has been acting very very weak and she's always talking about her physical weakness. Gary says they can throw the HOH to Andrew. Alec thinks they need to win it to take out Liza because Andrew won't do it. Alec tells Gary that he has to be quiet about what they are talking about. Gary swears he'll watch what he says. Gary says the people he wants to not make it to jury house is (AJ, Jillian and Aneal it was really hard to hear what he said)
Alec Leavs Topaz goes to chat with Gary
Gary is freaking out about liza getting into his head, "The longer she's here.. she's getting in my Head". Gary has been talking to her and sometimes he forgets and starts to trust her and tells her things he shouldn't. Gary: "Sometimes things slip" Topaz: "SLIP" Gary back tracks says just how he felt about people nothing major. Topaz tells him Liza is close to Tom, Talla, Aneal, Peter and Adnrew likes her. If they can get rid of Lisa Peter and Talla are back with them and Tom is back with Topaz.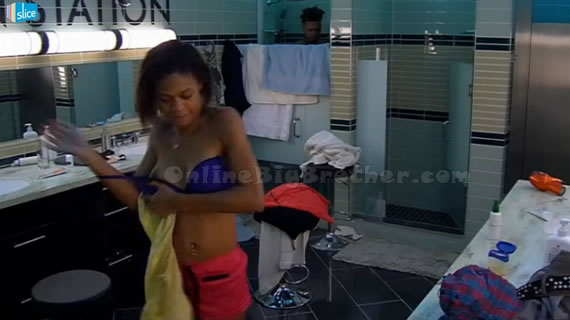 An OBB Classic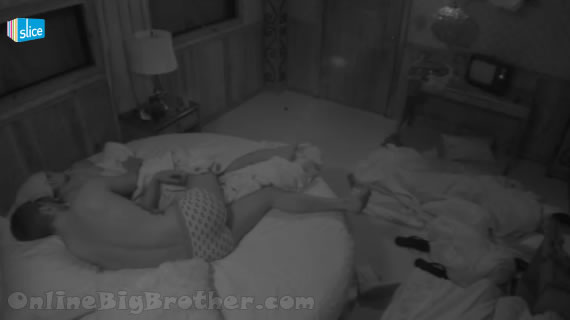 There all in bed
OnlineBigBrother.com
[polldaddy poll=6954869]
Stay connected and interact with other Big Brother Fans on our Facebook page.
And Follow: @BigBspoilers and @Dawgsbigbrother on Twitter for the most up to date spoilers.
Share it YO!!
Tweet