Head of Household: Kiefer
Nominations: Kyle and Ro Austin
The Power of Veto Players are : Beth, Austin, Jed, Kyle, Ro
POwer of Veto Winner : Rohan
Power of Veto Ceremony : Ro used the veto on himself. Austin nominated as replacement.
Have nots: Ro, Tina, Tera, Victoria
Party last night + Alcohol = Everyone got sauced no feeds for you. There wasn't much game talk if any. It was more like lapdances, Beth 'sleeping' with Jed, Kyle/Austin flirting, and Vic getting some sort of spread eagle. Looks like a flip is in the air again which should make for some interesting waffling this week.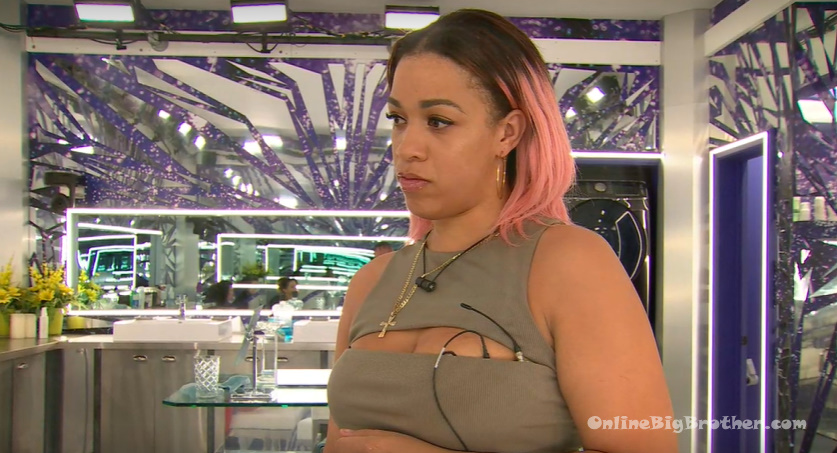 11:40pm Bathroom. Vic and Tera.
Tera – have you had any other convos with anyone? Vic – just right now briefly with Jed and Ty. I was like I don't know do you think Kyle is the right choice? Like really quickly in the kitchen. And they're like oh you too huh?! And I was like oh did you have any other conversations? And they were like yeah, we think Tina and Tera want Austin to go too .. but they think its just because they're coming after them. So like they're going to talk about it. They said its not off the table. Tera- I had a conversation with Ty and Jed.. Vic – and it didn't go anywhere? Tina – no, it didn't sound like.. Vic – they said they're going to talk about it. Like I wish I had more concrete reasons. Like I forgot them all. Like we had so many good reasons and I forgot them all. Tina joins them. Tera – I can't tell if they're actually considering it or if they're trying to make it look like we're conspiring for it. Vic – oh boy, got to be careful! Tera – yup. Vic – its the right move for her to go man. Tera – the one thing that Ty said was that he would do whatever Keif said. Vic – well Keif wants her gone. Tera – does he actually? Vic – yeah. Today we were debating about it ..50/50 .. we were going over all the pros and cons. Me and him were doing it. And then he landed on Kyle because of the rest of the house and because of blood. And he was like we will get Austin next week. But the thing about Austin is I don't think its that easy to get her on the block. Like she won't be up on the block again for a while. She's like one of those people ..like why pawns go home. Tera – if feel like they're either planning it up to pin it on us or if they're trying to be like yeah we want to work with you.. like that would be a sign that you want to work with us. Vic – I just don't trust their game. She is on the block and hasn't said a word to her alliance. I think it is just not adding up yo! Tera – Ty just left it as whatever Keifer wanted, that's what he would do. Vic – should we talk to Keifer? Because its the same situation as it is for Keifer as it is for us .. its better for his game. Like WAY better! Tera – I agree with that. Vic – Like WAY BETTER for his game if Austin goes because like then he would be invisible. Like legit! He needs to be smart. I think he wants Kyle gone for personal reasons as apposed to game reasons. Tera – I feel like with all the rumblings if the boys did it, it would build trust with me. And if they don't I think it just looks kind of sketchy… like was this just tossed around to make me look bad? Vic – you should say that because I think they do want to build trust with you too. Tera – and if they are like we have the numbers, then we will just peck them off and then play. Tina – I think something sketchy is going on myself. Vic – I can't see Kyle winning anything besides Jed and Ty. I can't think of one thing he would win. I can't say that about Austin. Austin does not give a f**k! Tera – they say they don't care about the order but essentially they do. Vic – that's what we should say then. This is crazy, it shouldn't be this hard. We just need to have the reason ready. Tera – and it comes down to Thursday, we just have to win. Vic leaves. Tina to Tera – something was said to Kyle. He seemed perturbed.
12am HOH room. Tina, Tera and Keifer.
Tera – its just like we're in this trust tree and I'm going to try this out. Keifer – yup. Tera – I don't feel like Ty trusts me or that I can trust him. He is just basically like come and work with us. He said that he doesn't care what order they go. They're all just peeps. If they're all just peeps and you don't care what order they go .. then if they're all just peeps and they're all coming for you .. why can't you build trust with me and say Austin's name.. if this is the one discrepancy that keeps coming up with me not working with them. And then he was like I will do whatever Keifer wants. So now he is dumping it on you which is kind of a common thing that is going on around here. If it does get dumped on you .. I don't think that Kyle and Roh would be coming for you. keifer – I just don't know. I would rather gamble getter Kyle out than not risking that and not getting Kyle out and lookin like an idiot. Tera – you know like Austin is going to say your name. They're working pretty tight with Roh right now. Tera – I honestly think that for me it doesn't matter. Keifer – I am just not going to make anybody happy really. Big Brother blocks the feeds. Keifer – I think they're just stringing Beth along. Tera – who? Keifer – Like Austin and Breydon. Tera – I don't really even care.. I didn't even bring up this idea .. but it will sound like I did. Keifer – I don't know who to trust. I don't who I want to piss off less. Tera – I don't trust anybody. Keifer – you shouldn't, this game is just full of lies and deceit. Tera – it really is. Whoever wins deserves every f**king penny. Keifer – yup! It would be a miracle to make it that far. I think I could do it. Am I crazy?! Tera – I think you could but not with Ty and Jed. You need someone to take a shot at them. Keifer – nobody is going to. Tera – you want to get rid of someone who blatantly says it. Keifer – because its a loyalty move to get in deeper. Tera – I know, everyone wants someone else to take the shot. Nobody is going to do it. Keifer – I can't take the shot if I wanted too. I'm in too deep! Tera – that is what I mean. If people are wavering like Austin, why don't you leave someone who says they will. Keifer – we have so much game left. We are 25 days in to a 75 day game. We're looking too deep.. for me I am trying to build trust. I am trying to build relationships that get me further. I picked a side of the house. It might come back to bite me but its a gamble I am willing to take.