Jason used the Power of Veto on himself. Christmas Nominated Mark as the replacement.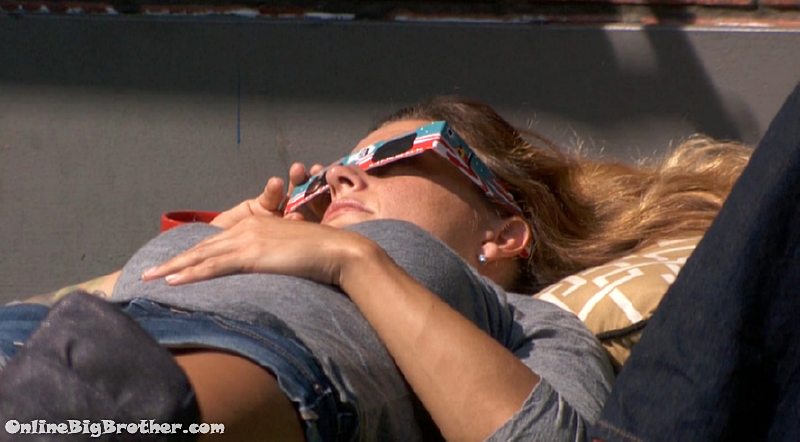 Solar Eclipse..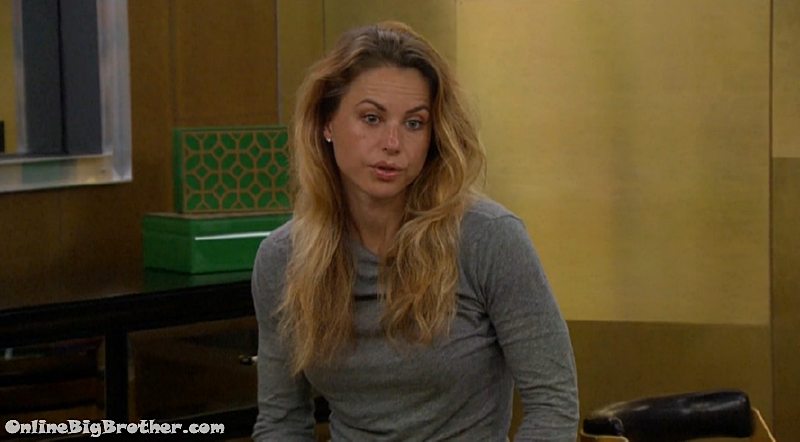 11:45pm Xmas, MAtt and Raven
Xmas says she doesn't know how Jason feels about her but she knows Alex feels good about her. Xmas adds that Kevin is targeting Matt and Raven.
Matt brings up talking ZERO game with Kevin.
Xmas – the reason is twofold, 1 he can't have you in his pocket. He thinks he has Jason and Me in his pocket.
Xmas – 2, he believes if he makes the bigger targets shoot at eat other by causing little rifts than he is constantly under the radar. (She just explained Paul's game)
Matt agrees..
Raven – if Jason and Alex win HOH should we go for a apple (that new temptation twist)
Xmas says they should, "I believe it should be somebody that goes on the block"
Raven – we have to do it before nominations
Xmas tells them if Alex and jason win HOH they are going after Matt and Raven, "They're trying to take out the numbers now.. that's what I think they will do"
Xmas – nothing has been said.. just looking at shear strategy
They agree Mark is one of the least trustworthy people in the house beside Kevin.
They comment how Mark never stuck up for Elena and flipped on Cody.
Raven wishes Mark was more trustworthy they could keep him and get rid of Alex.
Xmas now saying that Alex and Jason might nominate Kevin "To put him in check"
Raven – They'll put Matt and Kevin up
Matt says he has no problem going to Alex and Jason telling them to put him up along with Kevin.
Matt – dude I'll go up there.. put Kevin up with me.. Honestly that would be perfect..
Raven adds that Alex and Jason think they have JOsh, they'll know if there's a plane to "Backdoor" Matt. Josh will tell them.
Matt says the only problem with that plan is if Alex and Jason win Veto they pull Kevin down.
Xmas thinks they would put up a competitor.
Matt agrees..
raven says they'll put her up.
Xmas – I don't think so girl… at this point you are less likely than anybody else.
Raven says they have to put Alex and Jason up to backdoor Kevin.
Xmas – anyone can get the temptation right?
Raven – yes.. except for Mark he's leaving so it doesn't matter
Xmas- and it happens after the HOH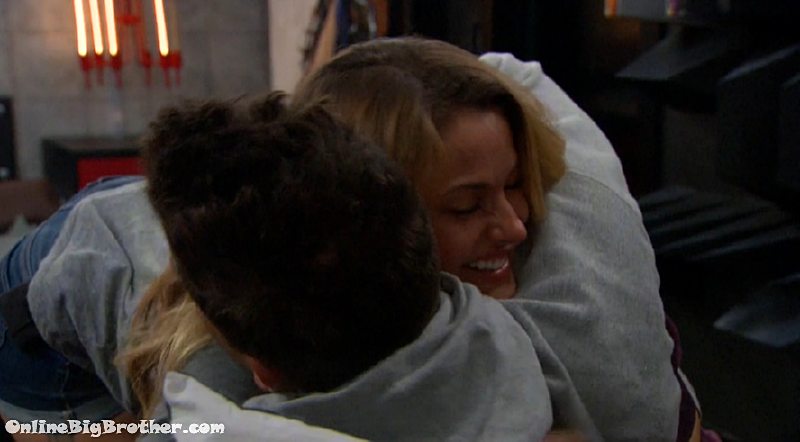 12:42pm Mark and Xmas
Xmas – you probably don't want to see me
Mark – it's fine it's a game.. I told you that
Xmas = just want you to know that wasn't easy for me
Mark – that's alright, you've handled this week really well
Xmas – so have you
Mark – thank you
xmas hugs him..
Mark – good luck this season.. Like I said I appreciate you hearing me out..
Mark says he knew this was going to happen, He knew if he didn't win HOH or POV he was going out.
Mark – I can understand this is a game
Xmas – this is not at all a personal thing.. it hurts my heart.
Mark – I don't take it personal at all, It's a good game move.. It's been a great summer.
Xmas – and positive you get to kick it with Elena in Jury
Mark – and I get to kick it with Elena for a couple weeks
Xmas – unless you can do something and flip the house..
they laugh
Xmas – it is Big Brother..
Mark says he spent time with a person that rubbed people the wrong way.
Xmas says saying Rub the wrong way is a sweet way to put it.
Mark – thanks xmas.. no worries..
Xmas – thank you.. really..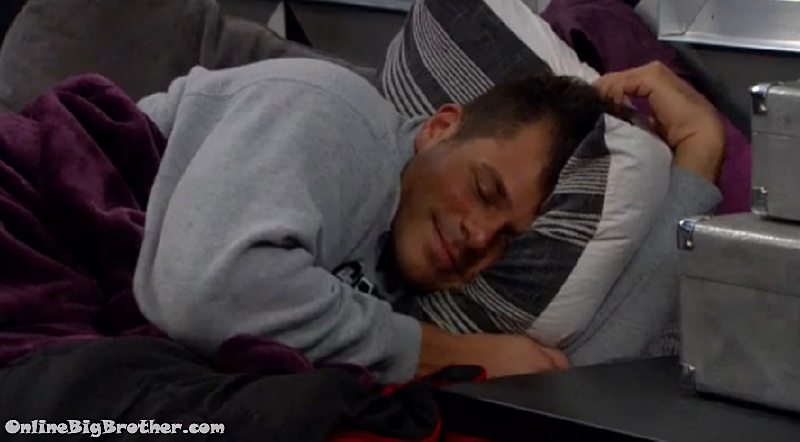 12:49pm Mark seems happy…
Josh comes in and tells him he's handling it well. tells him to make sure he doesn't stay locked in a room and comes out to be with the rest of them. They've all noticed how well he's handling this.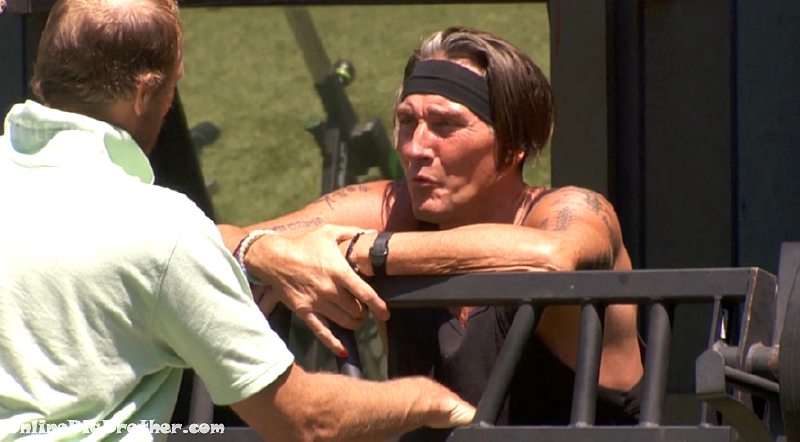 1:09pm Kevin and Jason lifting
Kevin – I'm telling you on my soul.. if I win next week I'm going after Raven and Matt.
Jason says that's everyone's plan
Kevin – i'm getting to the point where I'm tired of people lieing man..
Jason – I know…
Kevin wants them to focus on getting down to the four (Paul, Alex, Kevin and Jason)
Kevin – you agree
Jason – YES
Kevin – whoever wins wins.. no hard feelings whatsoever
Jason – yeah
Kevin – we deserve going through this sh1t for 2 months.
Kevin – are you f*ing kidding me, watching guys and girls grabbing each other's a$$, putting fingers up a$$h**es, you know what I mean? (LOL)
Kevin – jumping around acting like fools while you just lay in your bed and watch. (Matt/raven)
Kevin – Mark hasn't said a word to me
Jason – he hasn't said a word to me.. he's butt hurt..
Jason thinks Mark did throw him under the bus wo Paul.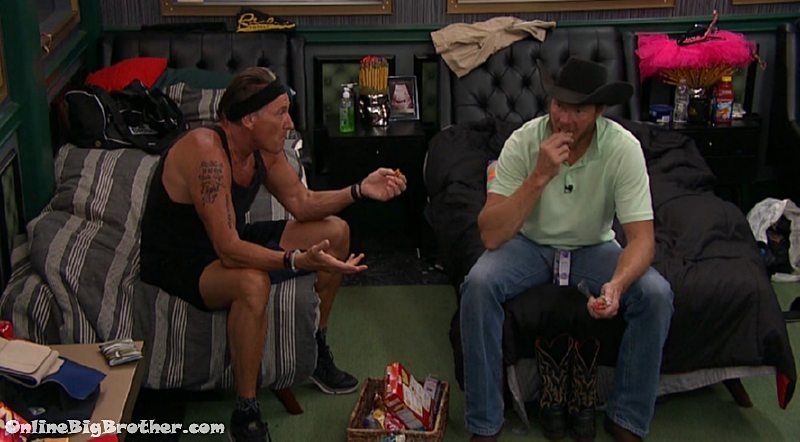 1:21pm Kevin and Jason
Kevin looking through the food left over from Jason's HOH page.
Kevin – Olives.. what the f* Jay, what are you a widow.
Jason – I like olives
Kevin – no sh1t
Kevin saying there's only 5 weeks left they have to focus, "You focus more than me, I'm just reassuring you that you're doing great"
Kevin – I've never backstabbed nobody… and never have.. sometimes that ain't good I guess. . It's going on the show people will see it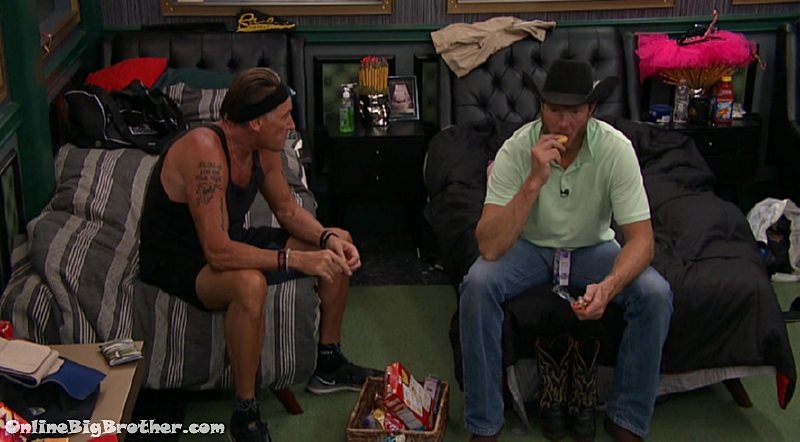 Jason – I know that's the worst part..
Kevin – can't wait to see who backstabs..
Kevin – so far nobody to be honest..
Jason – it comes so subtly, you know what I mean, people have been putting bugs in people's ears from the start
Kevin – seems like people are worried about Alex and Paul..
Jason – they're powerful.. I don't want to think about it.. it's that paranoia that will crush you
Kevin understands they plan to head back out in the sun.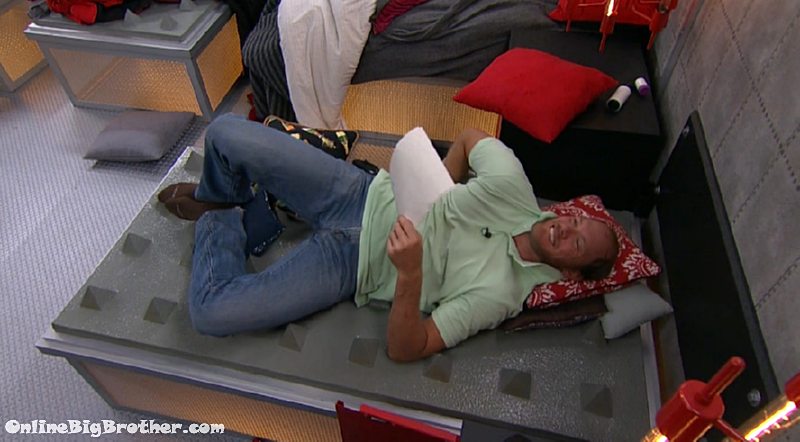 1:30pm Jason reading his HOH leader on a comfy bed. I hope for his sake those aren't Alex's pillows.
Alex comes in.. Jason jokes that he's looking for a secret message in his letter.
Alex – we'll have to go over the dates really really really soon..
Alex wants to make sure they don't study around other people.
Alex – you can't have other people learning the dates.
Alex says that kevin told Xmas in the early part of the game he only sleeps next to jason and Alex he's got no loyalty
Jason – that mother f*er
Jason – he said.. I don't have anyone.. like you have Alex..
If you plan on buying anything from Amazon. Use this link Amazon home
Doesn't cost you anything and we get a small cut.
Links to the ranking system
Rank your house guests here
For those of you that like Statistics here are some expanded reports.