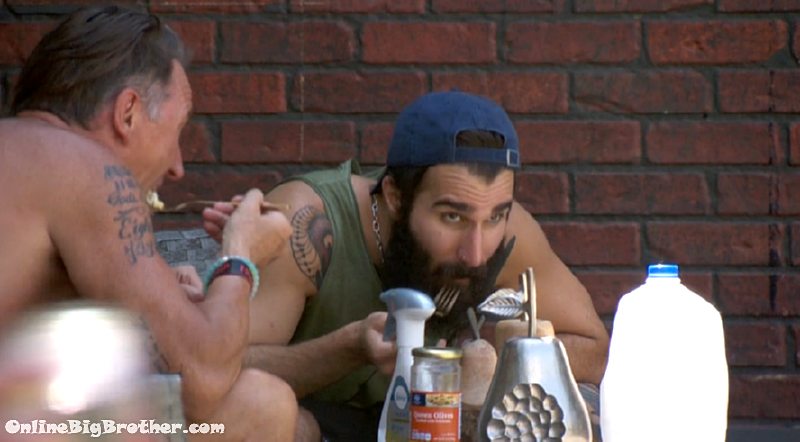 2:08pm Kevin and Paul
Kevin asking if he thinks Matt and raven are going up
paul – depends…
Kevin – you want to play pool tonight
Paul – yeah
Kevin – let me know what I'm supposed do and not do, right..
Paul – nothing now
Kevin – I know that Paul
Paul – it's coming to the point we all have to play
Kevin – I didn't get picked for the POV it's not my fault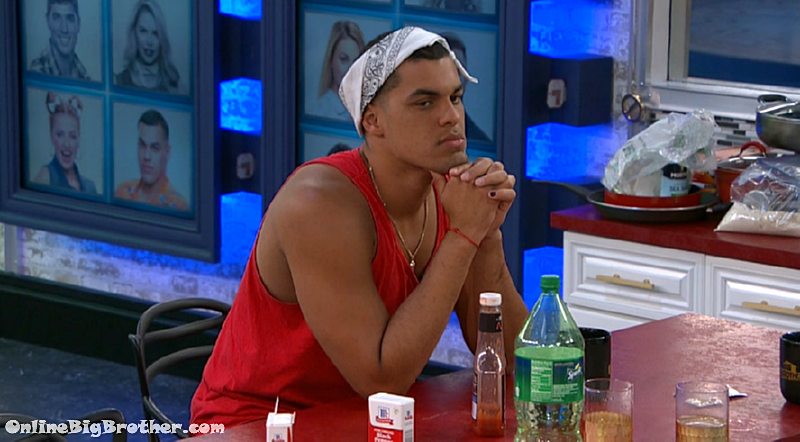 2:21pm JOsh and raven
Josh is talking about the disloyalty he saw from mark 3 weeks ago.
Raven figures out a way out of the conversation.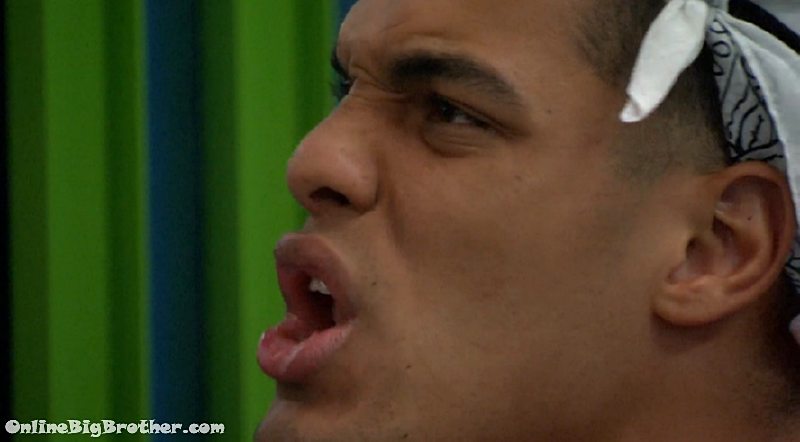 Josh has a Meatball chat..
Josh – you guys have seen my game and what I'm doing.. I got Cody out, Jess out, Got Elena out and now getting Mark out..
Josh – we're winning.. right now I'm in the best position in the house.. I got Paul and Christmas..
Josh – Paul has turned around, we're locked in, it's us three.. god willing we go to final 3 and play it out.. right now we have control of the house.. we have Matt and raven in one corner and JasonAlex in the other corner.
Joash – I am playing a strategic Social game.. I'm doing a good job at it.. I have my 2 .. I have Matt and Raven and Alex.. Jason ..
JOsh says he wants JAson and Alex out before matt and Raven because they can take out Matt and raven easy.
JOsh says Jason is really annoyed by him he can tell it.
Josh – Kevin is onto my game and he's put jason onto my game.. (LOL ZOMG?)
Josh – we have to split up JAson and Alex next week.. they are too strong together
Josh – I really don't know which one I want out first..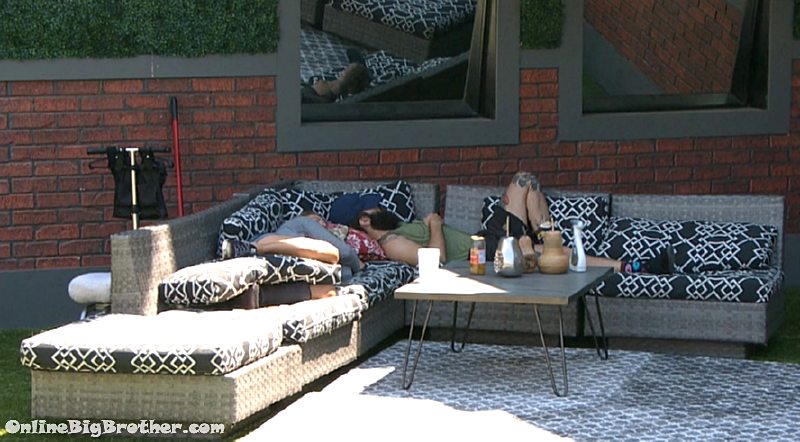 2:34pm Xmas and Paul
Xmas saying she was telling Raven and Matt to win the HOH next week. She's unsure how motivated they are.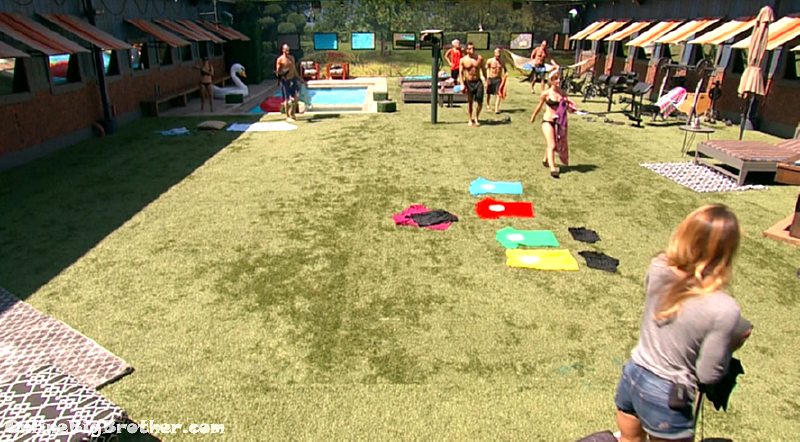 2:35pm You start hearing sirens. "Lockdown.. this is a lockdown."
Paul is yelling at everyone to get inside..
Feeds cut..
(Paul is the most worried that there will be a banner plane, drone or megaphone)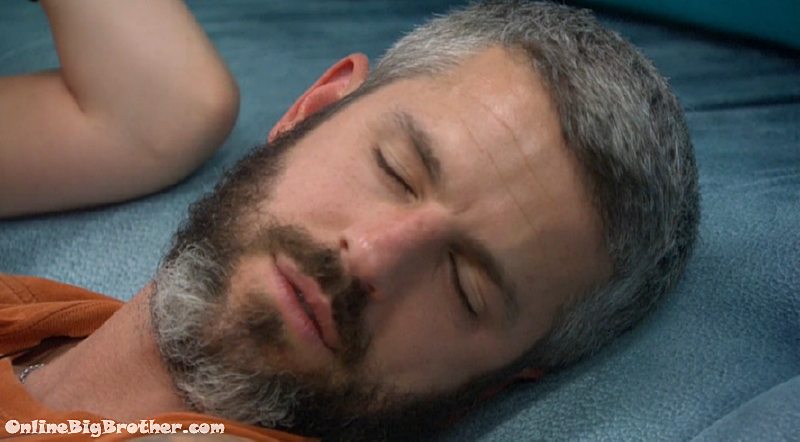 2:44pm Raven – no napping Mathew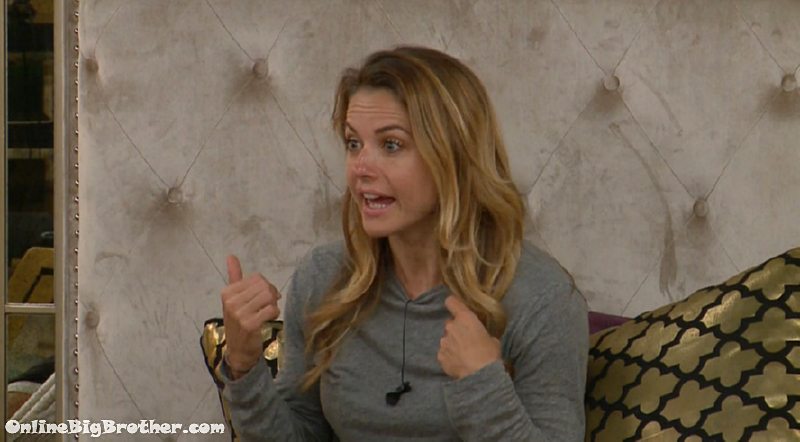 2:46pm JOsh and Xmas
Xmas – just f*ing JAM time Study lets go, first 10 days sit down
Josh says he walked in on Alex and Jason and they were sketched out, they claimed they were talking about Jason's baby and studying.
Xmas says that Paul told her they were studying..
Josh – they seemed sketched
Xmas – jason is irritated by me or sketched out by me again.
Josh – he's annoyed as f* by me.. I talk to him and he walks away.
Josh – he's made it real easy to getting rid of him
Xmas – the biggest thing they are all most annoyed at Kevin
JOsh says they stood bye things that mark has done.
Xmas – we have to study
JOsh – by the way it's not going to be the next HOH it'll be the following (questions about the dates)
Xmas – I need to start now .. we'll do 5 at a time
Xmas – day 1 brought Paul in ….
Josh – Sunday we had the trapeze
Xmas stops "MY study session.. you know this"
2:48 cam 3-4 Xmas – "I was on Pk's half the time just having f*ing a good time sitting off to the side"
Xmas says they have to start splitting up a little bit more. Says that her being mean to him is just to throw people off.
Josh says Raven is wanting to take out Jason and if Jason can't go Alex, "WE don't have to guide her"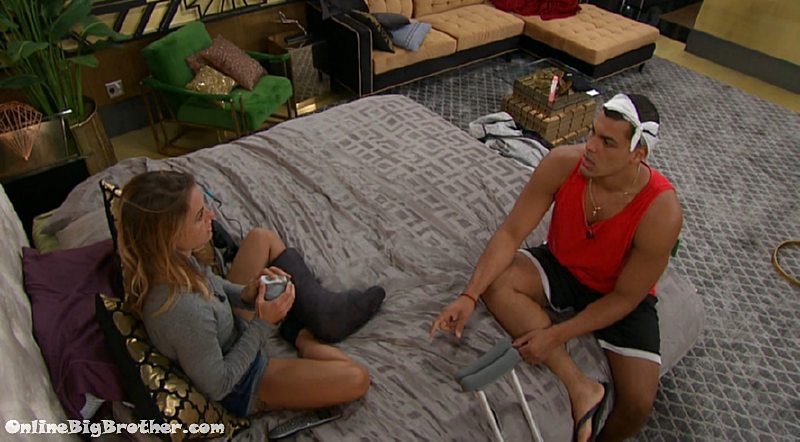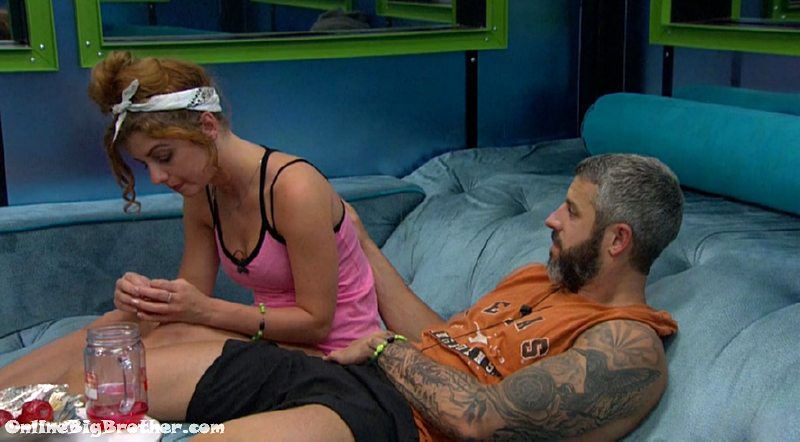 3:03pm Raven Matt APSR
Raven – I was hurting.. you don't have my body you don't understand
Raven – I want a new body.. that would be nice.. I wouldn't care if I was the ugliest person I just want a new body sometimes.. ..
Raven – it might look nice but it doesn't like me..
3:30pm
Matt update #BB19 @DawgsBigBrother pic.twitter.com/RSTUcY69vH

— OnlineBigBrother.com (@bigbspoilers) August 21, 2017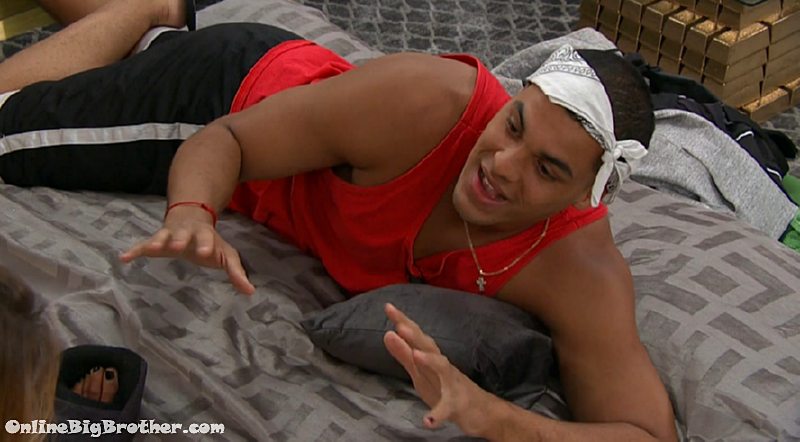 3:40pm Xmas and Josh
talking about final 3 with Paul and how excited they are. Xmas points out how much more hussle they have left.
Tomorrow she gets the cast removed.
Xmas – I might need to compete in slightly more physical things..
Josh – you are one of the strongest competitors in the house with a broken foot..
Josh goes on about how she's a bad a$$ competitor.
Xmas – that win was HUGE for me.. I know Paul through it to me..
Xmas – Jason, he's our next number one target.
Josh – they get past next week and they get out Matt..
Xmas – they have to go up together and they have to compete against each other.
Josh says Alex and Jason thnk they have Josh but it really them five with Matt and raven. (dream 😉 )
Josh says he wants the final 3 to be Paul, Xmas and him. He's been loyal to them from the beginning..
Xmas – Kevin never watch the show
Josh – it's all bullshit..
Xmas – why has he never asked about Jury…
Josh – it's bullshit
Xmas – that's a major red flag
Josh – he knows the game. he's been onto my game..
Josh – he wants America's Favorite.. he won the 25K he wants the other 25K that's 50 grand..
Josh – Jason has no idea what he's doing he's had Alex guide him..
Xmas – he might freak the f* out if he wins there's no telling what he'll do
Josh – Keep them calm make them feel safe.
Xmas – we can't be so complacent about it
Josh – we have to keep playing both sides..
xmas – SHHHHHHHH
Xmas – Don't say stuff like that again
Xmas – WE're gaming our social position (LOL that's what you're calling it)
Josh – Ok, that's just between me and you
Xmas – I know, it's also now in America's ear.
Josh – they love that shit
Xmas – we're positioning ourselves to protect the three..
Josh – yeah
If you plan on buying anything from Amazon. Use this link Amazon home
Doesn't cost you anything and we get a small cut.
Links to the ranking system
Rank your house guests here
For those of you that like Statistics here are some expanded reports.