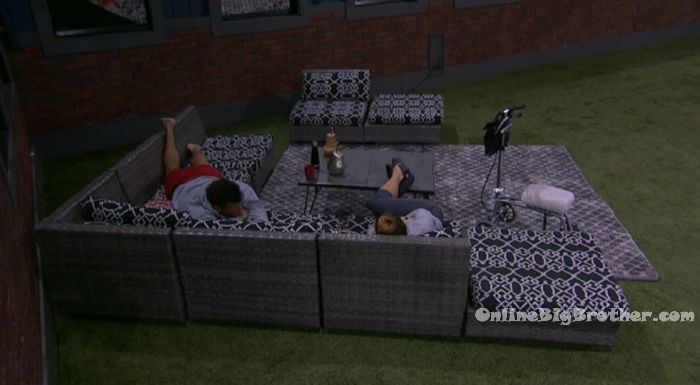 Check out our BB19 Ranking Grid. . rank your houseguests here

12:30am Backyard couches. Christmas and Mark.
Mark – did you think about our conversation earlier? Christmas – yes, and to be completely candid I really wish we had had that conversation before this .. the double eviction because it may have been different. It doesn't feel good. Mark – its a tough spot, its fine. Christmas – I think it may have more negative and attention than I prefer. I am telling you this because I did consider it and explore and I didn't just dismiss it. I really think it would have been a different conversation had it been earlier. Mark – so earlier before Cody and Elena left? Christmas – yeah. Mark – I understand but it would be a crazy move though. Christmas – You're right though, you would still be the target but I would probably be the next to go. They would have 2 options, maybe 3 I don't know if they would include Josh in that. Mark – Matt and Raven get safety or the veto .. Matt and Raven are just kind of floating by in this game. Christmas – I really do wish you had gotten HOH. Mark – I don't take this personally, its a game. Mark – as far as votes go with Alex, it would be a 3 vs 3 tie … moving forward the votes aren't going to be there anymore unless Paul goes against them. Man you take out Alex… its just fun to think about.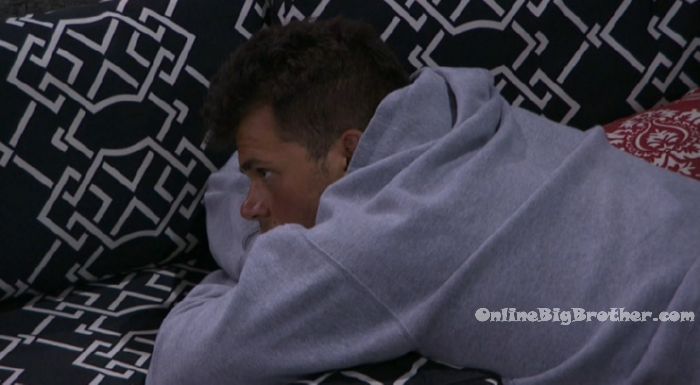 Christmas – it is a good strategy presented. Mark – that is why Paul was so gungho about it. If she were to leave the house it would be Jason & Kev, Paul in the middle, Matt and Raven and then Me and Josh. I can definitely see where you're worried it would bring more negative than positive. Christmas – and you're not in good with Matt and Raven? Mark – I am and I think they would be in to get out Alex. Even ask Paul where he stands. With Matt and Raven, I think Matt is more concerned about the longevity of Ravens game. Paul gave it away tonight with what he said. He said they kept Big Meech around because she stirred the pot and caused fights. That's the same with Josh, he stirs the pot and starts fights. I would love to fight with you and Josh. I understand the backfire but Alex and Jason are comp beasts. If you take Alex out of the game Jason will be so lost. He is not going to know what to do. If its me and you up on the block, they are going to vote me out. I would even say if it was me and you on the block, vote me out.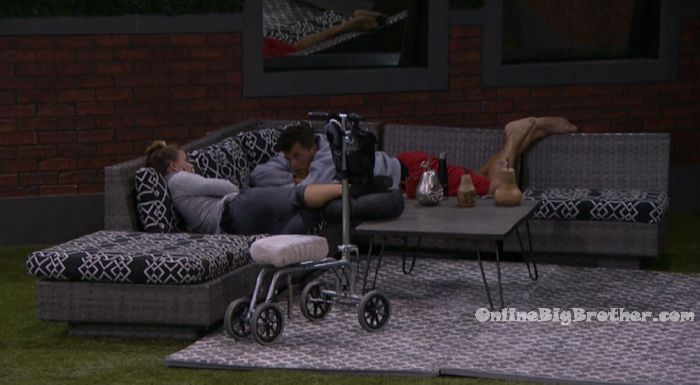 See what they can't show you on TV Try the live feeds for FREE!
12:50am Josh joins Christmas and Mark. Paul comes and sits in the middle of them before they're able to talk. They talk about Josh pulling girls hair to get their attention. Christmas, Paul and Mark tell him not to do that, its creepy. Josh says he'll date older women. Big Brother says I don't think so. They all crack up laughing. Alex and Jason join them. They all sit around the couch chatting about random things.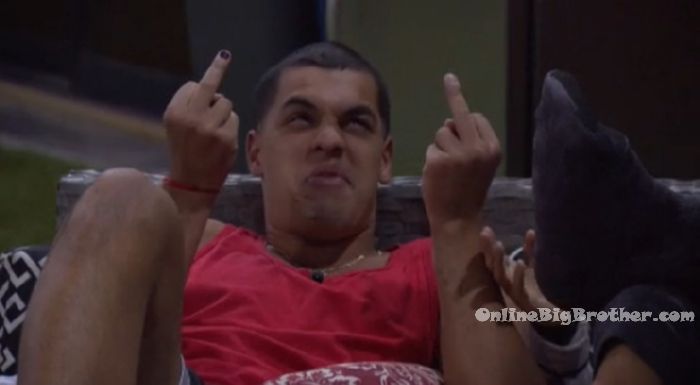 2:06am Backyard. Josh, Christmas and Mark.
Mark – I completely understand from a game perspective if its going to bring too much heat on her. But from where you guys stand I don't know how you guys are going to make it past a certain spot. Alex is killing comps and the combination of her and Jason is insane. Jason with out Alex, he is going to be lost. He's not going to know what to do. If the win more comps, there aren't going to be the numbers to take them out. Josh – my only fear is that if you flip on us I would f**king kill you! Mark – I wouldn't do that. I would give you anything. This would be my second chance. I would never do that.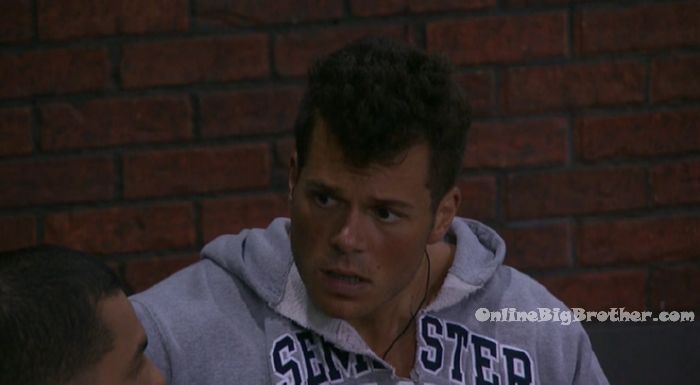 Josh – I believe you. I think you would stick with us. Josh – would you not re-align with Jason. Mark – f**k no. I will do the same thing with you. If I am on the block with you, I will tell everyone to vote me out. Josh – if go based on actions and things that have been done in this game.. I can't think of one thing.. if the house does flip would you flip on us? Mark – NO! I don't have any deal with anyone. I have not made a f**king deal in this house. Josh – I am going to stand by whatever Christmas wants to do because she is HOH. I will sleep on it and think about it.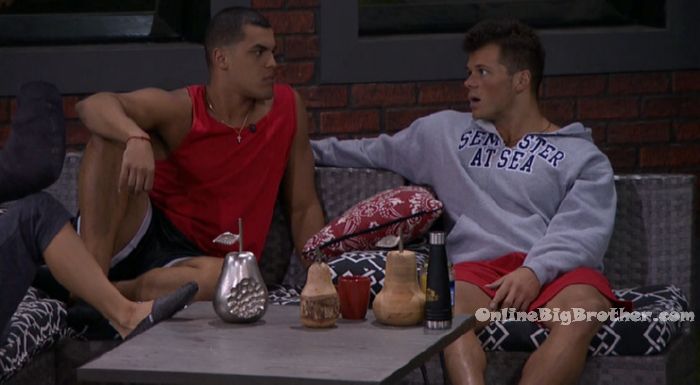 2:15am HOH room. Christmas and Paul.
Christmas tells Paul that Mark is campaigning. Paul – what is he saying. Christmas – he doesn't attach you to me and Josh. He doesn't know where you are with us. He is pitching that we take Alex out. He thinks that Jason, Kevin and Alex are together. He doesn't know where you are. Paul – that's good. That's good for us. The minute people find out that I'm protecting people its a done .. NOPE. I am to act like I am a free agent. No one is coming after you and Josh. He says he pledges his loyalty to me and Josh. He said he could be a physical competitor. Paul – he's a terrible physical competitor. Christmas – he said he is terrible in HOH's but is good in vetos. Paul – Kevin and Jason are going to band together if Alex leaves. I say we get out Mark, Jason and then Matt because then you spit the pairs. Then we get Alex out. I am down for whatever. I am here to protect you and Josh. Matt and Raven are down to get Alex out. If you get rid of Alex, Jason is going to be pissed and he is going to gravitate towards Kevin. Christmas – I think Alex needs to go before Jason. Paul – if you do that Jason will band with Kevin. Alex will not. Paul – the first thing we need to do is get rid of Mark.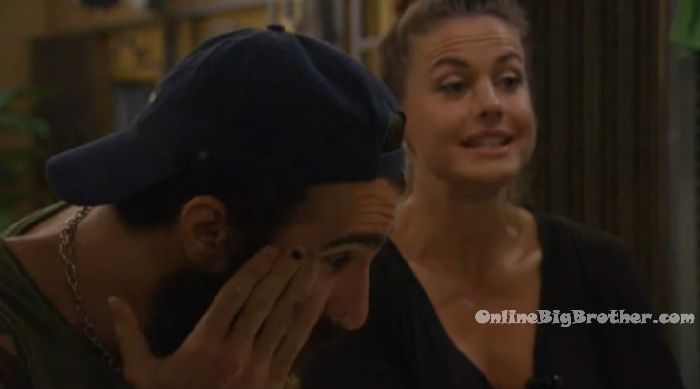 2:35am Josh comes up to the HOH room and tells Christmas and Paul – he is campaigning his a$$ off! Paul and Christmas tell him to leave before Mark sees him up here. Josh leaves.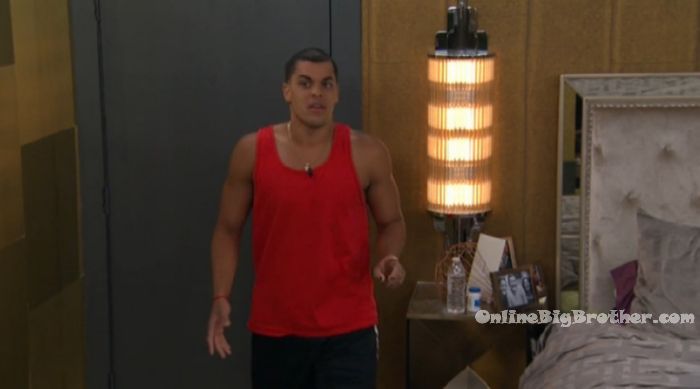 2:37am HOH room – Paul and Christmas. Paul – personally I don't think it is a good idea to keep Mark. Its enticing but it stirs it. We have a good thing going and a good plan and I don't think its worth jeopardizing just for that. Christmas – yeah, I agree with you. He will probably try to approach you. Paul – I'm just going to make it ambiguous. You have me in your corner and when we need to get Alex out, we will. You have my loyalty, that doesn't change. Christmas – cool. Paul – one of you are going to win. If I get second place, dope! But I've told you I'm not going to win. I'm fine with it. Second place, I mean I wouldn't be mad. But I would also maybe be in the running for America's favorite, I don't know.
Test out the Live Feeds FREE for 7 DAYS!
Click here for your: FREE Trial
Christmas – why do you think that you can not? Paul – The jury that we have … and the that fact that I am a vet and that I've played this game before… against another person that says I have never played. Christmas – you've never stabbed anyone in the back, you've never done anything like that. Paul – it doesn't matter. I am putting myself in that position and I would give it to the new player if I was a jury member. I would give it to you or Josh. Just for my own accomplishment I would love to get second place again. The king of second place. If I am ever in trouble I am counting on your and Josh to to keep me safe. Christmas – absolutely, every time. Paul – if we get rid of Jason, Alex WILL HAVE to attach to someone whether its you or me. Christmas – I think she would attach to you. Paul – if that happens, then I can control it. Christmas – when we take out Jason, then you'll have two b***hes fighting for you. (Christmas & Alex) Christmas – we are trying to make it so that it (HOH) is thrown to Raven next week so that we can Jason out. Paul – as long as you have me compete in the 4 or 5, I can get us to three. Christmas – that would be perfect. With Raven we can take out Jason and then if Alex wins she can take out Matt. Then either you or Josh step up. Paul – Mark needs to go this week. Josh has to step the f**k up. Eventually we are going to have to waste a week to get Mark out and why not now when it is already set up. And he is going to go without blowing anything up. If you put up Alex and you take her out, it is going to rally up everybody. Christmas – you have to stay close with Alex because I think she is the only one that has the nerve to take you out. Paul – you think so? Christmas – my personal opinion right now.. I don't think she will until she has to. Paul – if she takes a shot at me at least I shield you and Josh. Christmas – I am only worried about leaving her in the game too long. Paul heads to bed.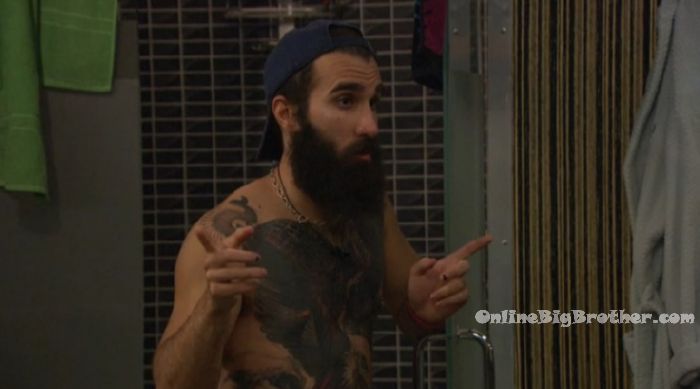 3:30am All the house guests are sleeping..
If you plan on buying anything from Amazon. Use this link Amazon home
Doesn't cost you anything and we get a small cut.
Links to the ranking system
Rank your house guests here
For those of you that like Statistics here are some expanded reports.