POV Holder:
?
Next POV
?
POV Used
?
POV Ceremony
?
HOH Winner:
Jared
Next HOH:
?
Original Nominations:
?
Current Nominations:
?
Last Evicted Houseguest
Paige
Have Nots
Want to watch the Big Brother Canada 4 live feeds but live outside of Canada?
Bypass the geoblocking with HideMyAss VPN and be Canadian Anywhere: VPN Help Guide
ALLIANCES IN THE HOUSE
There will likely be a lot of alliances during the season – keep track with our alliance help guide.
8:15am – 9:15am
Big Brother wakes up the house guests and then blocks the feeds. When the feeds return all of the house guests are leaving the living room to finish getting ready / eat. (They were picking teams for the Have/Havenot competition. In the bathroom – Maddy tells Kelsey I'm excited for this competition. Kelsey says she always gets nervous for competitions.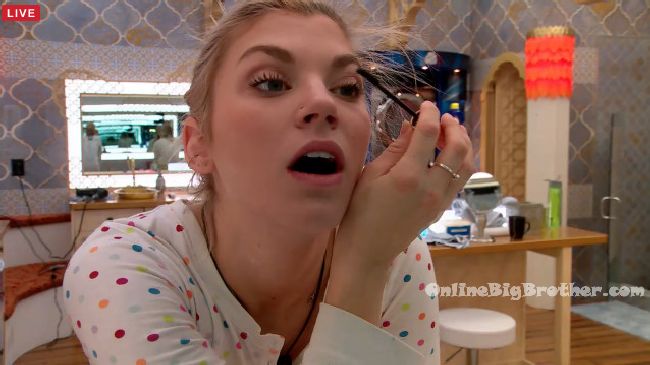 In the kitchen – Tim tells Christine we can't lose (Have/Havenot competition). Nikki's not going to be able to survive.
9:25am In the bedroom –
Dallas talks to Maddy about plotting against Cassandra. Dallas thinks they should tell Jared about how he'd seen Cassandra bouncing back and forth. He says that's the only way two people from our alliance aren't going to go up on the block. Because as it stands right now I would bet my life its going to be Loveita and Sharry. I feel like they're desperate so what I'm trying to f**king do is plot against Cassandra. Get Cassandra to take all this f**king heat. She'll become the target of the house. You know what I mean!?
9:55am HOH room –
Sharry talks to Jared. I am here and its a new week. Jared says I know how smart you are and I just wish we got off on a better foot. Sharry says I never wanted it to be a rocky situation and I never wanted to divide the house. People have the mentality that I am stuck on one side of the house and I'm not. Jared says you're very well like by everyone in the house. Sharry says that's good to hear. Jared says as of right now .. I am going to talk to Loveita and see where her head is at and give her that opportunity to talk. You guys are kind of in a sticky situation. Sharry tells Jared when we came into the house Cassandra and I were cool but as the days went on I started to get a bad feeling about her. So I sat down with her and I thought we were good. She didn't do what she said she was going to do. I don't mind that she changed her mind, I just wish she would have come talk to me. Jared says obviously I am going to be putting up Loveita but I don't know if I would be putting up you but I know you wouldn't be going home this week. Sharry says I just wish Cassandra would have been honest with me. She looked me in the face and promised she was voting Kelsey out. Jared asks if you were HOH what would you do? Sharry says she would have put up the brothers (Phil & Nick) because they said they weren't going to go against Loveita's nominations and then went against what she wanted by voting out Paige. Sharry says the other person she would put up would be Cassandra. I would make her my target. Jared says to be honest I think I'm putting up you and Loveita.
10:15am Sharry leaves when Kelsey joins them. Jared tells her that he told Sharry he was putting her and Loveita up. I don't give a sh*t. Kelsey asks I wonder who would go if they were up. Jared says Loveita, everyone likes Sharry. Ramsey joins Jared when Kelsey leaves. They talk about how Tim and Nikki just don't give a f**k.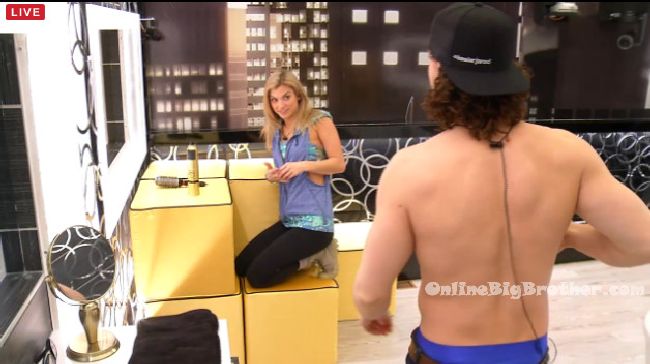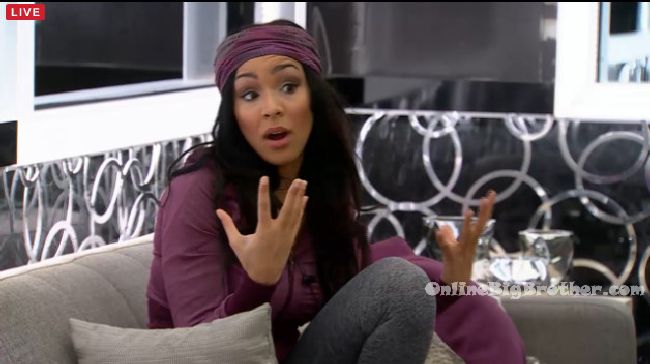 10:35am – 10:55am HOH room – Loveita talks to Jared and understands and knows he's going to put her on the block. She says I'm fine about it. If its the best move for you, I'm good with it. If you were to not make me your target this week what would you need from me? Jared says I don't know. Loveita says I could cut you a good deal. Jared says its not up to my discretion, its up to the voters. Loveita says I would be good to go home. I am ready to go home. If I win HOH, I can offer you safety for x amount of weeks. If I win POV, I would save your x amount of times. Jared asks who would you put up if you were me? Loveita says Christine. Loveita says I wish I didn't win the first HOH. I got off to a bad bad start. I will cut a big deal. I haven't made any deals or wasted my word. Jared says everyone is expecting you to go up .. but it doesn't mean I have to do that. I don't know for sure what I'm going to do.
11:10am Loveita tells Sharry that she wants to find out who Jared's top 4 people are and our 4 to merge. Sharry says that's a good idea. I would want to do that. The only way that would work is if he is willing to put up who is between.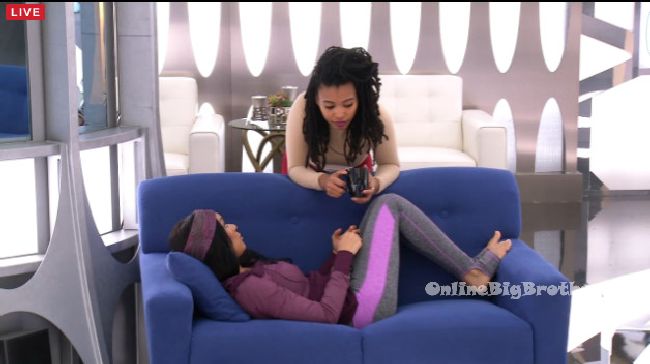 Loveita and Cassandra talk
11:40am Sharry tells Dallas, Maddy and Loveita they should go to Jared and tell him the four of us (Sharry, Loveita, Maddy and Ramsey) without Jared will merge with them. Maddy asks why are we leaving Dallas out? Sharry says because Dallas already told Jared he wasn't the fourth vote so we don't want to incriminate him. Dallas says I would campaign all day everyday to get Cassandra out of this house.
If you're using an Adblocker, you're making a kitten cry! PLEASE consider disabling it for www.onlinebigbrother.com by adding us to your whitelist.
This is very easy to do: simply load www.onlinebigbrother.com in your browser, left click the adblocker and click "disable for this site"
[polldaddy poll=9324196]