POV Holder:
Victor
POV Competition
Aug 13th
POV Used
NO
POV Ceremony
Aug 15th
HOH
Victor
Next HOH

1

Aug 11th
Original Nomi1nations:
Paulie AND Corey
After POV Nominations:
Paulie AND Corey
Have Nots
Michelle AND Nicole
Watch the next week of the feeds for FREE – 1 week Trial!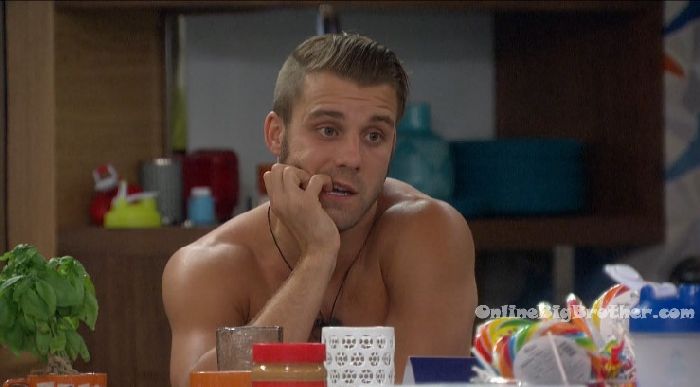 12am Kitchen – Nicole, Paulie and Corey. Paulie tells Nicole to just play it cool until Thursday and then your only option is to go to James and Natalie and speaking about the target of the couples. They'll target the guys first. So Corey, then James. Then probably you, then Natalie or You, then Meech. Corey says it sucks that Natalie is going to make it to the end. Nicole says I've told you that since the beginning. Corey says it sucks, I mean I wouldn't even go after her. It just makes me mad. She does nothing in the game and has won nothing. She literally does nothing.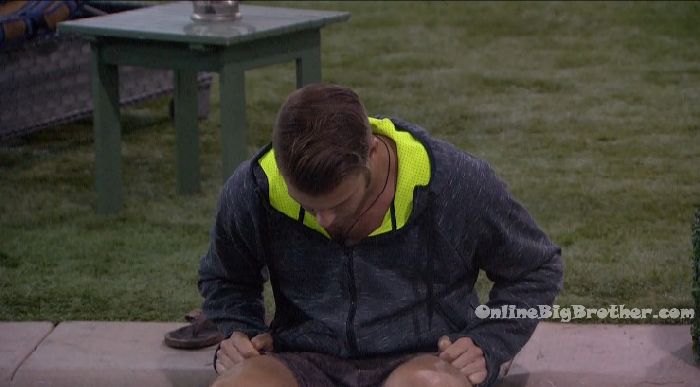 Paulie heads outside to stick his feet in the hot tub. Nicole and Corey join him. Paulie says we are like the f**king lepers of the house. I would have expected at least James to hang out with us. Corey says James has been weird, not the same at all any more. Like completely changed. Nicole says hes not the same with even Natalie any more. Paulie says they were sleeping in separate beds. Nicole says yeah separate beds again tonight. Paulie says I think that he may actually have feelings for her and she might have feelings for him and that's why. Nicole says that doesn't make sense. Paulie says James has a strange version of a Texas code .. that even Corey hasn't heard of. Nicole says she says they're only going to be friends after this. Paulie says yeah which is why I was pissed that she said I was making passes at her. Like BRO your chick is making passes at me! Even today I'm glad that Paul was getting a little touchy on her because I wanted him to realize how badly he f**ked up by screwing us. Nicole says he might make it to the end. Paulie says he might have mad it just as far with us. He doesn't seem different with Paul and Vic. I don't know if that's an acting thing because Vic is in power. Nicole says I think its because he betrayed us. Paulie says I don't think he realized how much we had his back. Paulie says I think Paul is a liar and that he did throw me under the bus. Corey says I think Vic wanted Nicole out and that's why she got the safety. Nicole asks what have we won, what have we manipulated .. I have no idea why we're a threat at all. Paulie says everyone has put us together since the beginning. People have been putting hits on us for a long time. Paulie says I don't get why he (James) went for the 5K. Its not that much money. 5K is like the basic dj package for the weekend, DJ and MC. Nicole says 5K is like 5 weeks of working full time for me. Paulie says well I guess it just depends on where you're at. I guess that's the good thing about being in the entertainment industry. I pay an MC $500 or 1K if they're really good and then I pocket 4K. They start studying the days and events of the house. Paulie starts telling them how many numbers of things there are in the house.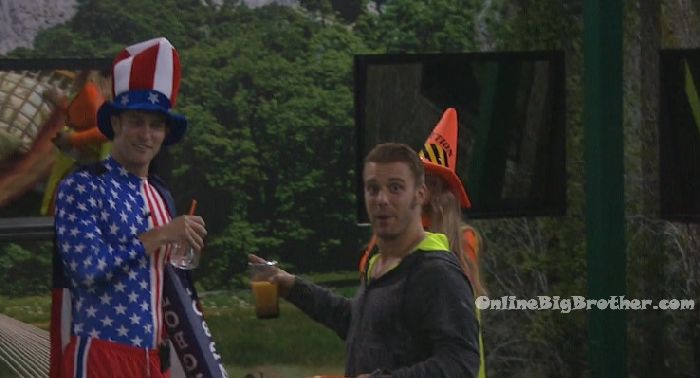 1:30am – 2:10am Paulie tells Cody and Derrick .. you better get all your fans to vote for my boy (Corey) to get a care package. I'm going to be dropping all my knowledge on them. They better not be coming into the jury house next. And if I have the round trip ticket I am going to come back raising hell. Corey says it is funny that I'm in a partiot-tard trying to get a care package. Paulie says James, Nat and Paul think its going to him (Paul). They start studying the numbers of things in the house. Meech joins them. They talk about the jury house. Nicole tells them about how you can order off a menu every day. You'll never be locked in a mansion with every thing you need ever again. Paulie says I'm just worried about how you don't get to talk to fam, don't get to leave. My mind is best when it is busy. I'm just worried I am going to freak out and start crying like I did the other day about my ex. And want to fly home to her to get closure because I never got closure from her. Paulie says when he met his ex she was living with her boyfriend. Big Brother switches the feeds. James and Natalie come out to join them.
2:40am Hammock – Nicole and Meech talk about how Paulie had proposed to his ex. Nicole says heartbreak is the worst. Any other pain you can take medication for. I wouldn't be surprised if he does something else. He has ups and downs. Nicole says that Paulie was asking them to open their tickets so that he would know if he has the round trip. Meech says it might be another double. Nicole says then ours would be worthless. He seems in higher spirits.

3:10am Kitchen –
Paulie, Nat, Paul and James are in the kitchen chatting and eating. Vic joins them. Paul says hey Bridgette it looks like the plant outlasted you in the house. Paul says his D curves to the left on a good day. Paulie says his curves down. Paul asks down, really?! Interesting!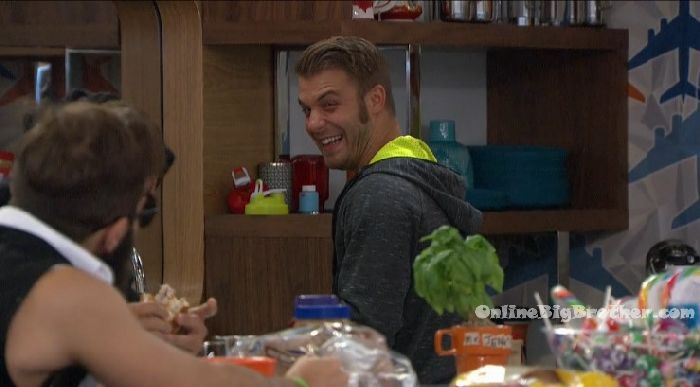 3:55am – 5am Hammock – Nicole and Corey. Nicole says that Paul has got to go. There is about to be a paul and James. He's got to go. He's good, he's really good. If I have any chance at winning this game he has to go. If he won, he would put us up 1000%. If he wins we're doomed. And he has to go up next to Vic because Vic would pull him down. That's two big targets I'm putting up which could have repercussions. Paulie joins them. They start studying again. Paulie leaves and Nicole and Corey talk about random things.

5am – 5:30am
Paul has to do a security check. Paul, Meech and Paulie are in the kitchen chatting about random thing and eating. In the bedroom – Nat and James are talking about pranking and her family and friends. James goes and grabs a melon and makes it look like he is sleeping in the bed. He tells Big Brother when he hides under the bed in the other room they have to red alert Paul. (So that Paul won't be able to find James to pat him down.)
5:30am Big Brother red alerts Paul. Pual runs to the bedroom and finds the melon. Paul cracks up laughing. Fool uses a melon as a head. I was like why is his head so cold!? I knew there was a reason they made me do this again .. because he made a melon duplicate. Nat says I promise you he's not in this room. Okay melon man where are you!? Paul finds him soon after under the bed.

5:35am – 5:55am In the kitchen –
Paulie strips down butt n@ked and tells Paul he's ready for his pat down. Paul comes into the kitchen and cracks up laughing. Paul says okay .. raise your hands. (View pics of the strip and pat down
HERE
)
See what they can't show you on TV – CBS All Access: 1 WEEK FREE Trial!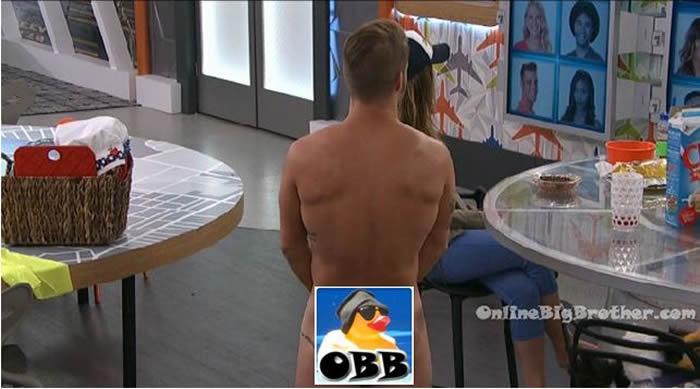 6am Meech, Vic, Paulie, Nicole, Corey and Paul are chatting about random things. Meanwhile in the bedroom James is giving Nat a massage.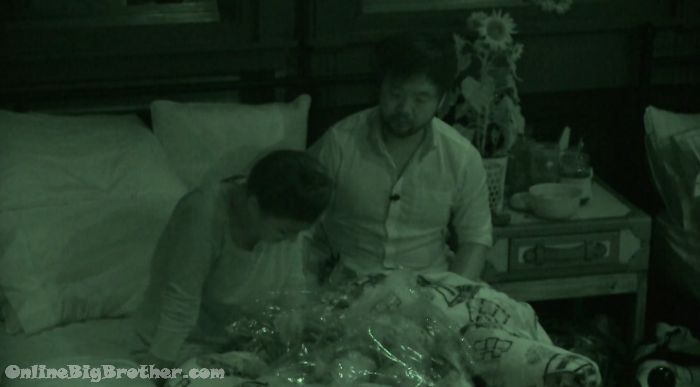 6:24am Natalie is puking.. swaying side to side..
(I believe this was due to taking too much ibuprofen causing her stomach to be sore. From what I see she's feeling alright now and is sleeping)
Show your support by making a donation.
"CO-HOH"
WEEK 4 – August 14th to August 19th
This winner automatically becomes Co-HOH, sharing all HOH perks and responsibilities for the duration of the week, including choosing 1 of the 2 nominees.
[polldaddy poll=9496376]
Usernames will have to be a bit more PG please. At the least censor them with @*(#^%_