POV Holder:
?
Next POV
April 17
POV Used
?
POV Ceremony
April 19
HOH Winner
Zach
Next HOH
April 22nd
Nominations:
? and ?
Have Nots
Godfrey, Sarah, Jordan, Bruno
POV Players
?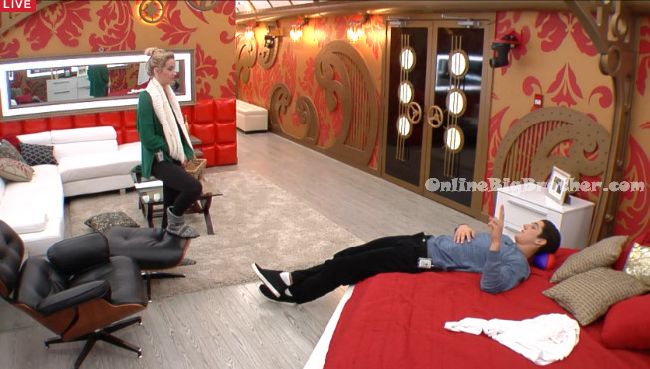 12:40pm Up in the HOH room – Zach talks to Ashleigh. Everyone feels the same way about me as they do about Sarah but not after this week. Zach says that Bobby is just so bad at this game. After this week everyone will still want him out. Zach says watch next week he wins HOH and gets me out. Ash says no he's not. You're so set up in this house. Zach says this backstabbing is going to go so far into his back it's going to come out the front. He's not going to see it coming he's so loyal to us. Zach says Bobby has to get real close to you. Play him like a fiddle! …because we don't want him coming after us next week.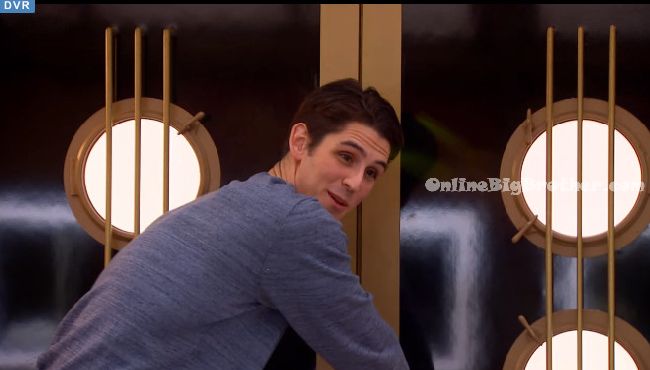 In the living room – Kevin, Bruno, Pilar, Godfrey, Zach and Brittnee are hanging out talking. Bobby says his longest relationship is 2 – 3 months. He says he thinks the reason he hasn't had that long of relationships is because he's been scared to pull the trigger. Pilar starts talking about her past relationships and a guy that was controlling.
Operation "Play Bobby like a fiddle" is in full effect @bigbspoilers #bbcan3 pic.twitter.com/58Cpl4OGbg

— Dawg (@DawgsBigBrother) April 16, 2015
1pm – 1:15pm Big brother opens up the storage room and the house guest find new BBCAN fan picks on the food. Bobby looks at the girl and says "Another beautiful girl!"

1:20pm – 1:30pm In the bathroom – Zach comes up to Ashleigh and asks "Have you put in any work?!" Ash "No, would you just chill!" Zach pretends to play a fiddle. As he walks out of the bathroom. Ash says trust in me a little. Ash tells Pilar this will be a good week. Pilar says because we're safe. Ash says yeah and because there's going to be some backstabs. I have to reel in Bobby for when Bruno goes. You know whos going up today right? Pilar says JP and Godfrey? Ash says yup. Then the veto will be played and then take JP off and then decide who would have more votes Bobby or Bruno. It's going to be a bumpy ride so strap on your seatbelt.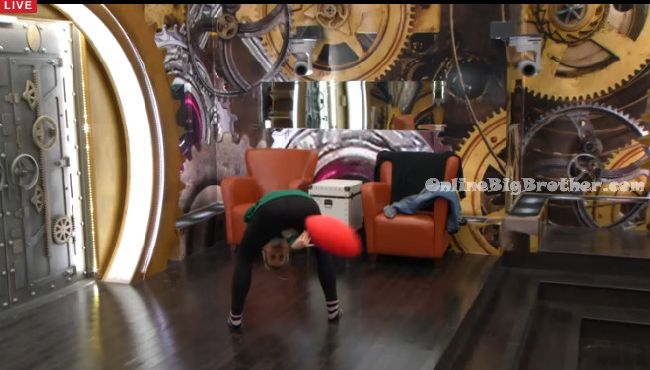 1:30pm – 1:50pm Up in the HOH room – Jordan says if Godfrey gets house guest choice I will tell him to pick Bobby. Jordan says if I will just throw it. Kevin says I will just dog f**k it. That way they still think the backdoor plan is still in effect. (One side of the house thinks Kevin is the backdoor plan when in fact its really Bruno) Jordan says next week is operation Bob slop… we'll put Bobby back on slop. Zach says he is so bad at this game. Kevin leaves. Zach says this week Ash has a guitar .. that guitars name is Bobby! Zach says I don't see me losing many competitions. Jordan says it doesn't matter at this point.. win every HOH. Zach says and if they put me up it doesn't matter we still have the votes. Jordan tells Zach to just Frank it (Frank Eudy BB14). Zach says Bobby is horrible at relationships in this house. Godfrey just pisses everyone off. Zach and Jordan decide when Zach throws up Bruno then Jordan will tell Godfrey that Bruno was in an alliance with us and he said he was coming after me (Zach). Jordan lets just form another triple with me, you and Godfrey. Because then we can control him. Jordan says we're in an alliance with everyone. Jordan says Bruno won't even come after me because I sucked his d**k for three weeks. Jordan says if you can win the veto win it and pull me off. I am just going to throw it and so people can continue to think I am week and a dumba$$. Zach says I hope B and Sarah hope we're with them … we need to make a final 4 with them. Jordan laughs. Zach says I don't care. Jordan says my parents are going to kill me when I go home .. like why did you volunteer to go on the block! Zach says you're 100% safe though. Jordan says now the fact that I volunteered we can convince Pili to go up as a pawn saying I did it. Zach says never again will being a pawn be this safe. Jordan says Ash is a huge asset to us. Zach says she is and so loyal. It's our social games that make our games so good. Jordan says it's time to make some moves.. its week five lets get it going! Zach says while we were sleeping we made the right moves. If even one of those people were in here it wouldn't work.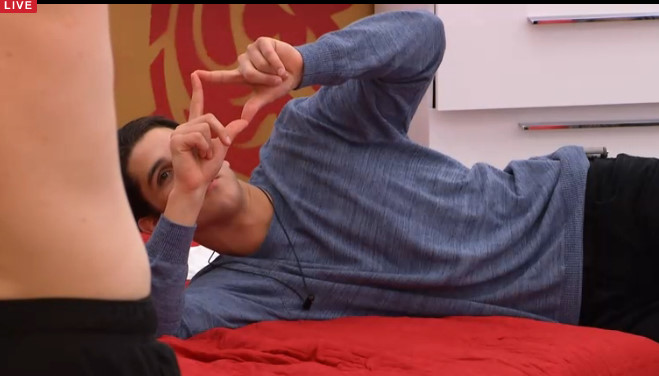 In the havenot room – Ashleigh starts "playing Bobby like a fiddle"

2pm – 2:30pm Ashleigh heads up to the HOH room to tell Zach and Jordan all about the conversation in the above video that she had with Bobby. Ash says I could see him sigh with relief. If Kevin doesn't go up he is going to start to question things. Zach says if Bruno goes up people are going to question it too. Ash says I told him that you (Zach) and I are too busy sucking face to talk game. Zach laughs. Bobby joins them and the conversation ends. Zach says his nomination speech for Godfrey will be "nap time is over, please take a seat!" Jordan asks what's mine? Zach says I don't know. I'll probably just shred you for good tv. Bobby leaves. Ash says that next week if Bobby wins he would put up Britt and if Kevin wins (veto) he would put him up. It is going to be an awkward couple days after. Ash says from here on out I will say Kev, Kev, Kev… Ash and Jordan remember when Bruno was going to flip the votes on Bobby week 1. Jordan says post veto you have to bring that up. Godfrey was there. Ash says if Bobby comes up to talk to you, you need to tell him about how Bruno tried to flip the votes on him. Jordan says not until after the veto is played. Zach says that he'll tell Bobby that B, Sarah wanted you up on the block this week but I didn't do it because I trust you. Jordan says he's an idiot. Jordan leaves and says I can't wait for your speech. Zach says JP you're a little slim. Ash says yeah just rip him. Bobby joins them. Bobby asks you still going for Kevin this week. Zach says yes. Bobby says if you keep me safe this week I'll keep you safe. Zach says B's pushing for you. Bobby says literally if you get Kev, I'll do whatever you want if I get HOH. You can trust Bruno too. Zach says I know. Bobby asks so God and JP are going up? Zach says yeah. Zach says if Kev wins it we would have to put up B (Britt). Bobby says Bruno is ride or die. I'll make sure he's good because when you come off HOH you're a little paranoid. Bobby says hopefully everything goes according to plan this week. Zach agrees. Bobby leaves.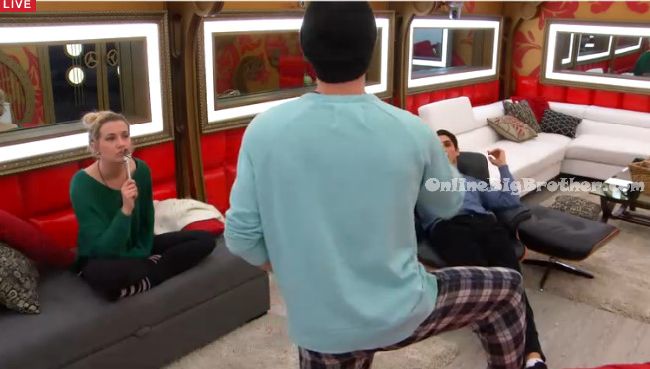 2:35pm – 2:55pm Ashleigh says I literally begged on my knees for him (Bobby) to not say anything to Bruno." Zach says I don't want him questioning anything like that right now. You shouldn't have even brought up questioning Bruno. It's in his head now. Ash says I want it (veto) to happen tonight. I don't want him going and speculating with Bruno. I've never had to trust him before. Zach says you shouldn't have put it in his head. F**K! Ash says Bobby is just so all over the place. Ash says this week is going to suck and next week will suck but regardless you're still sitting pretty. You have to have moves under your belt. Zach says I want to win making big plays. I'm going to have to go beast mode in competitions. I just don't want to get b@ckdoored next week if there's a double eviction. If I walked out that door I would puke right on Arisa, I'd be so sick to my stomach. Zach says I just can't have Bruno in that POV comp. Him winning is worst case scenario. Ash says if Bobby wins he would take someone off thinking you're going to put Kev in their place and instead you put Bruno. Zach says yeah and that would hurt me even more. Ash says tell him to throw it. Zach says I'll tell him I'm throwing it to Godfrey and JP. Ash asks Do you think if I tell him to throw it? Ash says I'm scared to talk to him (Bobby) any more… Zach says yeah you already did enough damage. Zach reveals to Ash that he's also a chemistry major in school too. He tells her that he applied to med school. My heart really wants to be a football coach.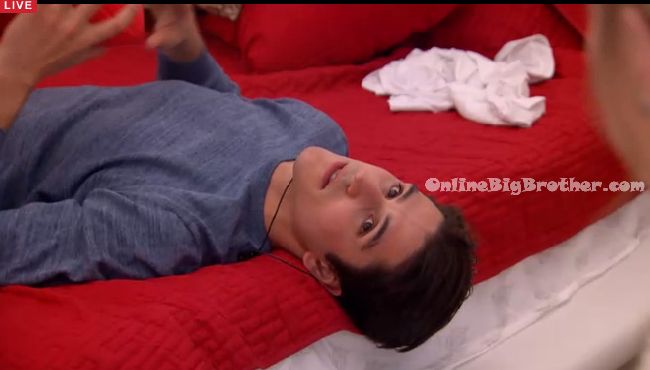 [polldaddy poll=8803897]
[polldaddy poll=8797487]
[polldaddy poll=8803903]