POV Holder:
?
Next POV
April 17
POV Used
?
POV Ceremony
April 19
HOH Winner
Zach
Next HOH
April 22nd
Nominations:
? and ?
Have Nots
Godfrey, Sarah, Jordan, Bruno
POV Players
?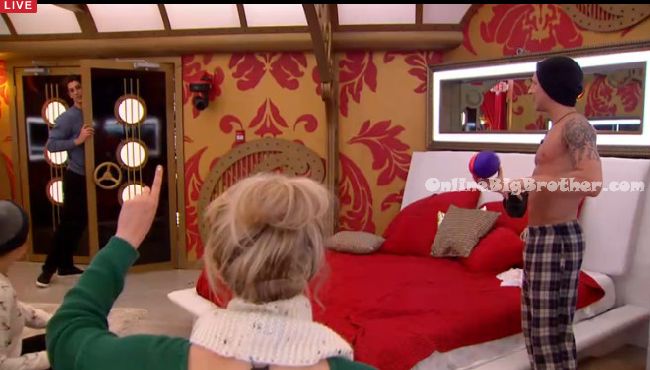 3pm Bobby comes back up to the HOH room. He tells Zach "Don't worry about me mentioning anything to Bruno" Nothing ever came of it so there's no need to. (How Ash told Bobby that week 1 how Bruno tried to flip the votes on him.) Zach heads downstairs to make burgers. Willow joins them in the HOH room. They talk about whether or not there could be a double eviction. Willow says in a Double you take out the people you can't normally get out. Bobby says I don't care what happens as long as Kev goes. Bobby leaves. Pilar joins them. Willow asks Ash if JP is mad. Ash says no. I hope not. I think he should know. I hope he's not mad. Ash says I walked in on them talking and it seemed like he was fine. Kevin joins them. Willow thinks the POV is going to be one that lasts through the night because they've already messed with our sleep. Or it could be a movie premiere one? Willow asks Kevin – Was Johnny pissed you didn't try to win the veto to use it on him? Kevin says no. Willow says also his game plan wasn't to save you it was to get rid of Graig. Kevin asks Ash did you stay in the HOH bed last night? Ash says yes. Kevin says nice! Did you touch hands? Willow says I've been called a "Butter Face" before. (Someone who's hot except for their face) Ash and Kevin both tell her that's not true.
Willow says "I've been called a BUTTER FACE" @bigbspoilers #bbcan3 (Someone who is hot, except for their face) pic.twitter.com/903F4KOZ5X

— Dawg (@DawgsBigBrother) April 16, 2015
3:25pm Under the stairs Bobby whips up a batch of his cinna-slops:
3:40pm – 4pm Bruno and Brittnee are laying on the living room couches chatting. Meanwhile up in the HOH room Willow gives Ashleigh a massage. Willow says these boys have been killing this lotion in a big way.. what have they been doing?! LOL Willow tells Ash "I need to undo your bra in a non-sexu@l way. Willow then mounts Ashleigh and starts massaging her.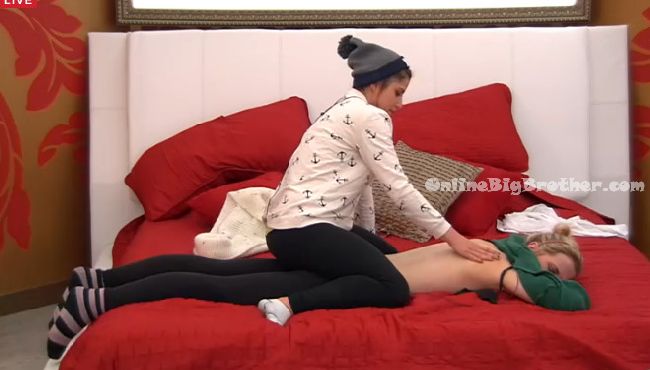 Zach joins them with his massive burger. Willow asks for a bite of it and tells him he has to feed it to her because she's his girlfriend. They start talking about who they nominated the first week and how they didn't know each others names. Zach jokes and tells Willow that she is handling the Nom's thing a lot better than he thought she would. Willow says shut up. Zach says don't worry you won't go home. Sarah says I had nothing to do with it. Zach says come on Sarah "we" worked this out last night.
4:10pm – 4:35pm In the HOH Willow climbs into the large Ottoman. Meanwhile in the living room Jordan is talking about the "Jack Shack" from BBUS season (House guests found a place to pleasure them selves out of the view of the cameras). Jordan then says I wish we had a Jack Shack. (LOL) Sarah questions Willow whether or not Canada hates her. Willow says you think Canada loves me? Willow says I try to molest Zach" Brittnee and Kevin join them. Sarah comments on how not having the nomination ceremony at the same time is unfair. I think it would be better if it was more consistent. Sarah says like the Emmett/Jillian letter was unfair.. Like saying her sister loved Emmett. Sarah asks wasn't that a huge tip off that she could trust him and that he wasn't talking sh*t about her in the diary room. It's bullsh*t! There should never be another persons name in the letter. It should be personal stuff.
Willow says I don't want to be Sabs, I want to be RORO! Willow says I had a vision I would be good at this. I thought I would be so much better at this. Willow says that she wanted to marry BBCAN1 Andrew. Kevin says I thought Pete (his twin) might have been more attractive.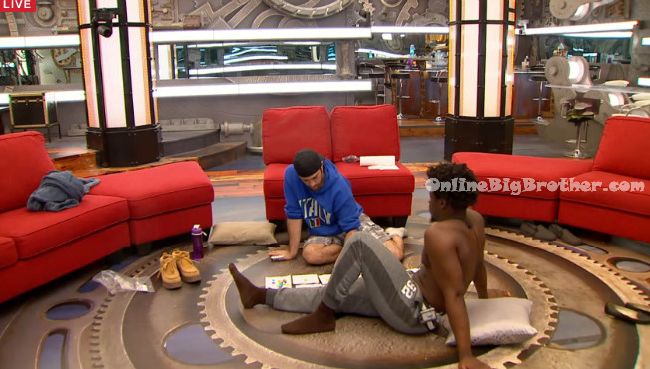 5pm – 5:20pm In the living room – Godfrey talks to Bruno about how he was told the b@ckdoor plan is Kevin. Bruno tells Godfrey if it ends up being you and JP still on the block you go to Kevin that the plan was to b@ckdoor him. But that's only if the veto isn't used. You have two votes locked in 100%! He might be the HOH but we can control who goes home. Just like when I was HOH, if Johnny had made a deal he would have stayed. Bruno says best case scenario is the veto is used. I can't believe he was doing that. Godfrey says he didn't want to get blood on his hands. As long as one of you guys get veto, I'm good. Bruno says yup.
[polldaddy poll=8803897]
[polldaddy poll=8797487]
[polldaddy poll=8803903]