POV Holder:
?
Next POV
April 17
POV Used
?
POV Ceremony
April 19
HOH Winner
Zach
Next HOH
April 22nd
Nominations:
? and ?
Have Nots
Godfrey, Sarah, Jordan, Bruno
POV Players
?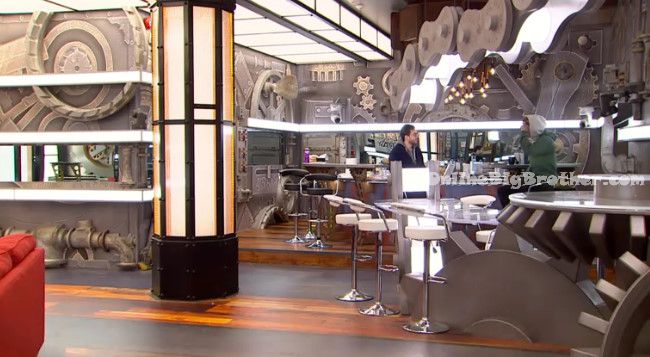 8:30am Big Brother wakes up the house guests. Jordan asks Zach so are you going to tell Godfrey before? Zach says yeah. Jordan says because he'll be pretty pissed if he doesn't know. So tell him and tell B before. Zach says yeah. Jordan heads back up stairs. Bobby joins Zach in the kitchen. They talk about how they can hear Big Brother building "something serious" in the backyard. They wonder if its for the veto competition or for a task.

In the bedroom – Kevin and Pilar are talking. Kevin says it was nice to finally cuddle in the same bed. Pilar agrees. She kisses him. Kevin asks her about her playing soccer. Zach and Jordan join them. They talk about about Bobby is isolated in this game. Even B, she hates him. I love Bruno but no one has the balls to put him up. Jordan asks if he's told Godfrey yet. Zach goes to tell Godfrey. Zach tells Godfrey I am putting you and JP up on the block. Don't worry you are both pawns. I am planning to b@ckdoor someone. Godfrey says in your speech say anything you want. Say dude you take naps. Zach says 100% the veto will be used. Godfrey says you've just got to make sure the veto is used. Zach tells Godfrey no one would vote him out. You're playing flawlessly. Jordan joins them. Jordan asks if Zach told him he's going up. Godfrey says yeah. Jordan says so you and I are going up.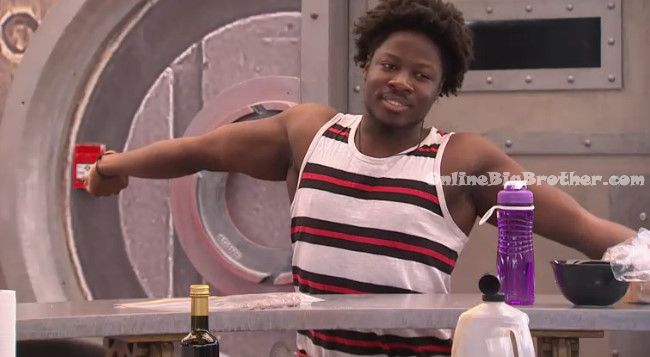 10am In the kitchen –
Sarah goes to eat some slop and then drinks water. She starts choking. Godfrey says EWWW she just threw up! Sarah says no I didn't. Godfrey leaves. Jordan says lets go to the havenot room and hangout today. Sarah says Everything you say is grosser than that! Di*ks! Yeah, no I don't need any help or anything!


Pilar practices her newly learned twerking skills.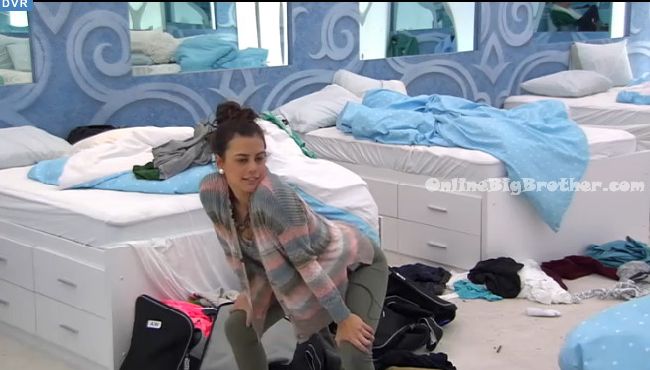 10:15am In the bathroom – Bruno asks Godfrey if he's good. Godfrey says no man. I'm going up. Bruno asks what?! Godfrey says he's putting me and JP up. He says the plan is to b@ckdoor Kevin. Bruno says you know we got you baby. They're surprised Zach is putting up JP.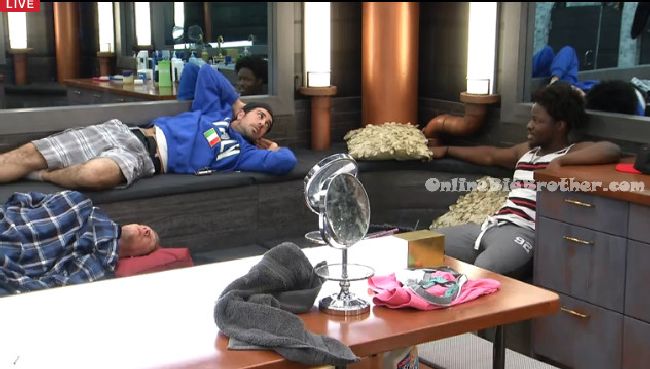 10:30am In the bedroom – Zach tells Willow that he is putting up God and JP. They high five. Zach says JP is safe he knows there is no situation that he goes home. Zach tells her Willow there's going to come to a point where we need to form a crew. You're my ride or die. I just need you to think about it. Zach says I don't want to get down to 8 people and be in a situation where we are under matched. Bruno tells Godfrey if the noms stay the same I will put work in for you. The main plan is to get Kevin out.

In the havenot room – Bruno asks why the F**k would he put you and JP up dude?! Godfrey says I dont know. The plan is to b@ckdoor Kevin. Bruno says why not put up Sarah or B? Bruno tells Godfrey I've got you. Bruno says I though JP and Zach were close. Bruno says unless he's doing that so you can win the veto against Kevin. Like its you against him, Zach against him, JP against him. But why JP unless its a mental comp.
10:55am Bruno, Willow and Bobby are talking in the bathroom. Willow says if guys keep putting up the weak girls it looks bad, you know. Willow says that Godfrey is a genius. If we get out of here and he isn't I will buy everyone a round of drinks.
[polldaddy poll=8803897]
[polldaddy poll=8797487]
[polldaddy poll=8803903]