POV Holder:
Bruno
Next POV
April 10
POV Used
NO
POV Ceremony
April 12
HOH Winner
Bruno
Next HOH
April 15th
Nominations:
Johnny and Sarah
Have Nots
Brittnee, Pilar, Willow (Pickled Eggs & Chicken Feet)
POV Players
Bruno, Sarah, Johnny, Bobby, Brittnee and Kevin
Zach is the POV host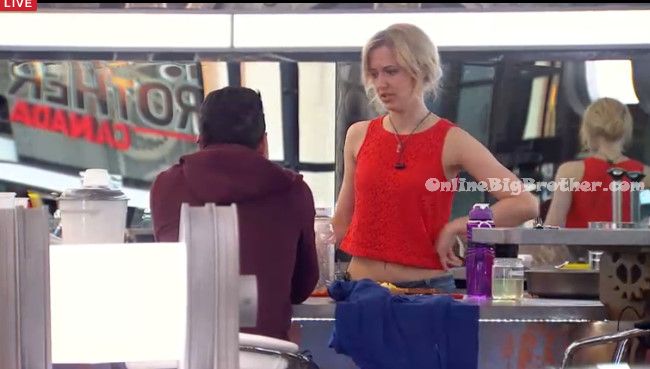 11:15am In the kitchen – Johnny talks to Ashleigh. Johnny says that was so mean girls in the bed last night (What Brittnee was saying about Ashleigh not being a virgin the way she was with Zach in bed.) Ashleigh tells Johnny that she will have another talk with Zach. Johnny says it feels weird not knowing yet. Ash says I will tell you when I know. Johnny says okay, and its not like I am going to throw a fit or something. Johnny heads out to the hot tub. Ash talks to Pilar. Ashleigh tells her that Johnny's targets are Bobby, Bruno and Godfrey. He says that Sarah and him stayed up late and she said she would put up the couple. Basically he was saying that Sarah would flip over to Bobby, Bruno and Godfrey. He's making some good points. Pilar says we should talk later today.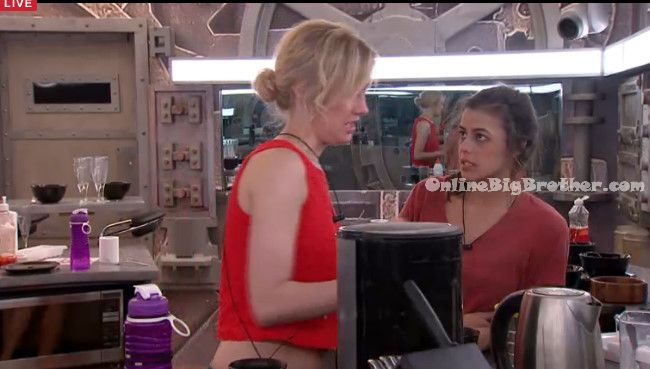 11:25pm – 11:50am Out in the hot tub – Sarah starts crying saying that she wishes she could kiss Scott (her boyfriend) right now. I would give everything for just one kiss! Sorry guys. Brittnee consoles her. Most of the house guests comfort her. Willow talks to Sarah. Sarah says that she doesn't even know Scott's routine because he just stated a new job before I came here. Willow says he gets to say my girlfriend is on big brother. They talk about their BBTV segments and then suntan in silence.

12pm – 12:30pm Jordan, Kevin and Pilar head into the storage room. Pilar tells Kevin and Jordan about how Ashleigh told Johnny that Sarah would put up Kevin. Jordan says I'll tell you a secret I'm close with Sarah and she wouldn't put you up. Johnny is just saying that and the fact that he's got you thinking that shows how good he is. Jordan leaves and talks to Zach in the kitchen. Zach says if Sarah flips who cares, if Johnny does he is going to do some damage. Zach says this is making Pilar and Ash not like those girls. It's perfect. Jordan days I am still in Johnny's ear talking to him. Zach says good. Good! Zach wonders if Pilar wins HOH if she would take a shot at Bruno and Bobby. Jordan says Pilar might take out Bobby. Jordan tells Zach about how Godfrey told him socially I am so bad but physically you (jordan) are so bad. Sarah sucks at the comps and will never win but Johnny will win that's why he needs to go. I know Sarah really well if she did win she would put up Bruno and Bobby. Jordan says Sarah is close to me and tells me very thing. Johnny is just saying whatever he wants to stay. Sarah has tunnel vision and is going after Bobby and Bruno. Yes in a couple weeks we will need to be worried about her but not now. Ashleigh says if Brittnee wins all we need to do is send Zach at her.
12:35pm – 1pm Bruno gets the HOH camera and comes out with other Canada pride gear like a Canada shirt, visor, etc. All the house guest pose and take photos.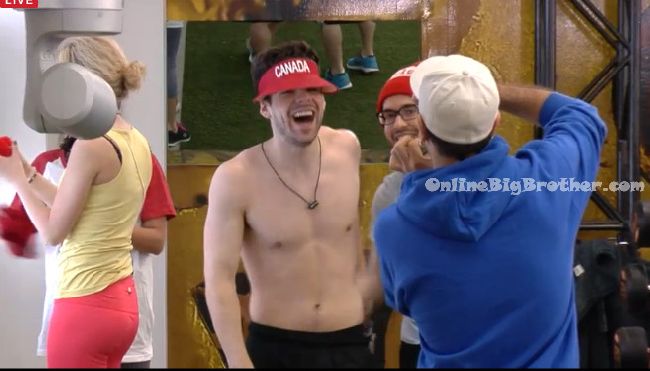 1:30pm In the kitchen – Willow and Bruno talk game: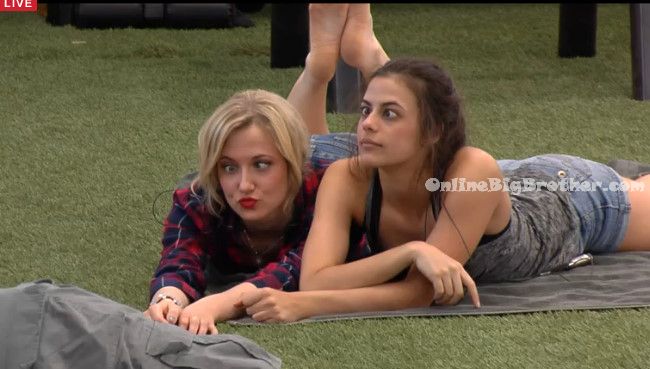 1:55pm Out in the backyard – Jordan, Ash, Zach, Kevin and Johnny are hanging out in the backyard talking about random things like car insurance, sports, etc.
In the kitchen – Pilar, Willow, Bobby and Brittnee are cleaning up. Willow says we used up a lot of condoms last night. Bobby says we wasted a lot of condoms last night. Brittnee says I am done kissing guys in this house.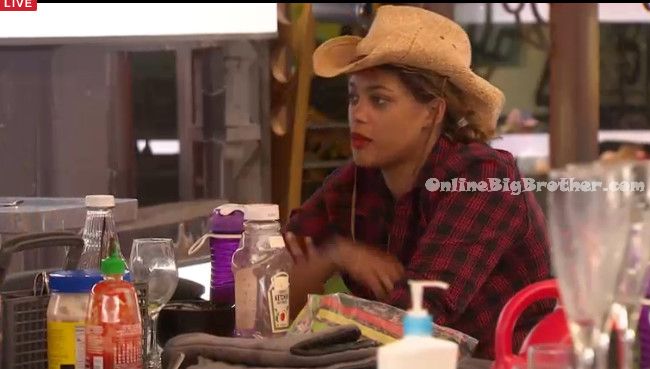 ALLIANCES IN THE HOUSE
Week One there's a lot of Alliance but we've tried to make sense of it all.. Read our alliance help guide
[polldaddy poll=8797487]
[polldaddy poll=8794961]