POV Holder:
Sarah
Next POV
May 15th
POV Used
Yes
POV Ceremony
May 10th
HOH Winner
Ashleigh
Next HOH
May 13th
Nominations:
Sarah Brittnee & Godfrey
Have Nots
Canada voted for: Sarah & Brittnee (They will compete for the Secret Power)
POV Players
VETO PLAYERS PICKED: ASH, Sarah, Godfrey, Zach, Brittnee, Bruno
HOST is Pili
Brittnee won the Have Not Power
Q) After the secret power is used, who picks the replacement nominee(s)? A) The secret power holder, not the HOH
Q) Does the secret power holder vote? A) Yes, as long as they are not a still nominee after making the switch(es)
Q) Can this week's HOH play in the next HOH comp? A) No, as per usual
Q) Does the secret power HAVE to be used? A) Yes, on one OR two nominees
Q) Who is SAFE from the block when secret power is used? A) HOH and regular POV holder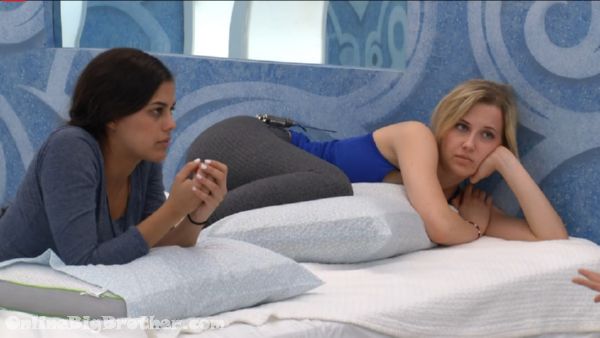 7:17pm Ash, Pili and Sarah
Sarah trying to convince them to keep Brittnee.. Sarah says it'll be the four of them loyal to the end. ASh says it makes sense to for them to keep Britt.
Bruno Zach crash the party "WUD UP"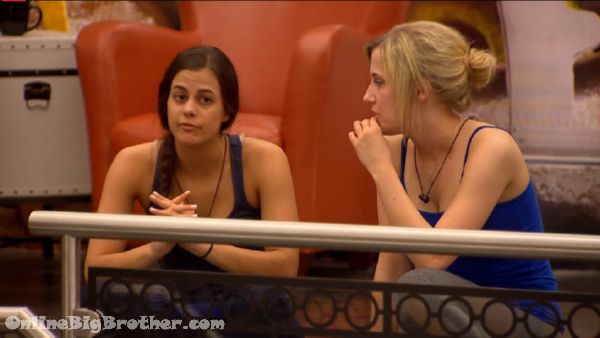 7:28pm Pili and Ash
ASh says if they are beside Brittnee in the end they'll have a hard time winning but Godfrey they'll win for sure he's a joke
Pili wants to get rid of Godfrey but Ashleigh wants to keep him says all he's doing is sitting there. Ashleigh warns Pili that Sarah is good at talking she's getting in Pili's head.
Pili – she has good points
Ash reminds her Sarah wanted them out of the game.
Ash – she took out Graig she was the head of the triple eviction.
Pili – taking Godfrey out this week then Bruno next week it's us and Zach against those two.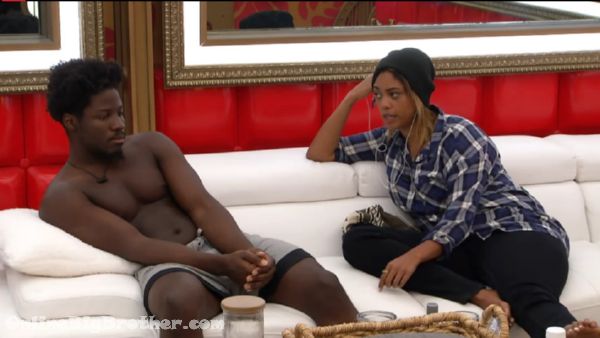 7:33pm HOH Godfrey and Brittnee
Brittnee is pointing out how close Bruno and Zach have gotten. feeds block for a bit when they come back.
Brittnee calls Bobby a sheep.
Godfrey brings up that Bruno was denying the chop shop the longest , "He holds a lot of secrets"
Brittnee points out there's three chop shop members left in the house, "They still have some loyalty"
brittnee says she's going home this week. Godfrey knows if he's left he'll be the next target of the house. He thinks Sarah will weasel herself back in and Godfrey will be the sent out.
Brittnee says she knows Godfrey hasn't made many big moves. Godfrey corrects her says he hasn't made any big moves other than winning that one POV.
Brittnee – you have a better chance with the girls than Bruno
God – I don't know what Bruno is going to do man
Britt – he's loyal with Zach and ASh.. he's tryign to go to the final 2 with maybe Zach or maybe Ashleigh.
Britt wonders if Zach and Bruno are related.
God is puzzled how Bruno and Zach got so close so fast.
Godfrey says he was in the room with pili making beds and she didn't say anythign to him. Adds that th entire house ignores him when it comes to came talk.
Brittnee – Zach first then Bruno.. even if Bruno is running it he still needs Zach to be close to those girls.. Zach is the glue between Ashleigh and Bruno.
Brittnee now says that Bobby was a smart guy and maybe he got too smart and that is why Bruno got him out.
Godfrey – I don't throw comps yo
Brittnee – Ash is blinded by puppy love
Brittnee's boot order is Zach, Bruno, AShleigh
Bruno and Zach join them say they are locked out of teh main bedroom.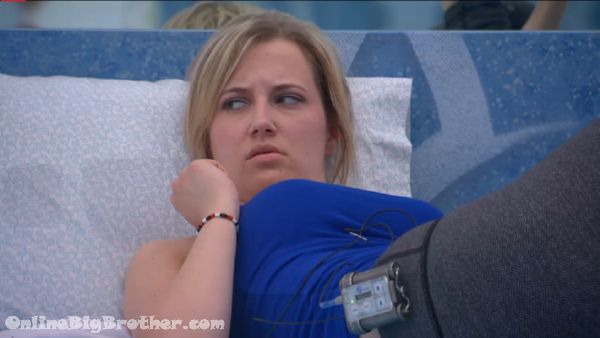 7:53pm Bedroom Sarah, peepee and Ash
Scheming.. Ashleigh listing off reasons to vote out Brittnee because she's done a lot in the game and will have a lot of Jury votes. Sarah counters says two weeks ago Brittnee was the best pawn in the house because she did nothing.
Sarah is listing off the reasons why Godfrey is dangerous and will have a lot of jury votes. She downplays everything Brittnee has done.
Sarah says Bruno and Godfrey were the two biggest people wanting to go after the showmances.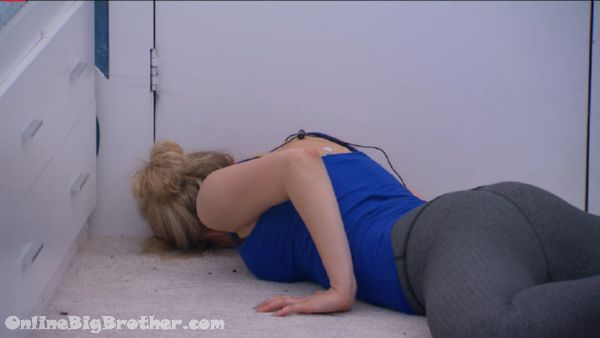 8:03pm Big Brother locks Sarah, Pili and Ash alone in the bedroom so Sarah can campaign to get Godfrey out and keep Brittnee.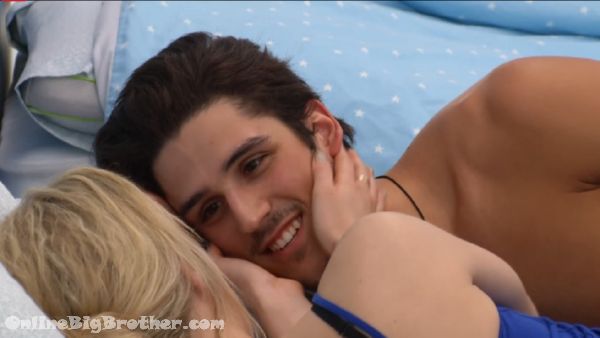 8:23pm ASh, peepee and Zach
Ash tells him they just had a long conversation with Sarah she was campaigning.
Zach – oh my god
ASh – Godfrey staying how does that benefit you…
Zach – nothing
Ash – Sarah said she will never ever put me on the block.. she would put up you and bruno
Zach – she literally just had a conversation with Bruno today and said the moment he put the veto aroudn Zach's neck he gave Zach and Ashleigh 100 grand.. we have to come together and break them up.. you cannot listen to the things she's saying to you..
Zach explains how Sarah will put Zach and Ashleigh up to get Zach out. Zach says once godfrey is gone in this game They know Bruno has nobody in this game. Sarah and Brittnee will target the three of them.
Ash – if Sarah wins potentially bruno goes home.
Zach – no matter what you guys are safe next week.. if Bruno wins h'll put up Sarah and Godfrey.. no matter we're ll safe next week
Ash – true
Pili – ya
Zach runs through the math explains to them how dangerous it is with Sarah/Brittnee left in the game and Godfrey gone. Points out Sarah will never put Brittnee up.. by default we go up
Zach – why is she still campaigning B is not.. don't let her lie to you..
Zach reminds them how they told the couples they were safe right before the triple. Once Brittnee won the power she put three of them up.
Zach – Godfrey is not coming after you girls
ASh – he's not
Pili – ya
The girls laugh at how Sarah almost convinced them to keep brittnee this week. Both girls comment how convincing Sarah is.
Zach tells them next week he'll send Godfrey home, Bruno and Sarah can T-off.
Peepee chimes in says bruno is dangerous she doesn't trust him not even 1%. Adds that bruno will take Godfrey to the end, "I want to strike at him before he strikes at us"
Zach reminds them that keeping Godfrey doesn't "Super" help Bruno at all he's not doing anything but Keeping Brittnee makes Sarah a super player.
ASh – I would rather deal with an angry Sarah over a angry Bruno for comps
Pili – yeah you're right
8:50pm Bedroom the Diapers
The girls are back pro Diapers.
If you enjoyed this site's content please consider a donation or checking out our How to support OnlineBigBrother.com page. Any help is appreciated, this site is only here because of your support.
[polldaddy poll=8849979]