POV Holder:
Sarah
Next POV
May 15th
POV Used
Yes
POV Ceremony
May 10th
HOH Winner
Ashleigh
Next HOH
May 13th
Nominations:
Sarah Brittnee & Godfrey
Have Nots
Canada voted for: Sarah & Brittnee (They will compete for the Secret Power)
POV Players
VETO PLAYERS PICKED: ASH, Sarah, Godfrey, Zach, Brittnee, Bruno
HOST is Pili
Brittnee alone in the Storage room "Zach's gotta go"

9:02pm HOH Sarah and Brittnee
9:15pm Bruno and Godfrey
Bruno – if we win tomorrow bud i gotta keep you safe
Godfrey – if I win i gotta play it save i'll put up Sarah and ASh.. if he wins veto he still believes we're tight.
Bruno – we're f*** they have two votes bud they win.. Zach wins Veto pulls Ash off they vote out Sarah.. bro
Godfrey – you're right bro
Bruno thinks if the house see Zach on the block they'll vote him out, everyone other than Ashleigh.
Bruno – I win HOH you don't seat.. that's not just words I mean it
Godfrey – back at ya
Camera cuts to the Goblins in the storage room.. Talking about Zach making a lot of sense. Ashleigh points out the difference between Sarah and Zach is Sarah give them what ifs and Zach gives them facts.
Ash says if Brittnee wins Veto she'll put up her and Zach if Veto is played Pili goes up.
Pil – and then we're done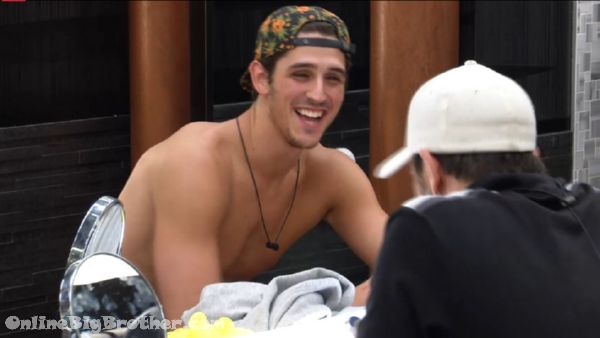 9:42pm Zach and Bruno
Zach gives Bruno a debrief of Sarah spreading poison saying Zasch and Bruno are related.
Zach adds that Sarah is telling everyone that they put 'Final two' on their selfie pic on twitter (Pictures earlier today they got to tweet)
Zach warns if he's not here AShleigh and Pili will buy everything Sarah says.
Bruno – how can they buy that"
They comment how hard Sarah is fighting to keep brittnee
Bruno – the worst thing is B is sitting their listening to music.. can you imagine if Sarah is on the block
Zach – I know
Zach says he has to stick beside ASh and pili all night now to make sure Sarah doesn't fill their heads again.
They start joking around they are father and Son. Bruno had Zach when he was 9.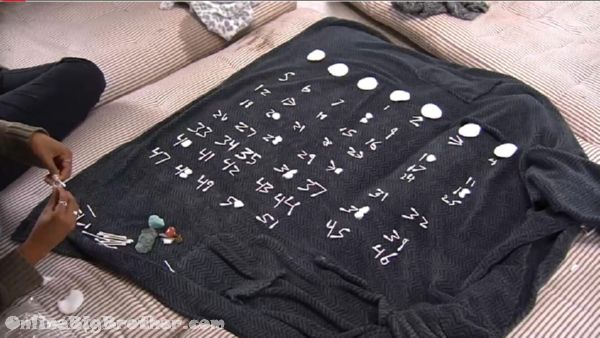 9:47pm Have nots Studying.
Before they start studying brittnee says alone 'i can't wait to see th looks on their faces tomorrow"
Brittnee starts to cry through the study session. She never thought BB was going to be so hard.
Brittnee says she's had it so hard compared to the other players. Brittnee adds she's always made big moves in the game. Sarah says that is why they are meant to play together because she's not afraid to make big moves.
Brittnee says she's up against professional athletes and super fans.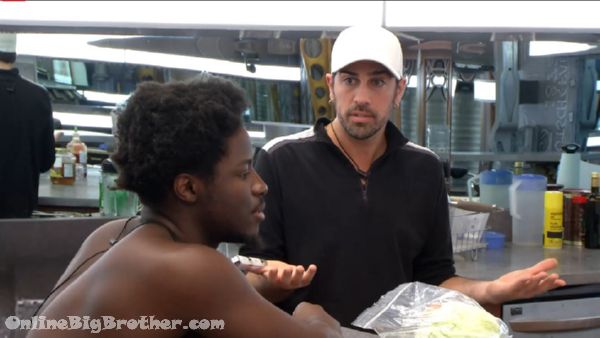 10:08pm Black and Bru kitchen
Talking about how dangerous Sarah is. They agree once Zach goes home she'll be coming after them. Bruno -I'm telling you now if I win HOH i'm putting her up I have to..
Bruno adds that Sarah is telling pili and Ash she's putting him up next week.
bruno – I'm telling you I wasn't going for her… When B leaves she's going to run to pili and Asheligh and attach to them.
Bruno is starting to think they should take Sarah out before Zach just because of all the lies she's spreading. Godfrey thinks they should just wait and see, "Who can we beat in a challenge.. Zach, pili or Sarah"
Bruno – I tell you straight up I 100% trust Zach
Godfrey agrees says he's starting to feel the same way.
Godfrey would rather send ASh home over Zach.
Godfrey thinks he has a better chance in a comp against Zach then Peels. If they give them a crazy endurance challenge Pili will beat him.
Godfrey points Asheligh is the glue between Zach, ASh, and Pili. If ASh goes Pili and Zach are done.
Godfrey – Right now bro I honestly think ASh yo .. I know it's a crazy thought.. she's the glue
bruno – I just need Sarah gone man.
Godfrey is thinking AShleigh going out is the most beneficial for them. Bruno doesn't think he can handle being in the house for so long.
Godfrey tells him that Sarah has screwed up their relationship with all the things she's said.
Godfrey – She's super scary bro.. If she (ASH) goes it falls apart.. The only one that isn't dangerous is PEELS yo
Bruno thinks that is what makes her dangerous
They agree all their plans will probably have to change because the chances of Veto being played are high.
Bruno – I don't want to think too far ahead

10:13pm The Diapers in the HOH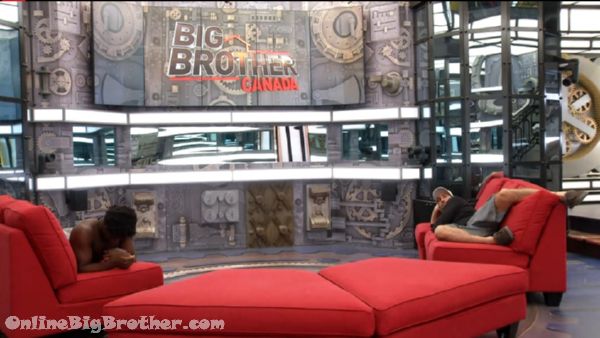 10:47pm Godfrey and Bruno saying it's better for their game if Sarah stays
Bruno – the key we get Ashleigh out.. that's the key
AShleigh comes down for a moment they comment on how Brittnee hasn't been doing anything and Sarah is working overtime to save her.
Ash – very weird yo thin kit would be the other way.
After ASh leaves they agree the only thing that makes Zach dangerous is he's with pili and Ash.
Godfrey – without those two girls he's only a man
If you enjoyed this site's content please consider a donation or checking out our How to support OnlineBigBrother.com page. Any help is appreciated, this site is only here because of your support.
[polldaddy poll=8849979]