POV Holder:
Sarah
Next POV
May 15th
POV Used
Yes
POV Ceremony
May 10th
HOH Winner
Ashleigh
Next HOH
May 13th
Nominations:
Sarah Brittnee & Godfrey
Have Nots
Canada voted for: Sarah & Brittnee (They will compete for the Secret Power)
POV Players
VETO PLAYERS PICKED: ASH, Sarah, Godfrey, Zach, Brittnee, Bruno
HOST is Pili
Brittnee won the Have Not Power
Q) After the secret power is used, who picks the replacement nominee(s)? A) The secret power holder, not the HOH
Q) Does the secret power holder vote? A) Yes, as long as they are not a still nominee after making the switch(es)
Q) Can this week's HOH play in the next HOH comp? A) No, as per usual
Q) Does the secret power HAVE to be used? A) Yes, on one OR two nominees
Q) Who is SAFE from the block when secret power is used? A) HOH and regular POV holder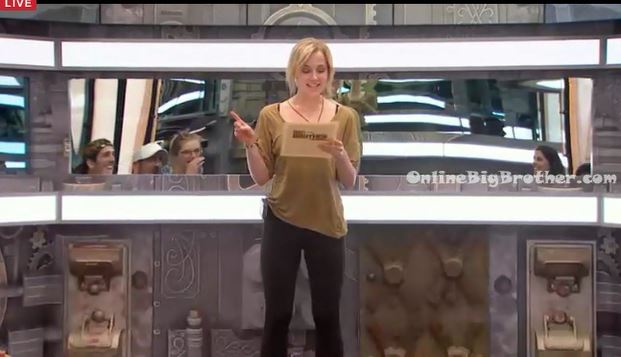 4:10pm When the feeds return – Ashleigh is standing in the living room reading a task to the other house guests.

Ashleigh reads the card:
"SEVEN SANDWICH SPECTACULAR! The rules: The object of today's task is simple! Make the most lip smacking, mouth watering sandwich the big brother Canada house has ever seen. Since there are only 7 of you remaining you must only use 7 ingredients to make your sandwich. You'll be split up into 3 teams for this task. Team 1 – Godfrey and Bruno! Team 2 – Zach and Pilar! Team havenot – Sarah and Brittnee! As HOH I will judge the sandwich based on 3 criteria – Taste! Presentation! and Originality! Each team will have 15 minutes to make their sandwich and please be sure to give your creation a name."
Godfrey and Bruno are up first. They start creating their sandwich. Godfrey puts lots of hot sauce on the bread. He then goes into the storage room and asks himself what's the most disgusting thing I can find? They put froot loops on the sandwich. Big Brother blocks the feeds again! When the feeds return – Ash is eating their sandwich. After they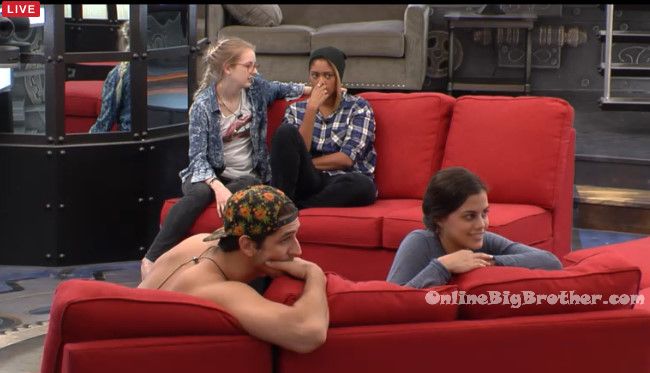 4:40pm Pilar and Zach are up next making their sandwich. They build their sandwich. Pili asks whats the name of it? Zach says "The General." They bring it over to Ashleigh to judge it. "That's really good! The bacon, the pickles work really well together!" "It tastes like.. Good!"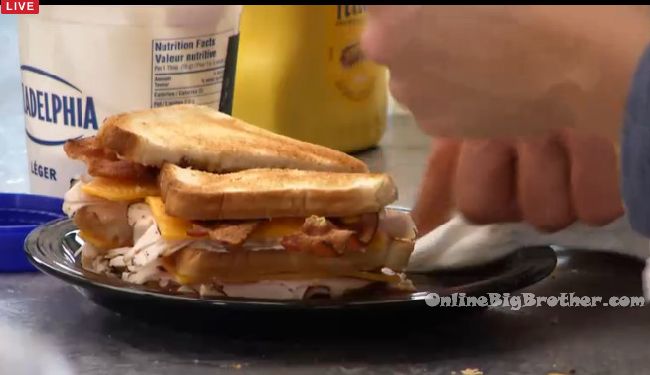 4:55pm 5:10pm The feeds return to Brittnee and Sarah running into the kitchen to make their sandwich. Sarah tells Brittnee I need you to cut the bread. Everyone knows I'm horrible at it. Ash says "the only thing she cuts is the cheese!!" Sarah says "I'm cutting this pear thinner than Graig likes his potato. This pear is thinner than Zach's beard after 3 weeks of growth." They finish up their sandwich and present it to Ash. Sarah says "May I present to you the woodworker club!" Ash tries it and says "HOLY Mosseies!!"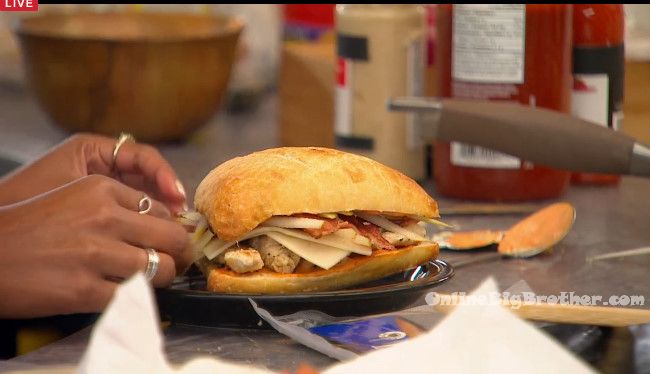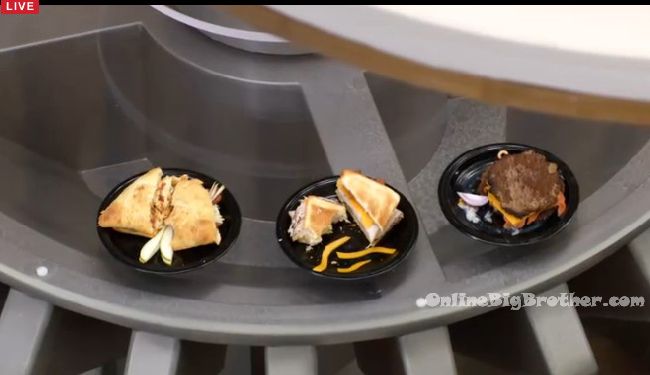 5:15pm – 5:25pmThe feeds come back to all the house guests in the living room with Ash up at the front to announce the winning team. The camera pans over the three sandwiches. Ash asks can I start whenever.. Big Brother blocks the feeds. Feeds return to Ashleigh judging the sandwiches. The winner is team havenot – Sarah & Brittnee! Sarah and Britt jump up and do a dance. Big Brother blocks the feeds. The feeds come back and Ash announces the reward for winning the challenge. She tells Sarah and Britt they're allowed to go into the kitchen and make any sandwich they want and eat it.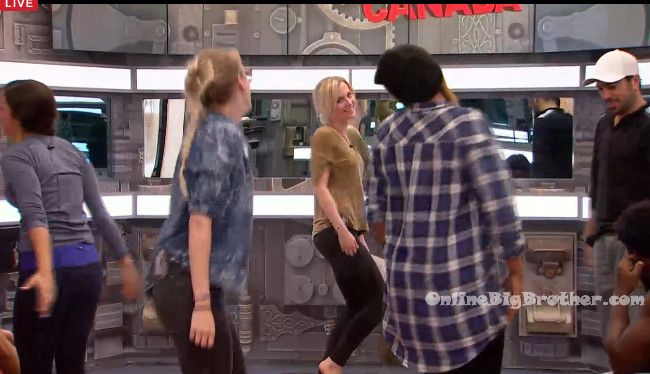 5:30pm The feeds come back to Sarah and Brittnee making their reward sandwiches. Sarah picks up a large piece of focaccia and asks if she could make it out of that and then snack on it all day.
5:50pm In the storage room – Bruno and Zach talk about winning back to back HOH's and the last veto.
6pm – 6:20pm In the bedroom – Bruno asks Pili have you told her (Britt) yet? Pili says no. Have you told her? Bruno says no. Pili says It's been a great day, I don't want to ruin it. Bruno and Zach head into the bathroom. Bruno says I would be so pissed if they won. Zach agrees. It would be such a slap in the face to the season if they won.
In the kitchen – Britt and Sarah finish their sandwiches. Sarah calls hers "The Prime Minister". They head into the storage room. Sarah tells Brittnee that Zach and Bruno are either related or working together. She says when they were doing the twitter camera Bruno and Zach took a photo together and Zach was writing something .. when I came over he took it back. Britt says she thinks Zach expected her (Ash) to pick him for this (winner of the task). Sarah says it was set up for this (us to win).

6:15pm – 6:30pm UP in the HOH room –
Pili talks to Ash about whether or not its the right decision to vote out Britt or not.
6:30pm Big Brother blocks the feeds.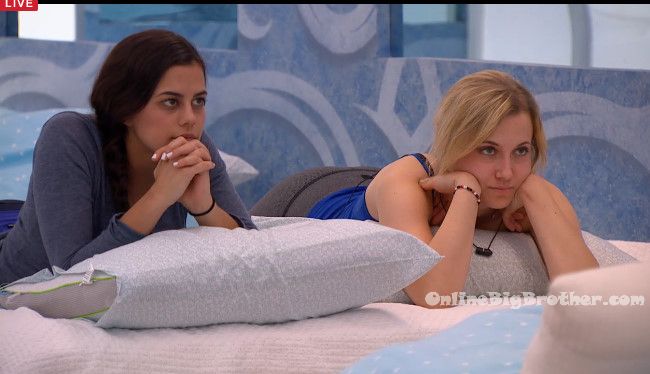 6:50pm – 7:18pm
The live feeds return – Pili, Sarah and Ashleigh are in the bedroom. Zach joins them and then leaves. Sarah says I think there's a reason why they won't leave us alone. How does it make sense that everybody wants the same person out. Bruno said specifically that he is coming after the girls. There is no way if God or Bruno win they aren't putting up two girls. Ash says Godfrey has gone and run his mouth to everyone. Godfrey is throwing comps he is not going to win next week. Sarah says you cannot trust Godfrey and Bruno together. Pili says that Brittnee wants to get out big threats like Zach. Sarah tells them that Bruno is trying to drive a wedge between us. Sarah says I really think the four of us staying strong would be beneficial. Sarah says if they vote for her to go and we vote for her to stay I really really hope you would vote to tie break it. Godfrey joins them and the conversation stops till he leaves. Sarah explains the triple eviction and how Brittnee wasn't after them she was trying to break up the couples ..the four. Ash asks Sarah if you won HOH next week would you put up Zach and I? Sarah says never! I would put up Bruno and Zach. I don't want to risk one of us going home .. that way one of them stays up for sure. If I wasn't HOH I would volunteer to go up because that's how much I trust you guys. If Bruno and Zach are up there and Bruno wins the veto …wouldn't you want to be the person that wouldn't have to vote out Zach? Pili says yeah that's true because I wouldn't want to vote you (Ash) out. Sarah says I've been having conversations (Diary Room) that lead me to believe its them against us.
If you enjoyed this site's content please consider a donation or checking out our How to support OnlineBigBrother.com page. Any help is appreciated, this site is only here because of your support.
[polldaddy poll=8849979]