POV Holder:
Johnny
Next POV
?
POV Used
Yes
POV Ceremony
April 12
HOH Winner
Brittnee
Next HOH
April 8th
Nominations:
Kevin Bobby and Graig
Have Nots
Ashleigh, Bobby, Zach, and Kevin
POV Players
?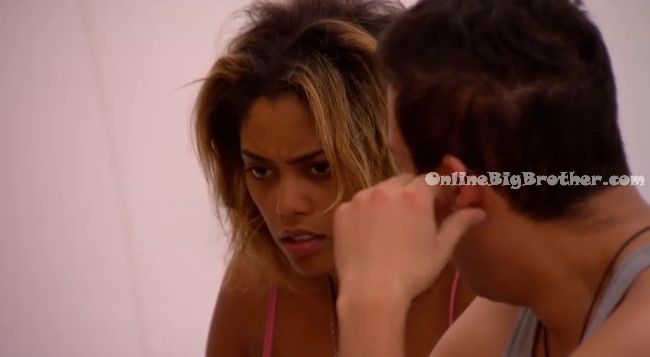 9am – 10am Big Brother blocks the live feeds to wake up the house guests. Up in the HOH room Johnny is talking to Brittnee and giving her new batteries. Johnny says that he tossed and turned all night. Britt says that up in the HOH room she had the best nights sleep she's ever had. Johnny says that's what Sarah said too. Johnny heads downstairs and says he could literally cry because there's no coffee. Sarah and Johnny comment on how the backyard is locked. Sarah complains that its been almost 20 days since the sheets have been washed. Sarah says I don't even go that long at home and I'm a disgusting person. They talk about the backyard being locked and Sarah says Easter Monday? (Last season they had a Easter egg hunt on the Monday.)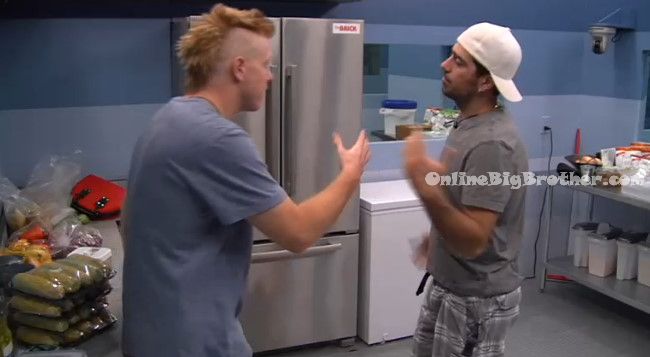 9:30am In the pantry – Bruno and Graig are talking. Bruno says that he was talking to others about needing to keep Graig. I am putting my neck out there for you and if you stay I hope you do the same for me too. Graig says F**K of course I will! Graig says I just want to go down with a fight. I am just going to stay low for the day. Graig says I know JP and God want me to stay, like seriously. We can pull this off! Bruno agrees. Its a tough one though. It's tough when its two of our guys. Graig says I know.
9:45am Out in the hot tub – Bobby and Bruno are talking. They agree its hard being two of the chop shop members on the block. Bobby and Bruno fist bump for final 2 deal. Bruno says its going to be unanimous. Bobby says he thinks the chop shop is all loyal. Bruno asks do you trust Willow still? Bobby says yeah. Bruno questions if she is with them. Bobby thinks she is. Bobby says in his speech he's going to say he's not going to win HOH any more till final 3. I'm not winning HOH, I'm not winning anything. I just want to lay low. I want to make it sound like I don't want to win HOH even though I really want it so bad. Bruno says if he wins HOH he would put up Johnny and Sarah. Bobby says he doesn't want to take a stab at Kevin but Pili needs to go so bad. Bobby says hasn't really thought it through but would maybe put up Pili and Kevin together. Bruno says with putting up Johnny and Sarah.. one of them is going. Bobby says he's not that scared of Sarah. Bruno says Sarah is poison. Willow joins them. Bobby asks her how tight she is with Zach. She says she's tight with him. They agree one of them needs to win HOH this week. Bobby says that Graig has thrown my name under the bus. Bruno says to me he hasn't but I'm sure he has to others.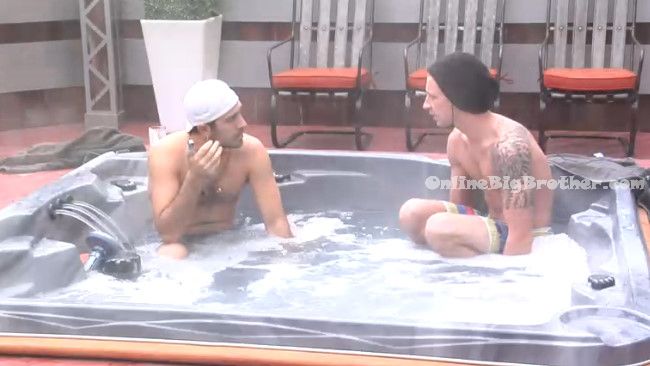 Up in the bathroom – Bruno talks to Zach. He says if Bobby is here he is a beast in competitions and can win stuff. If Graig is here he is target number one. It's a tough one. We need to sit down and talk it out. In the kitchen – Willow says she would take $100 over seeing her family for an hour. Jordan thinks that's crazy. Willow says I have nothing. $100 is a lot to me. Godfrey agrees and says he can see his family any time. Jordan says he would do slop Chicken George style to see his family (Taking slop for the rest of the season).

10:25am Out in the backyard – Zach asks Jordan if the live feeds can see in the havenot room. Jordan says yeah. Zach asks how well they can see. Jordan says really well in the day and there's inferred at night. Jordan asks what did you do? Jordan asks did she give you s*xu@l favors? Zach says I couldn't really control myself last night. Johnny joins them. Jordan tells him that Zach pulled a Godfrey. Jordan talks about how other house guests have had s*x in previous seasons under the covers. Jordan says that Emmett and Jillan had s*x. He questions how Jillian is still a teacher after doing that. He says Brendan and Rachel / April and Ollie also had s*x on the feeds.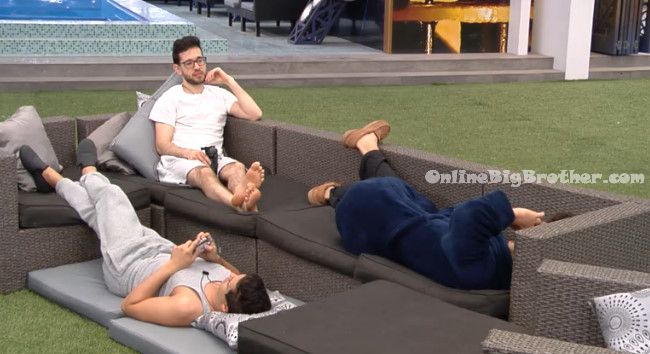 10:40am – 10:55am Out in the backyard – Pilar and Willow start running laps around the yard. Up in the HOH room Sarah is alone laying on the couch. Jordan, Ash, Britt, Zach, Bruno, Bobby, Godfrey and Kevin are hanging out in the backyard talking about marriage and other random conversations.
11am Big Brother tells the house guests the backyard is off limits. As the house guests head inside they hope they'll be getting an Easter egg hunt. Kevin heads into the havenot room and investigates the havenot floor tiles. Big Brother tells him to "Stop That!"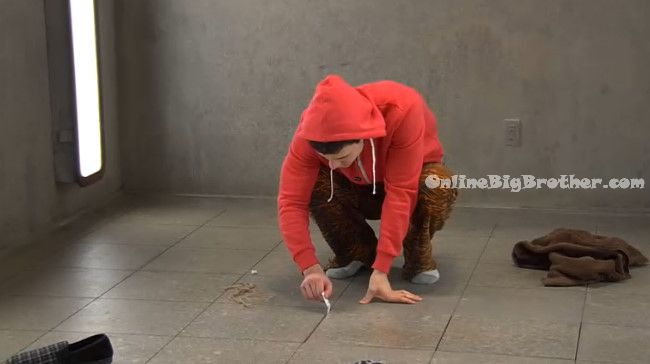 11:30am – 12pm In the pantry – Bruno and Zach are talking. Bruno and Zach agree its going to be a hard decision. Bruno says he hopes after they (Chop Shop) can all stay loyal. I am loyal to a fault. We definitely need to all sit down and talk about it. They end the conversation and leave the room. In the living room – Godfrey talks about being an extra in commercials and other things. He says one time he was in the mall and a guy got him to come out to the parking lot and offered him up to $1000 a scene to do p*rn. Godfrey says he said he wasn't interested. He says they told him they could blur out his face. Big Brother blocks the feeds. When the feeds return the house guests are sitting around talking about the modeling world.
12pm – 12:40pm In the kitchen – Ash is watching her savoury (BBQ) and sweet (Maple syrup) slop creations cook. Godfrey comes through and tells her in the next havenot comp he'll throw it if they're on opposite teams so she isn't on slop again. Ash says that other people that haven't been on slop should be it next. The house guests joke about Big Brother giving them clothes. Godfrey says he needs running shoes and tanks. He heads into the diary room and requests them. When he comes out Willow tells Godfrey they're not giving us clothes they're taking them away. Bobby runs up stairs and throws some of his tank tops off the balcony for Godfrey. Godfrey thanks him.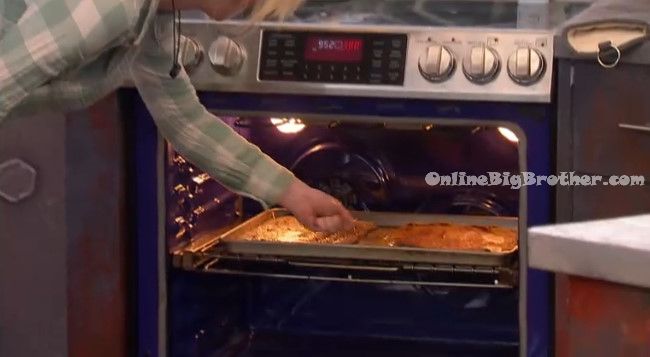 12:50pm Jordan and Graig are talking under the stairs. They comment on how it was nice of Bobby to give Godfrey tank tops. To Bobby its nothing but to Godfrey its everything. The conversation turns to talking about how the house guests on the US version are allowed to sleep any time of the day. In the living room – Bruno is talking about buying storage lockers.
1pm Big Brother blocks the feeds.
2:15pm The feeds are still blocked.
ALLIANCES IN THE HOUSE
Week One there's a lot of Alliance but we've tried to make sense of it all.. Read our alliance help guide (Keep in mind the feeds have been down for a good while so things will most likely have changed)