POV Holder:
PAulie
POV Competition
July 30th
POV Used
Yes
POV Ceremony
Aug 1st
HOH
Paul
Next HOH
Aug 4th
Original Nominations:
Bridgette AND Paulie
After POV Nominations:
Bridgette AND Da'Vonne
Have Nots
Natalie, Paulie, Corey, Zakiyah
CBS All Access: Live feeds are only $5.99 per month – Try it FREE for 1 WEEK!
(Nothing much happened this morning… actually nothing at all happened. )

8:20am Paulie and Corey Cam 3-4
Corey says he guarantees if Bridgette wins the HOH they will have an influence on her, "She just wants people to like her.. At that point she'll be like what do I have to do for people to like me"
Paulie thinks they can sell it to Michelle and Z that keeping Bridgette is the better play.
Corey and Paulie agreeing Bridgette hasn't done anything wrong. Paulie mentions even Paul said things about him, "whatever bro"
Paulie – Da hasn't said anything to me.. You going to get upset cause we're not putting someone up that you want up. I'm sorry you want someone up you win HOH..
Paulie says they shut the backyard down at 6 they're must be a massive HOH in the works.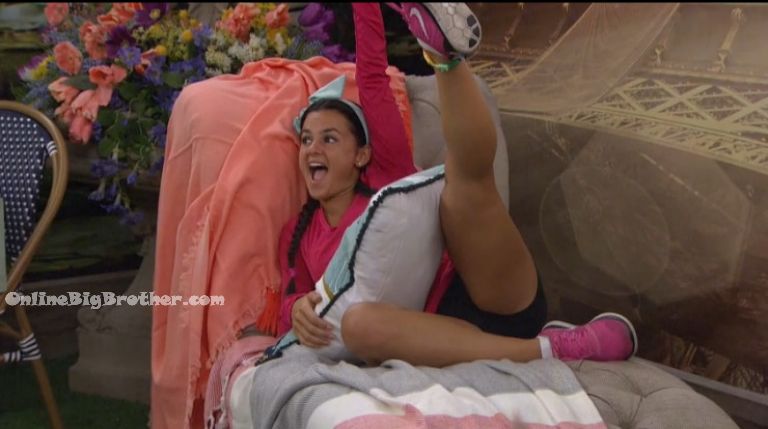 12:37pm HOH pictures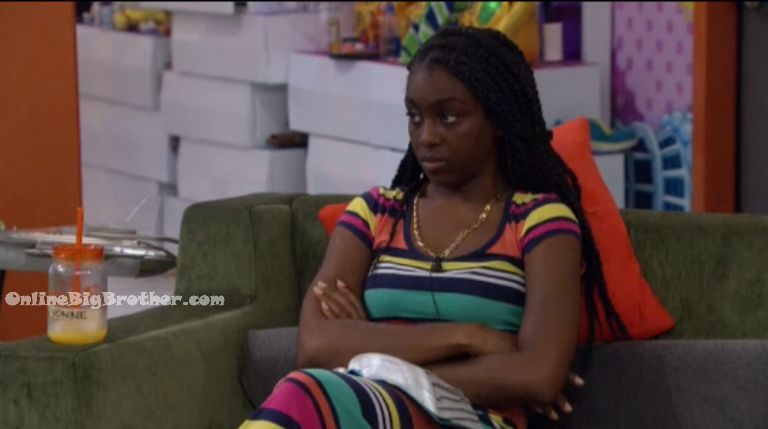 1:34pm Da'Vonne not looking too happy.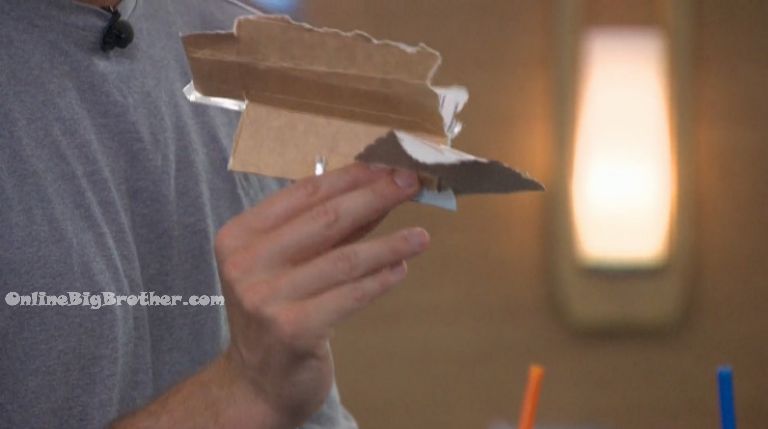 2:01pm Corey and Victor building paper airplanes..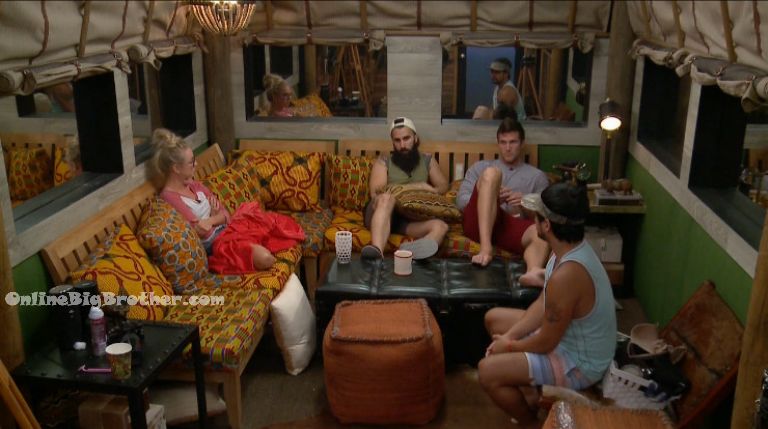 2:37pm Safari James, Corey, Paul and Nicole
James is saying there will be a double coming up.
James starts saying it's not safe keeping Bridgette around. Paul says that was his goal but there's too much information out there right now they have to get DA'Vonne out but the following week they have to get Bridgette out. James says if they keep Da all their a$$es are up on the block if she wins.
Nicole – we got it so it's not a tie
Paul – us 4 plus Vic that's 5
Nicole – James you 100%
James just doesn't want Da'Vonne to go home without some votes..
They tell him Michelle and Zakiyah are locked to keep Da.
Nicoe – She's going to be pissed off.. she already hates me..
Paul doesn't want that happening he really doesn't want to break the tie.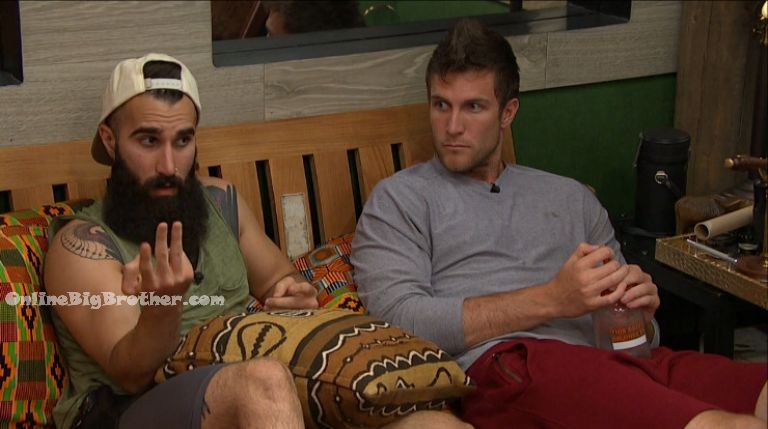 Paul – it's going to be 6 – 2
James says Natalie won't vote against James.
Nicole – I asked Nat yesterday and she said she'll do whatever you do
James – that's my girl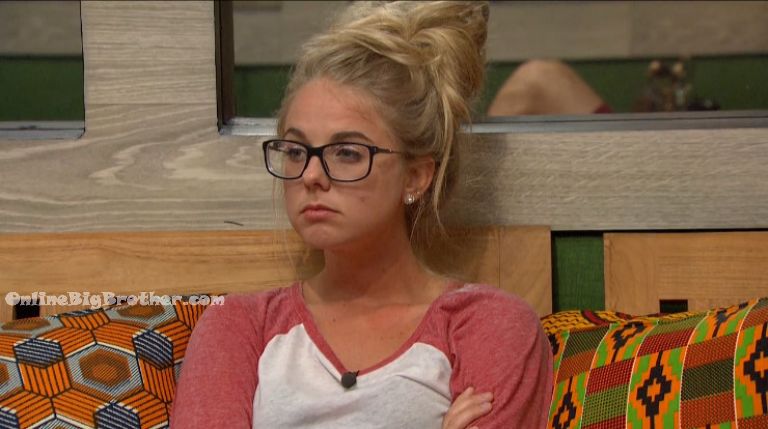 Paul leaves..
Nicole to James – you OK with getting Da out
James – ya
Nicole – I know you guys are close
James- on a personally level not a game level..
Nicole – is this going to be a blindside.. are we blindsiding Z and Michelle too
Paul comes back says they are blindsiding Da'Vonne, Zakiyah and Mcihelle.
Corey – PAulie wants to tell Michelle
Nicole – she'll cry.. she cries when she doesn't get her way
Paul – Paulie is making it very loud and clear that it's him..
JAmes thinks Paulie is telling Michelle "100%"
Nicole – I think it needs to be a secret.. She explains the same thing happened to her during her season and it was 3 of them that were blindsided.. Those 3 were the first 3 to get out on the HOH because they were so frazzled.
Nicole – you better talk to Paulie to make sure he doesn't tell Michelle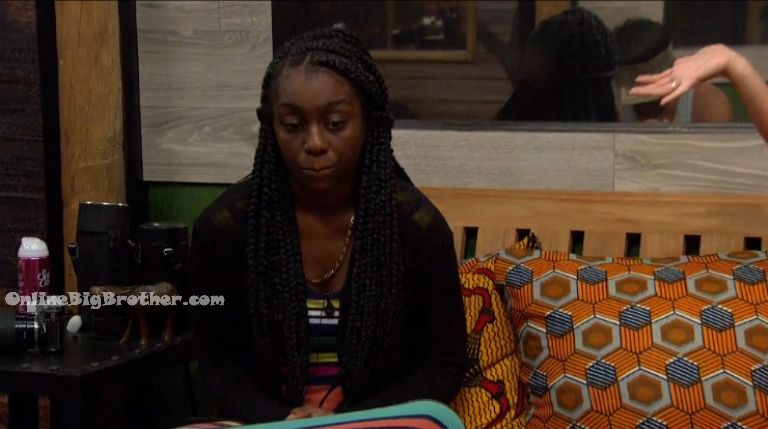 Da Comes in… they start talking about the double eviction. Paul says it's guaranteed because they are in lockdown.
Paul says they are trying to figure out what to do with the upcoming Double who do they get rid of. He asks her what she thinks.
Da'Vonne asks them what have they come up with.
Everyone quiet……….
James finally says it's "B then V"
Da'Vonne asks shouldn't "B" be evicted before the double?
Awkward silence…. followed by awkward excuses..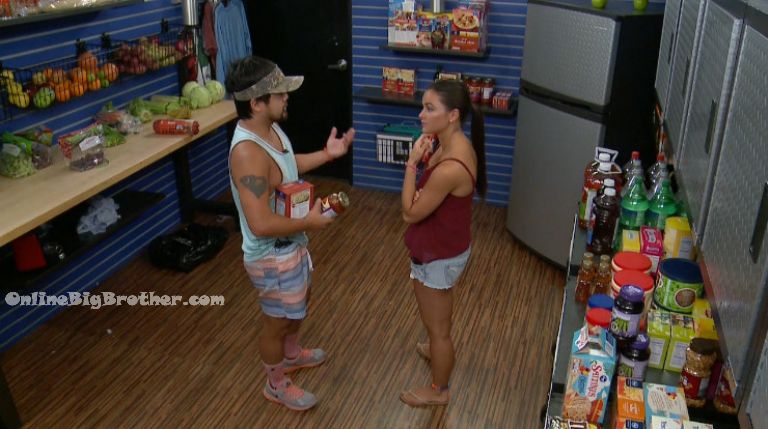 3:12pm Natalie and James in the storage room
Natalie – Nicole is literally trying to throw me under the bus with everything
James- that's why when I win HOH i'm throwing her out.. she doesn't see it coming yet
Natalie – I'm not talking Vic out I'm taking her out..
James – who do you put up next to her to make sure she goes home..
Da'Vonne comes in..
Natalie – I don't do anything to that girl.. I'm always nice .. it's really bothering me
James- I know babe.. don't worry..
Natalie – I already know what I would do.. and I would put someone that would definitely stay.. it would be a little risky for me I don't care.. why does she keep throwing me under the bus like that .. I said I'll do whatever the house does.. are you freaking kidding me..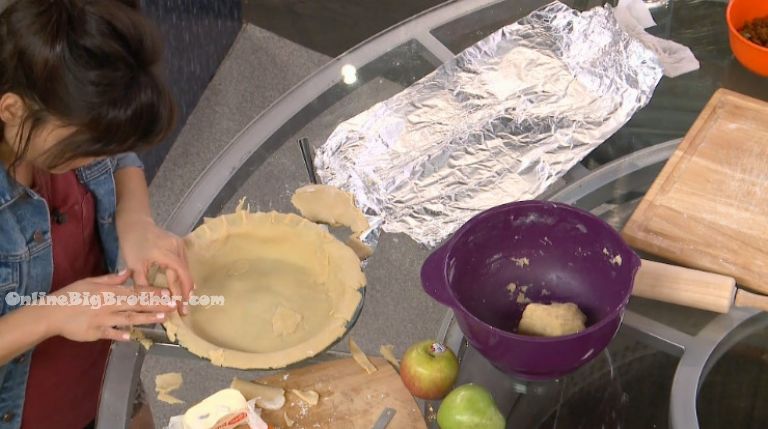 Bridgette is making a freaking pie crust.. from scratch .. (in my house that['s a POWPOW)
Da'Vonne …..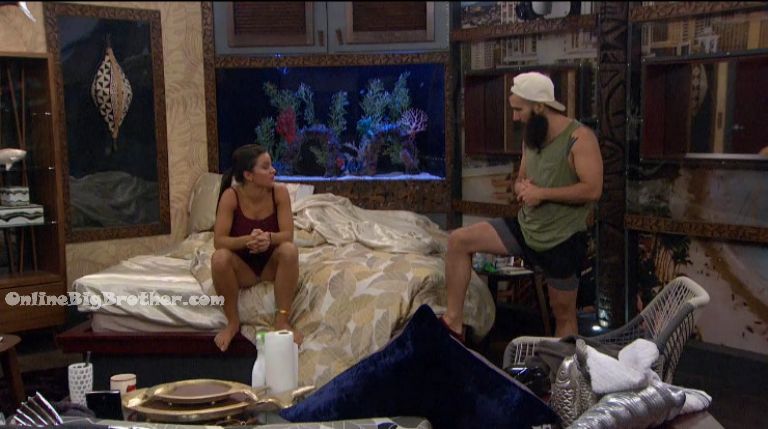 3:30pm HOH Natalie and Paul
Paul – which one feels more right to keep
Natalie – Bridgette
Paul – than keep Bridgette
Natalie asks if she should tell Da
Paul says no
Natalie is claiming that she got the call back for the bachelorette but she decided to pick Big Brother.
Da'Vonne comes in …
They talk about Natalie demeanor in the game.. Natalie says she's just been Bubbly and silly
Natalie – Back home I'm a b@d @ss b1tch.. I'll f**k you up…
Natalie goes on and on about people n the house thinks she's stupid..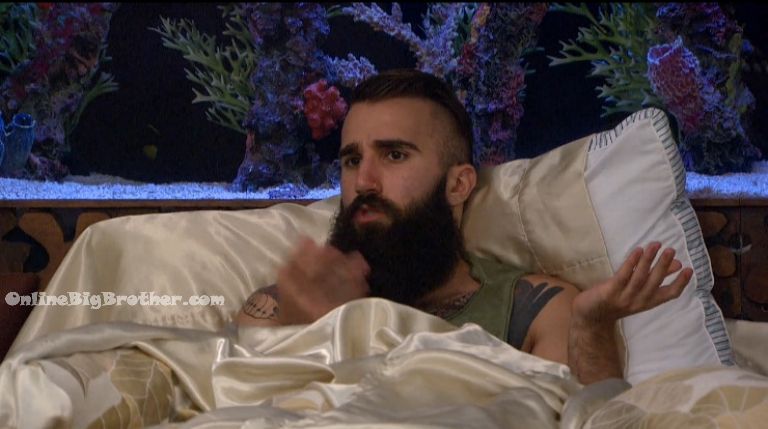 4:01pm Natalie leaves..

Paul – you're boy has become the shrink of the house..
They laugh..
Da'Vonne says she has his back next week
Paul – everyone is telling me that..
Da'Vonne says she's going after "Blonde"
(Paul is just blabbering.. I won't bother transcribing he's filling the air to prevent awkward conversation.. @ 4:25pm Da'Vonne leaves.. )
Paul just talked to Da'Vonne.. #BB18 @DawgsBigBrother pic.twitter.com/501dmntQ4P

— OnlineBigBrother.com (@bigbspoilers) August 2, 2016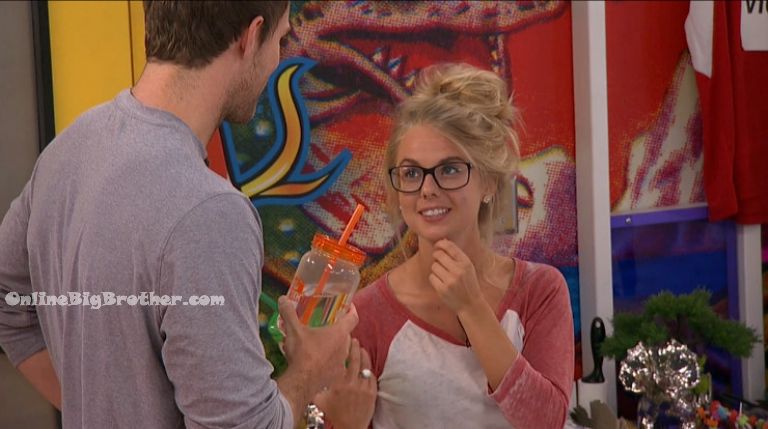 3:43pm Nicole says Da went upstairs…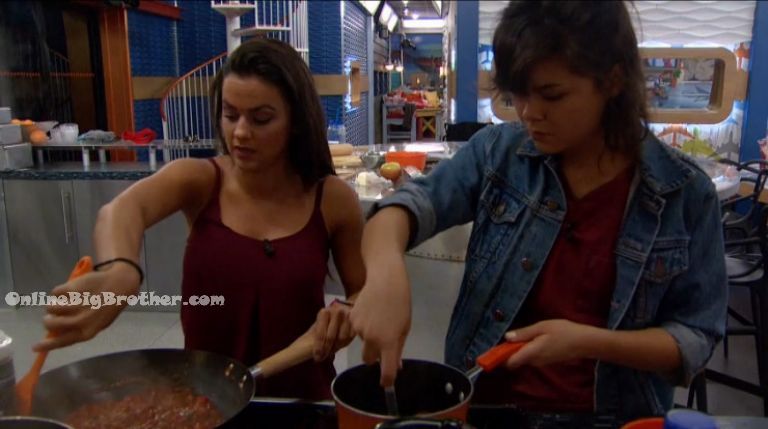 4:12pm Natalie and Bridgette making something that will be delicious.. (PAsta sauce and Apple filling)
Natalie – we can make is far..
Natalie tells her James is cool with her, "He's cool as Frank just know that "
Bridgette – I know it's just hard..
Natalie – I know
Bridgette – I want to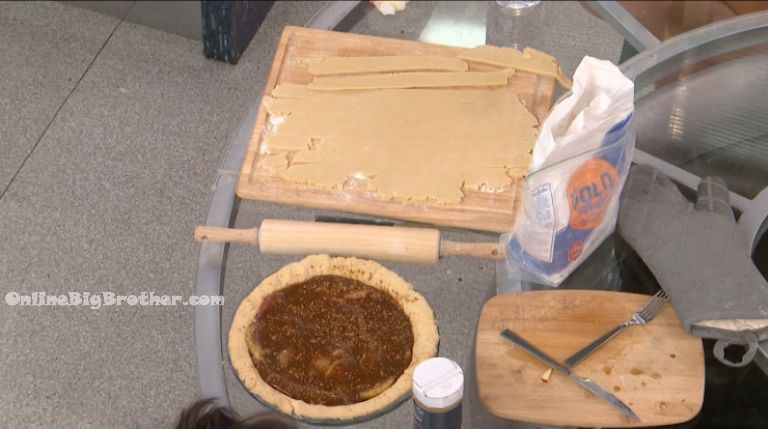 4:30pm this pie…..
4:41pm Bridgette's pie
@BridgetteD_BB18 just made a pie from scratch.. . #BB18 @DawgsBigBrother pic.twitter.com/TqzMxtHzXM

— OnlineBigBrother.com (@bigbspoilers) August 2, 2016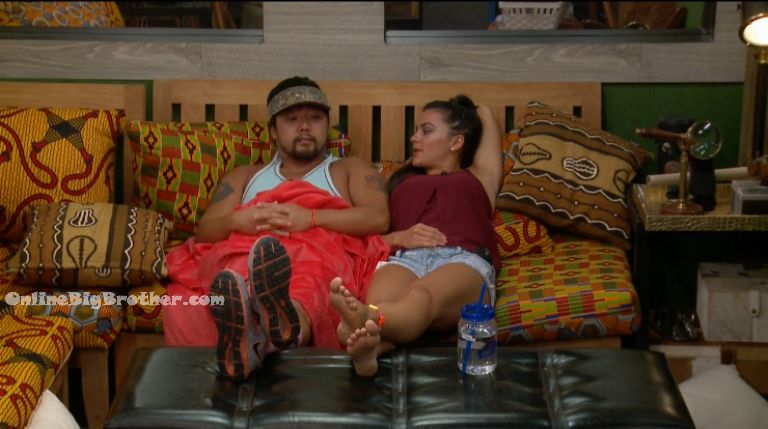 4:55pm
Natalie – we're not fat we're positive.. (AHAHHAHAAH)
[polldaddy poll=9486231]
[polldaddy poll=9485811]
[polldaddy poll=9485817]