POV Holder:
?
POV Competition
July 30th
POV Used
?
POV Ceremony
Aug 1st
HOH
?
Next HOH
Aug 4th

1


Original Nominations:
? AND ?
After POV Nominations:
? AND ?
Have Nots
Natalie, Paulie, Corey, Zakiyah
CBS All Access: Live feeds are only $5.99 per month – Try it FREE for 1 WEEK!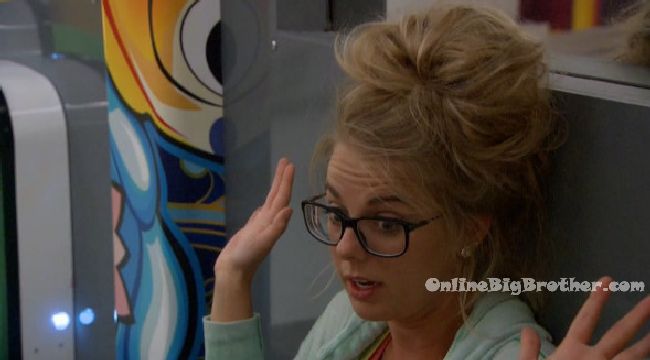 10:45pm Nicole and Corey are talking in the bedroom – Corey asks should I just volunteer? Nicole says no. Paulie or Vic should volunteer because they're good at competitions. I don't want to make Paul mad and act like I can't go up on the block but my rule of thumb is I'm never going to volunteer to go up on the block. I just can't to do it. Corey says if you're up I would make sure I'm Paul's best friend. You're going to have to change your attitude if he does put you up because you have all the votes right now. Nicole says they're going to flip. If I'm up against Da .. she is going to say a bunch of crap. All the girls will flip. Corey says you would have me, Paulie, James, Vic. All you need is 4 votes. That's 4 guys that would keep you safe. You would have 5 with Natalie. Nicole says I don't know why I would be a pawn for Da. Corey says because Da has been saying to put you up. Nicole says oh man. Corey asks does that piss you off? Nicole says I don't want her to be satisfied. …oh yeah my blood is boiling. He did say he wanted to put up someone he trusts and he said he trusts me. Fine I'll put my big brother life in your hands but if I freaking go home… I will tear that jury up and not one person will vote for you!! I just wouldn't want to look like the fool that was okay to be put up and then be the plan to go home. OHHHhh.. man I want da out this week so bad. I want her out more than Frank!! Corey says that Bridgette will do what ever we say. Nicole says I completely trust you, Paulie and James to keep me in the house. I don't really trust Natalie, Z or Michelle that they would keep me over Da. Corey says Vic will vote how we vote. Would you be nervous if I was on the block? Nicole says no, your boys have your back and me .. that's like 5 people. Oh my gosh I can't even believe that I'm considering this. I don't want to agree to that though. I would rather know and be okay with it, than to just see my face pop up. I don't want him to think its okay to put me up. Corey says I could make him feel bad about it, so that he won't put you up. Nicole says they might be trying to secretly break us apart. Corey says no they wouldn't do that.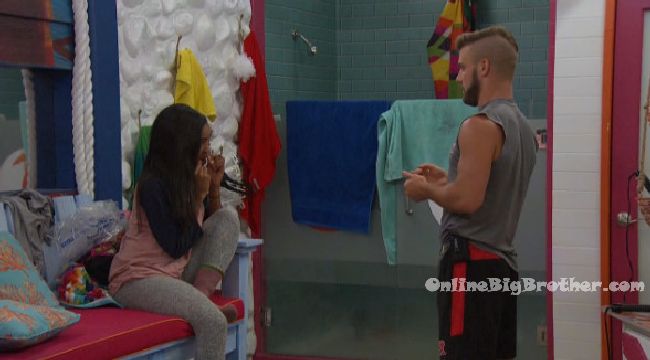 11:05pm In the bathroom – Paulie tells Z that Bridgette is not a threat to you or I because Frank told her the only person she should work with is me and Corey. Z says I'm just trying to put two and two together as to why he is asking either way it doesn't matter if you're up there. But I told him to put up Nicole because if Bridgette and her are up .. we can make decisions to split her and Corey up. I told him its in his best interest to keep Bridgette here and separate Nicole and Corey. If one of those two can go this week then I'm good and we can chill for a week. If we could convince Vic to go up that would be fine but he would be pissed and Paul doesn't want to shoot himself in the foot. That's the only reason why he's not the obvious option. Z asks do you trust Corey? Paulie says I'll trust him more if Nicole is out. Either way if Nicole is up there the only person that will vote for Bridgette is Michelle. If Da is up there the only person that will vote for Bridgette is Michelle. So either way .. whoever else is up there next to Bridgette is safe. Unless its Vic.
CBS All Access: Live feeds are only $5.99 per month – Try it FREE for 1 WEEK!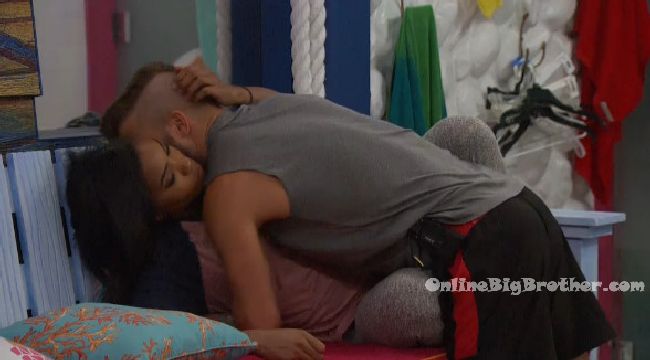 11:10pm Nicole asks Paul .. I have some questions. Paul says yeah? Nicole says so you're looking for a pawn … I would use somebody that doesn't care about being a pawn. Someone that has done it before and can't come back and get you. Can't win a comp. Paul asks who is that? Nicole says Natalie. That's what we did with Victoria in my season and it was perfect. Paul says that's fine, if you can convince her. Nicole says last time she was doing cartwheels. Paul says she's a havenot and I kind of feel bad. If you guys can talk to her and James. I just need the spot filled so that I don't look like a di*k head. Nicole says I'll try and if not I'll figure it out. I figure whoever goes up has 4 votes. Paul says and I'm the tie breaker. Nicole says and I would promise to vote for her. That's five. Nicole says I'll talk to her.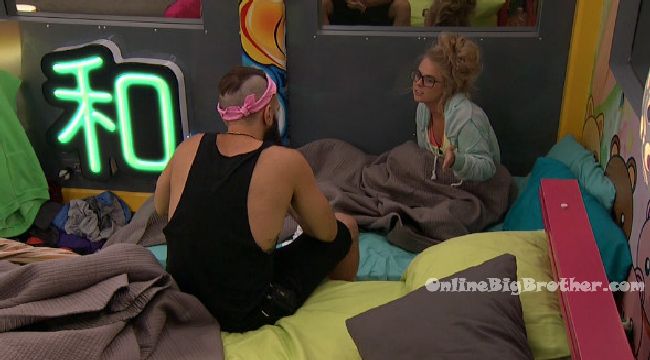 11:15pm Nicole goes to talk to Natalie in the havenot room. Nicole says Paul wants to put up Bridgette, the only thing is he needs a pawn. Are you willing, or no? Natalie says I won't beat Bridgette. I've already been a pawn. Nicole says if Bridgette comes down there is a different person he wants out. If me, Corey, Paul, Paulie and Vic win the veto we would pull you down. And you would have 5 guaranteed votes I swear on my family. You are safe 100% plus you have James. Natalie says I just don't want to keep getting used as a pawn. Nicole says that's fine. I will just tell him you're not okay doing it. I just wanted to test the waters. Natalie says I wouldn't vote against you. Nicole says if I were to go up I would have yours and James' vote? Big Brother switches the cams..
Safari room – James tells Paulie that he is probably going to ask Paul for a favour not to put up Natalie. She's already been up as a pawn and I took a lot of blood last week. Paulie says he (Paul) is on board with the main target.
11:45pm Kitchen – Paul, Vic, James, Bridgette, Paulie and Nicole are playing their word guessing game.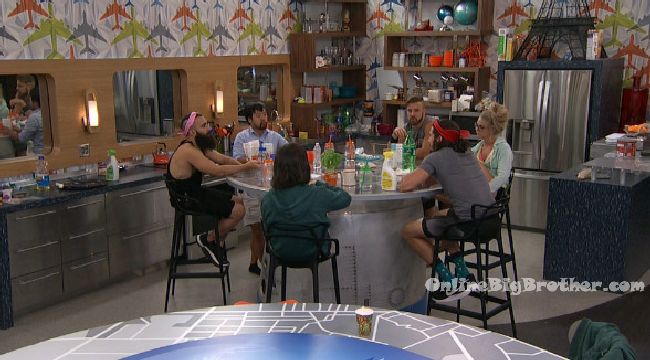 12am In the bathroom – James says why does Natalie have to go up? That just shows me there are ranks and I'm at the bottom. No one wants to put up Z because she has Paulie protecting her. No one wants to put Nicole up because of Corey. Why is it okay to put you up? Do they think I'm not going to do something about it? Does everyone forget I stood up for 5.5 hours in that endurance comp?! Natalie says if I keep getting put up as a pawn, they're just going to keep doing it. I'm a havenot, I don't want to be up as a pawn.. its not fun. This comp was easy for me and I should have just won it.
12:15am – 12:30am Paul comes out of the diary room and asks who whats to see my HOH room. They all head up to the HOH room. They all rush in to check out his HOH photos. Paulie asks is this your girlfriend dude? Paul says that's my sister. Paul reads his HOH letter.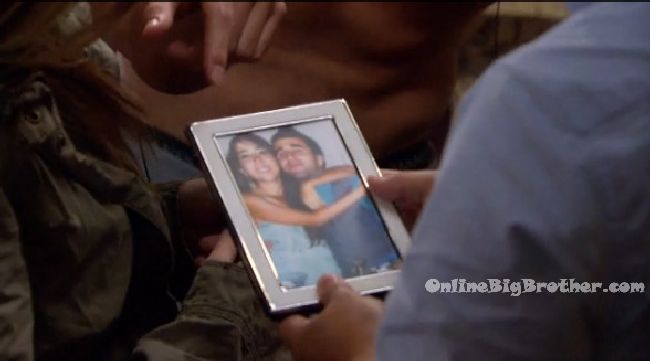 12:50am – 1:15am HOH room – I just want to know who si going to step up and go on the block next to her (Brdigette). If you win, pull yourself off and we figure out who goes up at that point but I think the whole house will know what the plan is. Da says I think my name will get drawn for the veto and I will be battling right there with you. James says last week I get never damage to my hand. D asks how?! James says not nerve damage .. nerve trauma. Nicole telle Paul if you think I'm strong then put me up. I'm not that good ar comps. Paul says I respect that. That's friendship. Nicole says I'm not good at comps though. Paul says Nicole offered and Da said as a last resort. I think we clip Da before we clip Nicole.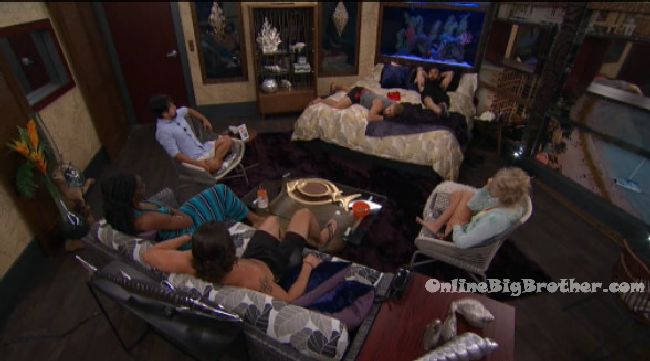 Safari room – James says I think Nicole pretty much volunteered to go up. Da says he keeps saying he wants someone strong to play .. but then why am I an option, why is she (Z) and option. James heads to the bathroom and tells Natalie that he thinks he is going to put up Nicole.
Nicole joins Da in the Safari room and tells her that Frank told her a lot of stuff. Nicole says I didn't come asks you because then you would think I thought it was true. I know he was feeding you stuff too. I figured until he (Frank) was gone we would never be able to talk. Da says you know if you're up there, I've got you.
1:55am HOH room – Paul tells Nicole best case scenario is you're getting off .. anyone that is playing pulls you off and Da goes up. Paul says if you really feel uncomfortable I will put Natalie up right now. Nicole says its just very frustrating to hear her excuses. Paul asks again do you want me to put her up.. I don't care! Bring her and James in here.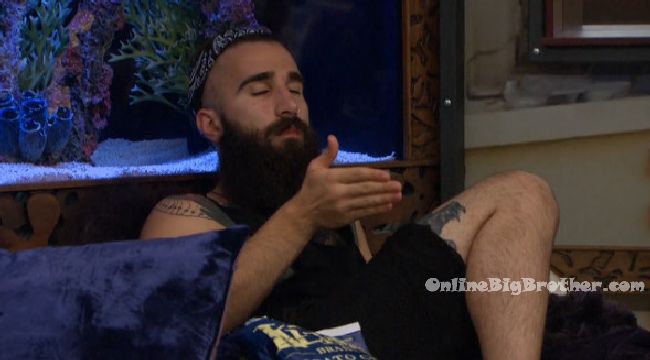 2am In the bathroom – Da tells James and Z that its just weird that Nicole is volunteering to go up. It doesn't make sense why isn't Vic going up? Da says we just need to win the veto and lock it up. So that no one comes down.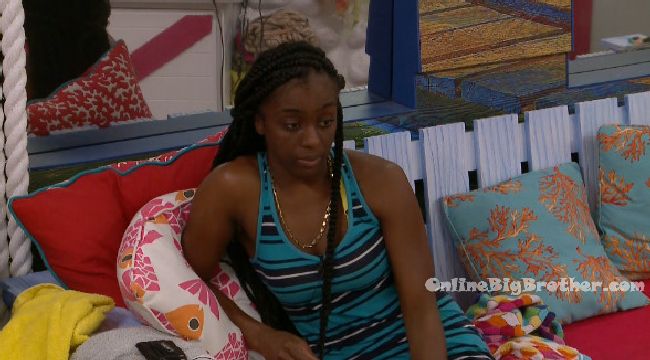 [polldaddy poll=9485250]