HOH Part 1 Of 3: Monte Vs Turner Vs Taylor
Part 1 Winner: TURNER
HOH Part 2 Of 3: Monte Vs Taylor
Part 2 Winner: Monte
HOH Part 3 Of 3: Turner Vs Part 2 Winner
Final HOH Winner: ?
9:00 am Houseguests given their wakeup call.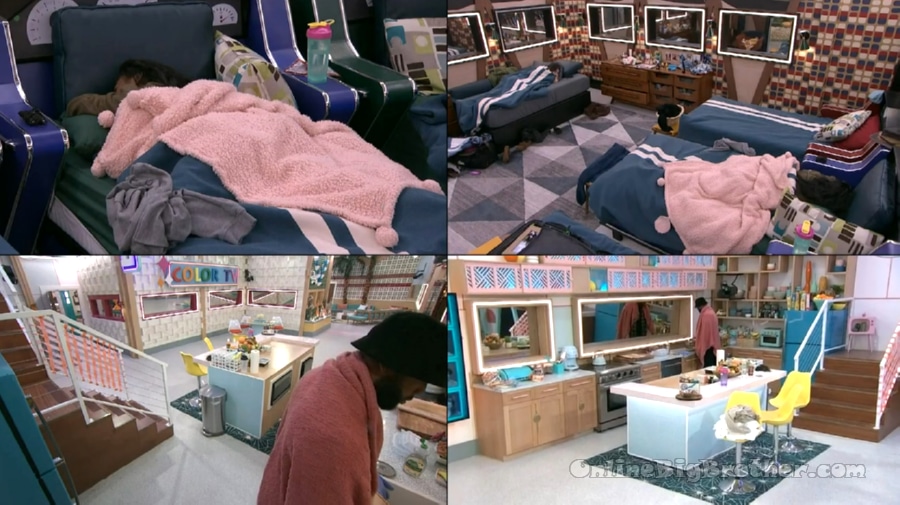 9:30 am Monte is up Turner and Taylor Sleeping.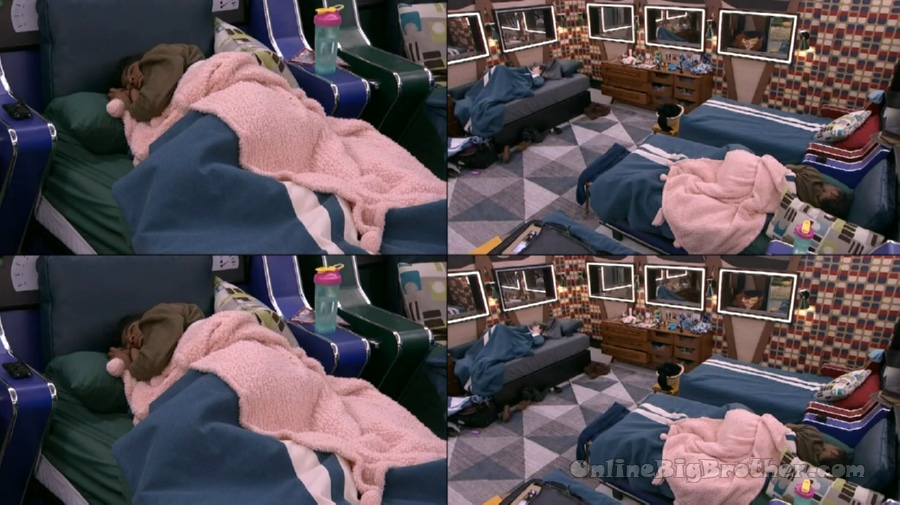 10:00 am zzzzzzzz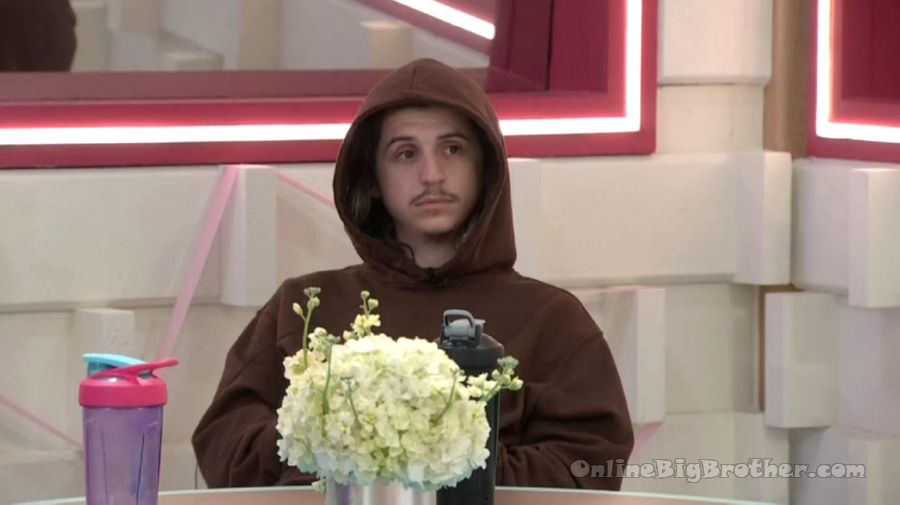 11:00 am Monte and Turner
Monte has been spending a junk of the morning looking at the memory wall.
Monte – You think anybody will have a big secret to reveal tomorrow night?
Turner – I bet there's a few little ones.
Turner thinks Michael might have something as well as Brittany. They agree Terrerance is who he says he is.
Turner – Maybe Kyle. I could see Kyle making a lot of money. He said he made a good amount from his IT startup that he made.
Monte – even off of TIK TOK he said he doesn't monetize it which just seems .. if that is what you are doing all damn day. It's hard to believe you aren't taking at least one deal.. you know.
Turner – yeah
Monte – Joe might. There might be something but low likelihood. I don't think Alyssa either. Taylor?
Monte – I don't think so
Turner – I don't think so but I wouldn't be shocked.
Turner – you got any secrets?
Monte – no dude..
they laugh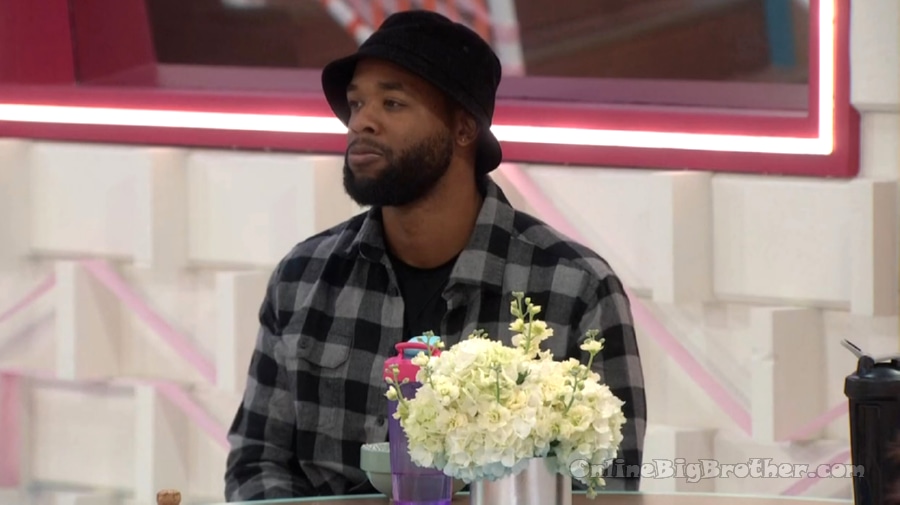 They move to general chit chat..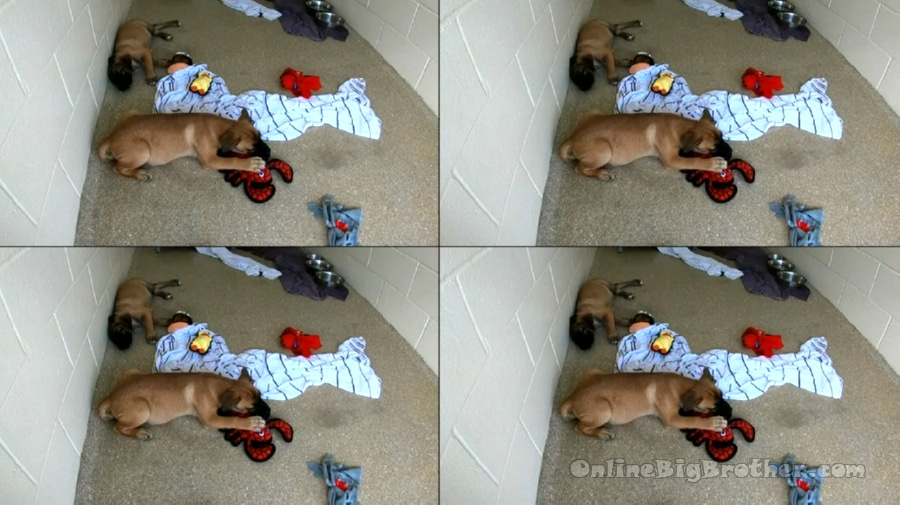 12:20 pm Feeds cut to pound
1:10 pm Feeds
1:40pm Still kittens.
2:08pm – 4:40pm The feeds return.. Monte staring off into the distance in the living room while Turner sleeps on the other cam. Taylor is sleeping in the bathroom. Monte then starts packing his suitcase. Turner soon after starts packing his bag. Taylor packs her bag. They're all getting ready to leave the house tomorrow.
5pm Kitchen – Turner and Taylor going over the past comps / events of the season.

5:15pm Bedroom –
Taylor is quizzing Monte in the bedroom. How many vetos did Kyle play? How many vetos did Michael play? Who played in OTEV? What was Brittany's eviction vote? First Female HOH? What female has the most HOHs? Etc. Taylor – Turner is doing a good job. Monte – with? Taylor – learning. We've been rehearsing longer. (In other words Taylor is trying to hint at Monte to not take Turner to the final two.)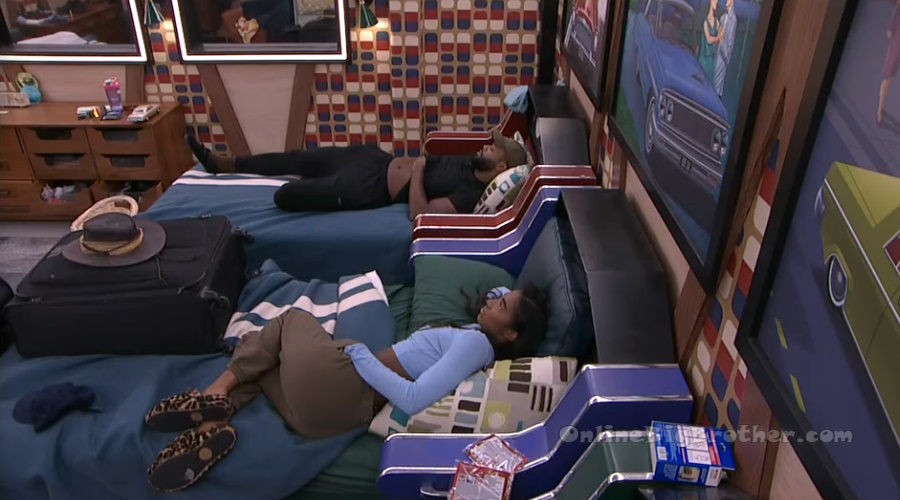 5:35pm Cards…
5:47pm – 7:38pm Cards in the bedroom. They chat about random things while they play.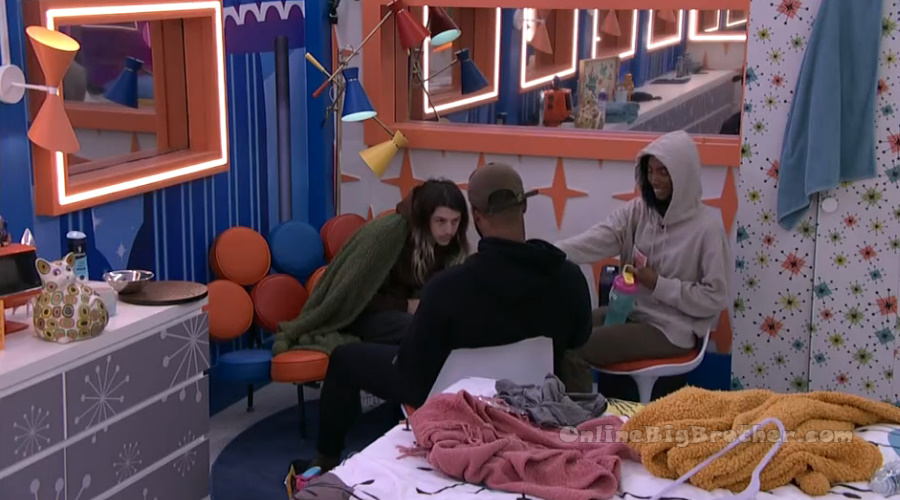 8:30pm – 9:01pm Monte, Turner and Taylor cheers to being final 3. They sit around the kitchen table drinking wine and cider chatting. They talk about how big Brittany's ring was and wonder if it was fake. Turner – Jasmine said that her ring was 10 racks and it was nothing compared to that thing. That thing was f**king huge! Monte – that was a big rock. Turner – 50 racks. Monte – for that? Turner – yeah. Monte – I could believe it. Taylor – go Steven. Turner – if there wasn't a day left I think I would be going f**king insane right now. Monte – especially if we didn't have the yard. Taylor – yeah we would have gone bat sh*t.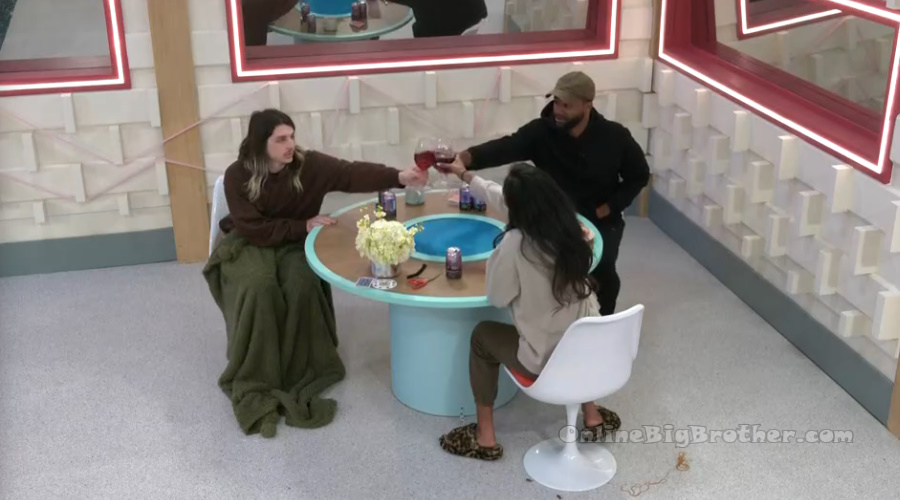 9:50pm – 10:48pm Turner is now sleeping in the back bedroom. Back in the kitchen, Taylor and Monte are studying the days, events, comps of the season.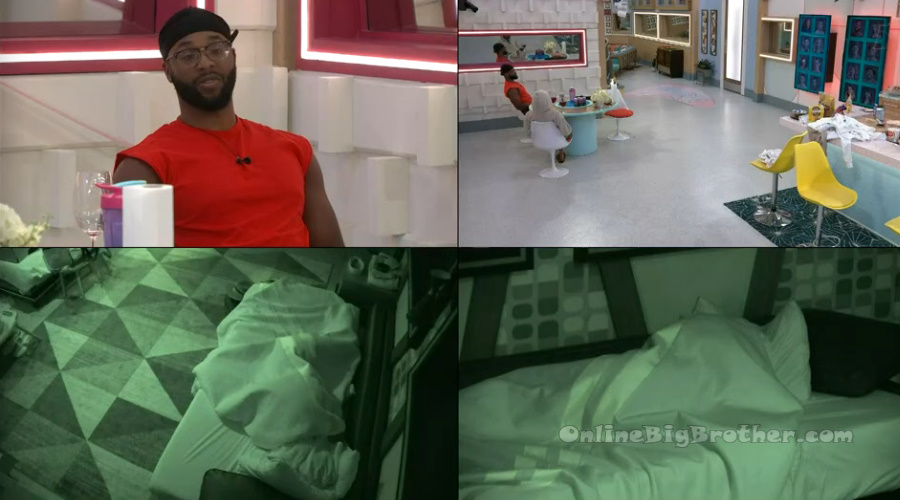 10:50pm Kitchen – Monte and Taylor.
Monte – its just going to be ah .. I am just trying to figure out when if any time before I make the decision or before I say it .. Do I approach him and let him know? Or give him a heads up or you know?! I don't think I have ever, or since the Ameerah vote .. that is probably the only time I've withheld my true intentions or been very indirect about it… and then flipped or something. But.. its almost as if like I saw how he handled it with Alyssa.. like he definitely didn't tell her beforehand. He waited until the goodbye message and let things be from there. He was okay with it to come out and her to just be shocked by that. I am just trying to figure out how to handle it. He really .. he really expects me to pick him so .. oh man! Taylor – oh Monte… you don't have to hold back. Monte wipes away tears and then Big Brother switches the feeds away and then back. Monte – that is why I don't want it to just be a big shock to him because I can just imagine in that moment on live tv.. like.. having all the expectations and then for that to be closed live and in that moment. Taylor – you're not that person. Monte – no. I mean he is going to be fine but I don't look forward to that. I am going to make sure I go in and win and control my own fate. But having to tell him that .. I am just trying to figure out how to tell him. Most people before they go out the have an idea but I don't think he has any idea.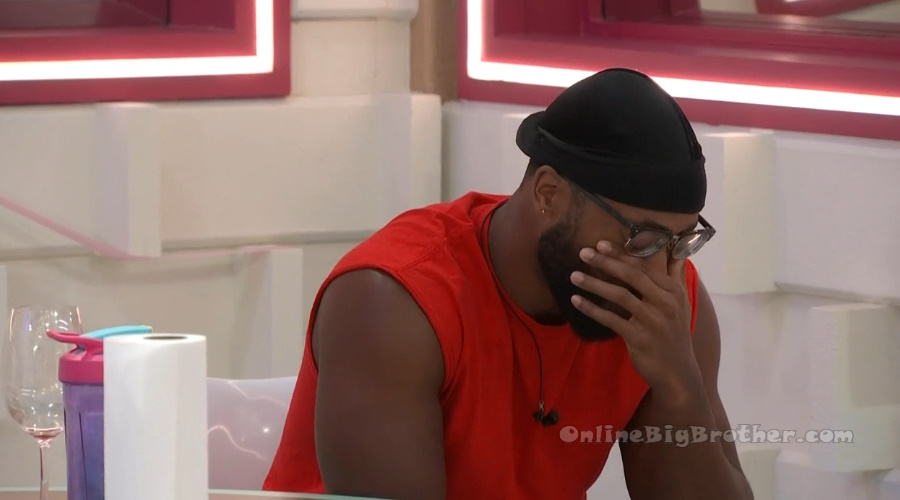 11pm – 12:25am Monte heads to bed. Taylor heads to the bathroom. Taylor – I am absolutely devastated that I didn't win that second part HOH and take myself to the part 3 of the final comp. Now I have to rely on men whos resumes are stronger mine .. whos relationships are stronger than mine on the jury. I have to rely on men to take me to the end when it meant everything for me to put myself there. I put myself in final 3 which is something but not being in the very end and having my fate rest in two men is just not the game I came to play. Going against Monte and Turner seems impossible but there is always something there… but manipulation, and lies and deceit does not work with either of these two. I am locked in with Monte. Turner needs to understand …that he needs to choose me over Monte. He just needs to understand that. And the only way that Turner maybe understands that is if I throw Monte under the bus and tell Turner that Monte is locked in with me. But maybe if Monte tells Turner that he won't take him .. maybe that is when I swoop in and tell Turner that he only wins this game sitting next to me. They just can't sit next to each other. I deserve a shot at advocating for myself.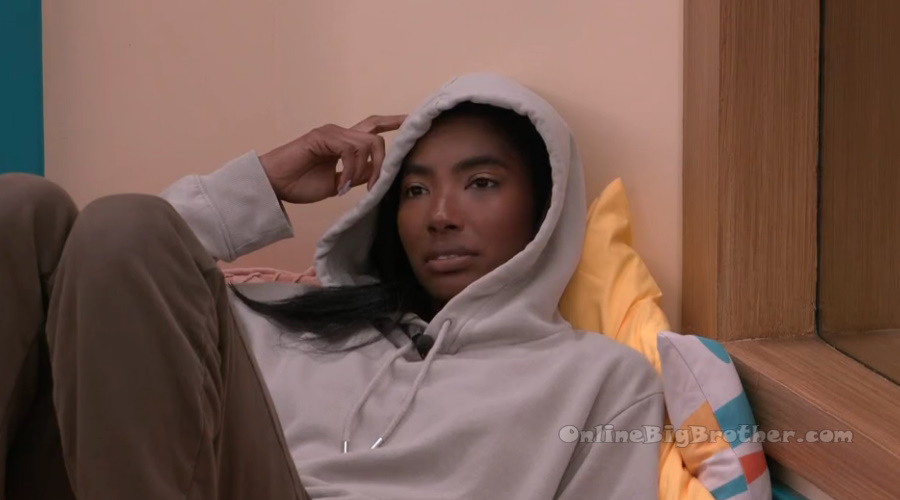 12:30am Lays chips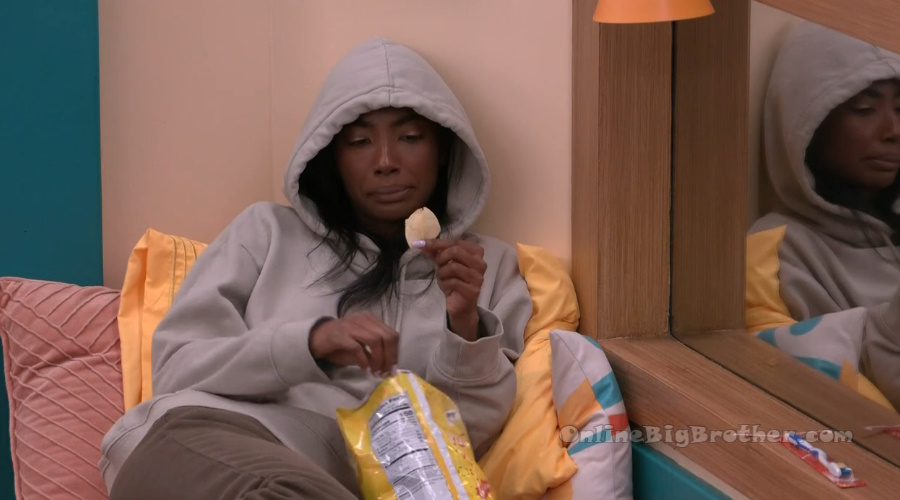 Without reader support this site and these spoilers wouldn't be possible.
If you've enjoyed our updates this season consider send us a tip to show your appreciation! 😉
Any amount is greatly appreciated!