HOH Part 1 Of 3: Monte Vs Turner Vs Taylor
Part 1 Winner: TURNER
HOH Part 2 Of 3: Monte Vs Taylor
Part 2 Winner: Monte
HOH Part 3 Of 3: Turner Vs Part 2 Winner
Final HOH Winner: ?
1:55 am Taylor alone in the bathroom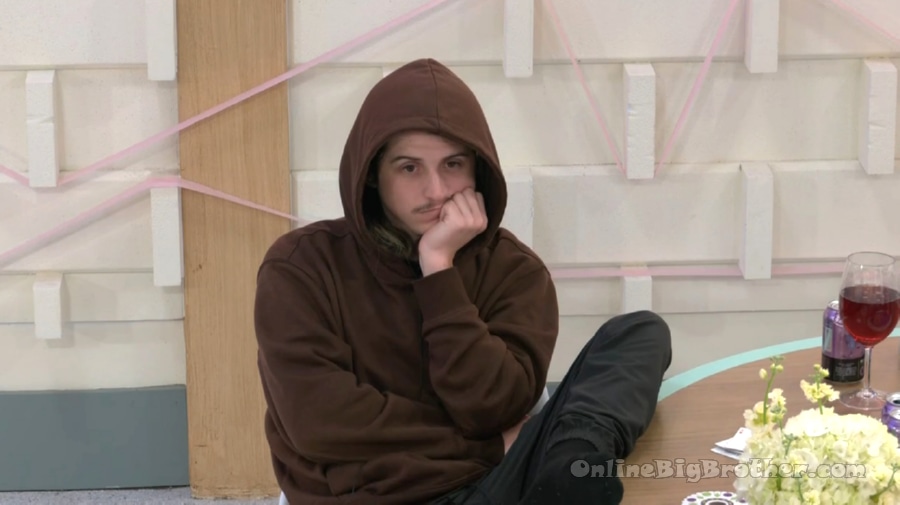 1:58 am Turner looking at the memory wall studying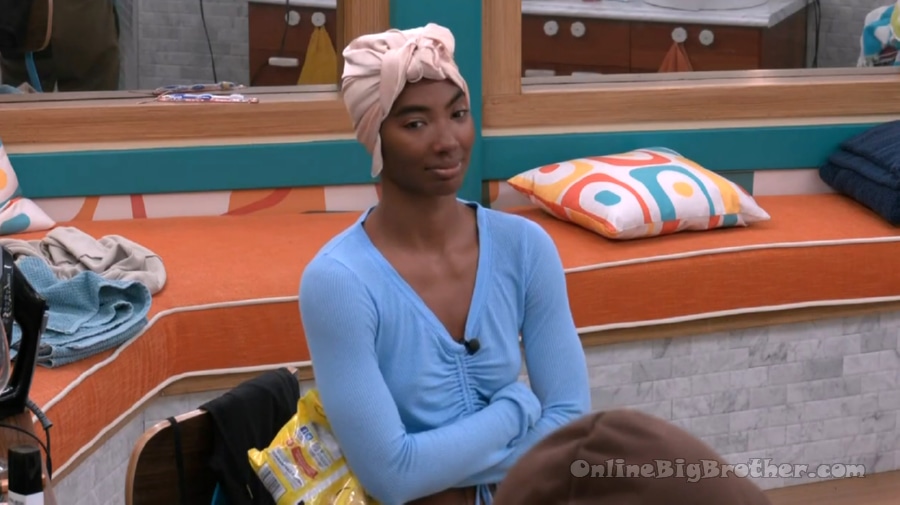 2:20 am Taylor quizes Turner
"How many Vetos did Kyle win"
"First women win HOH first woman to win multiple HOH's"
3:00 am Turner continues to study using the friendship bracelet thread.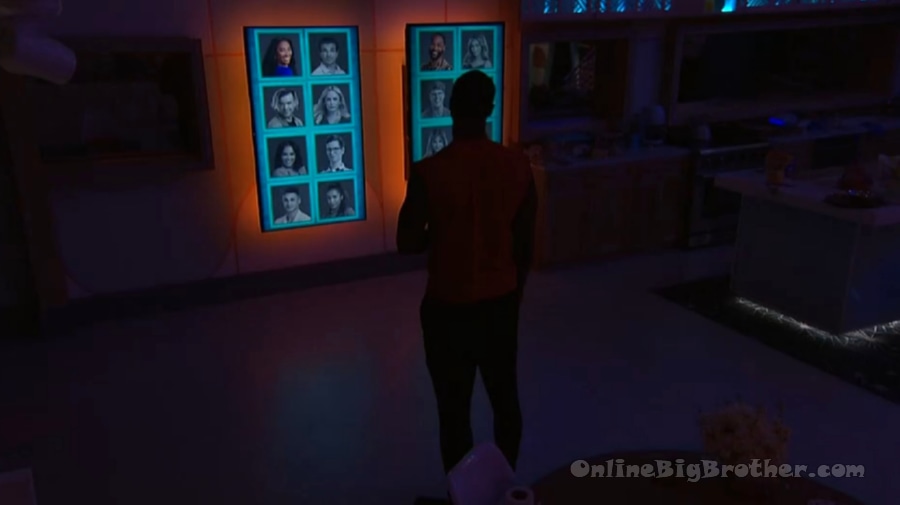 3:50 am Monte takes a look at the memory wall before heading back to bed.
5:00 am – 9 am zzzzz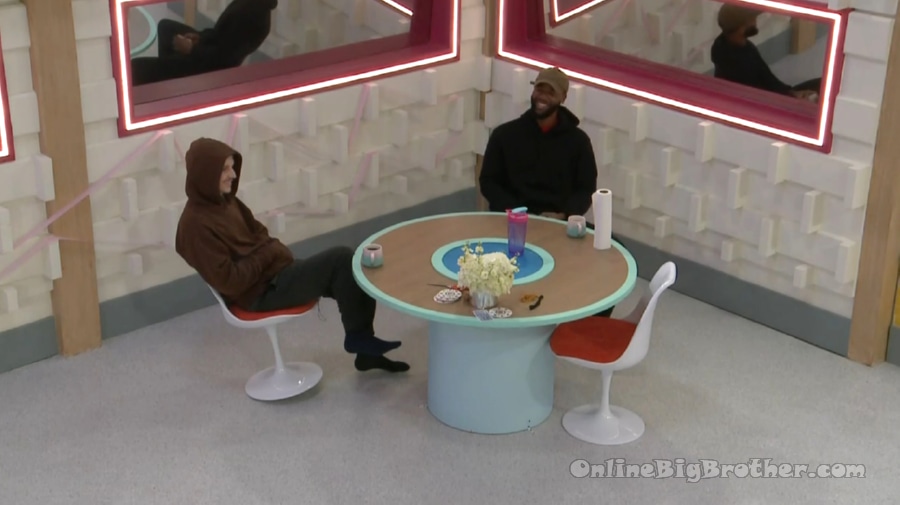 9:20 am Lights on Houseguest getting up
Monte joins Turner in the kitchen for a coffee. Says he slept horribly last night.
Monte – in 10 hours.. no .. is it 10 hours?
Turner – Yeah because 7 o'clock
Monte – 7 is when the show starts? It has to be 6 because 7 on the east coast would be 10.
Turner – I think it's 6 to 8
Monte – well 10 hours we'll be in the shit. Giving them hell, capping off the season right. Free.
Monte – Did they say there's things we have to do after this?
Turner – that is what I heard. If could be different this season.
Monte – I wonder.. I don't want to be bothered after this.
Turner – Same
Monte – I'm almost concerned they are putting us in Mexico to make sure we get things done..
Feeds cut.. (Mexico is code for the hotel they stayed at before the season started.)
WHen the feeds return it's chit chat.
They talk about Michael and how dominate he was in the competitions.
Turner "He cream pied us"
They laugh
Monte- OTEV.. if I had known that back section was open ..
Turner – hell yeah
Monte – I felt like I could have won that thing But I didn't know it was open.
TUrner – Brittany was laying them all out for him back there.
Monte – OHH really!
Turner – Taylor told me that last night.
Monte- Oh my god..
Turner – she was laying out every single one in the dry pool
Monte – WOW
Turner – here master let me help you
They laugh
Monte – Ohh my god.. I will take the L to make sure that
Feeds cut..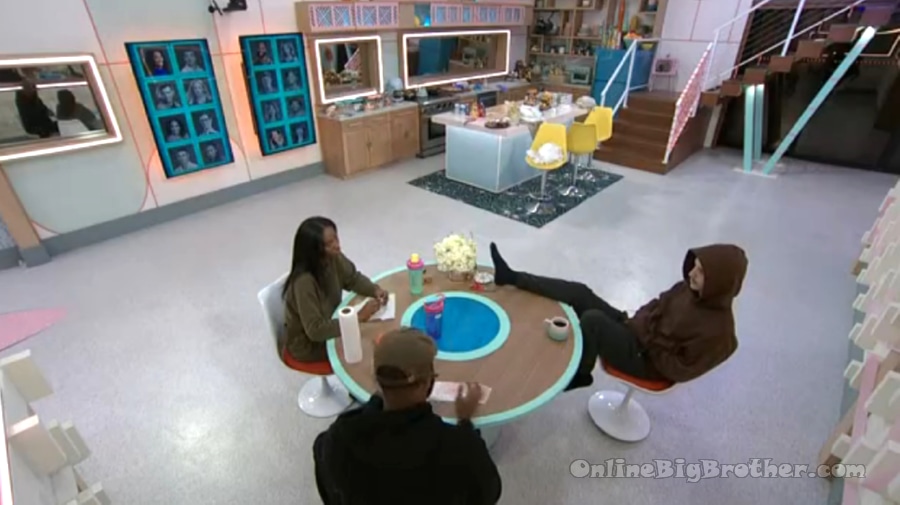 9:46 am Taylor has joined them.
They talk about how cold the house is.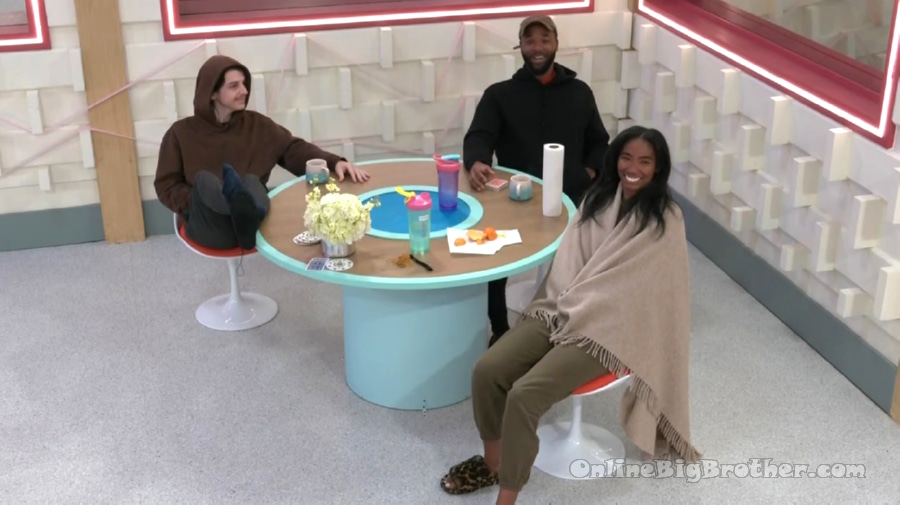 9:56 am Turner, Taylor and MOnte
Turner – Thank you to ever single live feeder that stayed loyal no matter what. I don't know it early on you thought you would watch these three faces the entire season but lo and behold you have. No matter how hard you struggle it's going to happen.. t
Turner – I don't know there you go.. umm.. ugh.. ummm.. I can't address.. I'm malfunctioning. To all the random live feeders thank you for watching. Thank you for filling the pockets of just another corporation.. That's awesome.. because of you I had a job this summer.
Turner – Shout out to my mom, my girlfriend, and all of my family that inspired me this entire season. Throughout all the comps, Social situations umm..
Turner – there's a core group of people you know who you are that have inspired me through this summer. And Select few houseguests. Two of the people at this table included I knew I could go to whenever I was feeling down. Or if I just needed to CRY because Brittany was torturing me then I could just cry to them both. Thank you to everyone here and everyone home we love Ya.. and the live feeders.
Monte – To all the live feeders I just want to say thank you for tuning in and watching my ass and the rest of these clowns parading around the house and having fun. Sometimes it doesn't even feel like we feel your presence all we see is the camera moving and we live our lives.
Monte – To all the live feeders that could have taken advantage of some moments where we were vulnerable and and were you say some things you maybe didn't need to see I thank you for not sharing that with the internet. For the live feeders could have caught me sliping on some things… I thank you for not sharing. For those that did for entertainment purposes I understand.
Monte – I hope one of us three are your favorite. I hope you enjoyed this season because we sure as hell have.
Taylor – WELL FEEDAS Look what you did all the way 82 days. Watching us being a little bit of a DINGbat a little bit emotional, little bit ridiculous You have seen so much of it.. so many of my nipples probably and I appreciate you guys not spreading hat around the internet.. multiple times.. (we did)
Taylor – it's been quite a journeay and I'm sure I am one of the last people you expected to make this far in the game. It's been the ride of a lifetime.
Taylor – I am so happy there are people that can see the truth in the moment as it happens and hopefully advocate for my character because it's been twisted and flipped around in this space and you are all the ones that could see the truth. So I appreciate all the work that has been done on my behalf to spread the truth before a narrative was spun and I'm really thankyou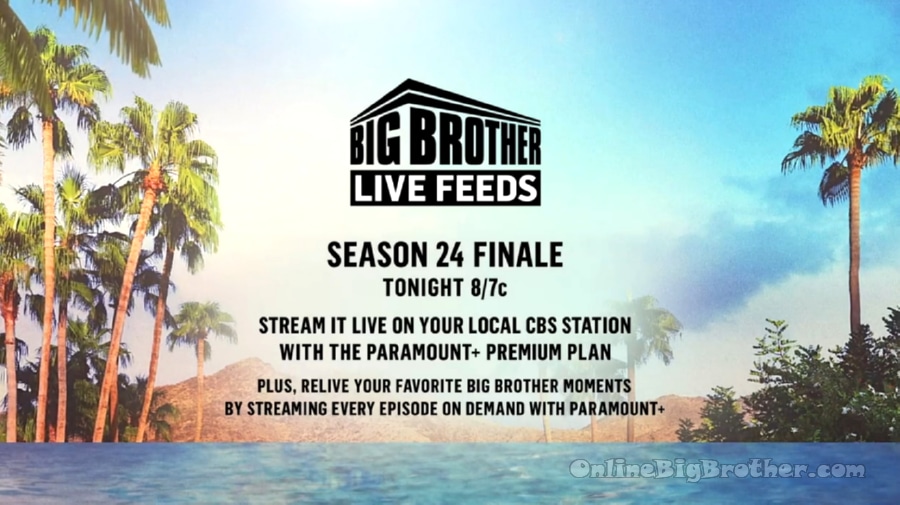 Feeds cut.. Season over!
WE'll be back for the finale.