HOH Part 1 Of 3: Monte Vs Turner Vs Taylor
Part 1 Winner: TURNER
HOH Part 2 Of 3: Monte Vs Taylor
Part 2 Winner: Monte
HOH Part 3 Of 3: Turner Vs Part 2 Winner
Final HOH Winner: ?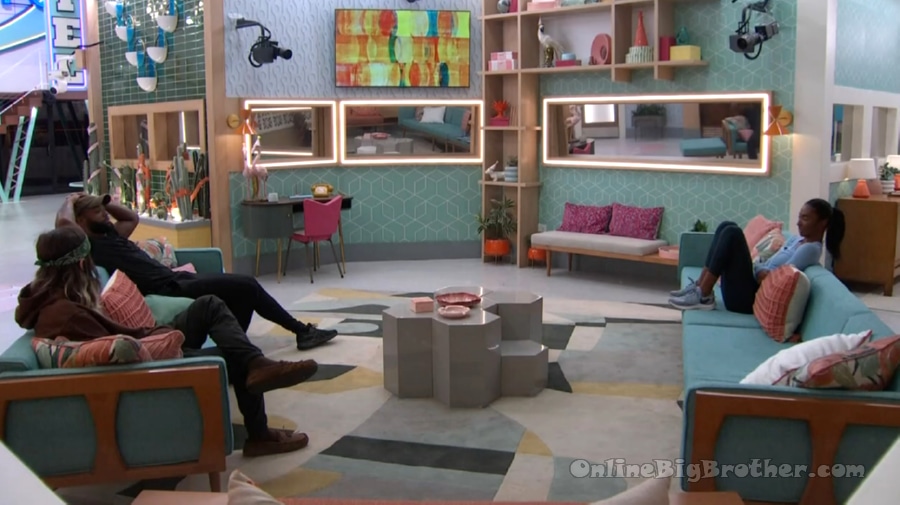 HOH part two happened before 11. When the feeds came back at 10:50 am we had Taylor, Turner and Monte in the living room.
Monte – what the hell are we supposed to do with ourselves.
Turner – that's a good sleep I had.
Turner – I guess we're chilling until Sunday now
Taylor – do you think they'll give us more Alcohol? I guess not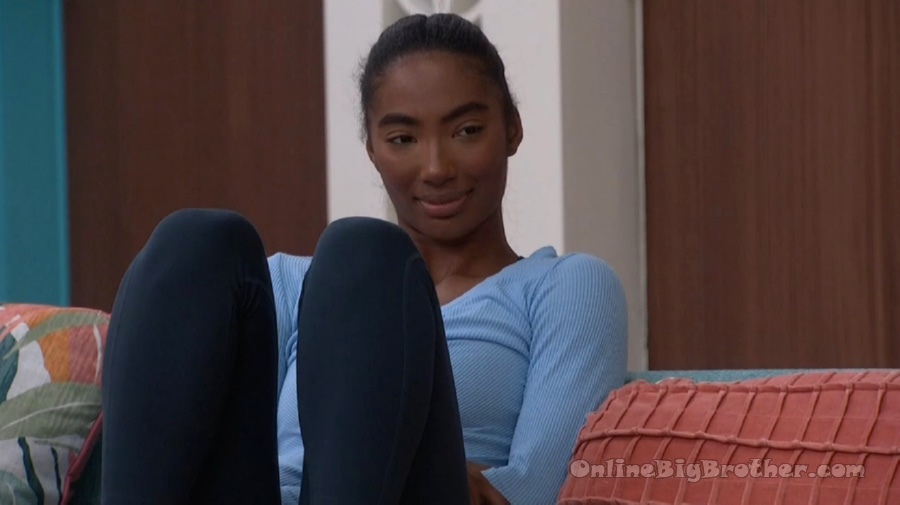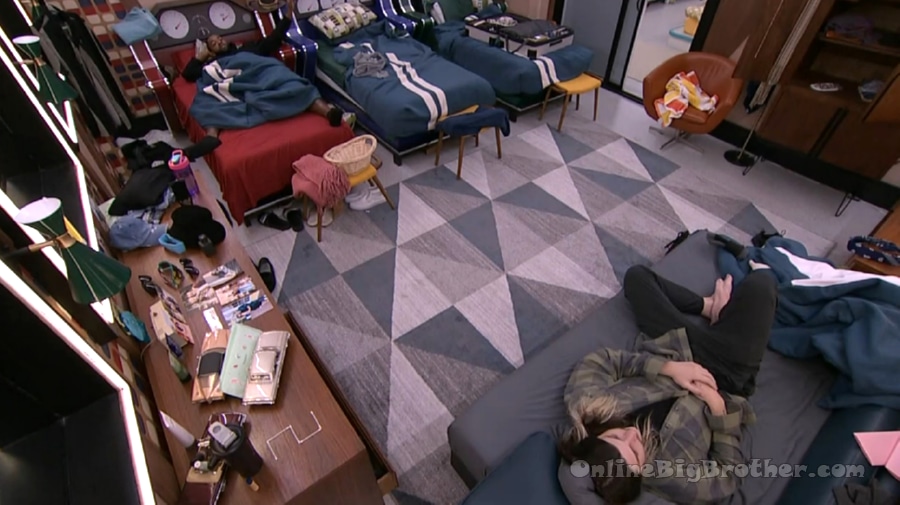 4:26 pm Monte and Turner
Monte is going over the competition
Monte – each trip was 30 seconds. I made 6 trips with two competition tiles. I figured that should be 6 minutes of me doing that shit. That's a you know a lot of fluff added. There were times when I went down and back in 15. I was like Okay add like 30 seconds for the mistake I made another 30 seconds for the thing. In my head 7 minutes should be the maximum time I spent doing it.
Turner – and you were close as f***
Monte – when I looked at Taylors time of 7.04 I was 'Okay'.. I think I should be fine. My heart was beating through my chest. I had no idea it would be that close I knew that 7 minutes was the max time I could have possibly spent doing that. Lo and behold 21 seconds (Monte won part 2 by 21 seconds)
Feeds flip to the another room. We can vaguely hear them talk still.. (thanks BB)
Monte is going over the set up of the competition.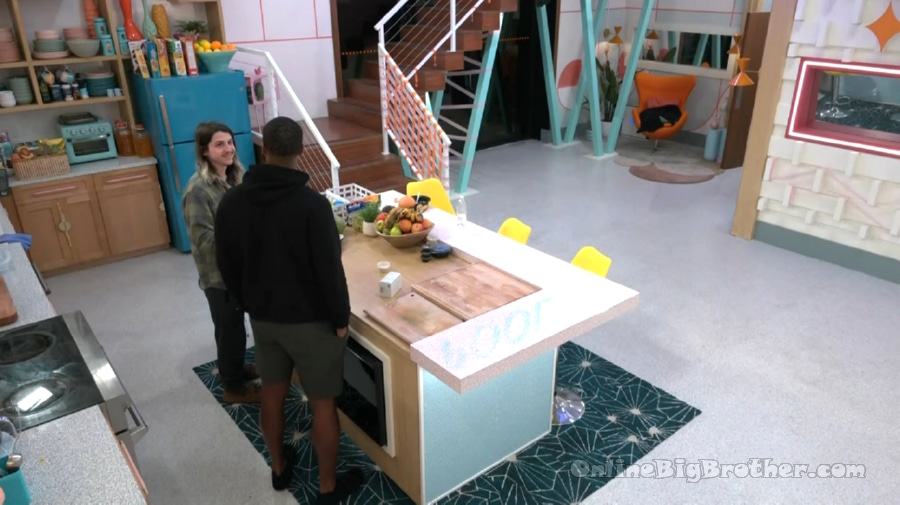 4:40 pm Monte and Turner
T – no matter what as far as I am concerned we're both going to be at the end.
M – yeah man
T – we've been saying that since week 3. Holy shit.
M – it's something I think that .. it makes sense..
T – I think so too. I'm so f***ing excited.
M – looking at how we both played.. it's just that we both played… strong competitors both have had some sort of social game. We weren't put on the block 50 million times. you know i think it makes sense.
T – big time. We talked before the first comp and nothing has changed on my end
M – same
T – I'm f***ing pumped.
M – I don't know what we are doing in part three but they're f***ing drilling
T – I know I usually thought it was an easy quick one.
M – I don't know if that drilling has to do with them setting up or more maybe them taking things out. Maybe they are getting rid of shit because we'll never see the yard again.
T – Taylor seems a little upset
M – yeah i can tell.. i mean mostly because she probably knows if brittany was here she would have a fighting chance both ways were now it's like .. yeah.. she has not control of her destiny.
T – she knows I won't take her I don't know what she thinks of you because you two are closer..
M – yeah
T – I think she knows where I am at.
M – we haven't had those types of conversations. Most of what I talked to her about last week was Brittany doesn't deserve to be in the final 3.
Monte says he was pretty sure Brittany and her would have picked each other. He ads that Taylor was under a lot of pressure to win he wasn't because he knew Taylor had his back.
They agree Taylor would have picked MOnte and so would turner so Monte was going to final 2 regardless.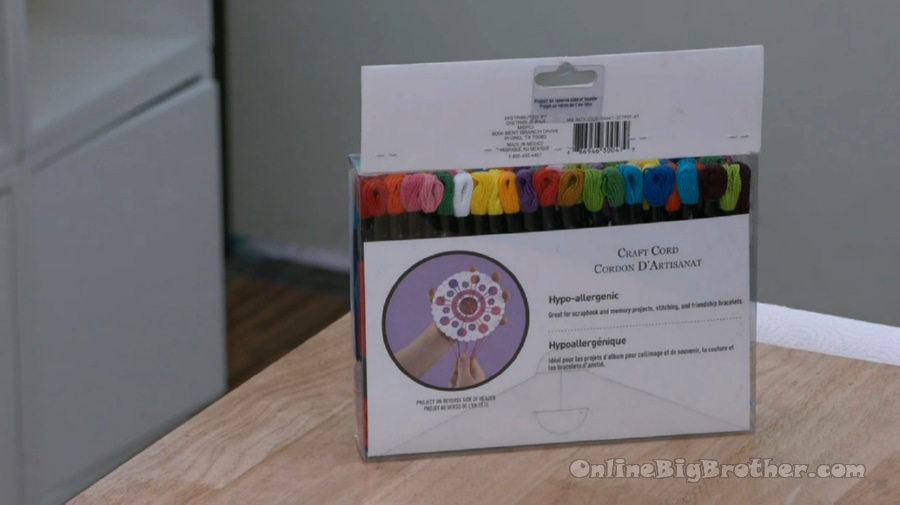 5:05pm Kitchen – Monte and Turner
Monte – some times I feel like its fate playing itself out. Turner – Oh yeah, I think so 1000%! Monte – divine intervention. Turner – Mmmmhmmm… 100% Oh my god! The odd thing is that one of us is going to have 75K and the other is going to have 750K.. and either f**king one is a good deal to me. Monte – yeah. Turner – either way.. I mean one is more life changing but one is still f**king huge. Like 75k makes life easier. Monte – like it falling in your lap you know what I mean. I mean granted we earned it but.. Turner – yeah for sure but I thought that .. and maybe I am jumping the gun here .. yeah, no definitely. Monte – yeah. Taylor comes out of the diary room and asks if they're down to play cards.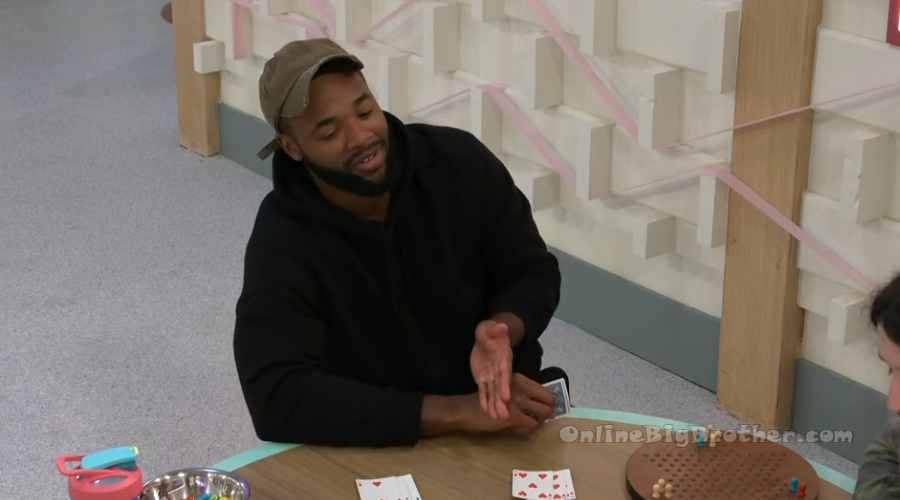 5:30 pm houseguests get a Friendship bracelet kit to play with
Big Brother – please go to the storage room
Taylor – Ciders?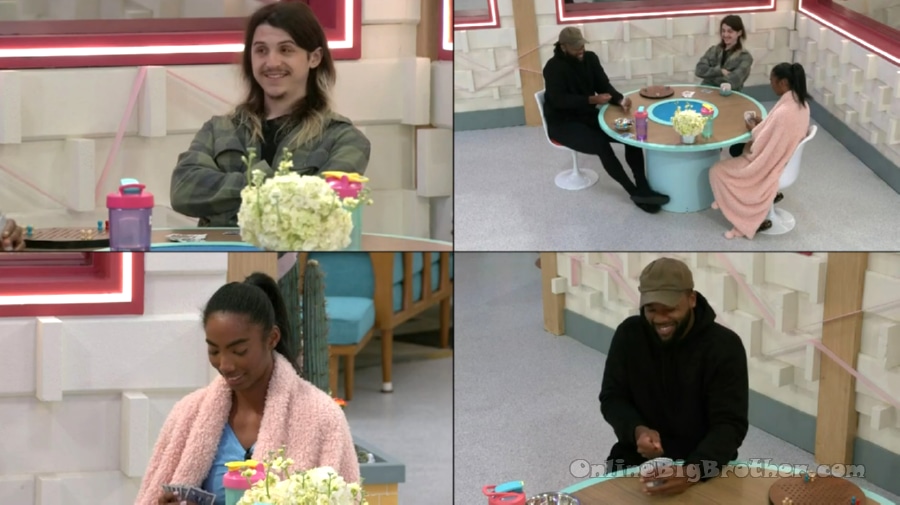 5:40pm – 8:30pm Cards!
9:10pm Monte and Turner make coffee..
9:23pm The final 3 try to understand the instructions on how to make the bracelets.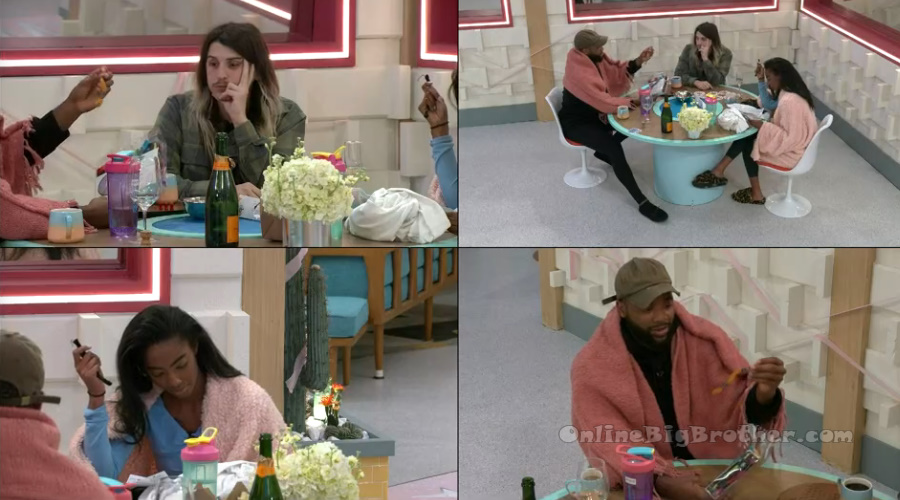 10pm Turner cooking..
10:49pm Kitchen – Taylor, Turner and Monte
They talk about jury votes. Taylor – we all have one person in jury that will never vote for us. Turner – that is a fact! Mine is Jasmine. Monte – who is mine. Taylor – Brittany. Monte – yeah Brittany definitely won't vote for me. Turner – I also feel that way about Indy. Taylor – Yeah, Indy 100% won't vote for me. Turner – I bet she was mad when Michael got kicked off. Taylor – oh pissed! She would have been like who am I going to vote for now?! Monte in his best Indy vote – he was the most honest player. Taylor – oh my god and like literally not at all. He was the best person, the most honest player.. Baby girl!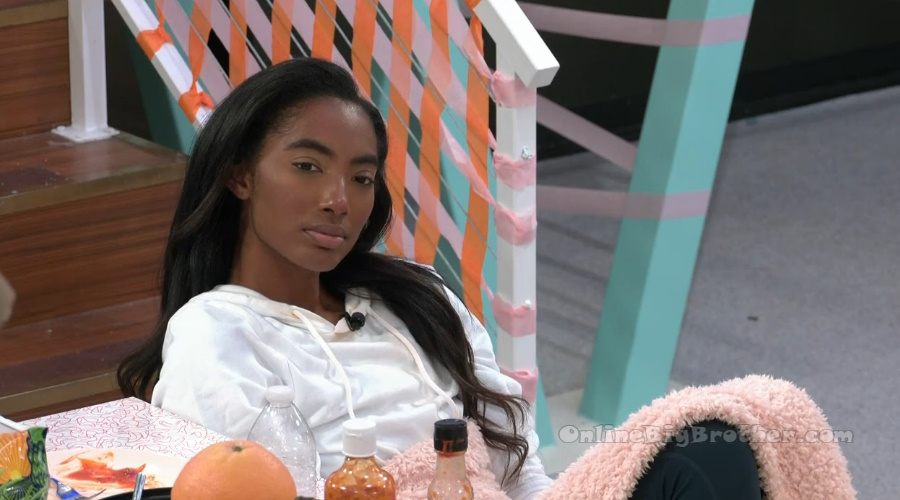 11:39pm – 11:46pm Taylor and Monte.
Taylor – I just hope you're studying. Monte – oh yeah. I mean you can quiz me. But there is only so much information and then when I repeat it.. I am like okay I know it. Is there anything else!? Taylor – yeah. Monte – if there is one thing I know how to do is study random information. Turner when we were sitting over there he was like what is the last competition like? What does part 3 usually consist of? I was like I don't know. I am like its usually questions. I am curious if he even knows what they could be asking. Taylor – he did say that he was nervous going up against you in a mental comp. Monte – he did? Taylor – yeah. Monte – I would have loved to believe that I would have been really good at these physical comps but I am not. We will see how things play out.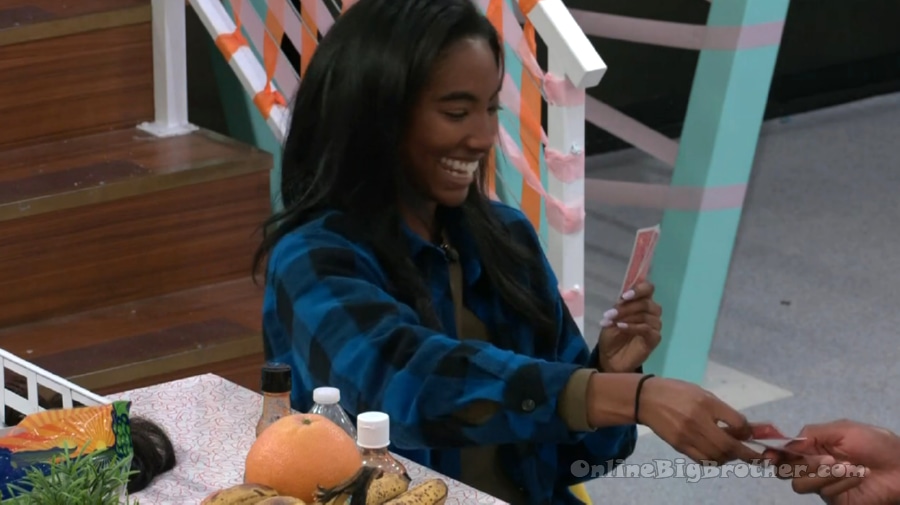 1:12 am Monte, Taylor and Turner
Taylor is talking about her work schedule when she worked at TRUNK club. She worked Tuesday to Saturday starting between 9 and 12.
Taylor – I loved grocery shopping on a MOnday.. that's when they got restocked everything just beautiful isles all shinny. I would go in the morning and no one was there
Taylor talks about how after she won her title she would have appearances to make at random times and it messed up her schedule.
Taylor – It was all hours but it was for a limited about of time. Then I came here and I never slept.
Turner – what do you think of a.. now I am very support of a 4 day work week.
Taylor – yes
Monte -Yes
Turner – that is way it should be
Taylor – we need to reorganize labour unions mobilize a demand shorter hours.
They go on with a 4 day work week conversation for awhile then go back to cards.. Right now it's the game Fish
"Do you have any 4s?"
"Go fish"
"Do you have any 8's "
"Go fish"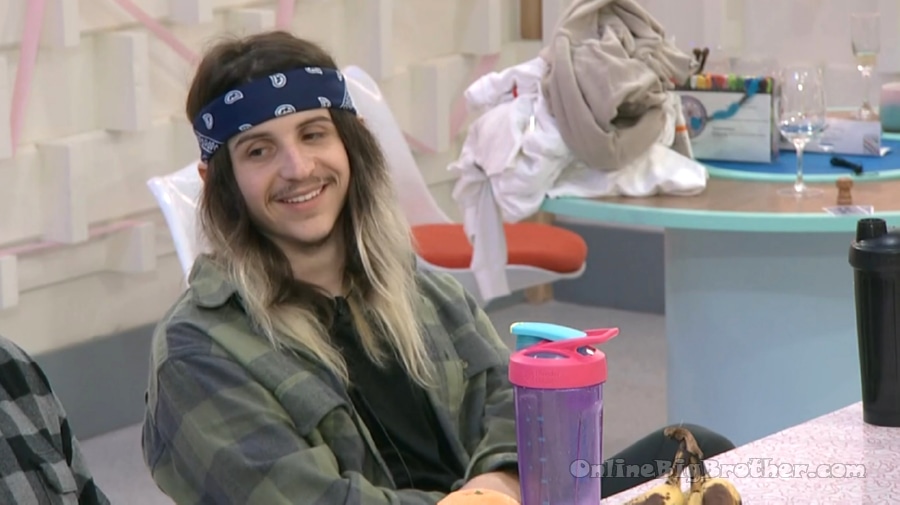 2:00 am Still in the kitchen playing cards.
monte – Blackjack is too simple
Taylor – that is why it's a nice brainless game. we need a brainless game right now. Do we not?
Turner – True
Taylor – unless you guys want to sit down and figure out those friendship bracelets
Monte – GOD NO
Turner – yeah
Monte- f*** no
2:24 am Turner tries to shuffle the cards.
Turner – check it out dude.. I call this the butterfly effect..
Everyone has a good laugh. Monte impersonates what Turner tried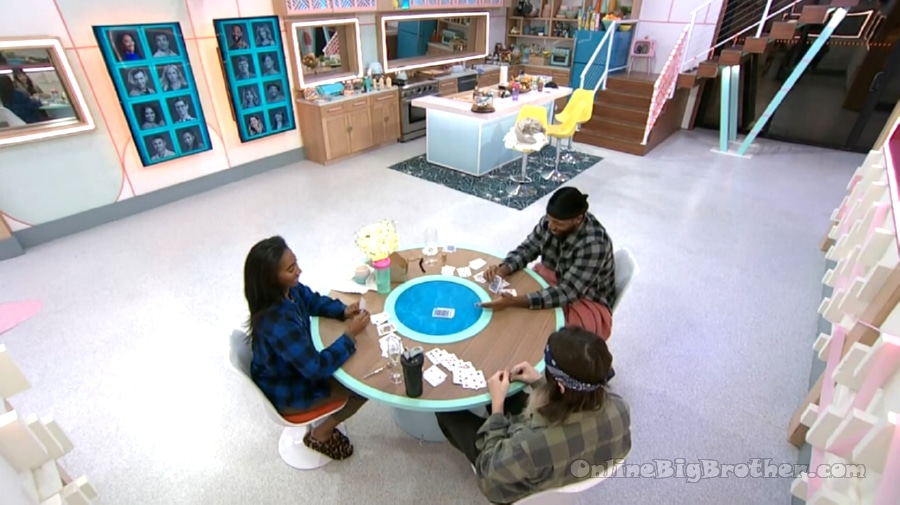 2:40 am GO FISH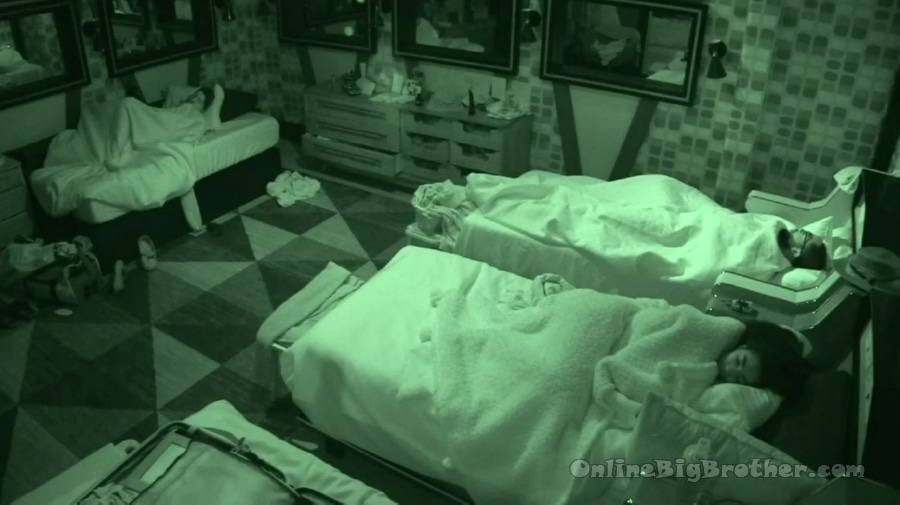 3:32 am lights out..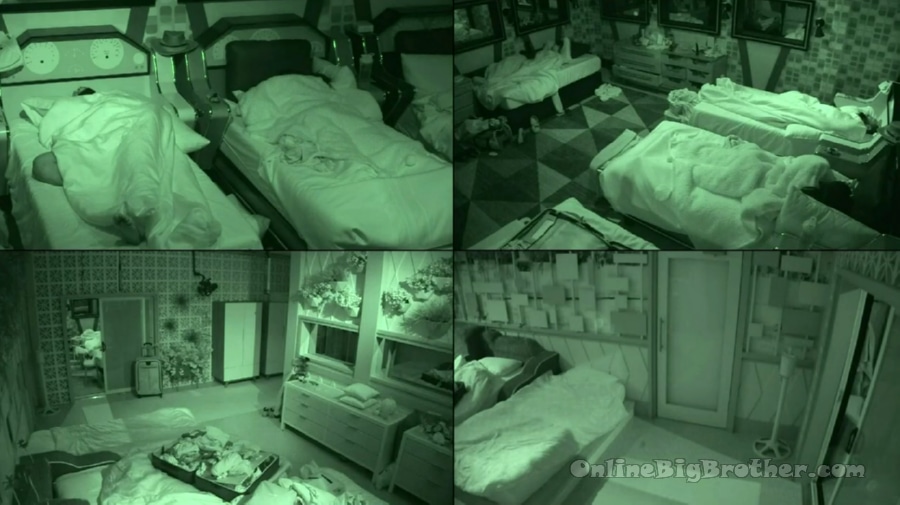 4:30 am Zzzzz
8:30 am zzzzzzz