Quick Big Brother Spoilers
Head of Household:  Taylor
Nominees: Turner & Brittany
POV Players: Taylor, Brittany, Turner, Monte
POV Winner: Monte
Veto Ceremony: Veto isn't being used.
Lock your ranks in before midnight
The Situation – Nothing much going on other than cards, Studying, Snuggling and Brittany's delusions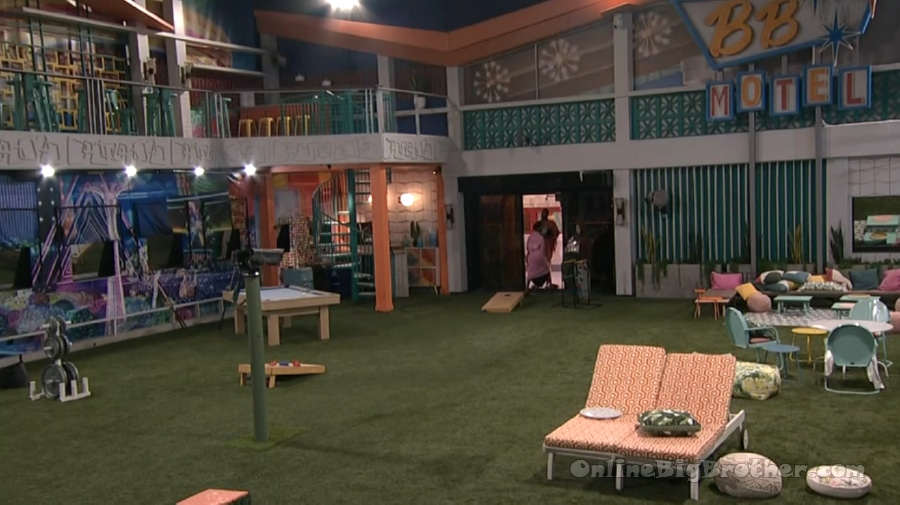 6:00 am Monte, Taylor and Turner
Enjoying the backyard for the last time this season. Making sure nothing was forgotten.
Turner "Alright Big Brother Backyard we love you"
Monte – Truly been a wonderful summer
Monte – we will miss the fresh air
Turner – get your last breath of fresh air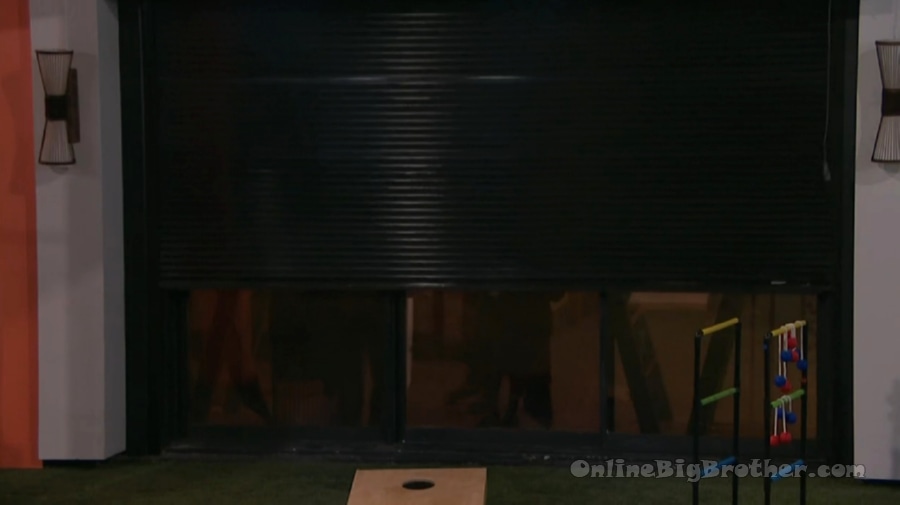 blinds close.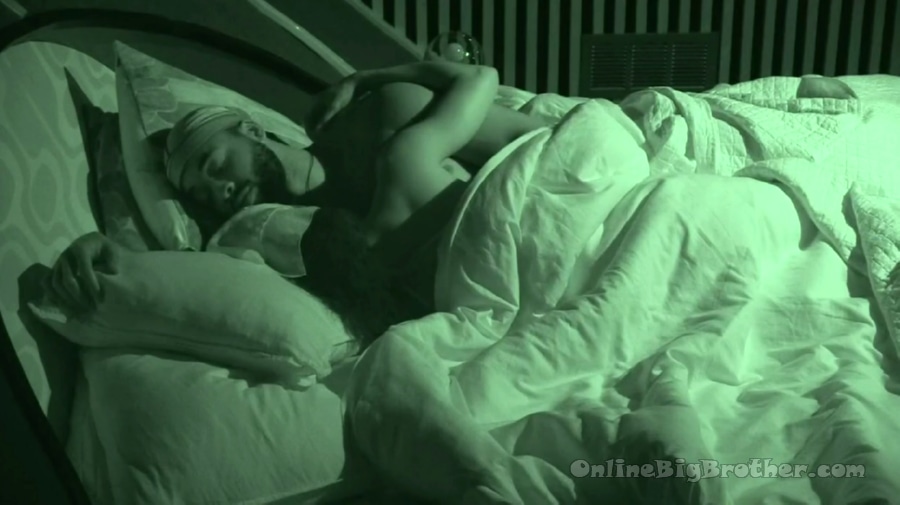 7:02 am Taylor and Monte
Taylor – I didn't ask someone to rub lotion on my back so I'm a little dry
Monte – I would have been more than willing to help out with that
Taylor – are you too tired now?
They start kissing.. Feeds flip
7:30 am Zzzzzz on the feeds
Noon Wake up call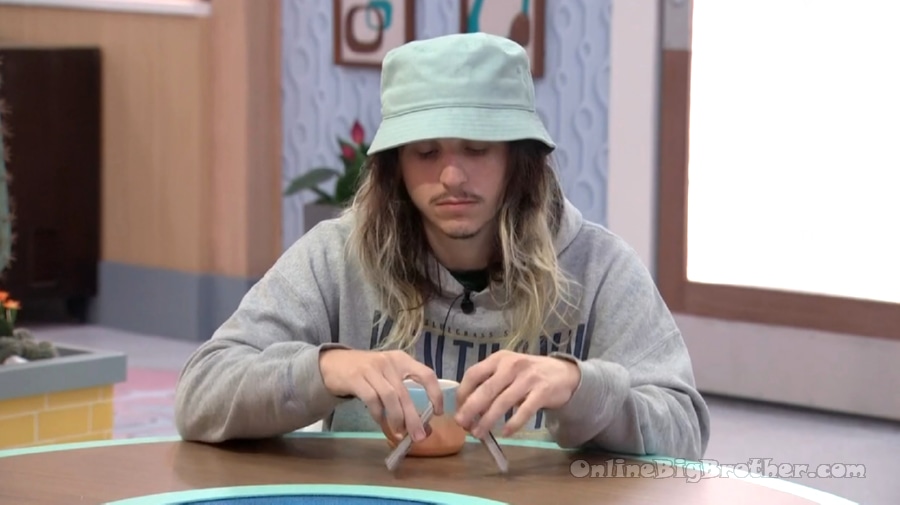 2:00 pm Shuffling Cards..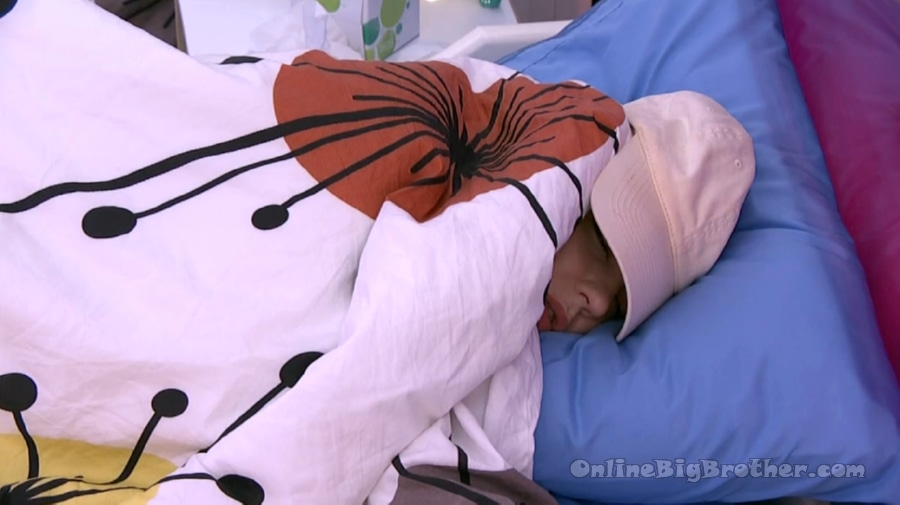 3:00 pm Zzzzz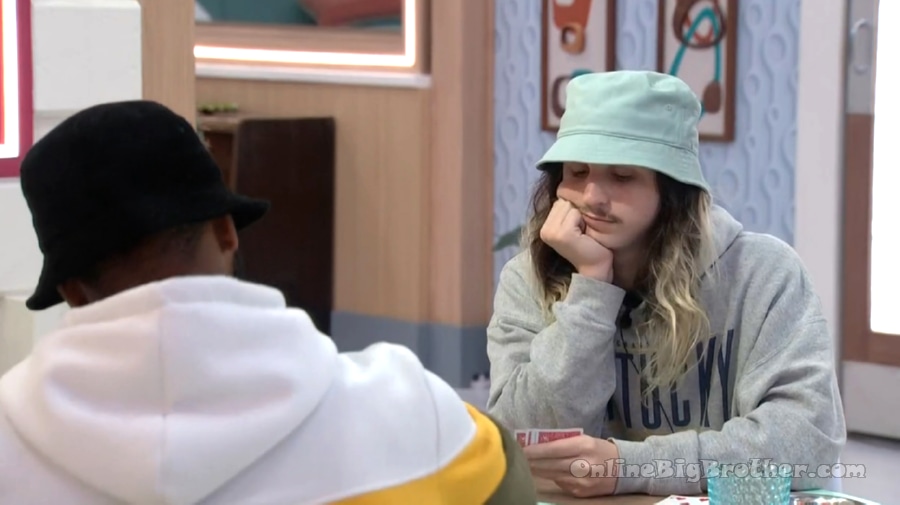 3:20 pm Cards and chit chat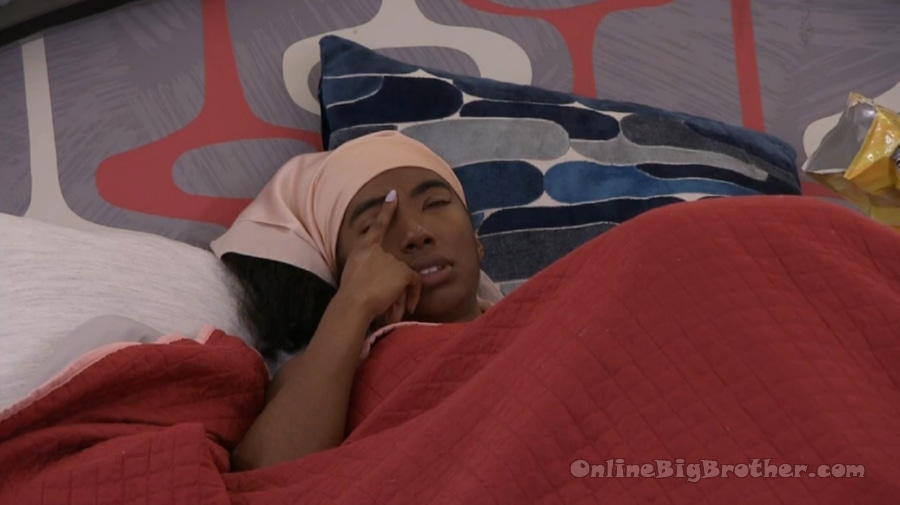 4:16 pm Taylor Studying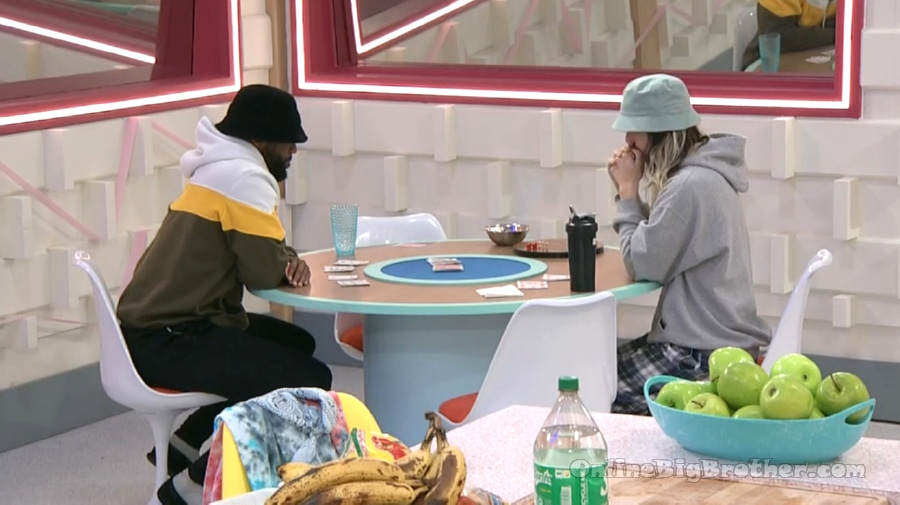 4:30 pm Cards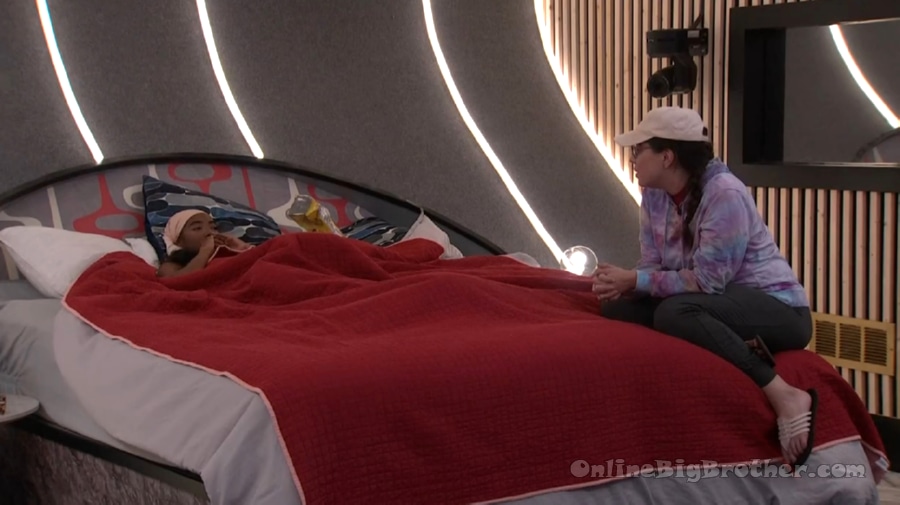 4:35 pm Brittany and Taylor
Brittany says Monte has played too safe of a game to win "You have to take risks that is what this game is.. he's played such a safe game"
Brittany goes on about how Monte's game has been too safe to win the game.
Brittany – you don't win Big Brother if you don't take a risk.. I tool plenty of risks. Last week. I took a risk.
Brittany – he has such an inflated sense of what a good clean game he's played. To certain people but do you think I think you played a clean game? NO
Brittany – we had a final 3 and you're not taking me to final 3. that's not good and clean. Most of the people you think liked you left MONTHS ago.
Brittany says the jury's perception of Monte will change to the negative.
Brittany – this game is rated based on the moves you made not Honour. Turner has made the bigger moves taken more risk and survived those risks. That is how you win. He evicted his final 2 and is still here.
Brittany – it's like if I evicted Michael and I still managed to be here.
Brittany says if Monte takes Taylor to final 2 "I'll rally the girls and try to make a social move"
Brittany – I don't know if Michael will swing .. but if Michael sees he didn't take Turner out and he had the chance multiple times I don't think Michael will respect that as a game move that's not playing Big Brother. (Brittany's trainwreck of a game is how you play Big Brother)
B – I don't know what that is but it's not Big Brother.
Taylor – it will be 5 v 4 if it's the girls and Michael
B – you only need 5 to win
B – Joe and Kyle see too much of their own game in Monte so they will vote for Monte. I would not bank on it there could be a chance.
They agree Taylor has to take Monte to final 2
T – there's no chance with Turner I have to take Monte and I have to be the one taking him.
B – if the girls are on the fence and want to see a woman win I could see that being a reason to justify
Brittany – I'm sorry do you not know me do you not know Alyssa? Do you not know Indy? That's three votes right there. Guess what? We're Jury we get to decide which rubric we grade things on. You screwed me over. if You take away my lifelong dream and ability to start a family you do not have my vote (Damn Brittany sucks)
Brittany – that is the rules of this Big Brother Game
Taylor – the rules are your rules
B – Guess what you put me in a position to decide.
B – I love this game so much. I think it's funny Monte gets so caught up .. oh my god he made me roll my eyes. You and your courage.. Who do you think you are? Superman?
B – you are human like the rest of us. The rules do not say play the cleanest game that is not Big Brother (Rules don't say it's a charity show either)
B – just because you think you played a clean game doesn't mean you have.. you do not win because of it. Michael would have won this game and he betrayed me than anybody and he should still have won if he got to the end.
Brittany says what Monte is doing is "So embarrassing" She wonders what "Twitter and the podcastas" are firing off right now.
Brittany sighs "My stomach is in knots"
T – you ever wonder who America is rooting for?
B – All the time. I do wonder how much America is going to know. How Michael went against me. If that's not shown that will be disappointing.
Brittany goes on about how she'll sit michael down in the Jury and talk to him.
Brittany says she doesn't want to have to choose between Monte and Turner
6:05 pm Brittany is still talking. Turner has made a omelette for Monte and himself.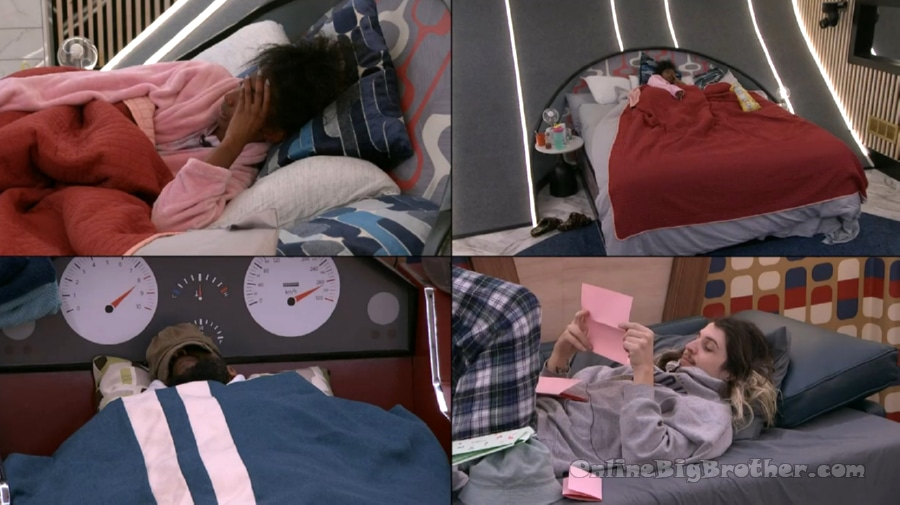 6:44 pm just waiting and studying.. Feeds flip to Brittany.. I'm out.
7:40pm – 8pm Brittany talking about past events of the season to the live feeders and what she what's to happen after the season ends. Meanwhile on the other cams Monte and Turner are sleeping.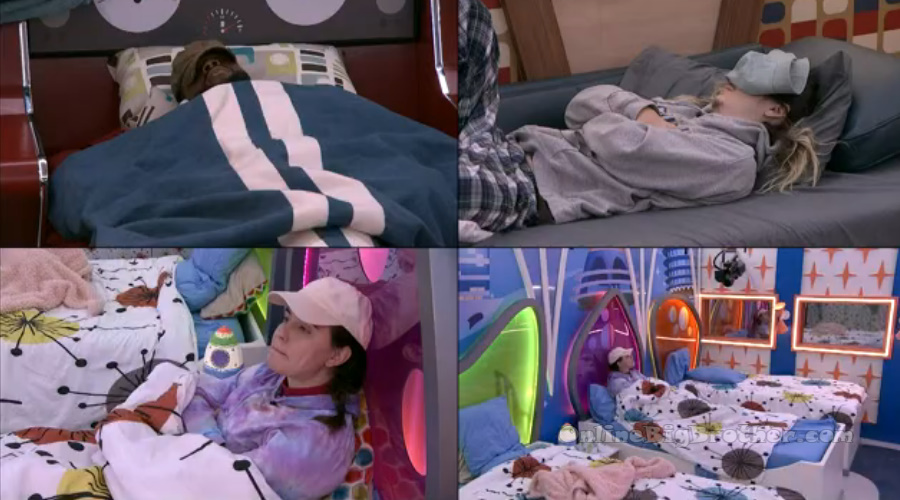 8:07pm Turner, Monte and Brittany are sleeping..
8:35pm HOH room Taylor studying the days/events/comps of the season.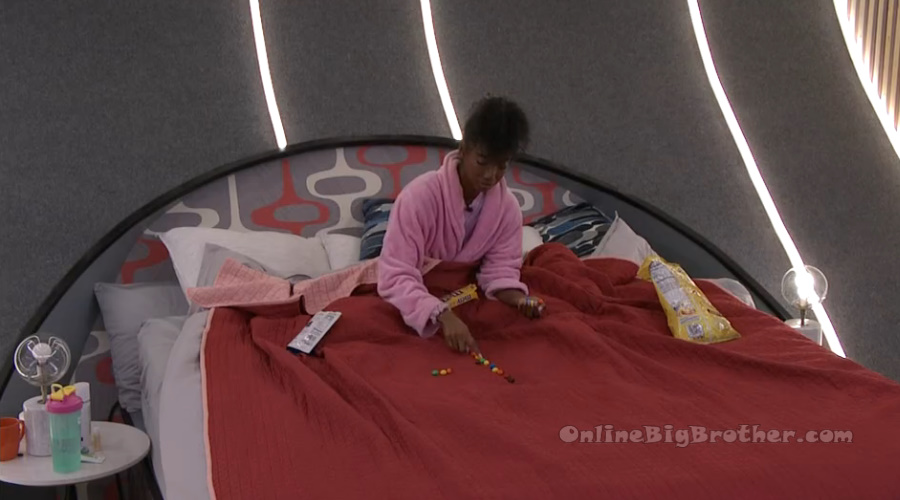 10:40pm – 11:30pm Monte and Brittany play cards.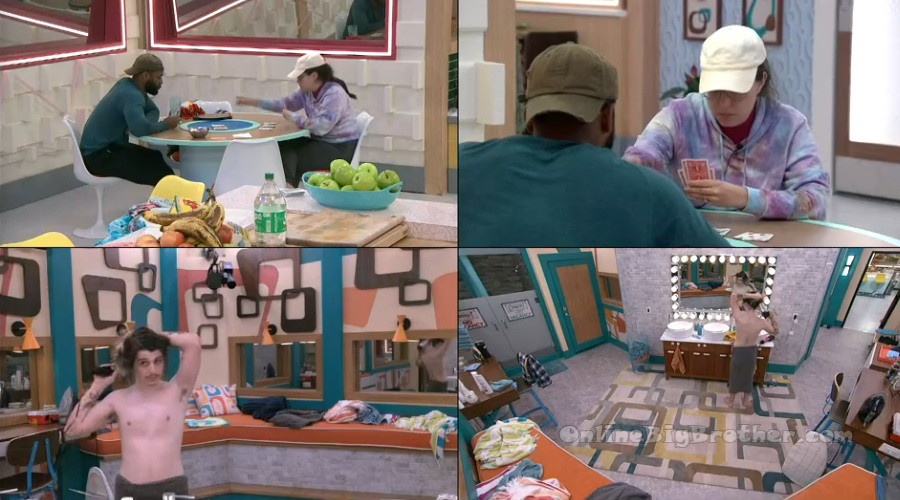 12am – 2am The final four play cards.