Quick Big Brother Spoilers
Head of Household:  Taylor
Nominees: Turner & Brittany
POV Players: Taylor, Brittany, Turner, Monte
POV Winner: Monte
Veto Ceremony:
Lock your ranks in before midnight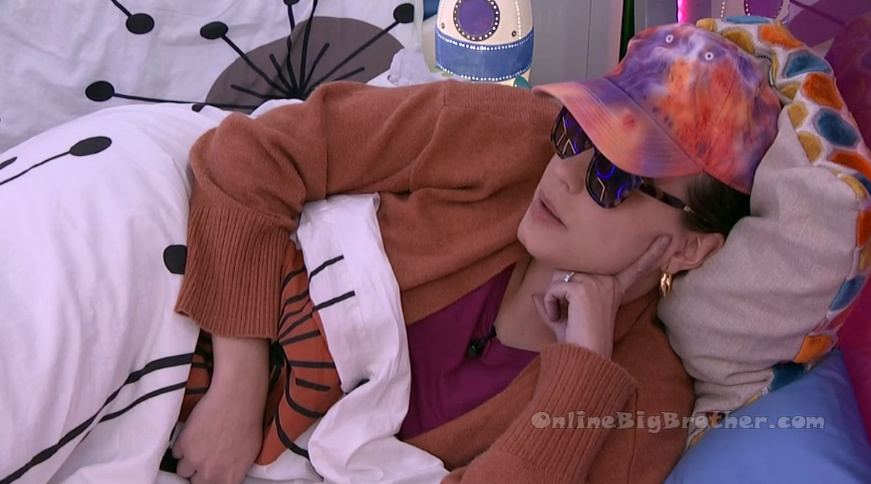 7pm Brittany talking to the cameras.
Brittany – will Monte and I be friends? Well.. there is probably a 99.99% chance no.. unless he does not vote to evict me this week in which case then I will for sure be his friend. Monte I will hold it personally because there were so many opportunities that we could have voted him out. It would have been so easy to vote him out and we didn't despite my better judgement. And despite my better judgement, Michael didn't and I didn't. We stuck to the plan and the fact that when it came down to it he didn't have my back. That is hurtful. The fact that I think he is making a huge mistake by not keeping me over Turner.. so no I don't think Monte and I will be friends after this. Maybe I would go on his podcast. Maybe I would reach out to ask about his business. I don't know.. if he made an effort maybe .. but I will not be making an effort .. I don't think.. unless he keeps me then we could be friends. I think I deserve to be a little salty. Then there is Turner.. would I be friends with Turner after this? Sure. I don't know, we've been at odds. I think he might want to be friends with me more after I talk with him on Wednesday. Once I am for sure that I am leaving, I want to try to clear the air with him a little bit. No sense doing it now but before goodbye messages maybe. But I think he is a pretty amazing guy and I definitely want to stay in touch. I feel like there is a lot I could learn from him about being a business owner and making your dreams happen. I think that is pretty cool. At the end of the day I would like to keep in touch with as many people as I can just because its a huge accomplishment and a huge thing that we're all sharing. I really wanted to leave with a BB family. I really wanted to leave with that so I am excited about that.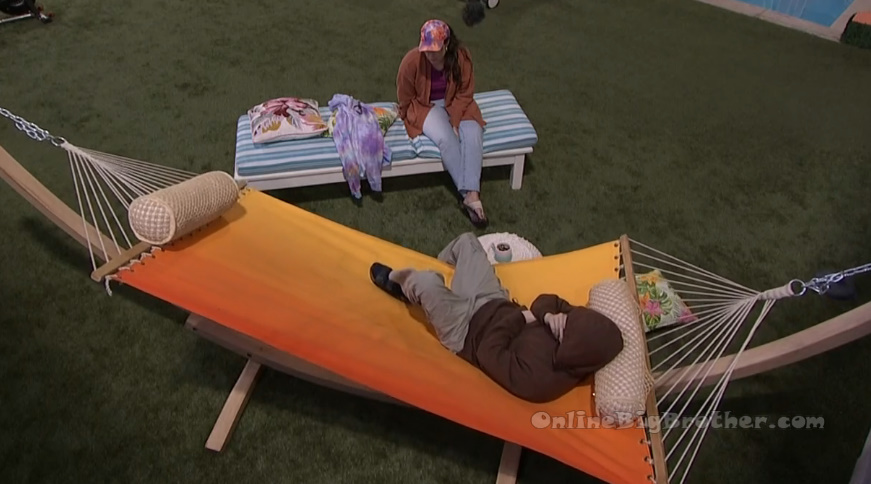 7:40pm Hammock. Brittany and Turner.
Brittany – I cannot imagine not watching the show that you're one ..like wouldn't you just be curious? Turner – yeah right. Brittany – I really do hope for the most part that we all stay in touch. Turner – I think there will be a text chat. Brittany – I think that at least right!? Turner – that sounds like a bare minimum. Brittany – I can't wait to see all the stuff you end up doing. I can't believe we're 9 years a part. Brittany gets called to the diary room. Turner – If that was not the most painfully awkward boring conversation I have ever had, then I don't know what was! Oh my god! OI have had enough of that! What's next are we going to talk about Austin Texas? So we have two people locked in the HOH. We have one person that is just UGHGHH.. I don't love the environment of this house right now. IF there was more than two weeks left of this I would be going insane but thankfully it is just about a week. I can make it through that.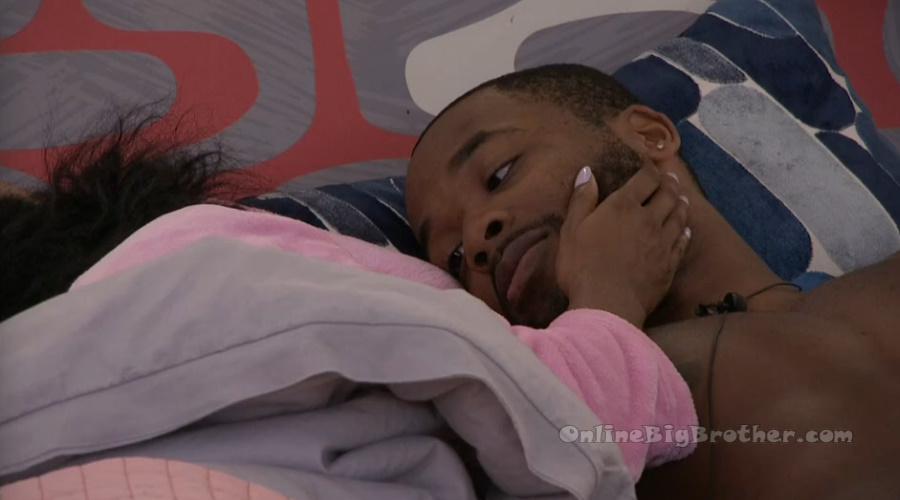 HOH room – Monte and Taylor showmancing.
Taylor – I think as long as you are being honest with me and you don't have something locked in with Turner I can live with.. the three. Monte – I am telling you right now, like I've told you before .. I am choosing you. Those words have not come out of my mouth to Turner. And I can very much live with that decision. That is fine with how I feel morally about the game and how what I feel would best benefit my game and yours. And also it wouldn't make sense to pick Turner and have the jury debate over who had the biggest impact this season .. even with me having one more competition over him .. he still had a lot of very.. Taylor – flashy. Monte – big moves .. yeah. Taylor – I am glad that we're just being honest about it because you could have just fed me some BS about sitting next to me. Monte – no.. and that is why I appreciated Brittany's conversation because she wanted to have a very logical conversation about why it would be better if she stayed. And I was like oh this is very interesting.. and I didn't disagree with anything she said .. I just brought up two other points that she didn't bring up .. the likelihood of me making it to final two if she is there and I just happen to slip up in one competition versus if Turner is here … and also the likelihood of beating Turner and what has typically been mental comps as the third competition… And she also brought up the fact that Turner would choose you over me because he is so unpredictable.. And I am like to you maybe he is. Taylor – but you've been there. Monte – outside of when he put you two up he has been very predictable. Taylor – it just keeps coming down to last week you trust one person more, I trust the other person more. This week its you think you can beat one person more, I believe I can beat the other more. Monte – which is very fair. Taylor – and we split the power this week. Monte – and this is another instance where I am asking you to trust me. Every time I have asked you to trust me, I believe I have come through 100% of those occasions whenever I had anything to do with it. Taylor – you put me on the block twice! Monte – the first time didn't count.. you wanted me to put you up. Even the last time, I knew the worst that could happen is a split vote. Taylor – the worst that could happen is both of them flipping on me.
8:15pm Kitchen – Turner and Brittany playing cards.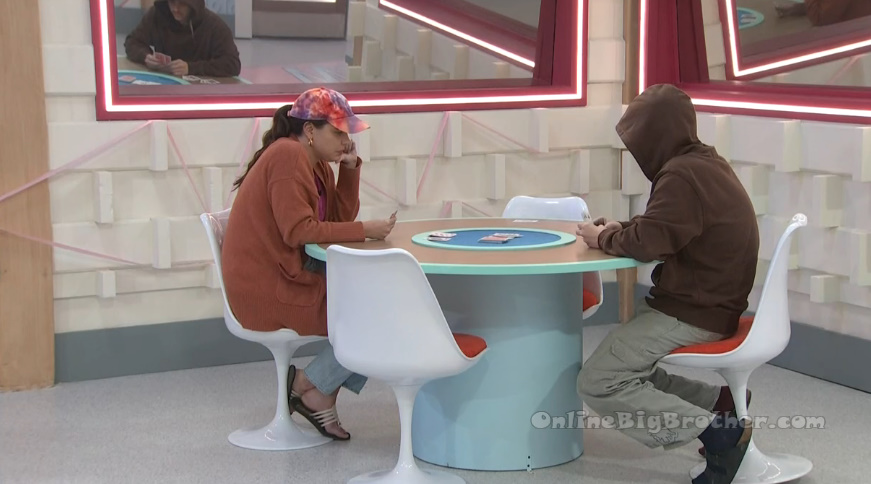 9:05pm State of the feeds…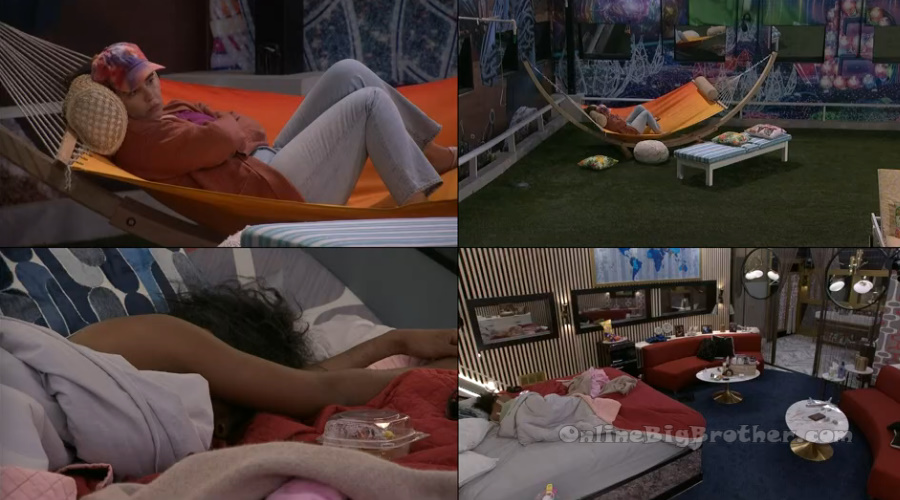 9:15pm – 10:21pm Kitchen Cards with Monte, Brittany and Turner.
11pm – 11:41pm Taylor – here's a thought.. all night-er, hot tub, sunrise! Tuner – I am down! Our last sunrise. Taylor – last sunrise. Brittany – I did not sleep all day. Monte – oh come on. Taylor – you can take naps outside. Turner – there are multiple boxes of red bull in my room and I am down for donations. Brittany – I will try and hang.
12am – 2:57am Cards out in the backyard.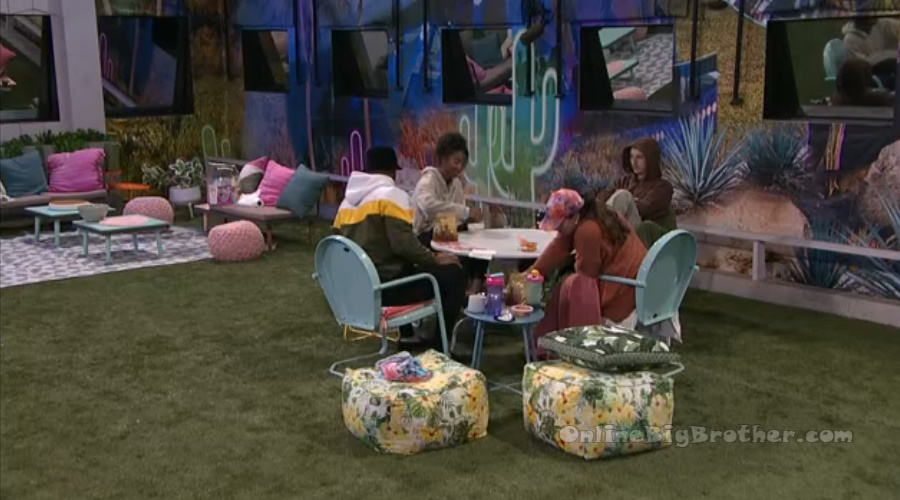 Without reader support this site and these spoilers wouldn't be possible.
If you've enjoyed our updates this season consider send us a tip to show your appreciation! 😉
Any amount is greatly appreciated!