POV Holder:
Jmac
POV Competition
Sept 12th
POV Used
?
POV Ceremony
Sept 14th
HOH
Vanessa
Next HOH
?
Original Nominations:
Steve and Johnnymac
After POV Nominations:
? and ?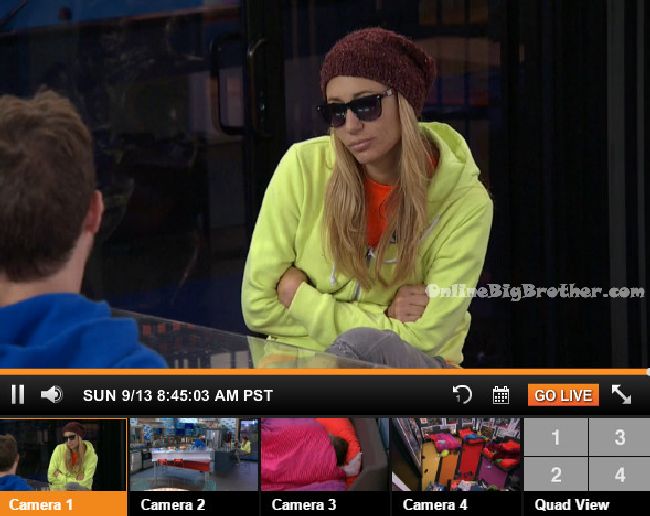 8:40am Big Brother wakes up the house guests. Steve says they woke us up before 9am today. Vanessa asks but why? Steve says maybe we have the veto meeting coming up. Vanessa says yeah because its sunday. Are we not supposed to. Steve asks do you know what you're doing? Vanessa jokingly says no, I'm going to flip a coin. Steve asks don't tell me what you're doing.. you know what you're doing? Vanessa says yes. Steve says okay. Vanessa says I know why we have to do it soon. They want us to sit out side while I do it so then they could set up the comp. Steve asks for the next HOH? Vanessa says yes. Steve says I am getting so tired of this bullsh*t! I know some people would kill to be here but I am getting so tired of it. Its the same thing I said on day 3. Big Brother blocks the feeds.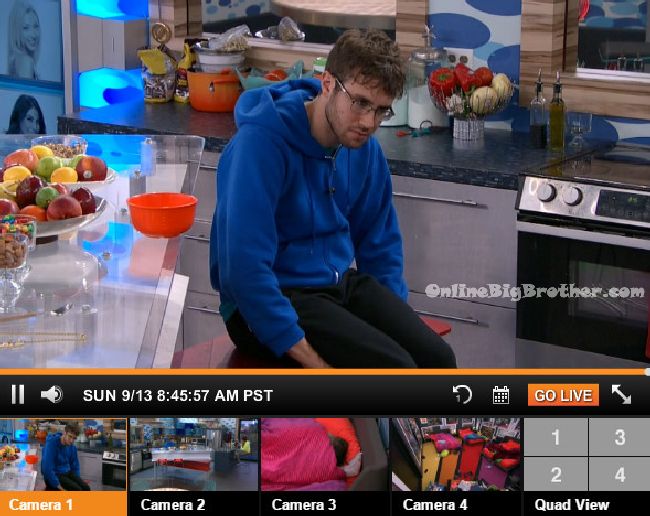 When the feeds return – Vanessa is in the backyard. Steve and Vanessa lower the outside awnings. Vanessa asks did you talk to Johnny last night? Steve says no. I just congratulated him on winning the veto. Vanessa says you need to work on your relationship with him because you need to have his vote locked in. He is either doing a really good job of convincing me that Rockstars isn't anything to worry about or he has no idea what he is going to do. He asked me straight up if we had a deal you and me and I said no. You realize he can't know about that because if he does he will vote you out. I had to simultaneously not care who stays and who goes. Like it was a big decision we would make together. When in reality you know what I want, I just have to get him around to it. My biggest obstacle is .. I think he thought you would go and I would be the tie break. He needs to feel really comfortable that you will take him and that it is smarter to take you than them. Steve says will do. Steve and Vanessa head back to bed.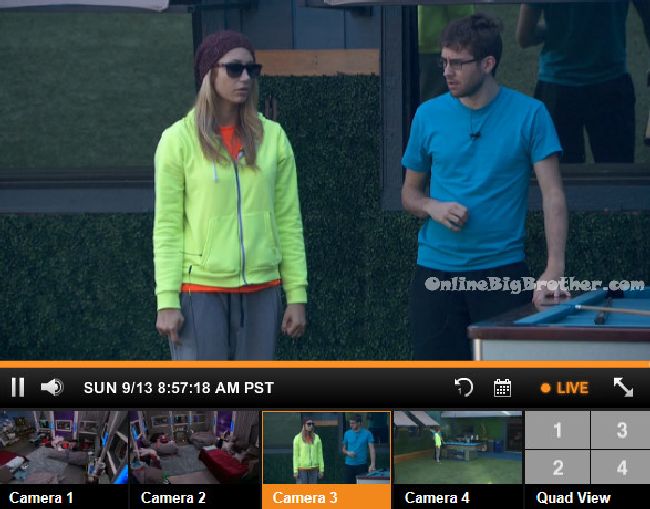 9:15am All the house guests are back to sleeping.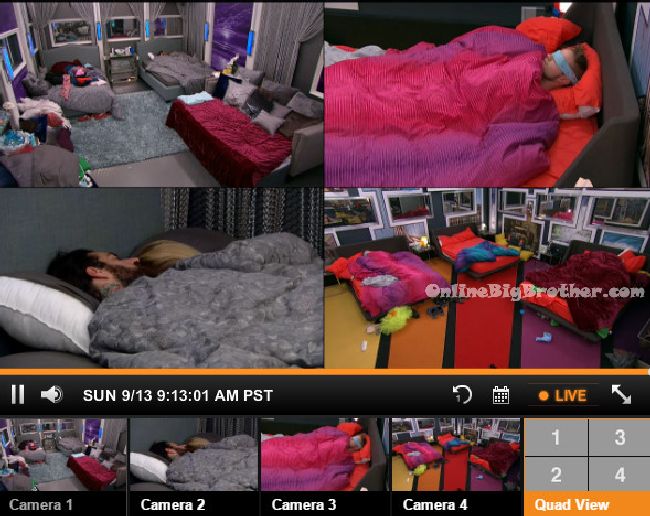 10am HOH room – Austin comes up to the HOH room to talk to Vanessa. He asks if there is anything new with Steve scampering around? Vanessa says no. He wanted to know what I was going to do. I told him I wasn't going to tell him what to do but I said I know what I'm going to do. Austin says that again last night Johnny Mac said he has no problem voting him out. Vanessa says I have to act very careful with that dance because I can't act eager. If I act like .. well yeah that's something I would def… Big Brother blocks the feeds. When the feeds return – Vanessa says that competition will happen probably later today or tomorrow. I think if we have the eviction tomorrow night at the earliest, if not Tuesday. If I act to eager he has time to talk to Steve and get his mind changed. Plus I don't want him to feel like he is going into final 4 with 3 people. I have to act completely ambivalent. You understand? Austin says I know exactly how you have to play with him. I need to figure out how to act with him too. Austin says its both of us getting blood on our hands because Steve doesn't know how long we've been locked in. Vanessa says we'll more me. I need to deal with another person hating me in jury. Johnny Mac seemed a little too cool about voting out Steve. Like they've been working together since the beginning and he's that okay with it!? Johnny Mac is taxi driver. Johnny Mac is really weird. Austin says I'm worried he is going to flip and vote me out. Its actually really good for you if he does vote out Steve. Vanessa says my worst case scenario is if he wins HOH. Austin says if he does then I need to throw that veto to you. Vanessa says our best case scenario is if you win HOH. Can you do that? Austin says yeah I can, as long as its not a puzzle. Puzzles are for dumb kids because moms make them do them. Vanessa says if I ever get a shot to come back on big brother I would practice puzzles and get better endurance.

10:20am
Austin says he thinks the next HOH will be the shovel or the before/after comp. But Liz wasn't here for some of that so I don't think it would be before/after. Vanessa asks If its me, you and Johnny Mac in final 3 .. I have your word you won't scumbag me? Austin says no. Vanessa says and I won't do that to you. I have your word you aren't taking taxi driver to finals. Austin says no. Vanessa says I don't think Johnny Mac would be very good at jury questions. Vanessa says Johnny Mac did say .. he doesn't know who the better strategist is between you and Liz. The best thing you can do is let Liz do some talking to him. We need him to lock in him picking you. He thinks of himself as a taxi driver savant. You really need to be more careful what things you say to him. He is going to final 4 so we have to be careful with him. I want him to feel like its almost like him making the decision. Vanessa asks how does Liz feel about this. Austin says she is thankful I am willing to do this for her but wonders if we can trust what Johnny Mac will do. Vanessa says he doesn't think he can beat Steve in finals. He really can't beat anyone. Steve thinks he (Johnny) can win. Vanessa says I would actually vote for Johnny Mac over Steve. Austin says Steve hasn't really done anything. Vanessa says Johnny has won more comps and did when he needed to when his back was against the wall. Austin says he slept through half the season and was never a target until week 7. Steve was fine being in an alliance with us until our a$$es were on the line .. so f**K him too. Austin says Johnny Mac has a long way to go to lock in votes. Vanessa says 4 vetos is impressive and 10 second places. Austin says but Johnny Mac as a representative of our season!? I don't think so. Austin heads downstairs.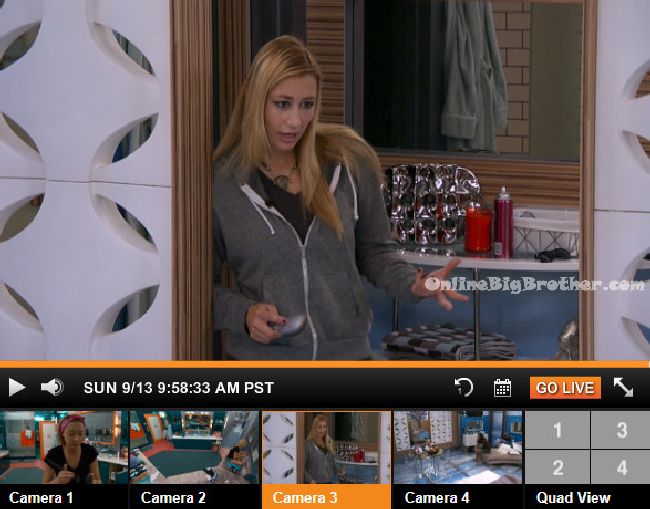 10:25am – 10:35am Backyard – Austin tells Johnny Mac I trust you and our conversation. Johnny says its what makes sense to me. Austin says if you need anything or want me to shake on anything let me know. Johnny says yeah I would like to increase my odds of winning that HOH next week. Let me think on it. Austin says yeah. Vanessa thinks she will win that veto next week. I would be confident if you won the veto and got to make the decision. Johnny says yeah I would like to win both. Austin says yeah that would be the ultimate power. Johnny says my worst case situation for me is I end up on the block next to Vanessa. I hope you guys would.. Like she will have good reasons to get rid of me. Like I am more likely to win at the end. Austin says my worst case would be me up on the block next to Liz so maybe we can work things out. Johnny says I'll take care of things you can't. Austin says it would be up to you guys to decide. I would assume Vanessa would take me over Liz if she had the veto. We'll talk it out. So many damn scenarios.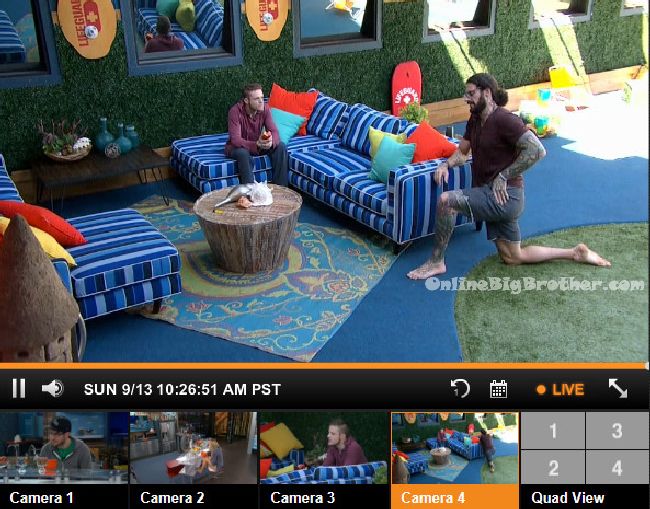 10:45am – 11am Backyard – Steve joins Johnny Mac in the backyard. Johnny asks him if he has his speech ready. Steve says yes, its simple. Steve brings up how Dr. Will said he hates them all and told them to vote him out and he stayed.
11:10am HOH room – Steve tells Vanessa if I show him I'm nervous it might make him less likely to vote for me. You see what I'm saying. I'll poke at it a bit more. Vanessa asks is it in his best interest to keep him? Steve says Yes because there's some tension between you and him this week. If I left it would make you have to work with him out of necessity to get out the showmance. Vanessa says if that's your best argument .. you need a better one than that. Steve says thats what I have in mind I would need more time to think. Vanessa says what does anyone want to hear? Steve says that I would take him to the end. Vanessa says and if they're in the game its 50/50 they would take him. With you in the game he always makes final 3. Steve asks you think so? Vanessa says no Steve this is what you need to tell him! Why I am I playing your game for you right now!? You need to do the math for him and show him. Steve says yes, sorry. Thank you for the wake up call. Vanessa tells Steve he needs to think you're going to take him over me. He doesn't know about our deal. Steve says he didn't talk to much game with Johnny Mac because he didn't know who the replacement nom would be.. Big Brother blocks the feeds.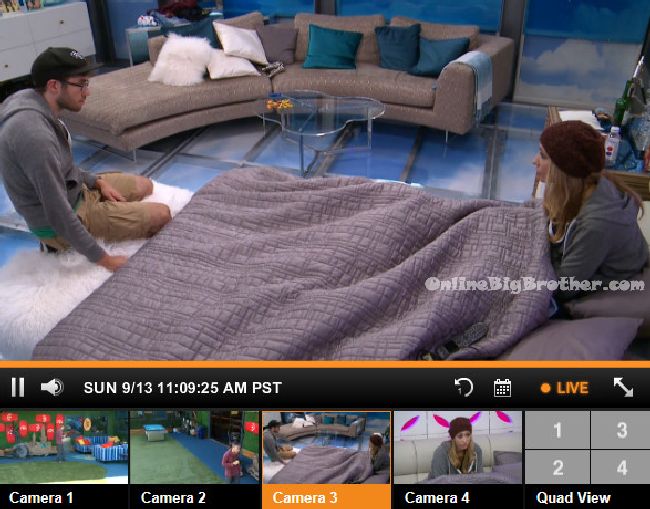 11:15am Big Brother blocks the feeds for the Veto Ceremony to take place.
If you've enjoyed the spoilers please consider a donation using the drop down box below. Simon and I work 24/7 all season long to keep you updated on everything that happens inside the Big Brother house.
[polldaddy poll=9063299]