POV Holder:
Jmac
POV Competition
Sept 12th
POV Used
Yes
POV Ceremony
Sept 14th
HOH
Vanessa
Next HOH
?
Original Nominations:
Steve and Johnnymac
After POV Nominations:
Steve and Austin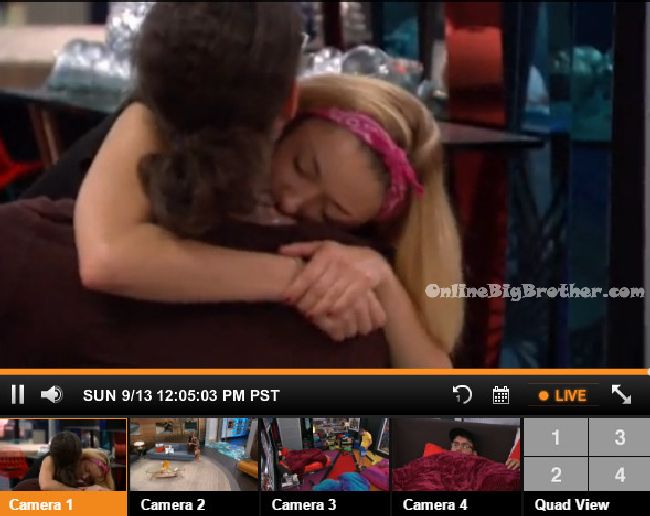 11:15am – 12pmBig Brother blocks the live feeds for the Veto Ceremony to take place. When the live feed return – we learn that Johnny Mac used veto to remove himself from the block. As head of household Vanessa then nominated Austin as the replacement nominee. Either Steve or Austin will be evicted before the special eviction episode airs on Tuesday.
Watch the NEXT WEEK of the Live Feeds for FREE! Click here for your: 1 Week Trial
12pm – 12:10pm The live feeds return to Liz and Austin in the kitchen looking for vitamins. Austin tells Johnny Mac they should get ready to workout. Austin tells Steve Well Bucko! Its down to me and you! Steve heads into the comic bedroom and tells Johnny Mac its down to Vanessa. Johnny says yeah. Johnny Mac says he's going to go workout. He asks if Steve is going to come out. Steve says no I need to figure out what I'm going to do. Johnny Mac says come up with some ideas and then let me know. In the living room – Liz hugs Austin and tells him she love him. He says I love you too. Austin and Johnny mac head outside to workout. Austin says I wonder if Steve expected me to go up? I think he thought Liz was going to go up. He acted surprised. Johnny Mac says I think it was Vanessa's speech. I think he's nervous. Austin says I was going to try and talk to him but he just ran off. Johnny says I know how he's feeling but at the same time it could have been me. Austin says yeah then it would have be up next to you. And he (Steve) would have been voting how Vanessa wanted. Johnny Mac says yeah and I would have been going to jury.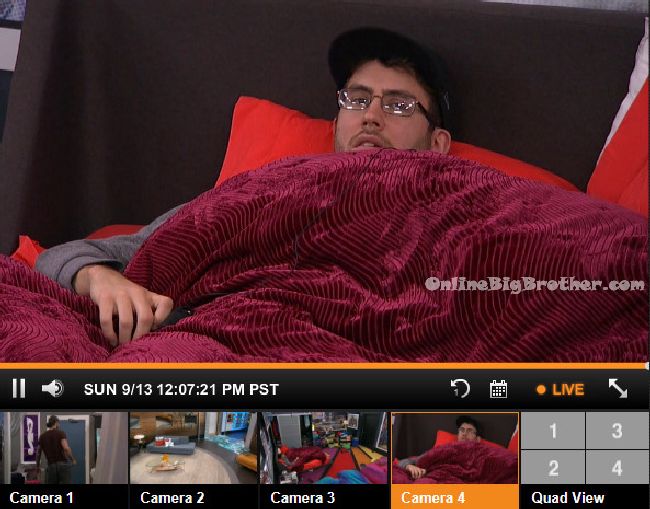 12:20pm Johnny Mac and Austin are working out in the backyard.
In the kitchen – Vanessa and Liz celebrate on being in the final 4. Vanessa says 50% of the people are girls! Liz says I know! Thank you! Vanessa says he (Austin) is trying to talk him (Johnny Mac) into the vote. Liz says I know. Vanessa says I actually think he will. From my conversation with him, I think he will. Liz says he (Johnny Mac) is easily swayed. Vanessa says I'm just excited we're there. Liz says this is a huge week to win HOH and veto. Vanessa says please do with Steve gone. If he (Johnny Mac) wins HOH, I'm f**ked. As long as he doesn't win HOH, the three of us are good. I want you to win HOH. Liz says we can't beat him for sure. Steve we can't. I've been studying every night. Liz asks so we don't know when the eviction is? Vanessa says he (production) just said lets just get through today. Liz says its so nerve racking.. its going to go so fast from now on. Vanessa says since we're in final 4.. one of us is for sure in final 3. Liz says I can tell he (Austin) is a little nervous but he's handling it well. Steve is only concerned about himself.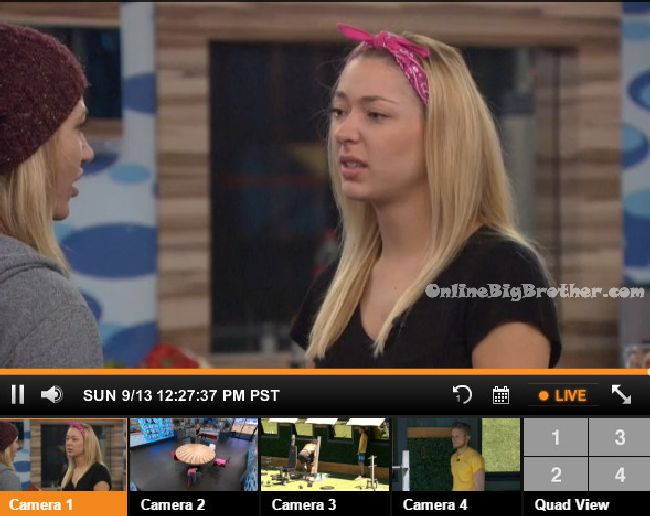 12:30pm – 12:45pm In the backyard – Austin tells Johnny Mac if it comes down to you and I in the HOH I could throw it to you. That's the one thing I can offer you for voting for me other than thank you. Johnny Mac says yeah I like that. Plus I don't think I can beat him (Steve) in the end. The one thing we need to do .. is if I get rid of Steve we just need to keep Vanessa from freaking out. Austin agrees. Johnny Mac says she is doing to me what she did to you. She's putting the decision on me which I'm okay with. She just had to bring up that I've won 4 vetos. Austin says yeah she's subtle. Johnny Mac heads inside to the diary room. Austin says to himself I'm up on the block right now. It might come back to bite me. You have to put your trust in the right people. Its day 88!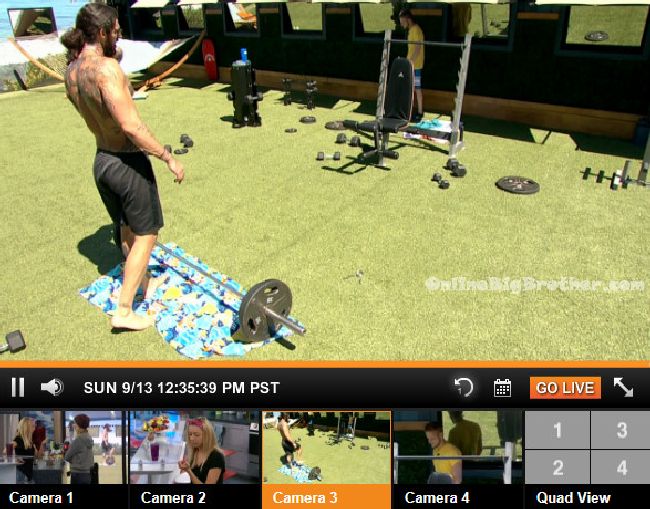 12:55pm – 1:05pm Austin asks Liz how her talk went? Liz says you have nothing to worry about, Vanessa wants Steve gone. Johnny Mac joins them. Austin comments on how these comps are like video games. Liz says its like mario party. Austin gets called to the diary room. Johnny asks Liz if she is doing alright. Liz says yeah I'm just glad its not me and I don't have to come up with another speech. Liz says we made it to final 4! These next HOHs are huge! Johnny asks was Liz excited to party in the jury house? Liz says yeah but I'm sure she misses me. Johnny says she's the only one of the scamper squad there. Austin comes back out to continue working out. Liz starts working out on the elliptical.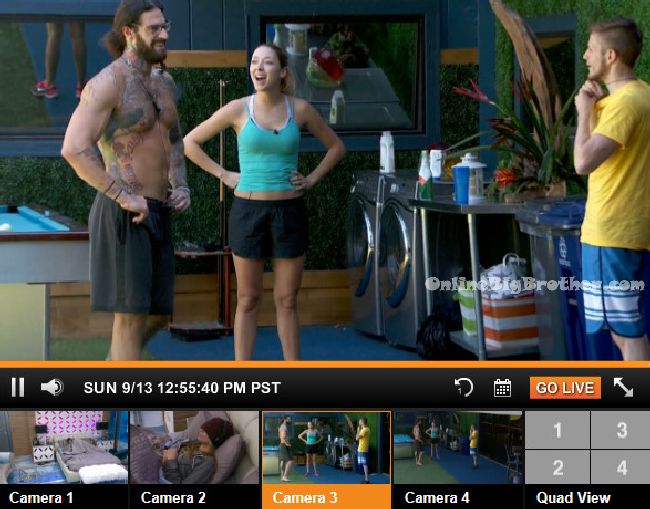 1:35pm – 1:55pm Austin, Liz and Johnny Mac continue to workout in the backyard. They head inside to eat. Liz asks Johnny Mac what he thought of Jason. Johnny says he didn't do anything to me until he needed to campaign to try and stay. Liz he was a little weasel he didn't even try and campaign to me. Johnny says after he and Becky did the promance together everyone started calling us a couple .. and we were like ah sh*t we can't be hanging out together. Liz says she really liked Becky.
2pm – 2:15pm Liz comments on how the eviction won't be live. Austin says you (Steve) can't hide behind your mommy. Austin tells Liz I get to be romantic going on the block for my babe. I like that, keep you safe. As long as everything goes okay then everything is a win!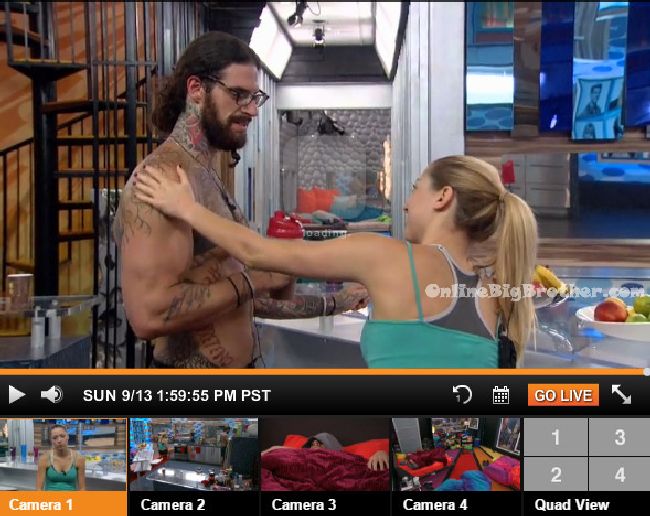 2:30pm – 2:50pm
Liz showering / Austin hanging out chatting to her. Meanwhile up in the HOH room Vanessa ponders all of their incentives. Vanessa joins Austin and Liz in the bathroom. Austin tells her that he talked to Johnny Mac and told him if he needs anything to just let him know. It seems too generous. He said he would think about and let me know. Vanessa heads back to bed.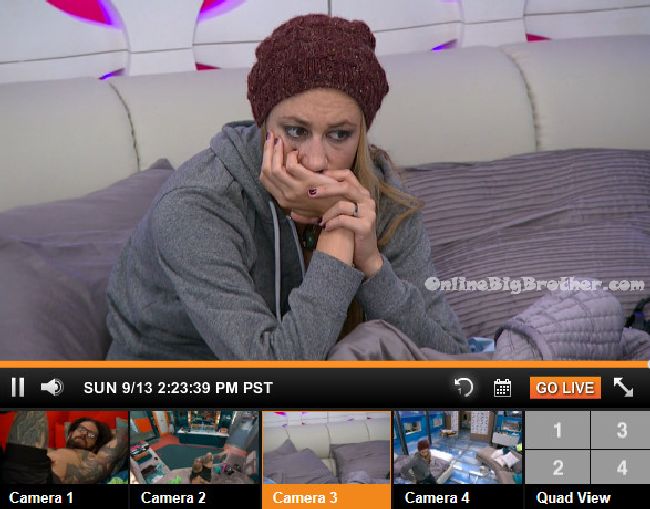 If you've enjoyed the spoilers please consider a donation using the drop down box below. Simon and I work 24/7 all season long to keep you updated on everything that happens inside the Big Brother house.
[polldaddy poll=9063299]