POV Holder:
Jmac
POV Competition
Sept 12th
POV Used
?
POV Ceremony
Sept 14th
HOH
Vanessa
Next HOH
?
Original Nominations:
Steve and Johnnymac
After POV Nominations:
? and ?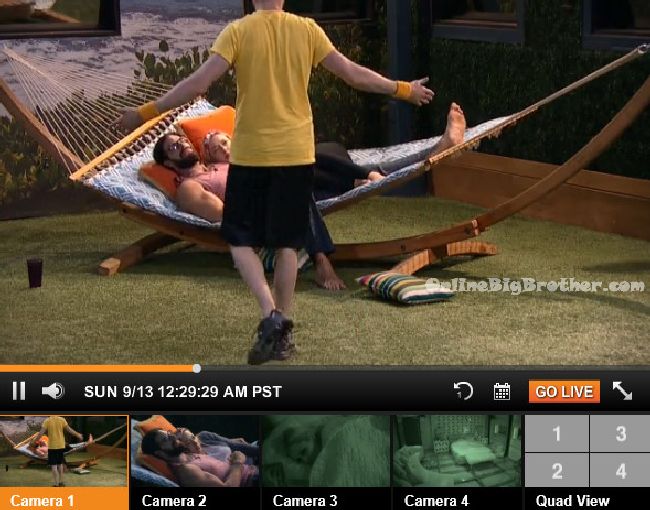 12:30am Backyard Hammock – Johnny is talking to Austin & Liz. Johnny says I was really only loyal to Becky. When she was gone I had to work with what I got (Steve). Austin says when she (Becky) came up and told them all about how much she hated Vanessa she left you out of it so we didn't know. It would have been good to know you guys were together. That might have changed things. We just assumed she was with the gremlins. Johnny says it felt like at the time there was nothing they could say to get James and Meg nominated over him and Becky. Austin says he just doesn't get why Becky jumped in with them so hard being like this is my group, my group, my group. Johnny says even from the beginning we felt like we needed to get in with someone. Steve joins them. Liz says I was scared of her. She could beat me at anything. Johnny Mac heads to bed. Liz asks Austin do you know why I love you so much. You're my best best best friend. I feel so comfortable with you. Austin asks that's it .. just your best friend? Liz says I wouldn't know otherwise.. Austin asks what about all these kisses? You kiss your best friend? Liz says you know what I mean. Austin says you're my best friend too. I've never had that in a relationship.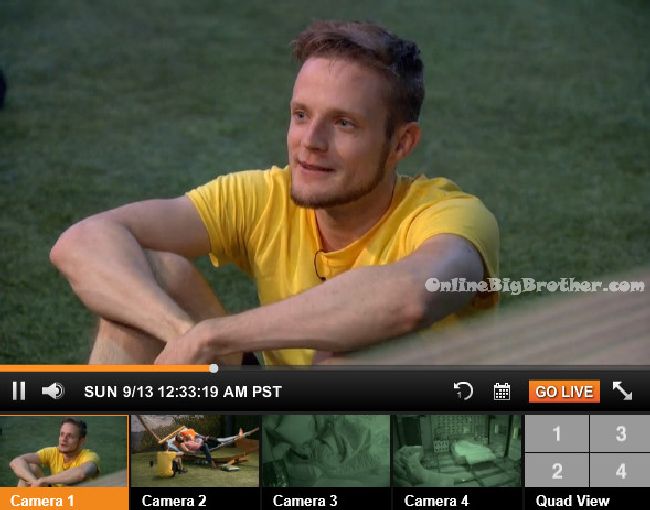 Steve alone in the hot tub talks to himself. I love how all three alliances I've been in I've names. SOS, Scamper Squad and Rockstars. No knows about SOS though, that's the secret. (Students of Sound alliance with him and Vanessa) Can I beat Vanessa in the finals? Can I beat Johnny Mac in the finals? I think I made final 4 but don't count your chickens until they hatch.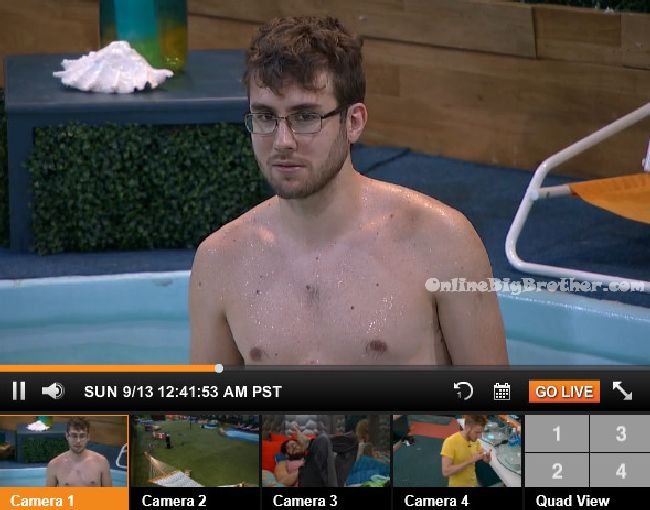 12:40am In the bathroom – Austin tells Johnny Mac – Let me know if you need anything from me going forward to solidify your vote because this is obviously ..critical so whatever you need. If you need me to shake on something. Johnny Mac says I will. Austin says because this is big, big, big! Johnny says yeah I hear ya. Well as far as Vanessa is concerned its her and me so .. against you two. Austin says that's fine. Johnny Mac says she pretty much wants me to decide the vote and I'm pretty confident this final 2 with Steve has been what's been kicking me out of the game. Austin asks do you think you'll tell him before hand or leave it up till the last minute? Johnny Mac says I'm sick of everyone playing nice! Austin says oohhhh.. so you're going to leave it up till the last minute and blind side the sh*t? Whatever you want. I'll probably talk to him after nominations. And tell him, I'm going to campaign for my self and he can campaign for himself. Let just not get dirty. If you want to get nuts lets get nuts.. bring the king out! I love how you're sick of everyone playing nice! Me too. Johnny says when I watched the other seasons there weren't so many unanimous votes you know what I mean?! Austin says because everyone is so scared to do anything. That's why I brought Judas out at the last meeting. Johnny Mac says yeah I was up there (HOH with Vanessa) and she was like you and I are final 2 for sure .. like you would be crazy enough to bring a showmance to the final 3. I was like yeah. Johnny laughs. Austin says excellent. She asked me to volunteer and said she didn't want to put Liz up again. I'm volunteering to go up and I hope she doesn't scumbag me because that's kind of dirty at this point. Johnny says MMmmHmm. Nope its time for me to do bad things. You know what I won, I get to stay .. but there are consequences for staying.
FLASHBACK and watch everything you missed: Live Feed 7 day FREE Trial!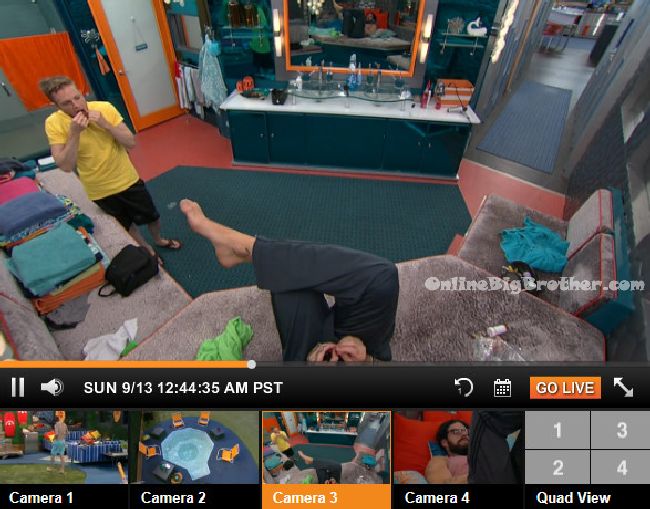 1am – 1:40amWhen Liz comes out the diary room she joins Austin in their bed. Austin asks what is he (Steve) going to do when I go up next to him? He's going to know he's going. He just going to have to know. Liz says I hope he does. She is his saving grace. He is going to suck up to Vanessa because he knows she has the final say. Austin says I told Johnny Mac if he needs anything to just tell me. I think they're both working for us. If either one of them win veto .. I think we're going to final 3. I think we're good. Liz says I want to get this show on the road. Austin says maybe they'll do it Monday morning but have the eviction Tuesday. Liz says its true Steve left him (Johnny Mac) in the dark. That's why I hate Steve, he only cares about himself. Austin comments on how Steve is walking around all cocky now. Austin and Liz head to the kitchen to eat and then head back to bed.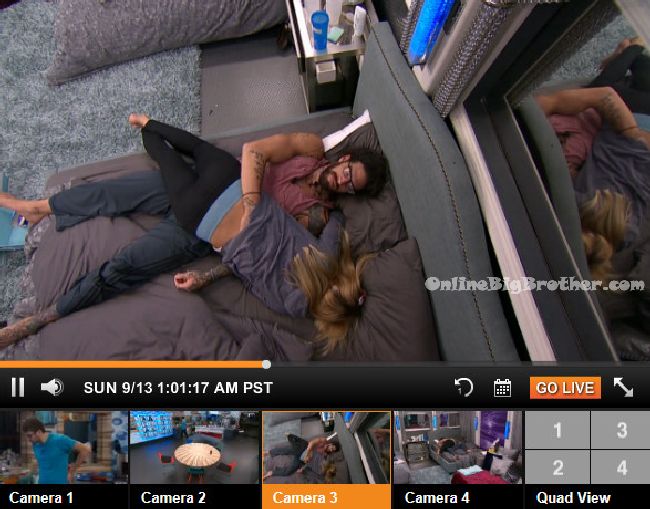 2:20am – 2:50am Steve can't sleep. He gets up and heads out into the backyard. He starts counting things. He says this counting comp better be good. He scampers around and then heads back to bed.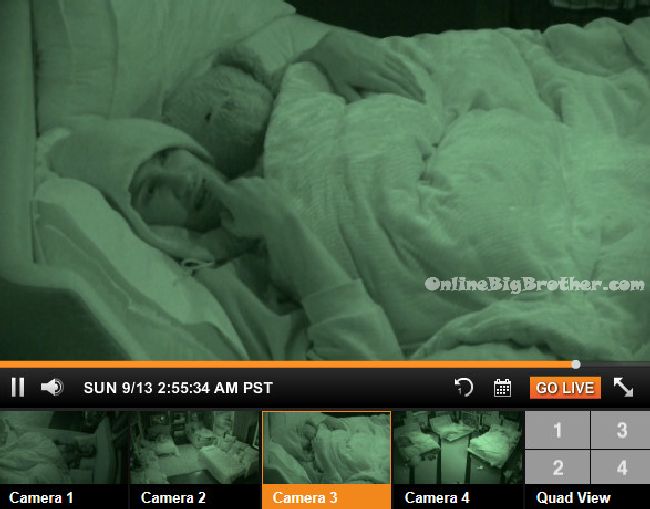 If you've enjoyed the spoilers please consider a donation using the drop down box below. Simon and I work 24/7 all season long to keep you updated on everything that happens inside the Big Brother house.
[polldaddy poll=9063299]