POV Holder:
Jmac
POV Competition
Sept 12th
POV Used
Yes
POV Ceremony
Sept 14th
HOH
Vanessa
Next HOH
?
Original Nominations:
Steve and Johnnymac
After POV Nominations:
Steve and Austin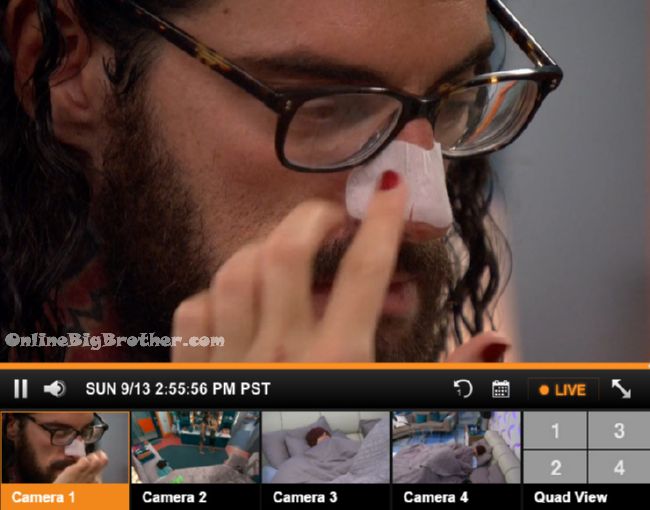 2:57pm Austin cleaning his pores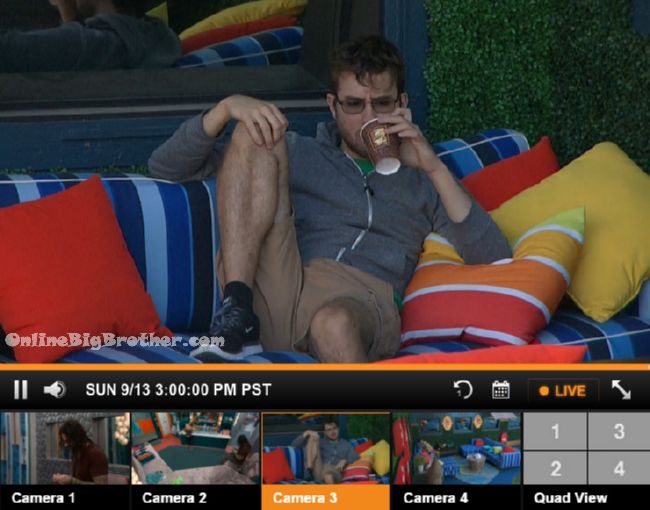 2:58pm Steve
Steve – I'm so comfortable with Johnny Mac and Vanessa..
He plans to practice the pitch to Vanessa with Johnny Mac and Practice the pitch to JOhnny mac to Vanessa. The difference is the Pitch to Vanessa won't be used.
Steve – Expect the unexpected.. Expect the unexpected.. I didn't expect the unexpected.. Expect the unexpected…Expect the unexpected
Steve is going to tell Johnnymac a showmance in the final for is "Kinda dangerous"
Steve – did you know they're is 41 petals in the back yard..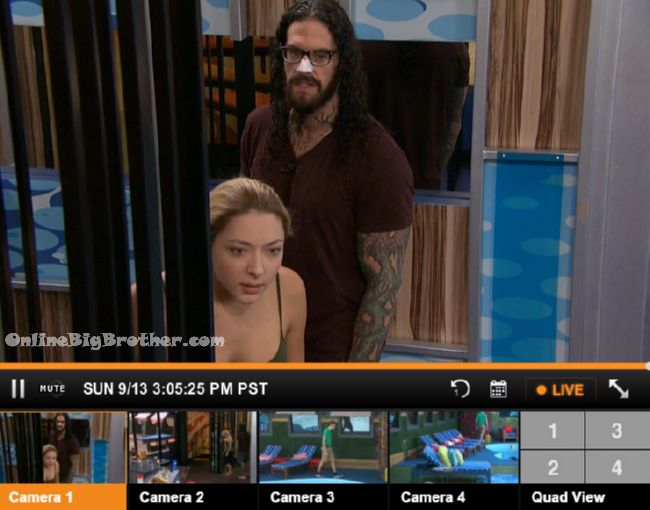 3:05pm Austin and Liz watching Steve in the backyard talking game to himself..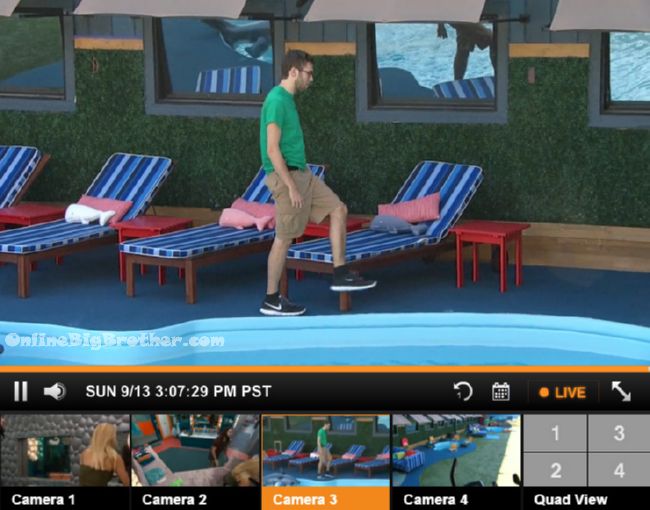 3:05pm Steve walking around talking about how he never thought he could make it this far, "My wildest dreams have been beyond exceeded"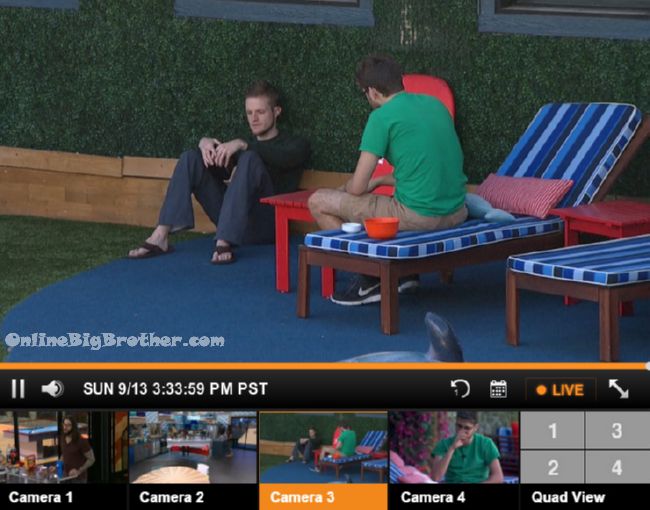 3:13pm Jmac and Steve
Steve saying he doesn't know what to say to Vanessa.
Jmac – It's tough
Steve – I'm crunching numbers right now.. I'm going to run it by you before I tell her just to have another head go through it
Jmac – you need to convince her to convince me not to vote you out
Jmac says he's sick of this final 2 thing haunting them, "I was on the bad end of it and I don't want to be on the bad end again"
Steve – Scamper squad isn't a thing anymore
They agree Scamper Squad was a pretty good name. (I agree I liked it)
Steve – so Vanessa thinks we will turn on each other, She wants me to promise her the sun the moon the stars
Steve warns him that Austin and LIz will promise him everything
Steve – they already got to you
Jmac – ya
Steve- wow they wasted no time.. is it even in the realm of what is believable
Jmac – ya
Steve – it wasn't for me (When he was HOH last week)
Jmac won't tell him what Austin and Liz offered to him Steve asks.
Jmac "I want to keep that to myself"
Steve – what's that word Vanessa likes.. Incentives..
vanessa – yeah I know
Steve – your incentives make no sense keeping Austin
Jmac – Ohh… I got Chocolate all over my finger
Jmac says he offered to throw the veto to Austin and Liz
Steve – you think I would have been gone if the veto wasn't used
Jmac – ya, if it hadn't been used that is what I would try to do
Steve- that would have been your only move.. they hate me I put them up last week that makes sense.. they want me out of here..
Jmac- well ya it's either you or them right now..
Steve – you're not in a bad spot
Jmac – I am in a bad spot.. you all hate each other but why won't you take me out.. RWWWWWJJJHHAAAA
Steve – why would we?
Steve – I'm doubting you have my vote
Jmac – if you can get Vanessa to convince me..
Steve – what do I saw to Vanessa
Jmac – I have no f****g clue
Jmac says Vanessa sounds pretty indifferent about who she wants out
Steve – why do you think she put up Austin over Liz
Jmac thinks it's because liz was up last week.
Jamc says Vanessa is assuming that she will win the next POV the final four Veto, "The wasy she's always talkign about it, like all she's done it prepare for this competition"
Steve – OK than.. so as far as I know we are still loyal to each other
Jmac – hmm hnmmm
Steve – Who do you want to go to final 3 with
Jmac – Honestly I don't care I just know I have to win out..
Steve nice to have your bases covered
Jmac – doesn't matter I just need to win out.. i'm not part of the scamper squad and Jury votes are going to be a issue.
Steve says because Jmac isn't scamper squad means everyone will want to sit against him. The Jury will be full of Scamper squad players.
(Also filled with scamper squad hating goblins)
[envira-gallery id="133394″]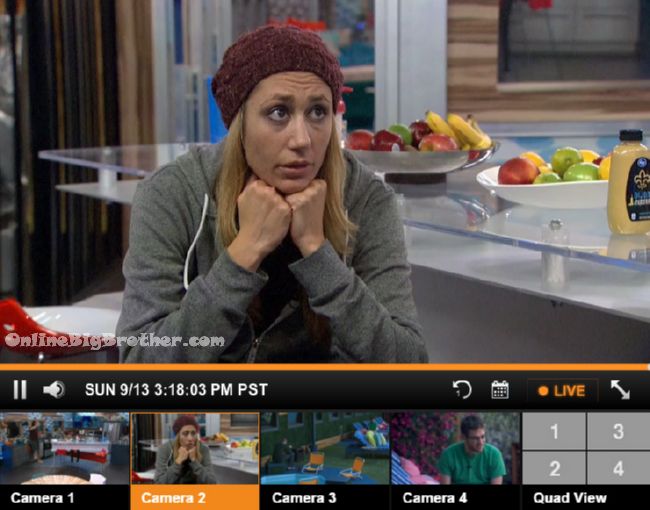 3:17pm Vanessa and Austin Kitchen
Studying dates. Comparing questions offering tips.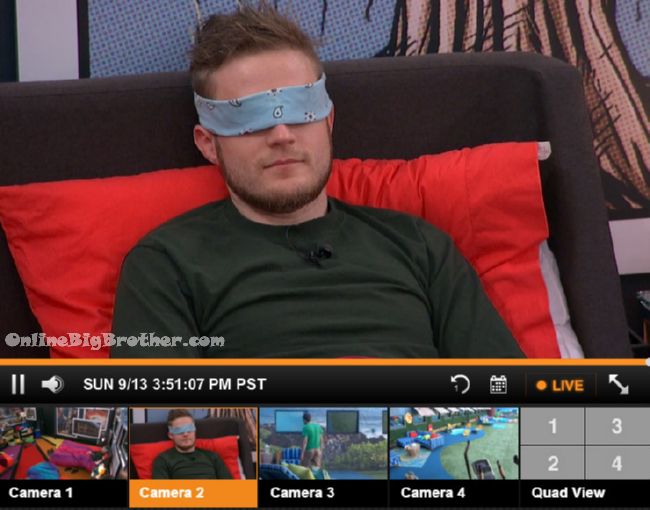 3:50Pm
Jmac about Steve "He has no idea what to do.. "
Jmac – he's pretty down right now
Austin – he has absolute faith in you
Jmac – yeah, not happening
Jmac says Steve isn't campaigning against Austin
Austin isn't either, "I don't want to call him names and shit"
Jmac – I'm not going to stop him from fighting
Austin – I hope this ends quick Monday would be great.. Probably Tuesday..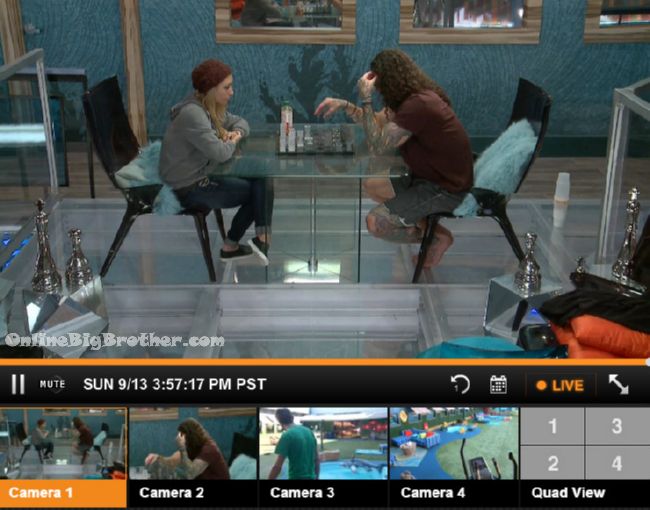 3:57pm Chess
on the other cam Steve continues to mutter to himself.. .sounds like he's planning on cutting Vanessa next week and taking Jmac/Liz to final 3.
Steve – what a stamp to be the one to get Vanessa out of this game… i'll have to lie.. I'm sorry
Steve – I did what I had to do… and I'm sorry… (Laughs).. I told my family I was goign to do…. What I've been threw..
5:17pm Austin has been playing Vanessa in chess.. looks like he's on the ropes. Liz has been chilling in the hammock. I assume everyone else is sleeping or scampering.
If you've enjoyed the spoilers please consider a donation using the drop down box below.
[polldaddy poll=9063299]