POV Holder:
?
Next POV
July 25th
POV Used
?
POV Ceremony
July 27th
HOH Winner Team 1:
Jackie
HOH Winner Team 2:
Vanessa
Nominations 1 :
?
Nominations 2:
?
Battle of the Block Winner
?
Next HOH/ Next BOB
July 30th / July 24th
Original Nominations:
?
Current Nominations:
?
Have Nots
?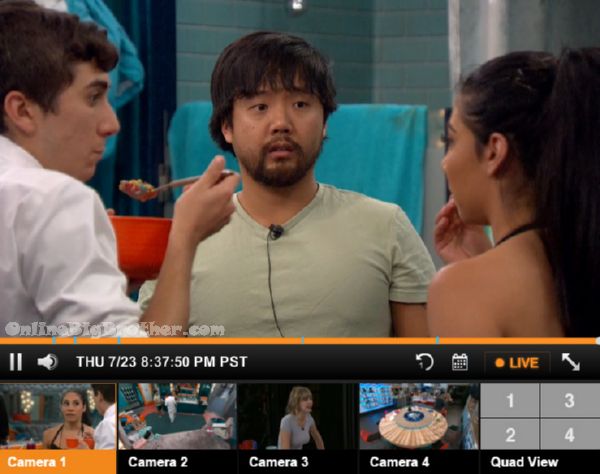 8:37pm James, Jackie and Jason
Jackie – you guys have to help me out wit this
James – you're in a tough spot
Jason – no matter who from out side she puts up we can beat Liz and Steve
Jackie wants to stay HOH, she wants to convince Steve to throw the BOB.
Jason says he helped Vanessa study with Meg and she went against them during the HOH competition
Meg and Shelli join them. they start talking about Steve being America's player. Jason is convinced it's steve.
8:54pm Vanessa and Jackie
Deciding to work together this week (Oh f****g great)
They agree not to backdoor each other if they get dethroned.
Jackie wants to bt the HOH.
Vanessa is cool with that.
Jackie proposes she puts up LIz and Steve.
Vanessa says those were her noms she knows what the house wants.
Jackie suggesting they take out Austin.
Vanessa says she was friends with them but they broke her trust last week. Vanessa says there's twins and a showmance she's low on the totem pole.
Jackie – You are OK with one of them going home, Liz, Austin and Steve
Vanessa – yes
Vanessa says she's going to talk to the people that have betrayed her, "I think we should talk later tonight"
She stresses they have to keep what they say to each other secret.
Vanessa tells her if they make this move she wants to make a long term commitment
(Vanessa is saying she's willing to turn on Austin and the twins if Jackie wants to join with them)
Vanessa – I'm a srtraight shooter I'm not a bullsh1ter
Jackie – who are you more afraid of
Vanessa – Austin is a big competitor but the twins there's two of them.
Jackie says if they can get rid of Austin this week next week the twins come in. The house can rally together to get them out "2 easy weeks"
Vanessa says she's very tight with Shelli and Clay so they can work together with them. Jackie is also close with Shelli and Clay.
Jackie wants to have an easy week let's stick with what they say.
Jackie says if Austin goes home it would be best.
Jackie says they have 7 votes to get Austin out. THey cannot decide who should be the pawn. VAnessa suggests someone that hasn't been on the block yet
Jackie – like clay
Vanessa – nobody will vote him out.. ask him… ask him..
Vanessa says Clay might be nervous because of the Shelli-Austin showmance people might see them as targets now.
Jackie – Who else.. Austin.. will he throw it ?
Vanessa says if they put up Becky and Clay they'll win the BOB for sure. Jackie would put up Steve and Liz lose the BOB. THey win the veto save Steve and put up Austin beside Liz.
Jackie says she's fine now after Jeff leaves he was trustworthy.
Vanessa says Shelli is very very trustworthy.
Jackie agrees adds that so is Becky
Trying to finalize their plans. Jackie says if the Veto is played Austin goes home if the Veto isn't played Austin goes home.
Vanessa asks what happens if Austin wins the veto. "You need a backup plan.. a backdoor and a mini backdoor"
Vanessa suggests Meg as the pawn over Steve. Jackie says Meg doesn't like being on the block.
Jackie is worried clay and shelli won't be up for throwing competitions because it's kinda dirty play
Vanessa says Shelli and Clay will be 100% down with throwing comps.
Vanessa tells her she has no loyalty with Liz.
Jackie says this is such a big move taking them out.
Vanessa says Austin will hate her if he finds out she knew about the backdoor plan.
Jackie won't say anything
Vanessa wants them to have figured out who they are nominating before they go to bed.
Vanessa says she ready to pick a side and wants Jackie on that side.
Vanessa now saying she could put up Meg and Austin, "You have to put Liz up with someone .. innocuous Like.. JohnnyMac"
Vanessa says Austin is trustworthy, With liz here he's thinking with his little brain
Jackie points out that when she mentions America's player Austin was acting funny and pacing around.
(There "initial" plan is Jackie puts up Liz and Steve, Vanessa puts up 2 people that will win the BOB. If POV is played Austin goes home, If POV isn't played Liz goes home, If Austin wins POV Steve goes home.)
[envira-gallery id="123589″]
8:59 Becky and J-to-the-Mac
Becky saying that Jason is pissed that she helped Vanessa study and she turned on them in the HOH.,
Becky says Clay and Shelli are good with everyone she doesn't see them going up for a long time.
Jmac – how much of this show have you seem
Becky – 11 to 15 in five weeks and part of season 10 .. my game gets super confused.. i wahts' 12, 16, 11, 13, 15, 14, 10 "
THey are both glad Jackie won.
Becky says Jackie will make bold moves not in a dirty way
Becky – are you close to Shelli and Clay..
Jmac – they got my back
Becky – I need to get closer to them.. I like them I trust them..
9:54pm Still in the have nots.. chatting about travelling. Becky has done a lot of travelling and lived in Europe for a while.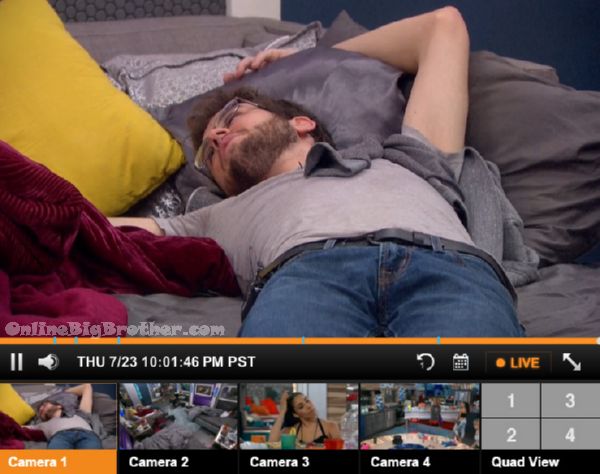 Steve says people calling him steve is like people Liz elizabeth. (His name is steven but production said it sounds too much like Ian)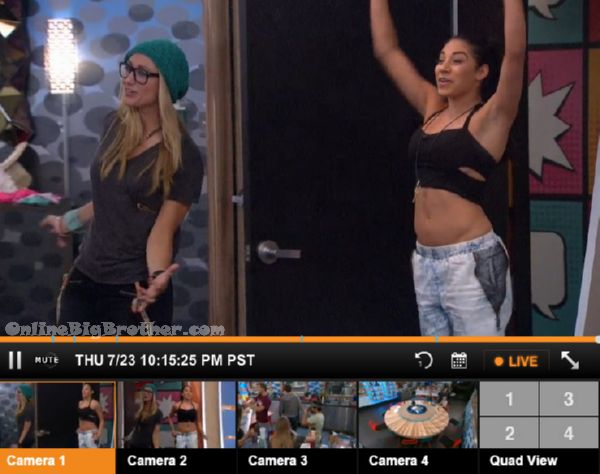 10:16pm HOH room time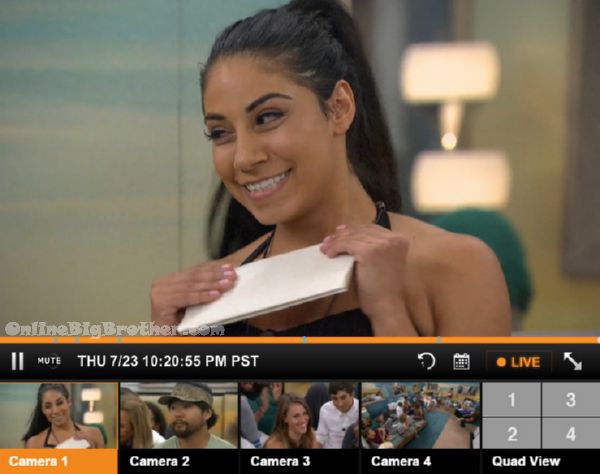 Jackie gets a letter from her dad in Columbia who is recovering from brain surgery. (He has Parkinson's disease)
(Her teddy bear is called Freddy teddy)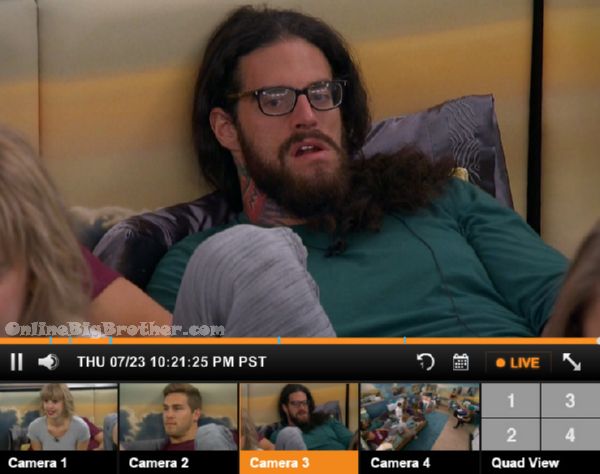 Austin looks worried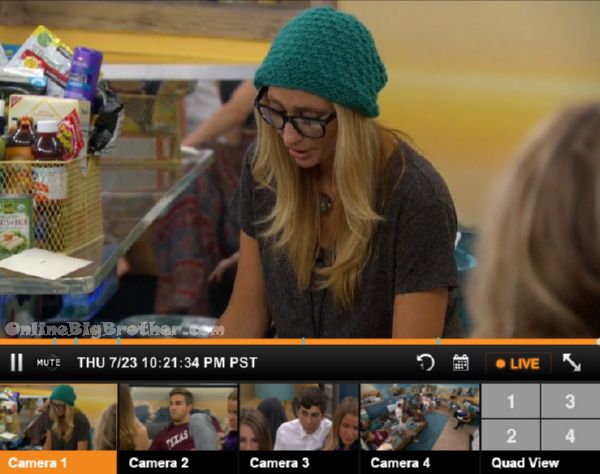 Vanessa's letter from her mom.
Her music is Alanis Morissette jagged little pill.
[envira-gallery id="123604″]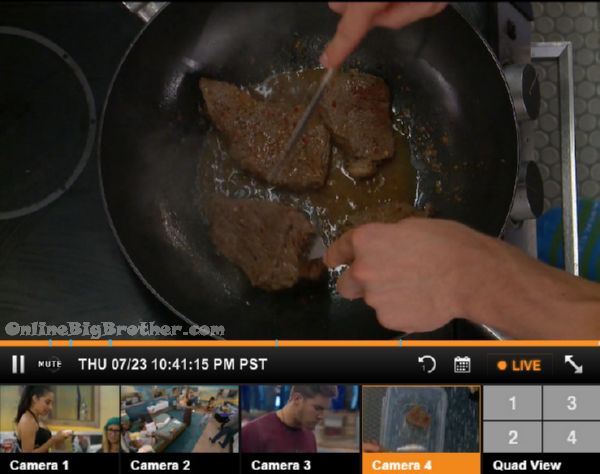 10:40pm Chit chat n the HOH meat burning in the kitchen
Live Feed subscription gives you CBS All Access thousands of archived shows. Live Shows like Big Brother, all the Big Brother Seasons, and 24/7 coverage of what is happening inside the Big Brother House. Plus there's flashback that lets you go back to any second of the feeds and rewatch what happened. Simon and Dawg will index the season just watch the parts worth watching. All this for $5.99 a month try it out 1 week free. Support our efforts and get your feeds via a link on this site. Live feed subscription Sign up
[polldaddy poll=8994045]
Share it YO!!
Tweet