POV Holder:
Clay
Next POV
July 25th
POV Used
Yes
POV Ceremony
July 27th
HOH Winner Team 1:
Jackie
HOH Winner Team 2:
Vanessa
Nominations 1 :
James & Liz
Nominations 2:
Clay & Becky
Battle of the Block Winner
James and Liz
Next HOH/ Next BOB
July 30th / July 24th
Original Nominations:
Clay and Becky
Current Nominations:
Jason & Becky
Have Nots
Shelli, Clay and Steve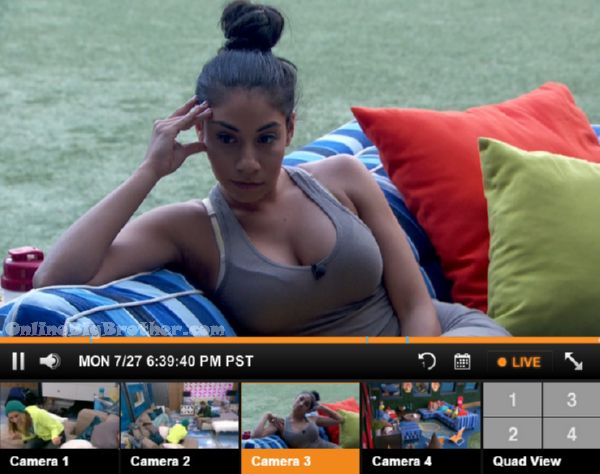 6:38pm Clay, Jason and Jackie
Clay – you're hearing from my mouth we did know right before.
Jackie asks him if he wanted their group of 8 to work.
Clay wanted to he was onboard.
Jackie – obviously people didn't feel that way.. was it just her
Clay – I'm not going to say that.
Clay says Vanessa is by herself maybe a bit with Austin but that is more a personal thing
Clay – I haven't lied to you guys I'm not going start now
Jackie – It's looking like you're in an alliance now..
Clay – Like with Austin and the twins.. we need them in this game to be expendable. Me Vanessa Shelli we trust each other .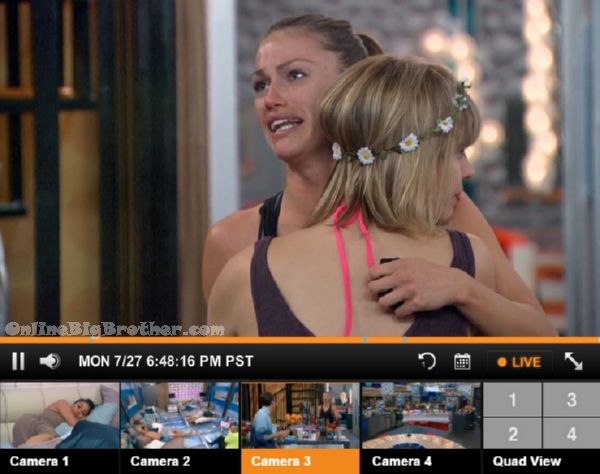 6:48pm Becky, Meg and Jason
Becky crying saying she agreed to go up because she thought she was up against Austin..
Jason – Becky don't worry I'm not campaigning
Becky – I'm going to go lift something
Becky leaves..
Jason and Meg agree it's funny watching everyone covering each others game.
Meg thinks Jackie had the best idea pull everyone in a room and talk it out.
Jason just likes to sit back and listen to it all it unbelievable.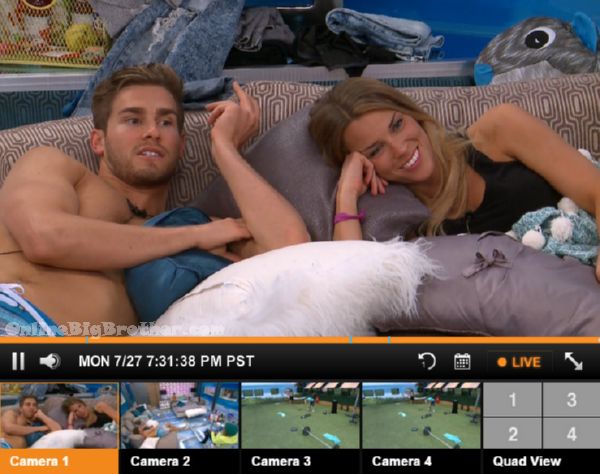 7:00pm Vanessa, Jackie, Clay and Shelli
Jackie – are you worried if I win HOH
Vanessa – I would love not to be worried
JAckie – in your gut are you worried
VAnessa – that's a damn good question
JAckie – you are you were when you set Jeff home.. if you are worried you would put me up..
Vanessa says she's a straight shooter and during the HOH JAckie put her up with Liz. Vanessa knows she's was going to Liz but why put her up.
Vanessa says what happened this week is not her fault it's not what she designed she just happened to be in power when this happened.
Vanessa says the majority of people in this house want Jason up over Austin.
Vanessa says she's a genuine person and she realizes that due to her action she will udnerstand if Jackie is piussed asks her if she it.
JAckie says it's not.
Vanessa – Austin breached my trust and I'm over it
Jackie – we'll I didn't breach your trust.
They agree not to target each other.
Vanessa asks if she wants to make a deal. Jackie doesn't need to make a deal she just wants them to trust each other and not put each other up they're good.
[envira-gallery id="124485″]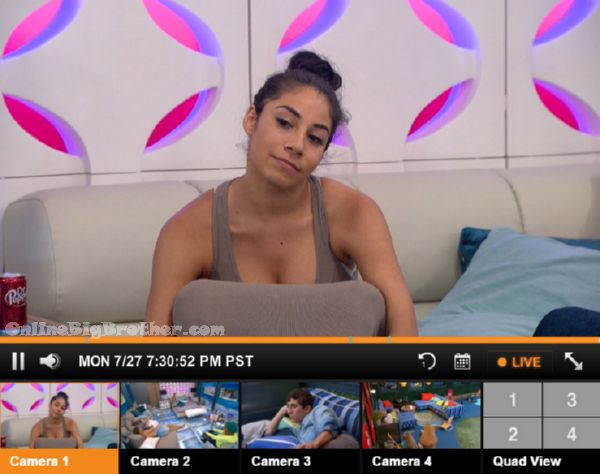 7:28pm Jackie asking her what's she doing next week. Vanessa says she can't play in the HOH she's going to lay low. Jackie asks what she should do if she wins HOH. Shelli chimes in says it depends on who wins the other HOH.
Jackie asks all the targets they had planned aren't targets anymore
Clay chimes in says targets change every week
Jackie – I guess I'm not a target
shelli and Clay chime in say they haven't heard jackie's name used ever as a target.
Clay tells her Austin is always going to be a target.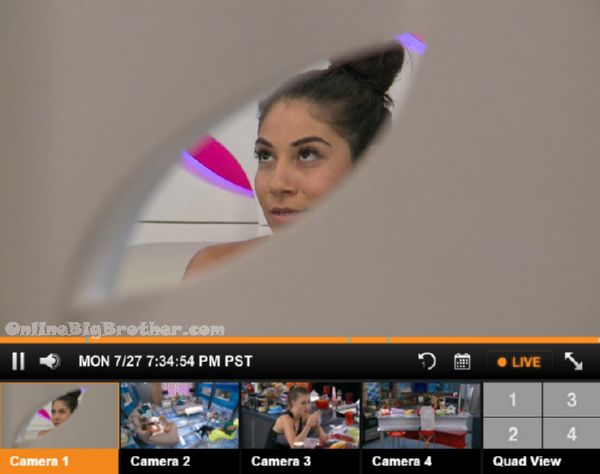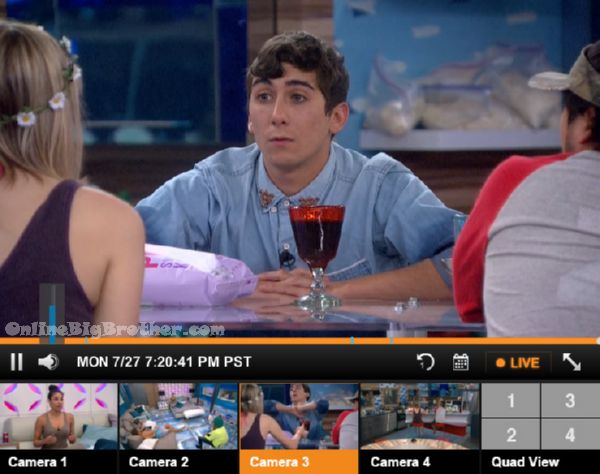 7:08pm James, Meg, Jason
Jason – Shelli is evil personified.. that's what Lucifer looks like
Meg thinks Vanessa is telling the truth.
Meg tells them JAckie will be the next target.
Jason – vote one of these b1tches for my honour, I voted Audrey out for Da
She's a demon a demon.. you can tell she was in a sorority
Meg wonders if Clay can get separated from Shelli
Meg – if you take her out what happens to him
Jason – he'll try to hid.. there could be revenge.. you're going to get more revenge from her.. that's her main puppet.
Jason brings up Shelli saying Tiers of loyalty. Now Vanessa, Clay everyone is talking about tiers of loyalty.
Jason – I'll fart in your mouth and show you loyalty
Meg about Clay – He's trying to scoop me up too, but I think Shelli would want me gone.
Jason – I wouldn't be surprised Johnnymac wins.. or steve wins
James – Johnnymac isn't on anyones radar.
Jason says he's going to bust something open on Thursday "you guys really all dumb i'll see you in a bit when you all hand shelli the cheque.. bye"
They agree Austin has every intention to in the HOH. Vanessa saying he's not is BS.
Meg asks who do they take out. James says Shelli she controls too much of the house. It's critical to get her out before Jury because she'll manipulate the votes.
Jason – She's the scariest by far
Becky joins them James has left.
They tell her it's all Shelli not Vanessa, "Shelli is the house"
They talk about the bull sh1t reasons they were told by Clay, Shelli and Vanessa
Jason – we were fed a big plate of bullsh1t.. what Audrey said when she left was true
Becky thinks Vanessa didn't mind Austin leaving when the blood wasn't on her but when Jackie was dethroned and Vanessa became HOH it changed.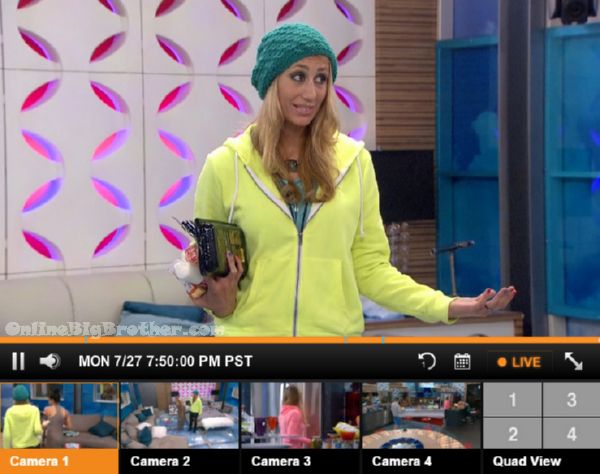 7:49pm HOH Jackie and Vanessa
Jackie saying she's loyal to Vanessa she's close to James and Meg but she's working with Vanessa and Clay/Shelli.
Vanessa says there's 4 sides in the house, 'There's a corner we have in common.. the steve twins section of the house"
Jackie says everyone downstairs is saying that the alliance is true.
Vanessa says there isn't she's built up trust with Shelli and Clay because they've won the back to back HOH's
Vanessa says it's good to have a solid group of people and work with them.
Jackie – I thought we had that
Vanessa – we did.. (Awkward)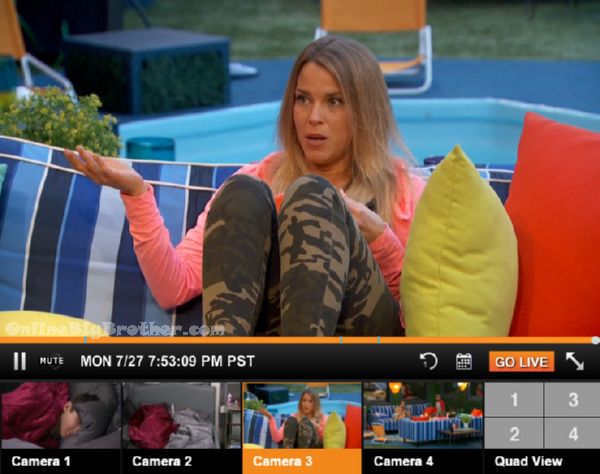 7:52pm Backyard Shelli, Clay and James
Shelli says she had nothing to do with putting Jason up.
Shelli – Meg said I lied straight to her face.. I certainly didn't lie.. i never looked at anyone face and said I didn't know this was coming"
Clay – from a game perspective I see where vanessa is coming from it makes sense.. personally we all love Jason.. I know she's torn up about it.
Clay says Vanessa woke up this morning and decided it was jason instead of Austin, "We're not going to come down and share that information.. to people we trust.. we felt that was Vanessa's job"
Clay reiterates him and Shelli had no part in Jason's selection but they agreed on it this morning as a game move, "WE have not deals on the table with anybody"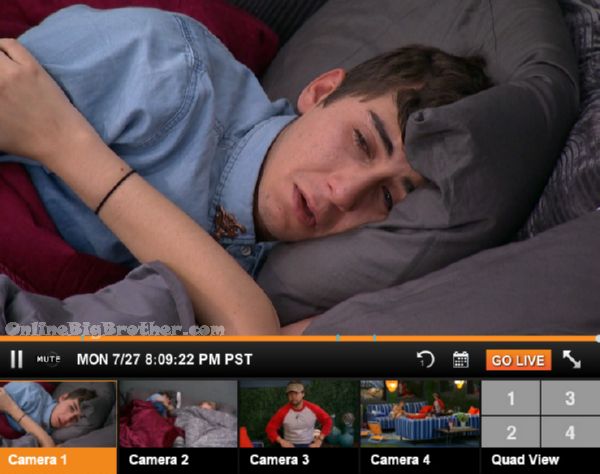 7:57pm Jason and Meg
Jason saying Shelli is a demon. Jason says when she gets the power she needs to take out Shelli/Clay all those minions those floaters will move to the power and vote them out.
Meg – What about Double eviction
Jason – Throw them both up there..
Jason – tell people c'mon think he's nothing without her
Jackie joins them. Say it wasn't fair they never gave jason a chance to give his points.
Jackie – i wanted to see how they were all going to act together.. it got weird
Jackie – I guess they really didn't know until last night, they weren't sure it was going to happen
Meg – they all decided though I don't any of them.
Jackie says this changes everything instead of going to final 8 they all have to fight and win,.
Jackie leaves.
jason – they must be naive to think i'm the only person targeting them.. unless this is really about separating you from me
Meg – there's a whole thing with them and james, you and me.
Jason – like us 3 vs them two
Jason says Shelli and Clay won't even look at him, they are doing a sh1tty job of hiding it wasn't them.
Meg – he confuses me.. I have to play their game right now and that annoys me
jason starts to cry "This was my chance to change "
Meg – it will change
Jason – not 1/2 million dollar change
Shelli comes brings up some tears and says she never knew this was happening.
Shelli gives her reasons why Jason is going up trying to look innocent and trustworthy
Meg starts to cry.
Jason starts to cry wonders why Liz and Austin won't even look at him what did he do to piss everyone off.
[envira-gallery id="124496″]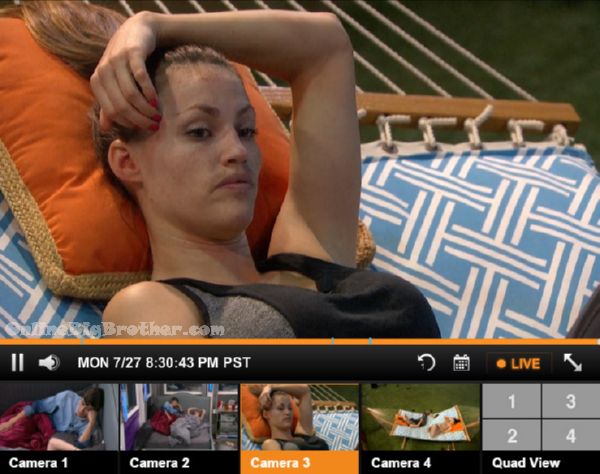 8:21pm Hammock Becky and Jackie
Trying to piece together what is going on in the house.
Jackie – I don't know why we put a group together if there was so many question marks.
Jackie – it was a group to get to the final 8 we all had the same gameplay
Becky – it would have made us safe until double eviction
jackie – what was happening
Becky – ever single person is going to through this HOH.. so many people are nervous for double eviction.
Becky – we all know Big Players go home on double eviction..
Becky – This week I want to win and go for a easy target like Steve
Jackie says she's good with Vanessa 'I have to be"
Jackie says Meg and james are not good with Vanessa, Clay and Shelli JAckie asks where is she with them.
Becky – I'm at the mercy of the house
Becky says when she won HOH it kept her safe she talked to the right people and that kept her off the block for a long time. She'll make a similar play if she wins again.
Jackie – I feel like i'm playing on defense now.
[polldaddy poll=8994045]
Share it YO!!
Tweet