HOH: Kyland
HAVENOTS:
Nominations: Claire Britini and DerekF
Power of Veto Players: Kyland, Claire, DF, Alyssa, Azah, Brit
Power of Veto: Alyssa (OTEV winner), Kyland (High Roller winner)
Power of Veto Ceremony: Kyland used the veto on Claire. Britini nominated in her place.
Big Brother 23 Houseguest Rankings – – RANK THE HOUSEGUESTS –
View the previous day ranks on the – Ranking Grid
Big Brother SPOILERS Britini is being evicted. I don't see this changing. 7-1 or 8-0
Brit and DF have been doing their one on ones campaigning.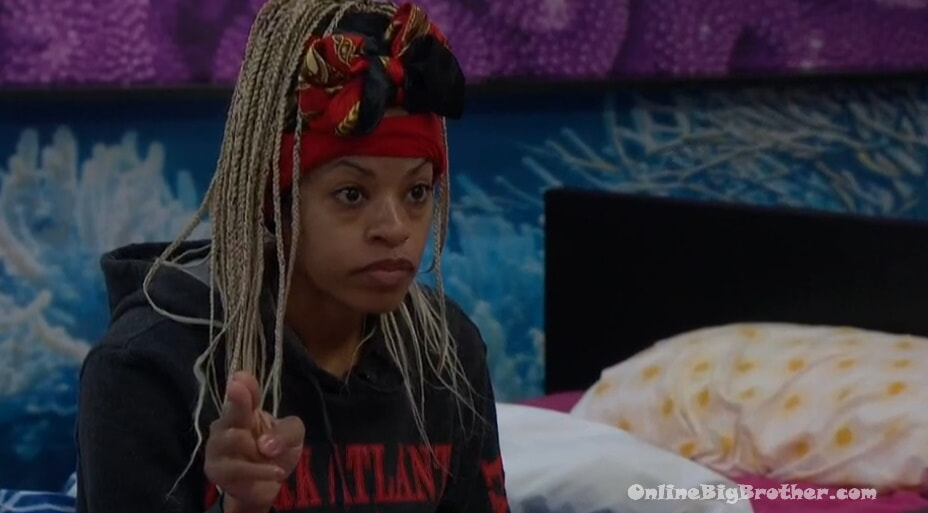 11:45 am – 12:40 pm Xavier and Tiffany
X – what is going on with Claire is seems like she's spearheading this whole get out BIGD
T – it's not that.. In all honesty, Brit is presenting a convincing campaign she makes a lot of valid points I understand why people are considering their options. If BIGD wasn't part or if we're not part of something Brit's campaign to me would make sense.
X – Claire got into Alyssa's ear. I got Alyssa back on track to vote out Britini
Tiff says she doesn't have any reason to tell Claire why they should keep BIGD.
Tiff says people are scared to keep BIGD long-term because they know nobody will want to waste their HOH on him
X says they take out BIGD during the double
Tiff – nobody wants to waste a double on BIGD
Tiff says a double eviction is for taking one X, BabyD, or Ky
X says Ky and DX know if they take out each other they are extremely vulnerable
Tiff – she is fine she is not trying to flip the house
X – that is how it's coming off
Tiff – She's considering and weighing her options they don't have 5 to 6 strong people backing them so I can understand why. If I didn't have Y'all I would be doing the same thing.
X says everything they say about Britini they can say about BIGD except for Brit is a better competitor
Tiff – not many people outside of the 6 have a relationship with BIGD. BIGD is not telling Claire he's willing to work with her or he's not coming after her. Britini is a girl she is team girl she is not coming after Claire for a long time. That leaves Claire an option to work with her for the next 3 weeks. I'm not arguing for Claire I'm just presenting what I see.
Tiff says Claire not going to do a 5-3 vote she's only considering keeping Brit if the rest of the house does.
X says he and Alyssa are firm in their vote.
Tiff – that will be my argument, I don't want to be on the other side of this vote.
X – I'm not revealing that until after I meet with Brit
Tiff – brit is not coming after me and Claire that is one reason she is considering it because she doesn't know where BIGD's head is
X says Brit will go after Ky and SB
Tiff – If I sat next to Brit she would probably leave if Claire sat next to brit. Brit will probably leave if Claire sits next to BIGD Claire is leaving
X – my argument to Claire is we're sitting next to either one of them we're going home that is just facts. Brit has been on the block 3 times now why is that
Tiff says that's not an argument to keep Brit "you have to make something stronger for her (Claire)
X – BIGD isn't coming after you BIGD will take a shot at SB and Ky
Feeds cut.
Tiff – Ky has rubbed so many people the wrong way people don't want to give him what he wants.
Tiff said to Claire when she wins HOH she doesn't want the house to flip on her "I respect the HOH enough to send their target home that's my argument"
X – the only person Ky had trust with was BIGD and now BIGD is questioning his a$$. He's making it to a point where KY is becoming a liability to the rest of the house we have to work hard as hell.
X – if any of us win HOH with the exception of maybe me everyone will expect us to put him up
Tiff – that is why you can't win this week
X – people won't expect me to put up Ky over DX
Tiff – that is why you cannot win
X – I could
Tiff – NO NO we have to put KY and Sb on the block and you can't do it.. We have to
X – then give BABYD a chance at the coup D'etat power?
Tiff – he's not going to do the coup D'etat power because he's playing the roulette wheel he thinks he might get backdoored.
X – with BabyD I told him if I get power he's not seeing the block. I'm not putting him or Hannah up so If I win regardless he shouldn't play roulette. If he doesn't get picked for Veto he'll be sitting next to Claire and we decide which one goes home.
Feeds cut
Tiff – if we keep BABYD Alyssa will go after BabyD
Tiff says if BabyD isn't around the non Cookout girls will go after her, Azah, Hannah. babyD is their shield
X – when the time comes to take BABYD out who do you expect to do it?
Tiff – YOu or Ky
X – I think me and Ky should have some say when we take that shot
T – you should have some say but before you say it you need to see the full picture of how these evictions go to make sure we are not getting picked off (LOL cookout is so overpowered at this point)
T – Claire and SB will not go after each other but SB will go after BABYD Alyssa will go after BABYD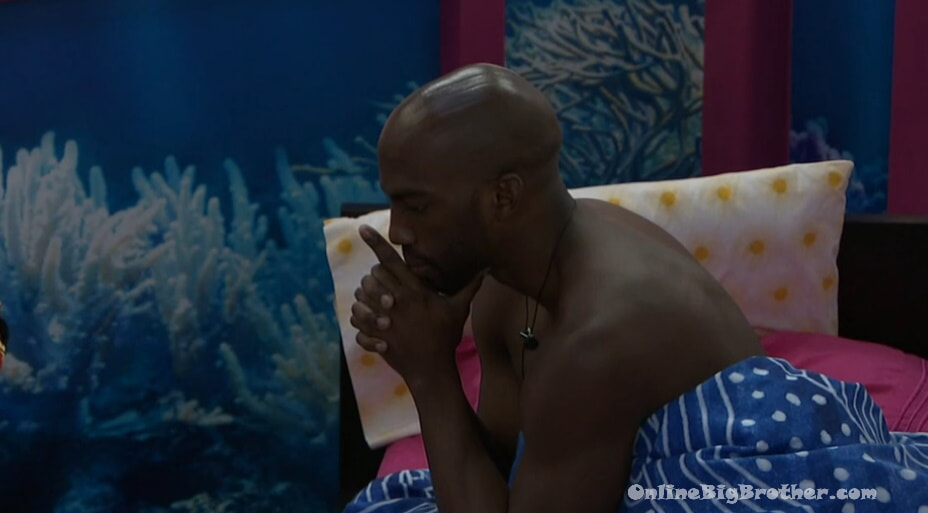 X says hannah was onboard with getting BabyD out next week
T – today?
X – I'll talk to her again today but if she's on board with losing her person why isn't everyone?
Tiff – ok. .SB stays BabyD leaves Claire gets HOH who is she coming for?
X – me and Azah
Tiff – Sb gets HOH who is she coming for?
Tiff – if babyD is gone SB is coming after me and Hannah
X – why you?
Tiff – I am on SB's radar and one of my issues with Kyland is he gets information that he doesn't give to me about me. SB has said I am untouchable she couldn't get me out of here if she had a magic wand meaning there's no way for her to get me out of here unless she can do magic. SB has said I am one of the most influential people in the house only because she feels I've been in the ear of every HOH (TRuth)
T – BS wants me out.. DX is first on her list once you take DX out i'm next.
X – do you feel you can beat SB?
T – I can beat SB but if we keep Sb for too long when we get down to 7 there's one of them and 6 of us. the only one that will not send me home is Alyssa. Alyssa is the only one that can be the last one. He will want to send Kyland out.
Tiff says if it's Alyssa that wins 7th HOH Ky goes if it's SB her of Hannah goes.
Tiff – if it's DX you or Ky go
X – who do you want to win HOH next week
Tiff – somebody that can put up Ky and Sb
X – who would that be, Azah?
Tiff – me, Hannah or Claire
X – you literally just told me in the shower that Claire has to go
T – I know what I said yesterday morning and we know things in this house change very quickly (LOL)
T – I was speaking out of fear I knew Claire was considering keeping Brit. Now that I know she won't do a 5-3 vote I am a little ok with that I know she will go after Ky or SB
Tiff says it only makes sense to X and Ky to get DX out the rest of the house it makes sense to get Ky/SB out.
X says if him and Ky have a chance to take the shot at DX they should be able to take the shot.
Tiff goes on about making sure the timing is right to get out DX.
X – what if he wins and puts up me and Ky
Tiff says they can spin the roulette wheel and get themselves off the block.
Tiff says Ky can win Veto and SB and Claire can go up and one of them can go.
X – I'll have to think on that one.. he can win any type of competition I know we will struggle to beat him SB, Claire, Alyssa I'm not worried about beating any of them.
X – he's [dx] got 100 BBbucks he'll keep accruing money and I don't want any type of variable where someone outside of the cookout has that coup D'etat power.
Feeds cut..
Tiff is saying that DX has targets outside of the 6.
X – between DX, Alyssa, Claire, and SB who out of those four can we not beat.
Tiff – we can beat all of them
X goes on about how they can beat everyone outside the six except for DX.
Tiff – you're saying they don't have a chance at beating us at anything.. They're luck competition
X – we can gauge power and none of those three are in a position where they can get power and put two of us up.
X says he wants Brit out because he doesn't want her to get more BBBucks. "that's a strong argument for Claire"
Tiff – and she's lying *(about the money she told them 75)
X brings up putting her up as a pawn.
Tiff – if anyone puts me on the block I am going home
X – you are not going home
Tiff – nobody wants to keep.. SB won't vote for me to stay. Alyssa won't, Y'all will have to show your cards.
Tiff – Sb IS not voting for me and she will convince Alyssa (Yikes two votes against)
Tiff counts her votes, hannah, Azah, BIGD, Kyland,
X – you only need four
Tiff – you all are going to see the SB that wanted Hannah out that day then you'll see the real deal
Tiff – I hope you do it so you can see why I want her to go home.
X- if I went that route under no circumstances would you be on the block come eviction night
Feeds cut.
When we're back Tiff is saying she would have to trust Azah. X tells her Azah dislikes Ky more than Tiff.
Tiff – DF will vote for Ky to stay. Hannah would vote for me I hope.
They agree the longer they can prevent showing their cards the better.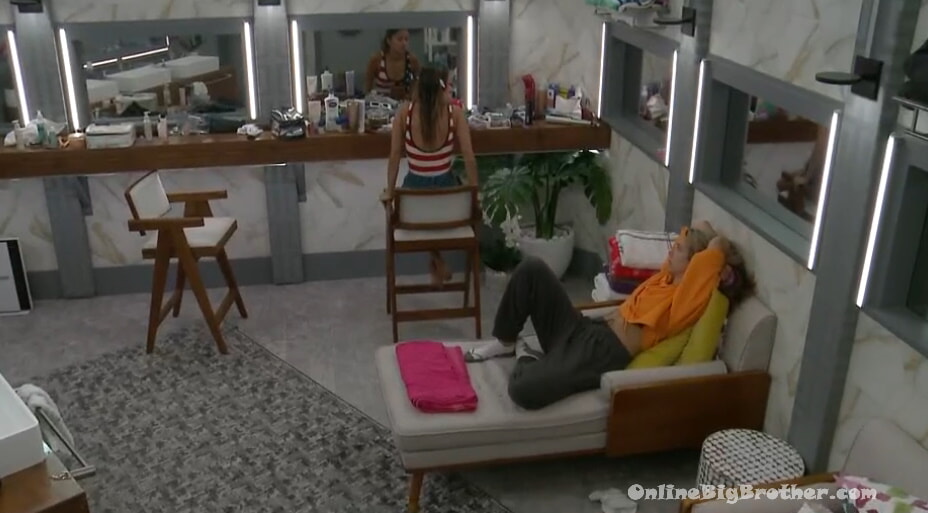 12:58 pm Claire and Alyssa
Claire – how do you feel about all the guys
Alyssa feeds good about X, BIGD she has no idea she expects him to do something emotional and Ky she has no idea. She would have a better idea of what DF would do over Ky
Claire says lucky Ky can't play next week
Tiff comes in .
Alyssa – BabyD I feel like I would go up.
Clair e- the three guys will look after the three guys..
Alyss a- yo mean not BIGD..
Claire – with BIGD I guess..
Alyssa thinks BIGD is the guy most likely to go after the other guys.
Claire – I don't want this vote to be a split vote. It should be the house one way or the other.
Claire – my fear is what SB does next week.
3:00 pm
The Kings
Confirming they are voting Brit out this week. Sb says BIGD will be easy to get out later.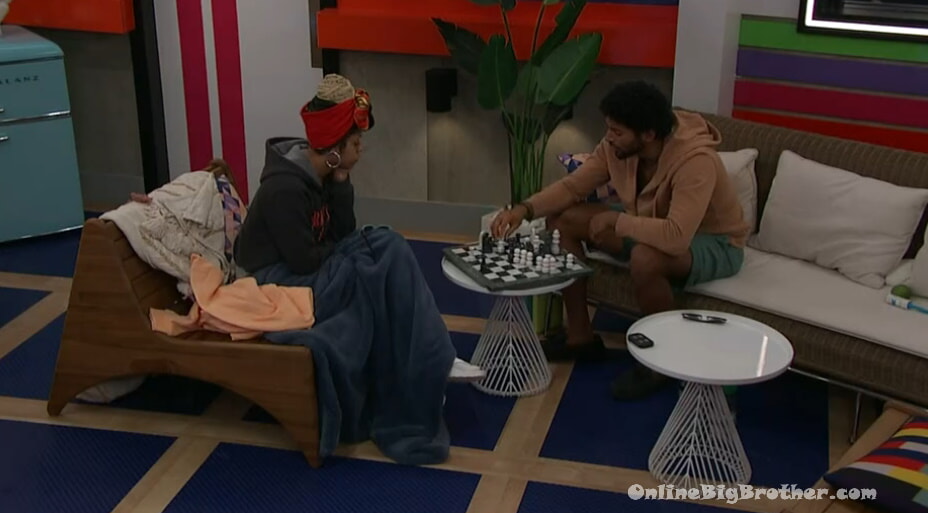 3:00 pm – 5:11 pm Tiff and Ky (This conversation has been going on for over an hour but the feeds aren't on them very much. thank god. )
Tiff says she respects the HOH and she doesn't want the HOH's target to stay because if she wins the veto she doesn't want someone to flip the house on her (Wait didn't Tiff try to flip the house on DX's HOH?)
Tiff says "they" don't want a 5-3 vote. "I know they want a house vote"
Tiff – as long as these three stay fine (X, Hannah, Alyssa) we have to say no.
Tiff – I know X wants to get rid of him [dx] soon I think that's a bad idea
Tiff – how do you feel about it
Ky – I feel removing DX next week is not our number one priority
Tiff – me too
Ky – BUT BUT we have to next week have one of two things happen. DX spends his money or DX goes home. For the 6
Tiff -thats fair
Ky – if he spends his money he doesn't have to go
Ky – the only person out of the 6 that could use the coin power is DX
Ky – next week I'm looking at we should also prioritize getting the power used that way we don't have two in play. If one of us wins two of us cannot be up on Thursday..
Tiff – facts
Ky – can one of us be up on Thursday? yes. Can one of us be up on Friday? no
Tiff – what scenario makes DX spend his money
Ky – he would potentially spend his money according to hannah he's not a certainty he would spend it if he's on the block. Because
Tiff – he can play in the power of veto
Ky – exactly so that is what we have to find out.
Tiff – if me, Claire, Hannah win he probably feels like he doesn't have to use the money
feeds flip to Alyssa and Claire

3:24 pm Hannah and X
X says he told Tiff he won HOH he would put up Tiff and Claire. He doesn't see why Tiff is worried.,
Hannah says DX told her if Tiff, Claire, or herself were on the block he would play roulette.
X – I would have to put up BIGD and Azah if one of them play roulette someone random goes up
Hannah says Azah won't have enough money but BIGD might
Hannah – do you think BIGD can win roulette? it's a balancing game.
X – possibly\
Hannah mentions how BIGD would be the only one competing. unless Zach wins 75
X doesn't think Azah will "what has she done.. she might"
In this plan, they would use the veto and put up BabyD
Hannah – if DX sits on the block next to anyone that is not myself, Claire or Tiff babyD expect 3 votes.
X – he would have to be up against Claire which was the original plan I stated.
Hannah – how do you make that happen with Roulette?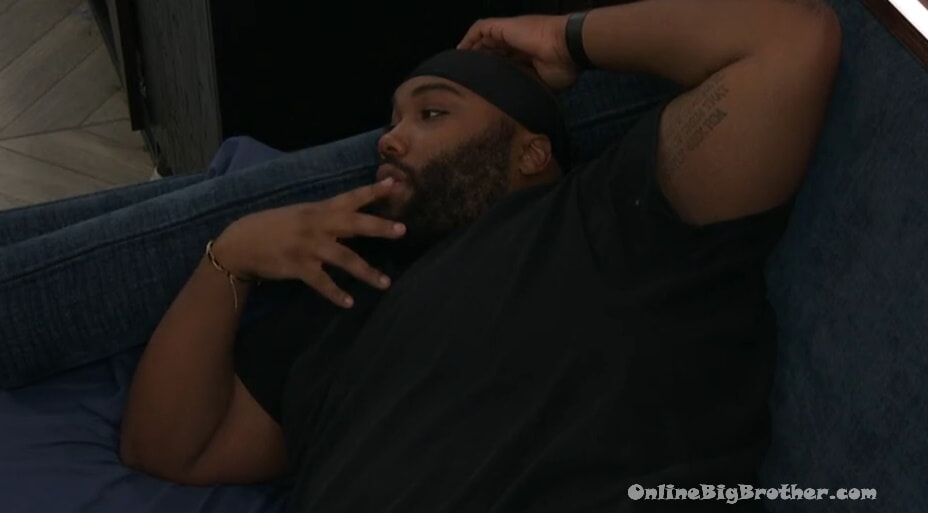 4:39 pm DF and Azah
Azah is annoyed about the talk of people voting out DF.
DF – if I end up going home you know what it is. That's on them. I did what I was supposed to do. I'm the one that started it I gave them my word. That's on them not on me.
DF – I said I will put you guys before myself. Someone that's a POC needs to win And we said we wouldn't turn on each other so.
(I feel Claire and Sarah Beth winning this season is very remote)
Df – if people are trying to play around and sh1t like that and people end up going home. that's on them not on you.
DF – Alyssa gave me her vote, Hannah gave me her vote. I haven't talked to Tiff
DF – DX said he doesn't know
Azah – X gave you his vote?
Df – no he didn't we kinda had the conversation
Azah – you see how he's been talking to people. I told him about what DerekX said to Britni and he was like if we have to show our cards then we'll do it it is what it is.
Azah – If people can't control their people then we'll do what we have to do.
Azah says Kyland's HOH was "all personal"
Azah – did you do a final 2 with X?
Df – yes..
Azah – I had a feeling. Ok put me in the final 3 then.
they laugh
Df – ok Azah deal.
Azah – I'm okay being second.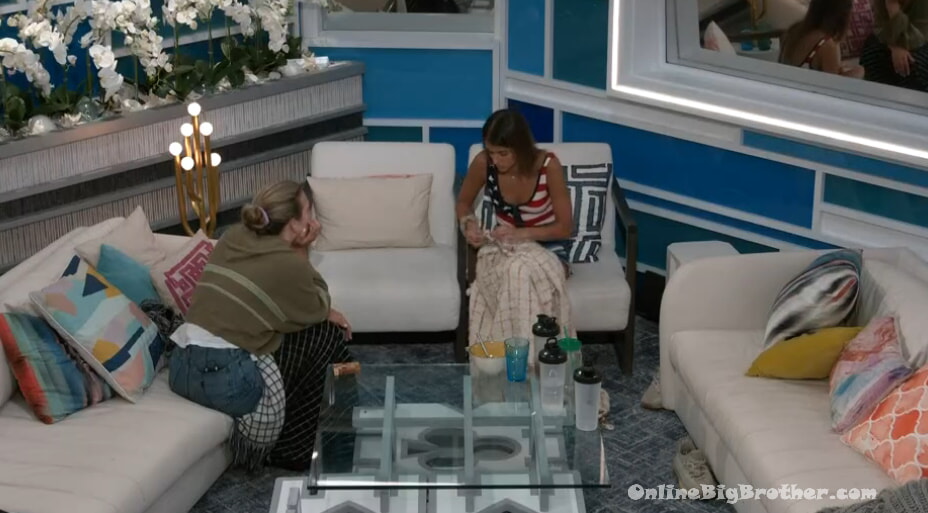 4:50 pm Claire and Alyssa
Claire says if they can only get 3 votes to keep brit she's not going to fight hard for it "We have to all be together or it's not worth doing. I don't care about it enough to try and fight it" She just wants to make up her mind and be done with it.
Alyssa doesn't want a She doesn't want a scramble tomorrow morning.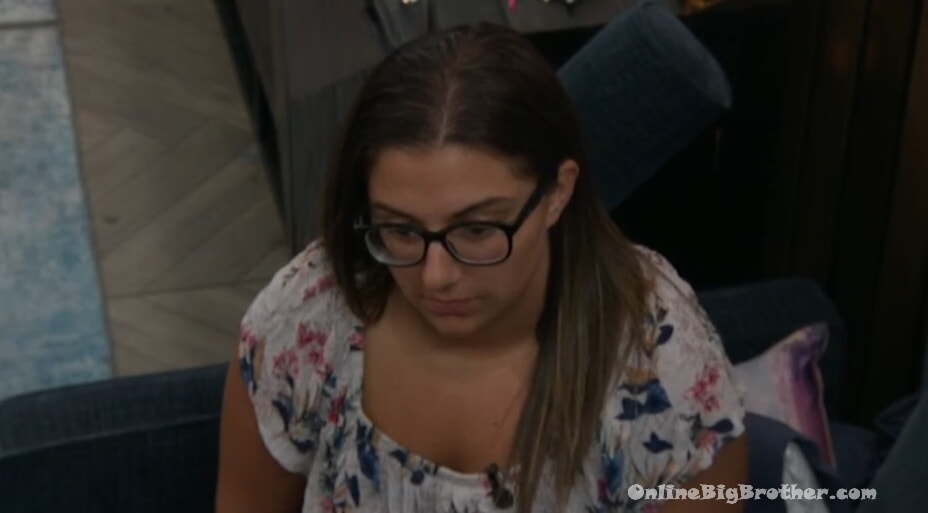 5:12 pm Brit and DF
They agree both their ONe on Ones was a hot mess.
Brit – she's voting for you to stay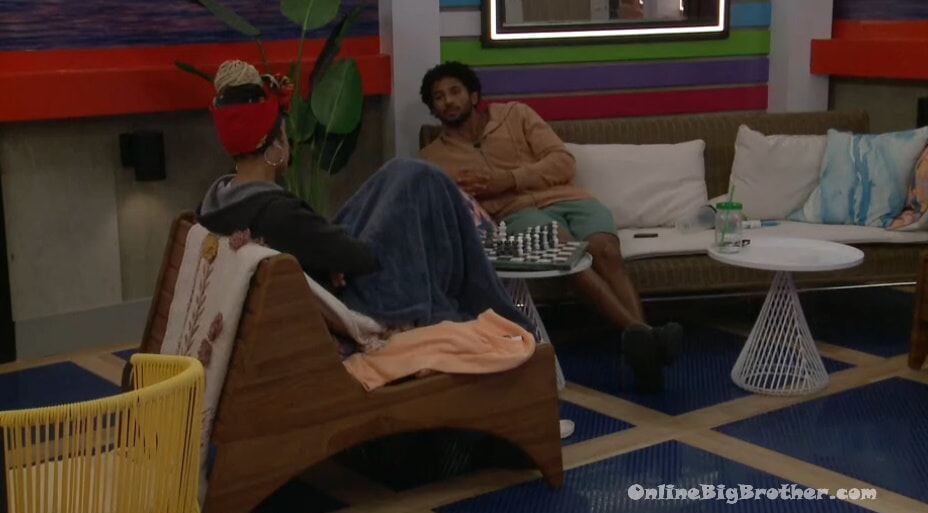 5:15 pm Ky and Tiff have been in the HOH for over 2 hours now. most of it off feeds.
Tiff – I don't mind the way you move just I want to feel secure that in your moves I know our end game is still the same.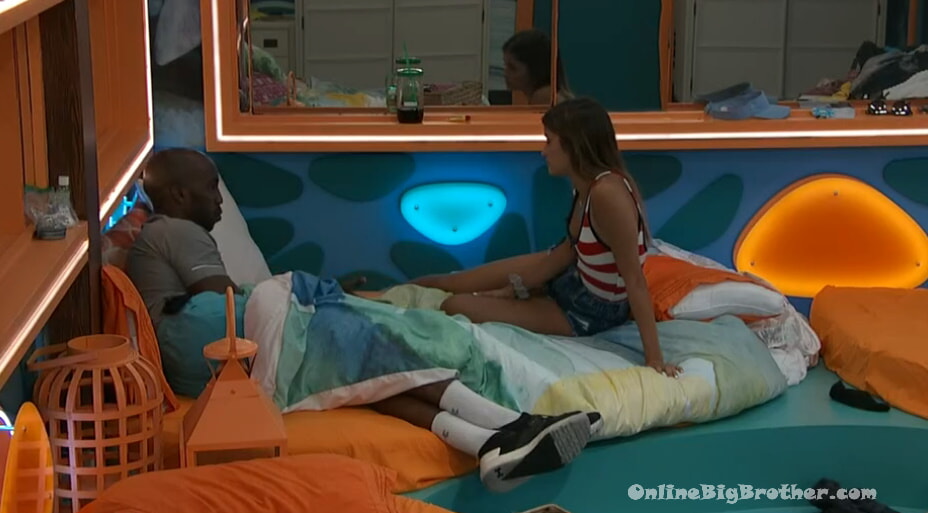 5:26 pm Alyssa and Xavier
They're talking about the one on ones with Brit.
Alyssa – I just let her talk about the shield.. I brought up that Christian made the same argument last week and the whole I don't know if you'll throw in the towel for me like you did him.
Alyssa – She looked awkward when I said, I know you had a final 2 with Christian. Which is totally fine, because I like you and as long as you are looking after Christian you're looking out for me.
Xavier says Brit has been lying about the amount of BB Bucks she got.
Alyssa – she was telling me she was advocating for Christian to stay last week
Alyssa – she was trying everything to help Christian stay meanwhile she was telling us Christian doesn't have her vote but she wasn't telling us that.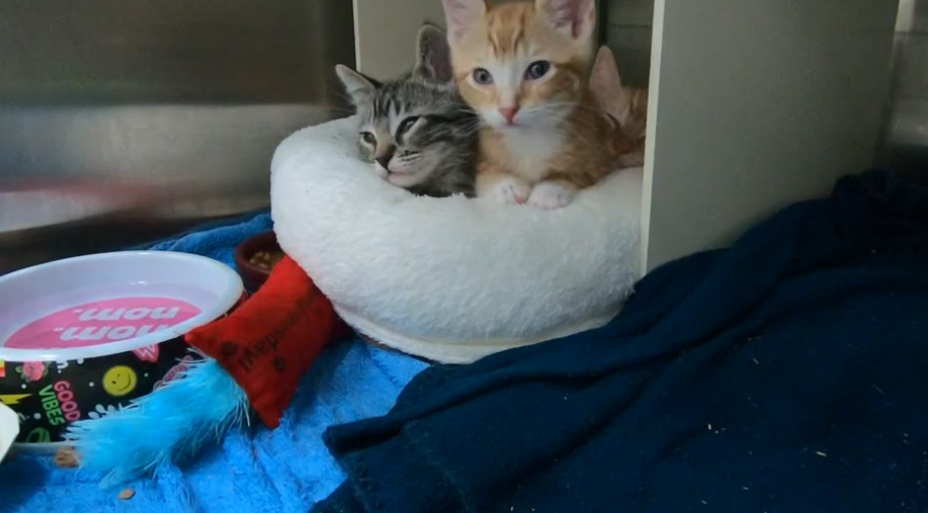 6:00 pm Feeds showing pound kitties possibly for halfway party, HOH practice, Frenchie comes back.. who knows. (those are my favorite pound kitties)
7:50pm Still kittens..